'ArtWanted' é agora 'RebusArt', o processo de selecção e as características da obra de arte escolhida permanecem. Leia abaixo para mais detalhes.
Obtenha uma reportagem na RebusArt com os seus projectos apresentados na RebusFarm
Estamos sempre à procura de trabalhos 3D que foram renderizado na RebusFarm para fazer um destaque de artista 3D em nossas campanhas publicitárias - com crédito total, é claro.
Envie-nos o seu trabalho através do formulário de inscrição. Se escolhida, sua imagem será exibida no nosso RebusArt, galeria compartilhada em nossos canais de mídia social. Como escolhido, você receberá 100 RenderPoints no valor de USD 99.34 para explorar nosso enorme poder de computação.
Você terá a chance de ter uma entrevista no topo da nossa página, que também será compartilhada em nosso blog e em várias páginas de mídia social de parceiros relacionados a CG. Nesse caso, você receberá um total de 250 RenderPoints no valor de USD 248.35 para usar nosso serviço.
Por favor, entenda que não podemos usar todas as artes enviadas para nosso destaque de artista 3D. Caso escolhamos seu trabalho, nossa equipe entrará em contato com você.
RebusFarm nas redes sociais: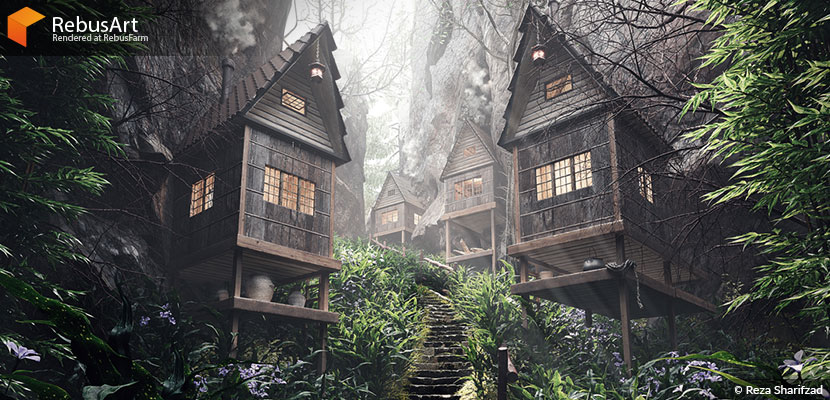 Latest Interview | Reza Sharifzadeh
The arrival of the new year brings some change to our 'ArtWanted' campaign, though mostly in name: going forward, we aim to highlight the wonderful work of our community under the moniker 'RebusArt'. Make no mistake though, art is still very much wanted! We hope you continue to submit your images and scenes, so we can share just a tiny amount of the great content that is produced at our render farm every day. Leading by example in January 2023 is Reza Sharifzadeh, who sent us a beautiful and whimsical landscape lined with 'Mountain Cottages'.
Join us on our journey as venture deep into the woods and explore the undergrowth of the artist's mind!
---
---