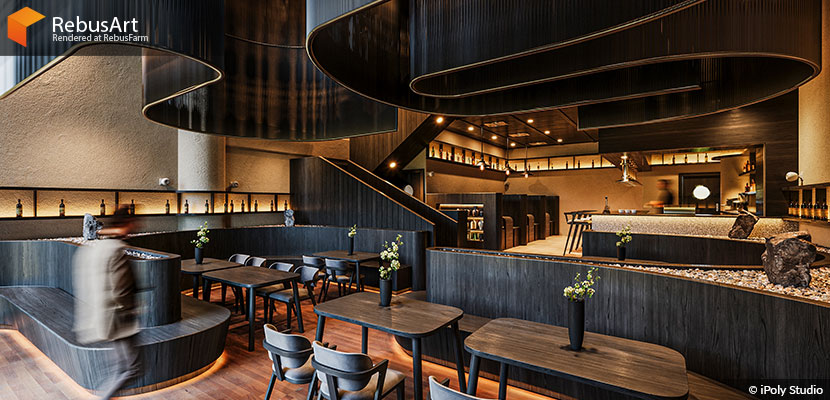 As a professional service, architectural visualization is the translation of ideas. In highlighting the work of designers and architects, a 3D artist needs to be a skilled craftsman just as much, if not more, than a creative visionary. For this reason, a faithful CG-recreation of a real-life space is both an effective exercise and a showcase of one's abilities, and we at the Rebus render farm were extremely impressed by the fine folks at iPoly Studio and their digital reconstruction of a Japanese restaurant interior, perfectly capturing the atmosphere and intricate architecture.
In our interview, brothers Seif and Houssem El Ayeb discuss their latest project, the state of the industry in the Maghreb, and their approach as an emerging archviz company.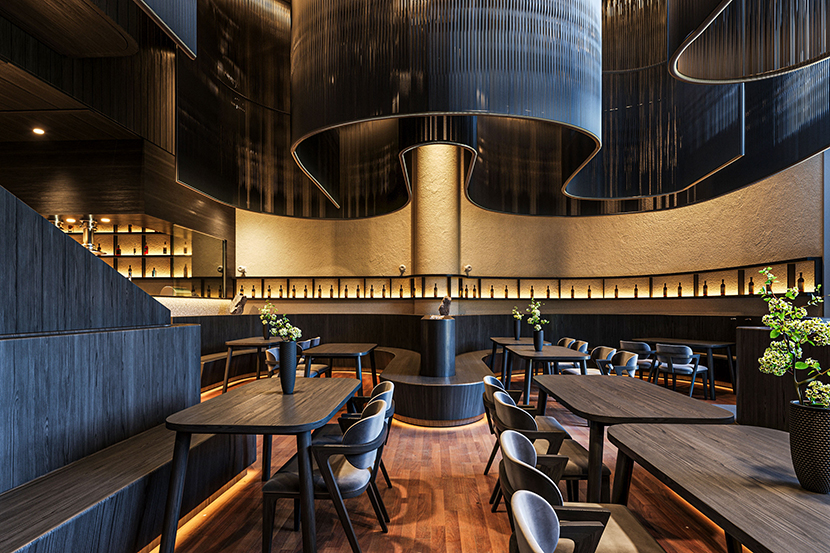 Originally designed by Studio Kota, the 'Issei Restaurant and Bar Interior' looks every bit as glorious in 3D as it does in real life.
Hi guys, thanks for joining us! To start things off, please introduce yourself to our readers.
Seif: We express our appreciation for this opportunity and consider it a privilege to participate in this interview. My name is Seif El Ayeb, and I am 27 years of age. I was born in Doha, Qatar, but I live and work in Tunisia, where I run a CGI studio together with my older brother Houssem.  
Houssem: Thank you so much for this opportunity. I am Houssem, 34-year-old co-founder and 3D artist at iPoly Studio. We are located in Sousse, Tunisia and while our company is still small, we are very passionate about our work.
Do you recall when and how you first consciously encountered CGI?
Seif:  I first got my hands on computer-generated imagery during my studies in Multimedia Technology in Malaysia, where I took a class on 3D using 3ds Max and V-Ray. I quickly became interested in the capabilities of the software and soon devoted more time to learning it through tutorials and additional classes. My professor recognized my passion for the 3D industry and provided support in my pursuit of a career in this field.
Houssem: I am neither an architect nor an interior designer, but my curiosity about 3D and passion about architecture made me eager to learn more about it. Having built and fixed my fair share of PCs, I am pretty knowledgeable about hardware, so my interest in learning 3D felt like an extension of that. So when my brother introduced me to 3D rendering three years ago, I was on board immediately.
When and why did you then decide to pursue a professional career as a 3D artist?
Seif: Growing up as an avid gamer, I always wondered what went into the creation of all these wonderful characters and environments, and my initial interest was in game development – I actually have a small portfolio of 3D characters on ArtStation. This changed when I started working at a 3D architectural studio called The Full Room, and eventually had to choose between game development or archviz. Using the skills and knowledge I had acquired in creating characters, the transition to architecture and interior design came rather easy to me.
Houssem: As a 3D artist, I have the opportunity to create and bring digital worlds to life through design, environments, and visual effects. The field of 3D art requires a strong understanding of composition, color theory, and lighting, as well the ability to use specialized software and tools to bring these elements together. As a professional in this field, I have the opportunity to work on a wide range of projects, while the constant evolution of technology provides endless opportunities for learning and skill development.
In short, a career as a 3D artist is a challenging and rewarding path for those who have a passion for visual storytelling and a drive to push the boundaries of what is possible in the digital world.
What training or education do you have?
Houssem: In 2022, I made the deliberate decision to invest in my professional development by undertaking specialized training in 3D rendering through courses such as Realistic Interiors and Chaos Corona. This commitment to advancing my skills and staying current with industry trends was exemplified by my successful attainment of certifications as a Lighting Specialist and Corona Certified User. The knowledge and techniques gained from these courses have significantly enhanced the quality of my work and have optimized my workflow and overall efficiency in projects. These achievements have not only improved my proficiency in the field, but also set me apart in the industry and opened up new career opportunities.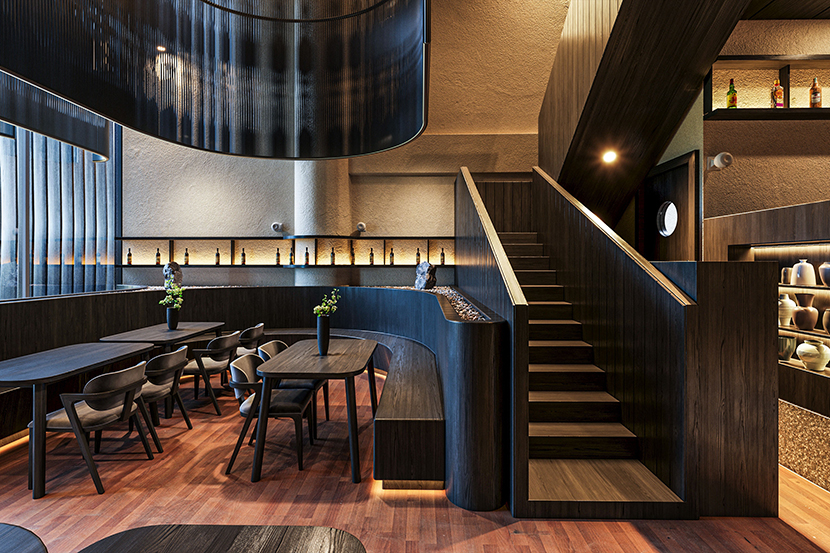 This shot of the stairs leading up to the second floor shows the expert work Seif and Houssem did on materials and lighting.
Please tell us about iPoly Studio. When and under what circumstances was the company established?
Seif: Back in 2019, I decided to quit my job at The Full Room and go freelance. Working for different clients over the following two years, I acquired more experience, knowledge, and the necessary hardware to work professionally. I also started teaching my brother during my free time, and with the proper resources, he learned fast. As things progressed, we soon thought of founding our own CGI company, and after some deliberation, iPoly Studio was born in 2021. wanted to create a CGI company, a bigger team, and compete worldwide.
What services do you provide?
Seif: We are a creative studio specializing in interior design, architecture, 3D rendering and CGI. We use the latest technology and software to create photorealistic images, virtual tours and animations that help our clients understand and visualize the final product. Many developers, creative agencies, design companies, and production studios confidently reach out to us to assist in making their visions a reality.
How would you describe your approach and overarching vision as an archviz company?
Seif: Our approach as an archviz company is to create highly detailed and realistic visualizations that accurately represent the design intent of our clients' architectural projects. Our overarching vision is to be one of the industry leaders in architectural visualization by consistently delivering high-quality work and exceeding client expectations. We strive to push the boundaries of what is possible with archviz and help architects and designers bring their ideas to life.
Is there a specific design philosophy or architectural school of thought you adhere to? What inspires you as 3D artists?
Seif: Our company does not have a specific architectural or design philosophy, as we work with clients from various backgrounds and with different design approaches. Our focus is on accurately representing and bringing their visions to life through our visualizations.
As 3D artists, we are inspired by the constantly evolving technology and software in our field, as well as the endless possibilities for creativity and expression. We are also inspired by the beauty and complexity of architecture and the impact it has on our built environment. We strive to stay current with the latest industry trends and techniques to ensure that our work is at the forefront of architectural visualization.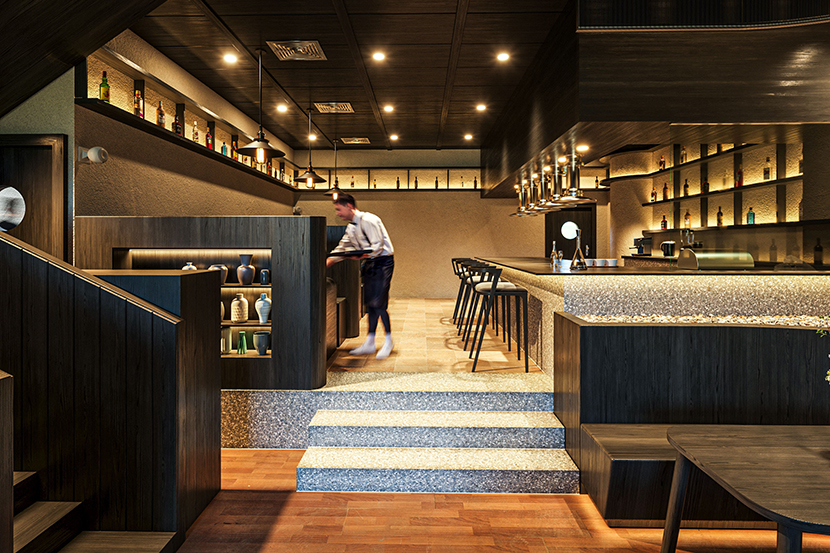 A look at the more intimate dining and bar area at the back of the restaurant. Seif tells us the silhouetted waiter is named Adam!

Describe your profile as a CG artist! Where does your fascination with architecture and archviz stem from?
Seif: I am fascinated by architecture and archviz because it combines art and technology to bring designs to life. Architecture is a field that can have a direct impact on people's lives and the built environment, and archviz allows architects and designers to efficiently and effectively communicate their ideas. Additionally, the process of creating architectural visualizations can be challenging and rewarding for those who enjoy technical and creative problem-solving.
What are your main areas of expertise?
I have a strong understanding of 3D modeling, texturing, lighting, and rendering techniques, and am confident in my abilities to create photorealistic images.
Is there a part of CG-related work you particularly enjoy? For what reasons?
Personally, I enjoy the phase of generating clay renders, playing with lights and moods, as it is fun and the key to shape and show the different geometry forms in the scene. I am also quite fond of texturing, as I like the challenge of trying to replicate real world textures by applying dirt, dust and so on, to create them.
What can you tell us about the state of the CG industry and community in Tunisia and the surrounding region?
Seif:
Both the industry and the community here have been expanding in recent years, driven by an increasing demand for animation, visual effects, and architectural visualization services. However, the scene is still in its developing phase and the region is lacking a proper education infrastructure, with very few universities and training facilities in the region offering CG-related courses. Furthermore, we require specific legislation and regulations for digital industries to meet international standards and establish a studio-friendly environment. Right now, it is difficult for young talent to enter the industry and we still have a long way to go. Progress is happening, but it has been slow.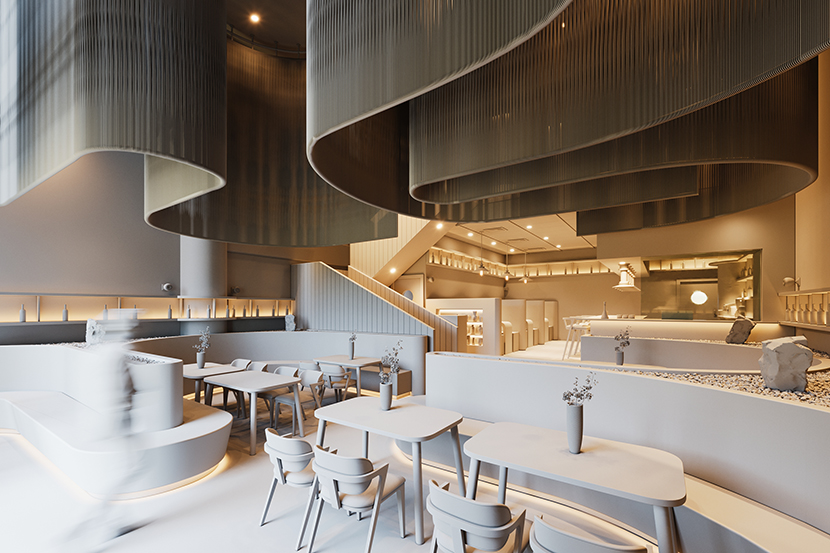 Inspired by natural landscape patterns, the spectacular ceiling design even shines through in this clay render.

Let's talk about your work in more detail, namely your submission to our campaign, the "Issei Restaurant and Bar Interior". Can you first of all describe the circumstances that lead to the creation of this project?
Seif: We wanted to accurately recreate the unique architecture of Issei Restaurant, a Japanese restaurant and sake bar in Jakarta, Indonesia. We were drawn to the free-flowing curvature and geometry of the interior, particularly the ceiling, and thought it a fun challenge to try and capture the essence of Studio Kota's original design in 3D. Our goal was to add another archviz piece to our portfolio and improve our skills in modeling, lighting, texturing and compositing.  
What were some of the challenges you had to overcome and how long did it take you to complete the project?
Seif: Faithfully recreating an intricate design such as this requires both technical and artistic skill. The ceiling space with its large hanging screens was a major challenge; since this is the defining feature of this interior, we tilted the camera up slightly to highlight the ceiling in most of our shots. Camera composition in general was important, and we spent some time in figuring out the proper sense of depth. Finding the right textures or creating them from scratch was another time-consuming task. Last but not least, the subdued colors and warm illumination are key components of the original design, so nailing the lighting was integral in capturing the restaurant's distinct atmosphere. The mood of a real-life-space does not translate to 3D automatically, and we worked hard on adjusting all of the necessary parameters accordingly. It took us around two weeks to complete the project, during which we were working on commercial jobs as well.   
Can you briefly walk us through your development and production process?
Seif: Absolutely! We usually start by gathering all the necessary information, including references for design, layout, materials, textures, and colors.  We then start modeling and create the geometry of that particular space, along with any specific furniture or accessories, and import models. Next, the most important phase and most fun for us, which is lighting and shaping the scene, trying to achieve the intended mood and atmosphere. From here we move on to creating the necessary textures and materials, followed by interactive rendering, during which we check and tweak the whole scene, and if needed, add effects such as volumetric lighting or fog. Finally, we render the final image and move to postproduction.
What software did you use to create this piece? Any plug-ins you found particularly helpful?
Seif: We used 3ds Max, Corona Renderer, Quixel Bridge and Photoshop to create these images. Forest Pack proved invaluable for the ceiling design, we first tried Corona Scatter but could not quite get the results we wanted, and Forest Pack ultimately provided more parameters and flexibility.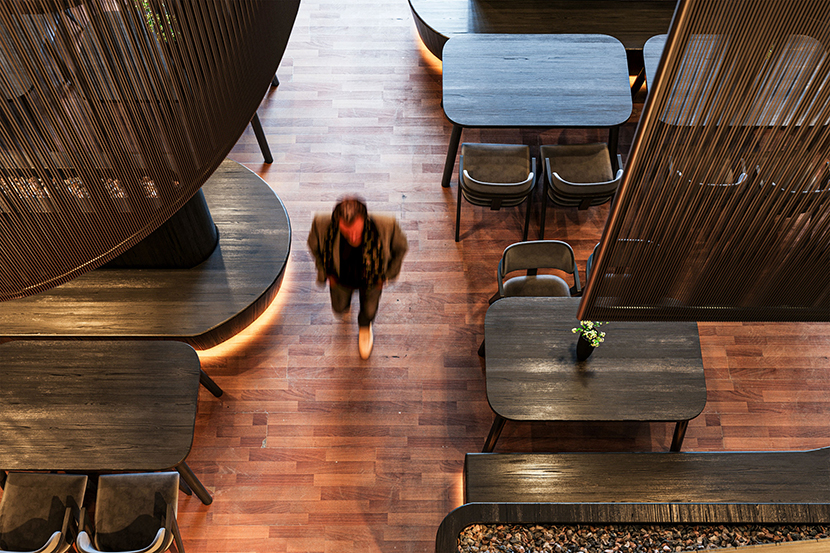 iPoly Studio aimed to add their own artistic touch to the project while remaining faithful to the original.

What has the feedback been like so far? Are you satisfied with the results yourself?
Seif: This has been one of if not the most viral interiors we have worked on, the feedback has been awesome so far, for which we are very grateful. We are not completely satisfied, as there is always room for improvement, but generally speaking, we learned a lot from the project and that is what matters most.
What is one thing you yourself have learned from this project that you can share with us?
Seif: While I knew that lighting was a key aspect of any 3D visualization, I was still surprised how deep that particular rabbit hole goes. By learning new techniques, I developed a better understanding for how to balance light, shadow and especially contrast to create depth and volume. Working on this project taught me a more nuanced approach to lighting, and I now look at clay renders differently.
Please tell us about your previous experience with RebusFarm. Is there anything you especially like about our service?
Seif: In our admittedly limited experience, RebusFarm has been extremely solid and reliable. We are working on some animations at the moment and will definitely make good use of your render services again in the near future.
The free-flowing curvature of the hanging screens is mirrored by the layout of the seating area below, creating a cohesive visual experience.

In closing, is there anything else you want to say? Any plugs, shoutouts or present or upcoming projects you'd like to mention?              
Seif: First, I once again want to thank you for this opportunity, this was our first interview and we truly appreciate it. We are dropping more renders soon, so please stay tuned!
As a highly competitive and everchanging field, the 3D industry can be intimidating for young and aspiring artists, so I would like to offer some words of encouragement: take it one step at a time, work hard on putting together an exceptional portfolio, and never stop believing in yourself. Most importantly, be patient and always keep learning; mastering this craft is an endless journey, but if you stay the course, you will shine bright like a diamond sooner or later!  
Seif, Houssem, thank you so much for taking the time and all the best in the future!