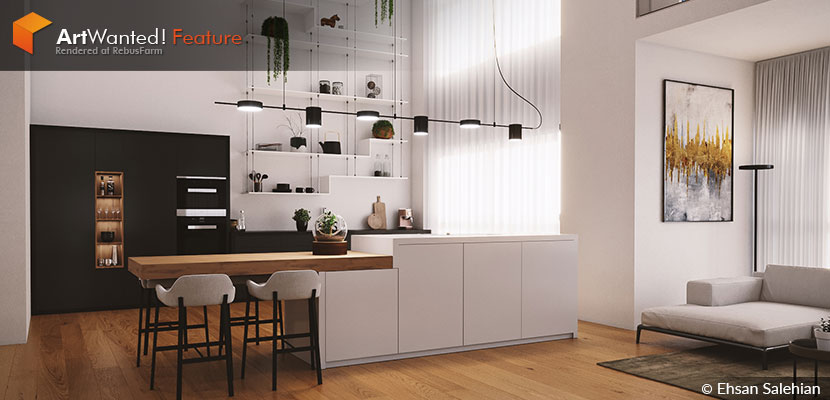 While many people value professional fulfillment more than success, not everybody is fortunate enough to achieve it. Rarely do business and pleasure go hand in hand as much as they do for Ehsan Salehian. Listening to the Iranian architect and 3D artist talk about his work, you can immediately tell he has found his vocation. But it was not passion alone that allowed Ehsan to prevail, but determination and hard work. Today, Ehsan manages two companies, and still makes time for personal projects, such as the neat living room he submitted to our render farm.
In our interview, Ehsan recalls his humble beginnings, talks design philosophy and getting into the proper work "flow".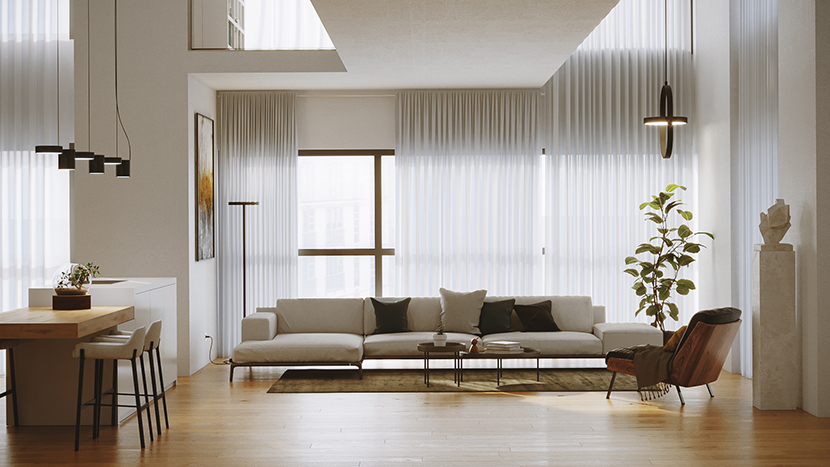 Ehsan Salehian's 'Clean and Tidy Living Room' is his take on a minimalist interior.
Hi Ehsan, thanks for joining us! To start things off, please introduce yourself to our readers.
Hi everyone! My name is Ehsan Salehian, I am a 31-year-old architect and archviz artist from Semnan, a small city in the center of Iran. Thank you for this opportunity to share my work!
What training or education do you have?
I have a master's degree in architecture, with most of my academic expertise focused on traditional Iranian architecture. In terms of CGI, I learned the basics of the field through Farsi tutorial packages and various online resources. It goes without saying that this particular field of ours is so great and vast that you never stop learning. To this day, I spend about two hours a week watching tutorials and learning new things.
Let us go back in time for a moment: do you still remember your first notable experience with CG?
Well, I have always had a knack for working with computer software. Back in my childhood years, while most of my peers were busy playing video games, I spent my free time "playing" Adobe Photoshop. As I grew older, I began looking for ways to earn money by putting these skills into practice. 3ds Max is a popular program among Iranian architect students, so I decided to start learning it alongside V-Ray and other rendering software.
When and why did you then decide to pursue a professional career as a 3D artist?
Having put together a portfolio, I started hunting for a job in the field. I spent an entire year searching for a job, but since the quality of my work was rather lacking at the time, I was not a very promising choice for potential employees. Nonetheless, I managed to eventually land a job at a prestigious company. Initially, I worked in the executive department, but soon transferred to the CG section.
All of my initial experience came at this company, it was only then that I developed a real understanding of the profession, and with it a greater appreciation. Whenever I would pause and look at the works I had produced, I was overcome with wonder and disbelief, but I also felt a strong sense of accomplishment – I had never enjoyed myself and my work so much! So I decided to pursue this new-found passion as a career. That was six years ago…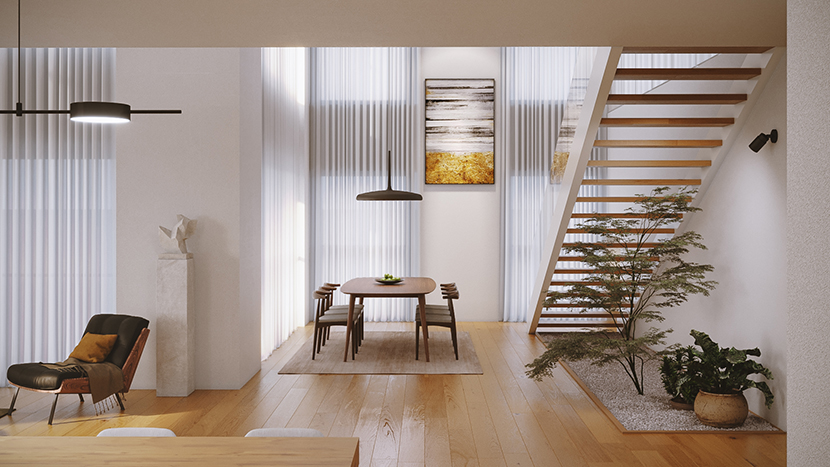 To Ehsan, the space between the stairs and the dining table marks the highlight of the scene.
Can you bring us up to speed and briefly summarize your professional career since then?
While at the company I mentioned above, I gained experience working on numerous residential and commercial projects, some of them on a global scale. After that, I spent a year working for a state organization, during which I mostly designed educational spaces. I then worked as a freelancer for a while. Currently, I am CEO of a 3D modeling company, and I also own and run an architecture design and archviz studio. Overall, I have a wide range of expertise and specialties, something that I would not necessarily recommend to others. Then again, we all have our own unique professional journey, and mine has been such.
Please tell us more about these different business ventures of yours!
The company I manage as CEO is called Hiva Model, our services include 3D modeling and rendering, animations and short movies, and additional forms of commercial presentation. We also own several 3D printers to create prototypes of the various products we work on.
Besides, I run the subsidiary archviz studio, Hiva Studio, where I work alongside my colleagues on architectural visualization and interior design. I always try to get as much work as possible done at the office, but given the nature of some job offers, I have to pull the occasional all-nighter at home.
Who are your clients and target markets?
At the moment, the majority of my company's projects are product modeling and commercial animations for industrial companies and factories. Architects, company managers, real estate firms, and traders also make up a considerable portion of our client base.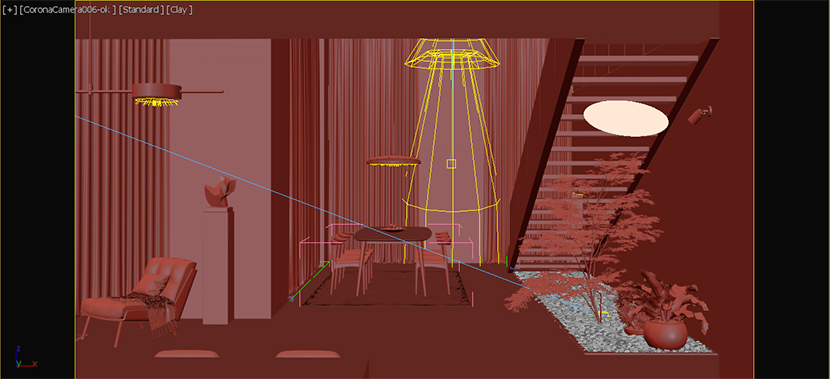 Another look at the previous shot. Ehsan worked hard to create harmony between all of the different elements by balancing their forms, proportions, and colors.


How would you describe your approach and overarching vision as an archviz artist?
I constantly strive to make my next delivery better than the one before and improve upon my work in general. I spend a great deal of time studying seminal works of architecture or archviz, and I am especially interested in real photos of completed projects. In addition to creating an engaging and charming image, I also try to be as practical and realistic as possible.
What are your main areas of expertise as a CG artist?
As I have said before, I have become well-versed in a lot of different areas over the years. As an 3D artist, I am especially skilled in modeling industrial equipment, commercial automobile parts in particular, as well as furniture modeling. In regard to archviz, I have experience working more on residential buildings. While in interior design, I am well-versed in designing administrative and commercial spaces.
Is there a part of your work you particularly enjoy? For what reasons?
I am a very detail-oriented person, and details are of great importance when it comes to product modeling, which is exactly why I love this particular area so much. But what I enjoy the most about CG work regardless of the task at hand is this feeling of getting lost in the "flow": once I had achieved a certain skill level and established a routine, I would get so caught up in modeling and rendering that I would not notice the passage of time. Until the job was done, I was working in a trance, it really felt like I had entered this dream-like state while my subconsciousness took control. It was only later that I realized what I experienced was called the "flow." This phenomenon is extremely gratifying to me. Whenever I feel down and depressed, I start modeling and rendering, and I am immediately drowned in this peaceful feeling.
What are some of your personal highlights or projects you particularly enjoyed working on in the past?
In terms of interior design, I have been involved in designing several bookstores which I am proud of, one in Lavasan, Tehran, and another in Qom. In fact, I am currently working on another bookstore which will open in about a month!
Other past projects that I hold in regard are a traditional hotel in Yazd, Iran, and an
animation detailing the functionality of air-powered bus doors
.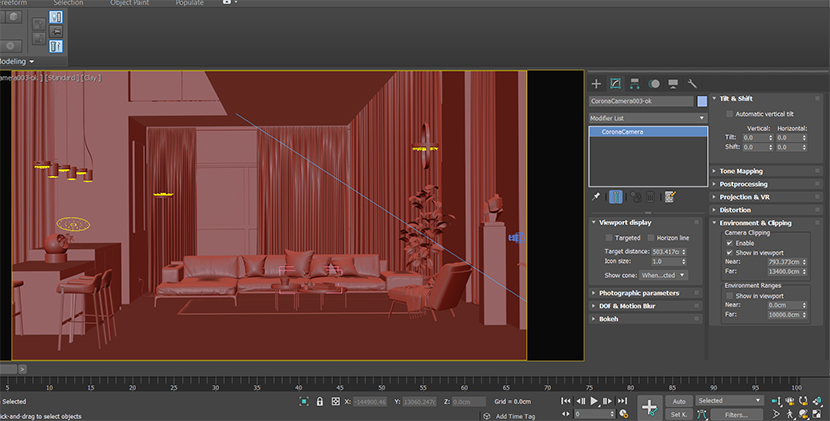 Looking at this work-in-progress image, it is easy to imagine Ehsan in the "flow", with his subconsciousness operating the environment and clipping features.

Let us talk about your recent work in more detail, namely the 'Clean and Tidy Living Room' you submitted to our campaign. Can you first of all describe the circumstances that lead to the creation of this project?
This was a personal project and somewhat of a self-imposed challenge. A design had caught my eye, and I decided to reshape its interior design according to my own outlook and insight.
Interesting! Can you elaborate on this underlying design idea?
The foundation of the design is built upon the popular minimal style. Conventionally, this means a setting within a relatively vast and well-lit space, with any other elements reduced to a minimum. I feel that such designs are always at risk to appear dull and soulless, so I attempted to prevent this by introducing a little life to the space, mostly through changing the materials and adding warm colors and vegetation.
What parts of the image were especially important to you?
Color palette and material selection were very important to me. With both, I had to walk the fine line between bringing the space to life and maintaining its minimalist nature. I also put a great deal of effort into designing the kitchen. But the strong point of this interior is undoubtedly the space between the staircase and its merging with the dining table.
What were some of the challenges you had to overcome?
Generally, what occupies the majority of my time in any project, is its Mise-en-Scène. What I mean by this is the process that I go through to select the right materials, furniture, and accessories that I find to be in harmony not only with the space but also with each other. This is a vital part of every project.
How long did it take you to complete the project?
Finding the time for a personal project on top of my regular schedule is always a bit tricky, but if I remember correctly, it took me about five days to complete.
Can you talk a bit about your use of colors, materials, lighting and overall composition?
When it comes to interior design, I am much more interested in designing new forms. I am constantly striving to create a new shape, in a new capacity, one that is just the right proportion. Since I want to highlight the originality of the form itself, I usually prefer using neutral and pure colors such as white. More generally speaking, I do like to work with wood, and a lot of my designs feature neutral and green colors, although I do not refrain from using other colors if I find them fitting for the space and elements involved.
These carefully selected color palettes proved useful beyond the 'Clean and Tidy Living Room'.
What software did you use to create this piece? Any plugins you found particularly helpful?
Like most of my work, this project was done in 3ds Max and rendered with Corona. I also used Photoshop to finalize the images.  For plugins, I used the Siger Studio plugin for a lot of the materials as well as Forest Pack.
Looking through your portfolio, this residential interior is a departure from your usual archviz work.   
True, I find working with commercial and administrative spaces a lot more satisfying and gratifying than residential ones. Simply because I find the former to offer a lot more exciting challenges: the space in a commercial structure must be designed so that it captivates any passerby and lures them inside. While the atmosphere should provide a pleasant shopping experience to visitors, it also has to accommodate the needs of the people working there. In a similar vein, administrative spaces pose their own unique set of challenges, and I do find these sort of challenges quite interesting and intriguing.
What has the feedback been like so far? Are you satisfied with the results yourself?
Since this was a personal project, I did not widely publicize it. Besides sending it to RebusFarm, I did not seek feedback specifically, so going by your response, I think I am very much satisfied!
What is one thing you yourself have learned from this project that you can share with us?
The right combination of colors and materials can add so much life to a scene, which is especially important if you are working within a minimalist style or setting. The color palette that I created for this project has proved very handy and I have use it for several other works since.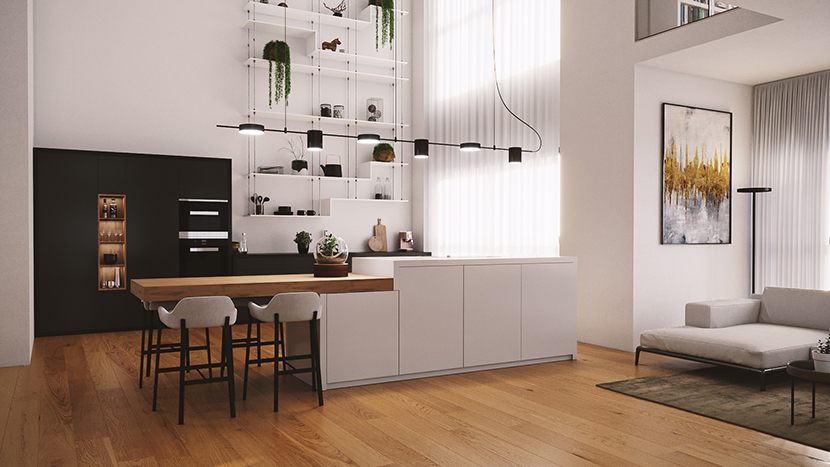 While maybe not immediately obvious from this shot of the kitchen area, rest assured Ehsan's Mis-en-Scéne included a thoroughly calculated approach to its composition.
In closing, is there anything else you want to say? Any plugs, shoutouts or present or upcoming projects you'd like to mention?
Thank you once again for giving me this opportunity. As of now, I eagerly anticipate the opening of the aforementioned book store I designed, and hope the result will be noticed! In the meantime, please check out Hiva Model and Hiva Studio, as both sites are regularly updated and feature most of my work.
Ehsan, thank you so much for taking the time and all the best in the future!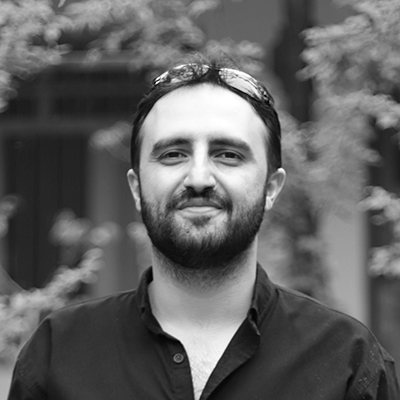 About the artist
Ehsan Salehian is an Iranian architect and 3D artist specialized in product modeling and architectural visualization. Through his rich professional history, he has developed a skill set that marries technical engineering knowledge and artistic sensibilities. To bring his diversified services to the market, he operates his own company Hiva Model, as well as the subsidiary Hiva Architecture Studio.





Get started with your own renderings