Wednesday, August 15th, 2018 by Julian Karsunky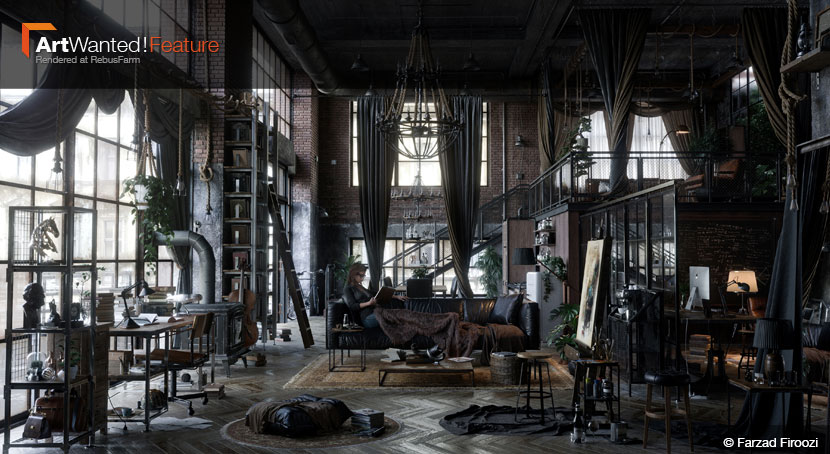 Have you ever looked at an interior scene and wondered who might live there? 3D generalist and architectural designer Farzad Firoozi has the answers in mind: Powered by his imagination, his unusual, character-driven approach to archviz yields the most impressive results. This month's ArtWanted! feature explores the humane element that is always present, yet rarely discussed in architectural design.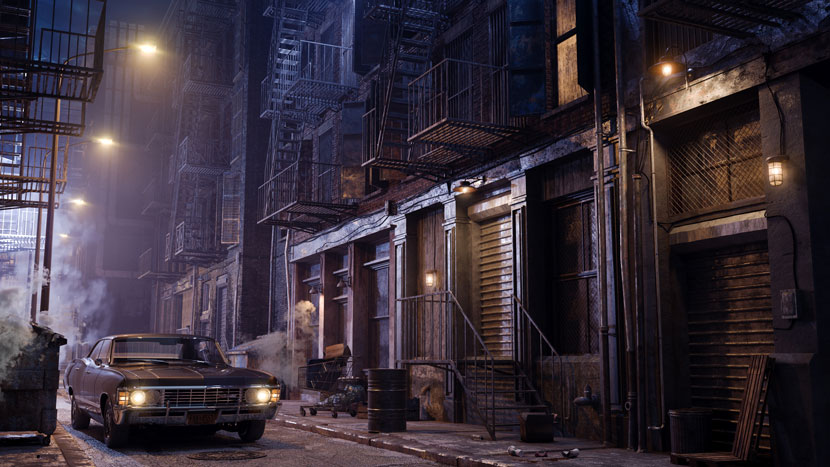 Although proficient in a variety of architectural styles, Farzad has a knack for the urban and vintage look captured in this downtown scene.
Hi Farzad, thanks for taking the time! To start things off, please introduce yourself to our readers.
Hi everybody, thanks for having me! My name is Farzad Firoozi, I'm 29 years old and I'm from Iran. I work as a freelance 3D artist, VFX compositor, architectural designer and computer programmer, who adores hard surface modeling, texturing, lighting and shading.
How did you first get started in the industry?
In 2003, I began working as an architectural designer at only 14. My professional career started around five years later, after I received my bachelor's degree in computer science.
Can you tell us more about your current work?
As of now, I'm working as a freelancer providing services such as modeling, texturing, rendering, animation, VFX, computer programming and Android and IOS development. For the most part, I work remotely with clients and companies in several countries.
Let's talk about your work in more detail, namely your vintage loft dubbed 'Industrial Life'. Please tell us all about the scene and the story behind it!
I love sophisticated architectural design and am especially fond of this type of vintage style! My goal with this particular scene was to illustrate the industrial life of a scientist, so I tried to turn an old working environment into a home. By design, I wanted to create an atmosphere of silence and loneliness, which I achieved mostly through the gloomy lighting.
It took me about nine days of working in my spare time to get the modeling done and an additional four days for the shading and lighting.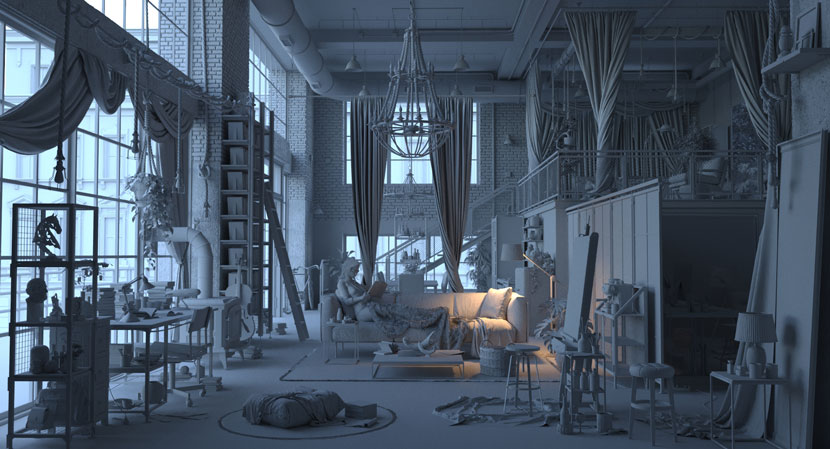 'Industrial Life', ambient occlusion
As you've mentioned, 'Industrial Life' prominently features a character in the center of the scene, something you rarely see in conventional architectural visualization. Can you explain your reasoning for this decision?
The character in question is essential to the scene, as she defines the design of this house by herself. If she wasn't there, the entire scene would be severely lacking, because I designed the environment to represent this woman's personality. From the curtains, the chandelier to the various other appliance of this house: Every piece of furniture reflects her taste in interior decoration and her passion for plants.
Overall, you might say that the characters I put into my scenes are often manifestations of the "soul" of the render, personifying the design choices, which are inherently human in nature.
What an interesting approach! Would you yourself like to live in this loft?
Yes! This is my favorite place, and I wish I would have a home like this in the future.
What software did you use to create 'Industrial Life'? Any plug-ins you found particularly helpful?
I used 3ds Max, Corona Renderer, Marvelous Designer and ZBrush.
From modern classical facades to urban, industrial and even extraterrestrial designs: Your archviz work features both exterior and interior scenes and encompasses a wide variety of different styles. Do you have a personal preference regarding architectural design or a specific school of thought that you admire?
Generally, I think a 3D designer should be proficient in all styles. Personally, however, my range as a designer is the result of my vivid imagination. While on the surface level, there's a considerable difference between, say an archviz design and a cinematic scene, in the end they're both products of my imagination. The specific styles and different software I use are just the tools I use to shape and express these imaginings. I don't want to commit myself to just one style, because I'm interested in a wide variety of topics and don't want to limit my creative freedom.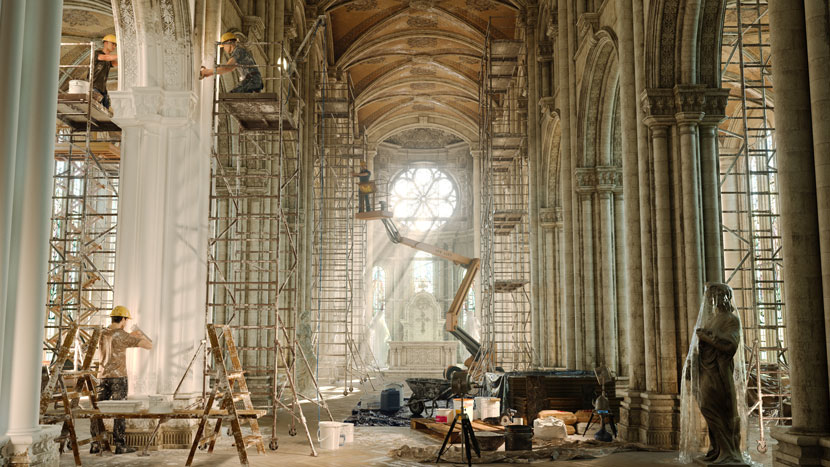 Farzad's technical mastery encompasses a wide variety of different styles, such as this beautifully lit church.
What are your main sources of inspiration for your CG work?
Over the past decade, I was involved in many different 3D design projects and worked with many different people. With every project, I learned something new from my co-workers and colleagues. My own designs steadily evolved through these experiences. In short, people and their imagination, the human imagination in general, this is the source of my inspiration!
What is your main motivation when doing these type of archviz scenes as personal projects?
First and foremost, it's an important creative outlet. To me, it's more about artistic expression than technicalities. Just as a painter expresses himself on a canvas or a carpenter does through wood, this is my means of creative expression as a 3D artist.
Of course, software skill is important as well. Even with a low quality render, you can create fantastic artwork as long as you have the technical abilities and the power of imagination on your side!
Finally, as I've mentioned before, these sort of projects to me are mental rather than technical exercises. I try to get a fresh perspective by imagining residents for the scenes I place them in, and base my designs around their perceived tastes and personalities.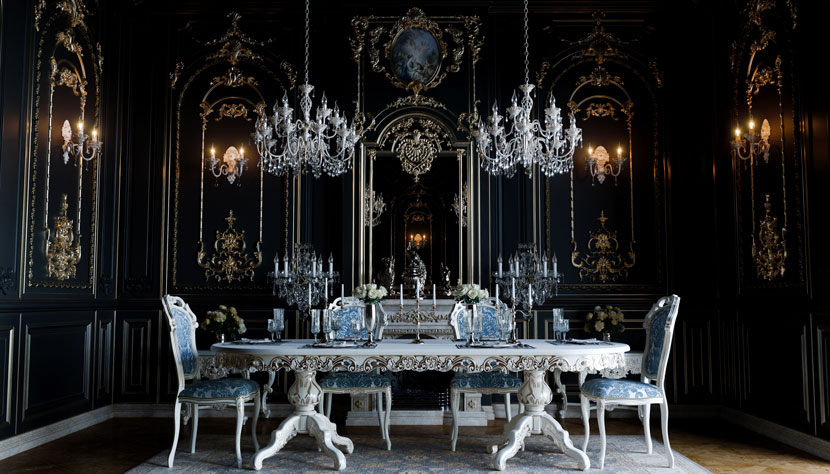 Wonder what kind of person resides in this luxurious dining room? Farzad Firoozi certainly has the answer in mind.
Can you please tell us more about your overall experience with RebusFarm. Is there anything you especially like about our service?
Yes, it's an amazing render farm: powerful processing, user-friendly, professional support – all at very competitive prices. Two months ago, I had a high priority animation job, 10 seconds in length, for which I used RebusFarm and it only took two hours to render! For comparison, on my own workstation, every single frame takes two hours…
In closing, is there anything else you want to say? Any present or upcoming projects you'd like to mention?
Please look forward to my interview in the upcoming issue of 3DArtist magazine! I hope you enjoy it.
Thank you so much for taking the time and all the best in the future!
Keep up with Farzad Firoozi and his work here:
Farzad Firoozi is now selling partner at RebusMarket! You can have a look at his scenes here!
---
How to join ArtWanted!
You want to get featured in our ArtWanted! campaign and win 50 RenderPoints on top? Submit your work, rendered at RebusFarm, to This email address is being protected from spambots. You need JavaScript enabled to view it.! Visit our Art Wanted! page for more information.
---
>> Read more articles on our blog