Saturday, September 1st, 2018 by Julian Karsunky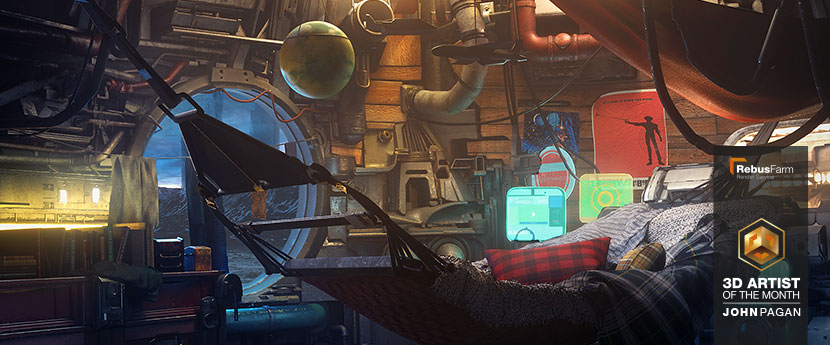 With great pleasure we announce talented John Jak Pagan as our September 2018 3D Artist of the Month! Currently a student at the prestigious Gnomon, John discovered his passion for CG modeling at an early age and has pursuit his dream career ever since. The up and coming artist's ambition and determination for self-improvement clearly shows in his work, such as the eclectically decorated 'Capsule' pictured above. In our interview, John talks about the story behind the image, the benefits of working at smaller studios and his love for a good challenge. Be sure to read until the very end or you might miss some inspiring advice!
Hi John, thanks for taking the time! To start things off, please introduce yourself to our readers.
Greetings! My name is John Jak Pagan, I'm 23 years old and I'm originally from Arlington, Virginia! I'm currently a two year student at Gnomon specializing in Modeling/Texturing for films and commercials.
Can you recall when and how you first consciously encountered CGI?
Yes! It all started with my interest in taking an intro to Photoshop class in high school, back in 2010. I find it interesting that while most artists start their path through traditional pen and paper, I began directly with the keyboard and mouse. As I was looking for resources and tutorials to further learn the program, I naturally gravitated towards the tutorials that were more focused on photo manipulation and matte paintings, rather than the graphic or web design ones.
The movie 'Avatar' had released the year before, and I remember following a Photoshop tutorial where you had to take a portrait and manipulate it into an Avatar. I had so much fun with it! One thing led to another and soon I was taking more art classes such as photography and intro to 3ds Max.
When did you decide to pursuit a professional career as a 3D artist?
A Savannah College of Art and Design (SCAD) representative had come to talk to my high school and I remember being absolutely in awe by their Student Visual Effects reel. I vividly remember thinking about the complexity of visual effects and the technical difficulties behind it. I love a good challenge and the subject matter interested me a lot.
I knew at that point a career in 3D was what I wanted to pursuit. And so, every year whenever a SCAD representative came, I would have my portfolio reviewed. I was quite determined to get in and made every effort to improve my skills.
Did your determination pay off? What training or education do you have?
Yeah, I recently graduated from the SCAD with a Bachelor of Fine Arts in Visual Effects! I also interned at JAMM, Framestore, The Mill, and was a DMP/Generalist at CoSA.
Alien concept by Jordu Schell and Sky Guardian
That is quite an impressive list of renowned companies and studios! What were some of your personal career highlights or projects you particularly enjoyed working on thus far?
I had actually struggled trying to break into the industry at first. Like every aspiring artist out there, I've had ambitious dreams of being at the top studios and working on the best projects. I was strictly focusing on modeling and at the time, I didn't realize how competitive and saturated this particular field was in the industry. After many rejections letters, I was incredibly lucky to land an internship with a small boutique company in Santa Monica called JAMM Visual in the summer of 2016. Looking back, JAMM was an absolute blessing and it set the stage in my career for many great things to come. Small studios tend to get overlooked by students. But interning at a small studio has its benefits.
At the time, the CG team at JAMM consisted of three or four CG artists, not including interns. I was the only modeler there and I took on a lot of responsibility to work on assets that a junior artist normally wouldn't tackle by himself. My favorite projects at JAMM were the three PlayStation VR commercials I was involved in: Star Wars Battlefront VR, Batman Arkham VR and Farpoint VR. I went from working on creating props for the room in Star Wars one week, to working on Batman's cave the next, and then detailing the creatures in Farpoint afterwards. I really want to give a huge shout-out and special thanks to JAMM VFX Supervisor Andy Boyd and CG Artist Zachary DiMaria for trusting me in handling these assets during my first steps into the industry! These were tremendously good people to work with!
As you already mentioned, you are currently studying at the prestigious Gnomon. Can you tell us more about your field of studies?
Sure, I'm gearing up to become a Modeling/Texturing artist in the film industry. As far as modeling goes, I'm focusing on the general range of modeling skills in creating characters, creatures, props, environments and other hard surface assets.
What is it about modeling specifically that you enjoy so much?
I love being a part of the process where we set the stage and characters of a story. I also enjoy creating cinematic camera moves and doing paint overs as well as compositing for the final beauty image!
Let us talk about your submission 'Capsule' in more detail.
Capsule is from an original concept art by Khang Le and was created during my first term at Gnomon for Max Dayan's introductory Maya course. It was my first big piece in school and I couldn't be happier with how it turned out! Later I found out that Gnomon awarded Capsule as Best of Term for Interior Environment for Winter of 2018, which was incredibly exciting to see!
Can you tell us more about the original concept the image is based on and how it inspired you?
When I first saw the concept art by Khang Le, I thought: Wow, this is something new. And there's so much that tells a story in this single image. And not only that, the colors are amazing! I felt that for the longest time my artwork was very monochromatic. I'm not a lighter and it's definitely my weakest skill along with shading. I had never tackled a project like this on my own. I had a lot of experience working on collaborative projects back at SCAD and I did nothing but modeling in just about all of those. I felt very uneasy at first. The thought of tackling the entire pipeline with such a complicated concept myself and finishing it in just three weeks did scare me quite a bit.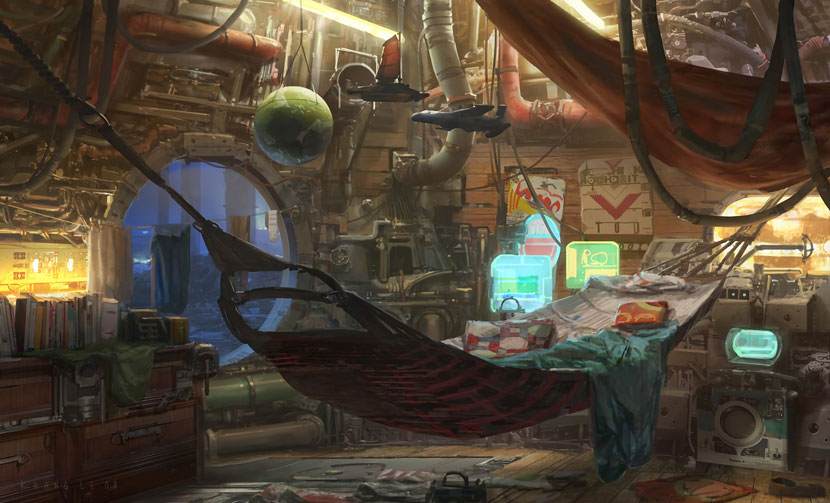 Capsule, original concept art by Khang Le
What was your main motivation with this particular image? As an assignment, was it primarily about creative expression or more of a technical exercise?
When I started at Gnomon I told myself that if I'm not willing to risk failing because I don't think I can pull through with this project, then I'm not challenging myself hard enough. The scope of the class was to choose an interior environment concept art and match it in 3D to the best of our abilities. Khang Le's concept was perfect because it offered a new perspective that I hadn't seen in student projects before. I also wanted to gauge where my skills lied and know what aspects of CG I needed to improve on. Working on this project helped me get a good idea of what my strengths and weaknesses are.
How long did it take you to complete the project?
For the final assignment I technically had three weeks to make and render the scene. But before the project had been assigned, I already put in a good 25 to 30 hours on modeling. In total I'd say I put in over 80 intense hours on this project!
What were some of the challenges you had to overcome?
Matching the concept was incredibly difficult. The walls were rounded and the objects were turned in different directions. It was quite a challenge to match the perspective. Knowing I was working under a strict deadline to finish this project on top of all of my other classes, time management was key.
But the biggest challenge by far was lighting. There's so many lights in the scene with many different colors that it was really hard to establish a focal point. When I started lighting it was saturated with orange and yellow. The rest of the other colors in the scene became really hot. I made the artistic decision to balance the colors in the scene by bringing in the blue fill from the exterior environment and then darkening the foreground and adding a vignette to help get a better focal point.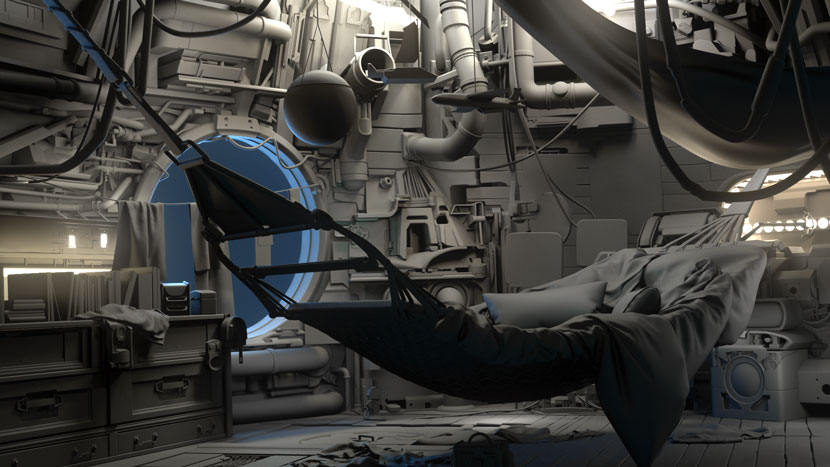 'Capsule', grey render
How do you approach transposing a 2D sketch into a 3D environment? Can you walk us through the development process step by step?
I start all of my projects with gathering inspirations and references. When interpreting a concept, sometimes there are certain areas that are unclear and open to interpretation. It's up to the artist to create and design interesting shapes that match to the style of the concept. After I've collected references I'll start to match the perspective. I'll test different camera focal lengths and angles to see which perspective matches the closest to the concept. From there I'll go ahead and start to model the scene.
Where do you imagine this 'Capsule' to be located? Who might live there?
I imagine this Capsule to be located on an arid planet where different species come and trade resources. The person living in this home is an intelligence broker. Trading information for different tech tools and goods. At first glance, the environment reminded me of the dome like shaped houses of the sand planet Tatooine in Star Wars. And the general mood and details of the concept reminded me of the environments in the Sci-Fi anime series 'Cowboy Bebop'.
What software did you use to create this particular project? Any plug-ins you found particularly helpful?
I used Autodesk Maya for modeling, shading, and lighting, Marvelous Designer for the pillows and bedsheets, Substance Painter for texturing, and Photoshop for the matte painting and compositing.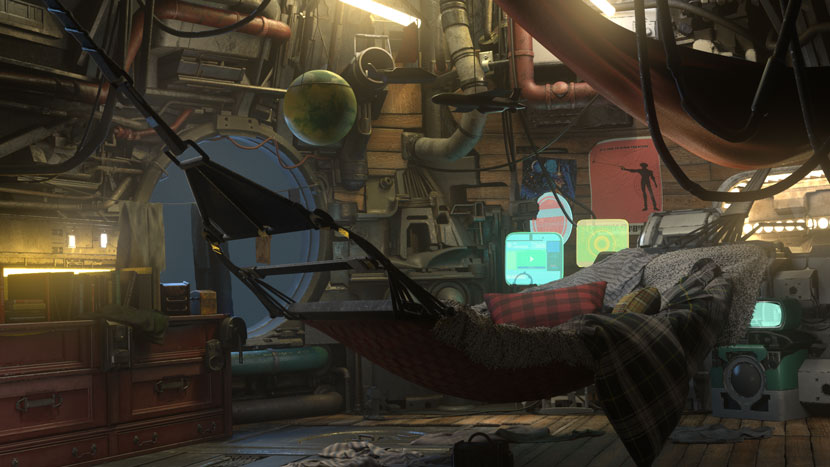 'Capsule', raw render
Have you used RebusFarm before? If yes, please tell us more about your overall experience. Is there anything you especially like about our service?
I have not used RebusFarm yet, but I will soon! I'll be creating a short film alongside other incredible artists at Gnomon! I'm looking forward to using RebusFarm for rendering!
In closing, is there anything else you want to say? Any present or upcoming projects you'd like to mention?
I'm a huge fan of inspirational quotes. There's a quote by Earl Nightingale that says: 'Don't let the fear of the time it will take to accomplish something stand in the way of your doing it. The time will pass anyway; we might just as well put that passing time to the best possible use.' My advice to any artist then is to not be afraid to tackle something you're unsure about. You won't get better unless you honestly try. Start collecting works of art that inspire you and surround yourself with like-minded people who will help you grow as an artist. There's a ton of Facebook groups and forum communities out there dedicated to CG. Connect with others and share your work and ask for help. Getting feedback from others is the best way to improve. There's so many workflows and different methods to approach challenges. Learning CG has never been easier. Last but not least don't give up. It's easy to compare your work to others work and get discouraged by the gap in skill. If you want it enough and you work your ass off you'll achieve whatever it is you want to do!
As far as projects go I'll soon be releasing a project I just finished called 'Lost and Abandoned', inspired and based on a concept from Emmanuel Shiu. And currently, I'm working on interpreting a character concept done by Piotr Jabłoński. So stay tuned!
We most certainly will! Thanks for taking the time and all the best in the future.
If you too want to keep up with the work of John Jak Pagan, follow him on these channels:
---

HOW TO JOIN OUR MONTHLY CONTEST
You want to be our next featured 3D Artist of the Month and win 250 RenderPoints? Just visit our 3D Artist of the Month competition page and submit your entry. We'll choose the best image and contact the winner.
---
>> Read more articles on our blog