Friday, March 15th, 2019 by Julian Karsunky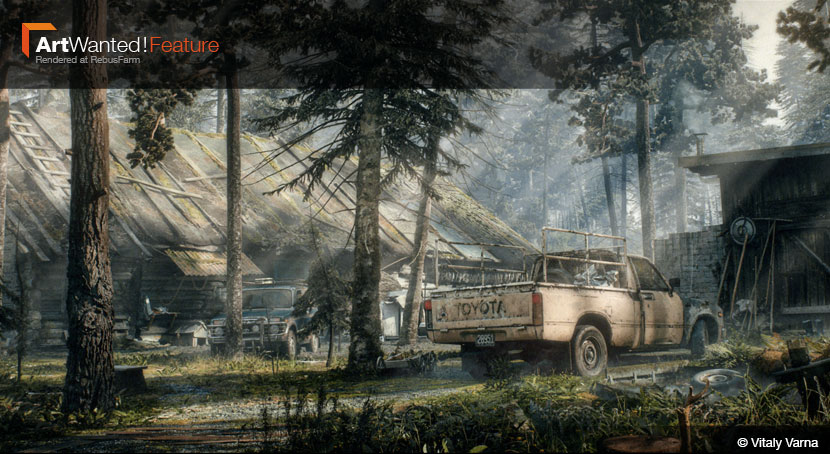 Shhh! Try not to make too much noise as we venture deep into the woods for our March 2019 ArtWanted! feature, or we might draw the unwanted attention of the reclusive forest dweller. Instead, let us focus all of our attention on Vitaly Varna, talented 3D environment artist from Lithuania and creator of the clandestine scene pictured above.
Thankfully, Vitaly welcomed us with open arms and readily talked about the ins and outs of environment art and the development process of his latest personal project.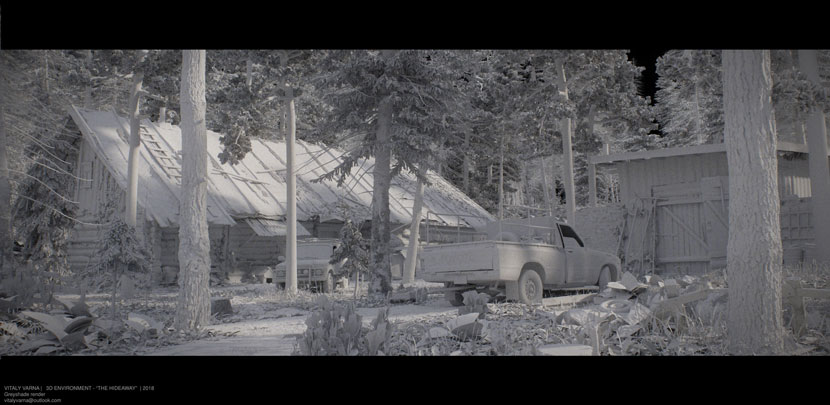 Vitaly Varna, 'The Hideaway', greyshade.
Hi Vitaly, how are you? To start things off, please introduce yourself to our readers!
Hi everyone! My name's Vitaly Varna, I am a 22-year-old 3D environment artist from Visaginas, Lithuania. I have been into 3D art and CGI for about seven years at this point. Prior to fully dedicating myself to 3D, I was heavily into video editing and visual effects, so it was a smooth transition.
Are you employed at the moment or exclusively working freelance?
I'm currently a freelancer. I mainly do environment work for films and cinematics, everything from layouts based on initial ideas to final still-frame or sequence renders. In the past I've worked with companies like Blur studio, right now I'm working on the Chinese indie film 'Umakala'.
For you personally, what are the main benefits and challenges of working as a freelancer?
The main benefit for me is the freedom, surely. The hardest thing about freelancing is probably the initial process of networking and building a client base.
How would you describe the CG scene in Lithuania, in terms of both industry and community?
I would say that the industry here is still quite undeveloped as of now, but there are some very talented artists for sure.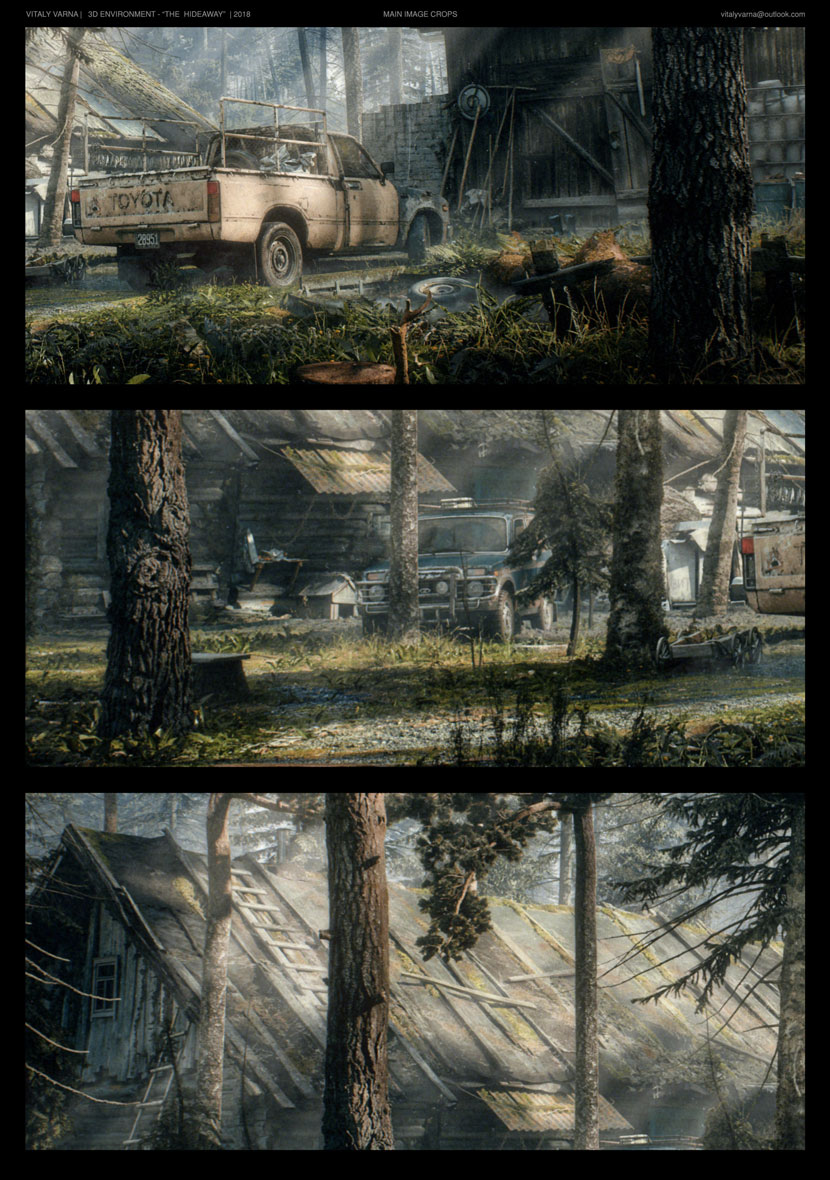 'The Hideaway', details.
Let's talk about your work in more detail! How did you end up specializing in environments?
That was a completely natural development for me, as I've started learning 3D by building environments and just went from there. I just have a passion for environments and worlds, both fictional and realistic.
What skill set should a proficient environment artist have and develop?
No matter how much technology improves, I think it will always be important to have a fundamental understanding of art. I find that it's a rare skill to be able to clearly tell what's good and bad in an image and know how to improve it, and that is mostly due to a weak foundation.
Is there a specific design philosophy or school of thought you adhere to? What inspires you as a 3D artist?
For me personally, inspiration can come from almost anything. However, the strongest source of inspiration is probably something that you connect with on a deeper level. Regarding the first part of the question: I look up to the masterful works of painters such as Ivan Shishkin and Vasily Polenov. It is equally humbling and inspiring, and motivates me to push a little further with every new image.
Now let us examine your submission to our ArtWanted campaign more closely, a secretive barn deep within the forest titled 'The Hideaway'. How did you come up with the original idea?
It's quite trivial, actually. At first, I just wanted to experiment with some kind of forest scenery, surrounded by lush vegetation. The setting was interesting enough for me to just keep going!
What were some of the challenges you had to overcome?
The main challenge to me was fine-tuning the composition towards the end of the process: adding additional elements, adjusting the balance, setting up the rhythm of the tree placement – these things can get a bit tricky. It took me around one month in total to complete the image.
Once you had a rough concept in mind, how did you then go about realizing it? Can you walk us through the development process step by step?
The general workflow is nothing unusual, I suppose. First, I've gathered a couple of references, mostly for lighting and atmosphere. Then, I started with the layout and proceeded to create the props I knew I was going to use right away. From there, everything just built up naturally.
I usually work on the composition right until the end, tweaking camera and object placement. Big thanks to my good friends and colleagues Pavel Kandybey and Erdni Tserenov for always helping me with that!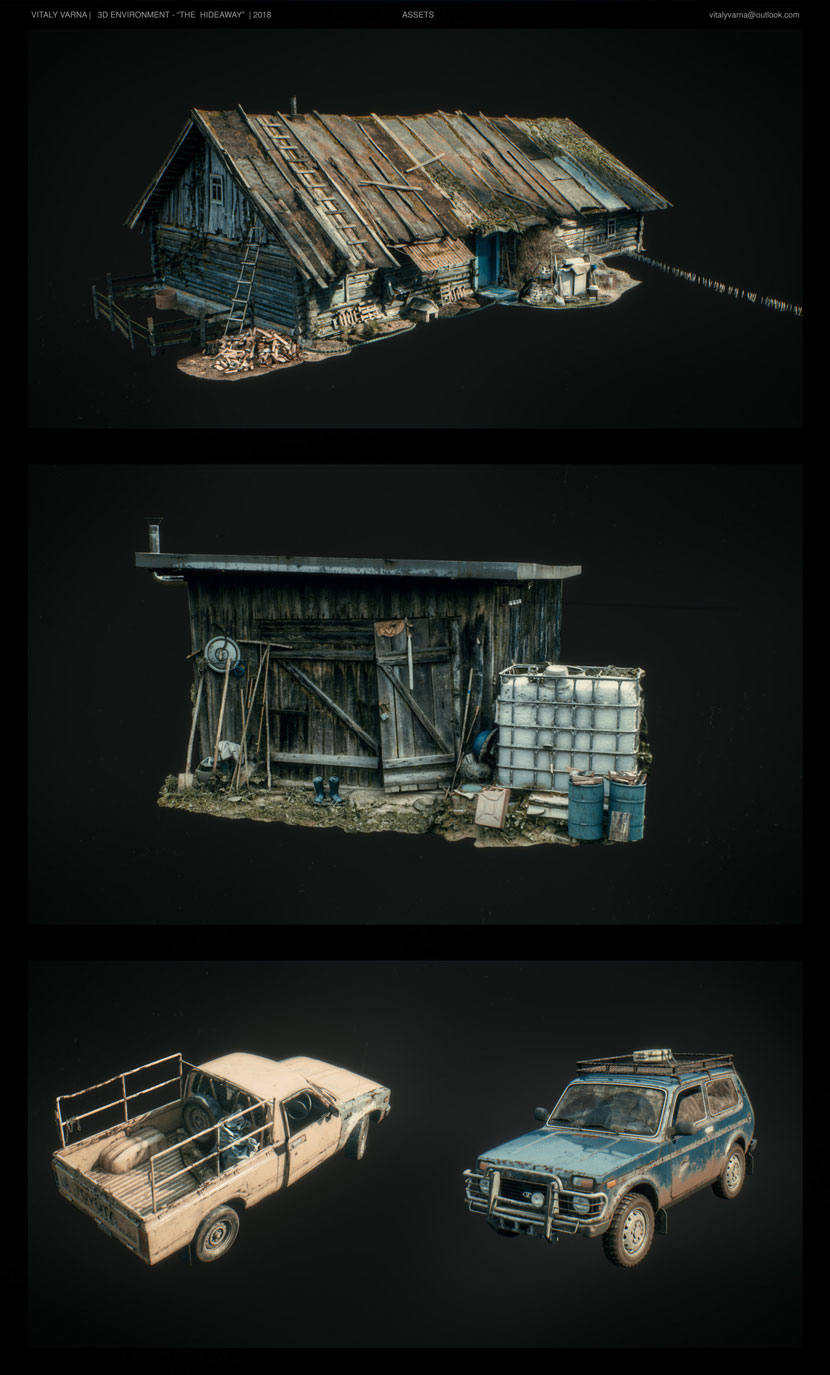 Vitaly tells us he had a great time creating assets for 'The Hideaway'.
Did you create all of the assets in the scene yourself? What is your opinion on pre-made assets?
I have done most of the assets myself, yes. I think that pre-made assets are great for generic things, they usually still need a lot of tweaking though.
What software did you use to create this piece? Any plug-ins you found particularly helpful?
My current main software consists of 3ds Max, V-Ray, Mari and ZBrush. Forest Pack always comes in handy for these kinds of scenes, where a lot of scattering is needed. I've also used Agisoft Metashape to process my scans.
To me, 'The Hideaway' seems highly evocative. Despite its idyllic setting, 'The Hideaway' evokes this clandestine, almost ominous atmosphere. Was that the mood you were going for?
Pretty much, yeah. I've worked off an image with a somewhat similar mood and tried to recreate the feeling as best as I could.
In your mind, who uses this barn and for what purpose?
Well, it's definitely someone who likes isolation and isn't too fond of people. Though I don't feel like that person would be harmful.
More abstractly, how much conceptual thought goes into creating scenes like this? How important is it to you to imagine a (back)story for a setting?
As I get more experienced, I've noticed that storytelling becomes more important to me, especially compared to the time when I was starting out. However, it depends on my intentions, sometimes I like to just experiment without overcomplicating things.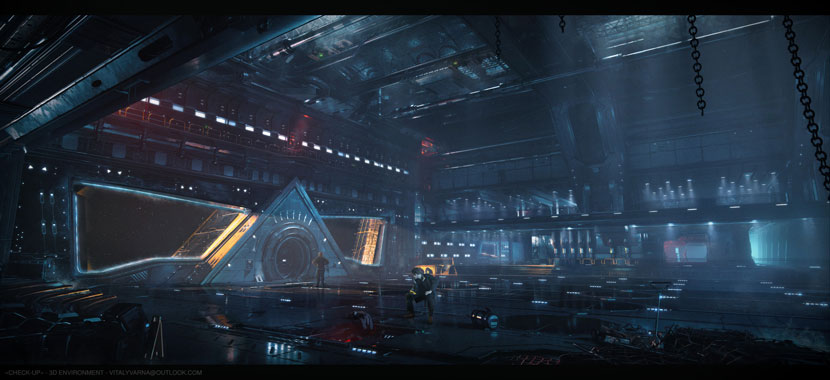 Vitaly feels equally at home exploring sci-fi and fantasy settings. All assets used in 'Check-up' were created from scratch.
Is there a significant difference in how you approach personal and commercial projects in general?
For sure. Whenever I'm working for a studio or a client, I make sure to follow their guidelines and work standards, ranging from the most basic things as file naming conventions to more involved processes. When it comes to personal stuff, it is usually a chaos though, haha.
Please describe your experience with RebusFarm thus far. Is there anything you particularly like about our service?
I've used RebusFarm quite a lot, and I really like the simplicity and its overall ease-of-use. I hope it will continue to evolve and become even better!
In closing, is there anything else you want to say? Any present or upcoming projects you'd like to mention?
I'd like to thank the RebusFarm staff and everyone who somehow ended up reading this interview to the end, haha! I'm working on all sorts of different projects and I will be coming out with something really cool soon, most likely rendered at RebusFarm as well.
Sounds great, be sure to let us know! Vitaly, thanks a lot for taking the time to do this interview and all the best in the future.
Keep up with Vitaly Varna and his work here:
---
How to join ArtWanted!
You want to get featured in our ArtWanted! campaign and win 50 RenderPoints on top? Submit your work, rendered at RebusFarm, to This email address is being protected from spambots. You need JavaScript enabled to view it.! Visit our Art Wanted! page for more information.
---
>> Read more articles on our blog