Monday, July 13th, 2020 by Julian Karsunky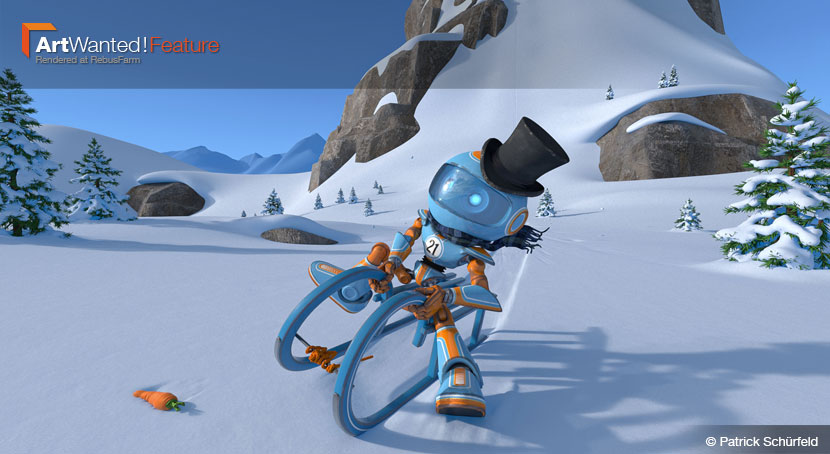 "Beep boop. Greetings, humans, this is OrbyBot speaking. I'm thrilled to be featured alongside my creator Patrick Schürfeld on this month's ArtWanted! spotlight. An experienced designer and filmmaker, Patrick used his vast knowledge of 3D tools to bring me to life, and produced a short animation all by himself. In the recently released 'Snowbot 21', I take on a snowy downhill ride as a daring mountain sledder!
Please check out the interview to learn more about our adventures. End of transmission."
Hi Patrick, thanks for joining us! To start things off, please introduce yourself to our readers.
Hi everybody, my name is Patrick Schürfeld. I was born in the 1970s in Berlin, Germany.
Do you recall when and how you first consciously encountered CGI?
As a little boy, I passed a computer store every day on my way to school. A Commodore Amiga computer was displayed in the shop window, running an image slideshow featuring the legendary golden mask of Tutankhamun.
When and why did you decide to pursuit a professional career as a 3D artist?
I didn't really want to be a 3D artist; I've always been more passionate about filmmaking. However, computers and 3D software are great for visualizing ideas and sharing them with for others. I am fascinated by the possibility that 3D software offers: bringing things to life.
What training or education do you have?
I have a diploma, the German equivalent of a master's degree, in visual communication and design from the Berlin University of the Arts.
Can you tell us more about your work and the services you provide?
I consider myself a designer, so my work covers a broad range of projects: from modeling, texturing, rigging, animation, motion graphics to traditional communication design like identity and brand creation, and logo and icon design. My client base is international and includes agencies and broadcasting companies.
What are some of your personal career highlights or projects you particularly enjoyed working on in the past?
One of my personal highlights was to create and implement the broadcast package with opener, closer and motion graphics for the DFB (German Football Association). For the opener, I recreated the legendary players such as Fritz Walter, Uwe Seeler, Franz Beckenbauer, Oliver Bierhoff and Michael Ballack in 3D. During the project, I learned a lot about the human anatomy, especially faces. It was challenging, because I only had photos available as templates.
Last year, I had the opportunity to model and animate the robot NAO from Softbankrobotics in 3D. Having previously developed my own robot, 'OrbyBot', was very beneficial for this task, and the structure of the NAO rig ended up very similar to that of OrbyBot.
Speaking of, my recently released short animated film 'SnowBot 21' is another one of my personal highlights.
How are you holding up in these trying times? Has the current crisis impeded your work?
Yes, unfortunately the current crisis has had a huge impact on me, both professionally and personally. Many jobs have been canceled.
To you personally, what are the biggest benefits and challenges of freelancing?
Being a freelancer gives me the opportunity to turn my passion into my business. I can work where I want, when I want and with whom I want. It is much easier for me to balance family and work. It allows me to spend more quality time with my family. The only disadvantage of being a freelancer is the lack of financial security in times of crisis.
What is your favorite subject in CGI? For what reason(s)?
I do not have a favorite subject, I always wanted to make films. The great thing about working with 3D software is that you have full control over everything. Depending on which result I want to achieve or which task I want to solve, I use various tools such as Cinema 4D and many apps of the Adobe Creative Suite.
I have recently started working with Substance Painter, which has a lot of good features I really enjoy. Sometimes, the combination of CGI and real footage is a great way to express ideas. I work in a results-oriented manner: my aim is to use my resources in such a way that I get the best result in the easiest way possible.
What inspires you as a filmmaker and 3D artist?
No idea, honestly. All I can say is that the work of Stanley Kubrick and Tex Avery have had a huge impact on me.
Let's talk about your work in more detail, namely 'Snowbot 21', your latest animation short. Could you first tell us the origin story of its charming main character 'OrbyBot'?
It all started with a hand-drawn sketch of a little robot. My wife carried this sketch in her wallet for many years until finally, I decided to bring the sketch to life, and thus 'OrbyBot' was born!

From wireframe to character model, OrbyBot became operational on August 21st, 2019.
Once you had decided to bring the original sketch to life, how did you approach OrbyBot in terms of character design?
I had a rough idea of how it should look like. However, the first step was to consider how the robot works mechanically, as I wanted to design a robot that could theoretically be built in real life. In the end, this determined the final design.
In my opinion, the concept of a robot is similar to character animation, in that the goal is to create a machine which has its own life and personality. That is probably one of the reasons why I chose a robot as a main character for my animation short.
What was your main motivation for this project?
Simply to entertain myself and others.
How did you come up with the idea for the animation?
I wanted to tell a simple story that followed a straight line. That's how I got the idea for the sleigh ride. My goal was to make the story work with only one character, which I accomplished – as long as you don't count the poor snowman as a character.
How long did it take you to complete the project?
Once I had the 3D model of the robot and the idea for the short film, the realization took me about 6 months. During this time, I also realized other commercial projects.
What were some of the challenges you had to overcome?
For the trees, I created a branch system out of splines, so I was able to place the needles with the Cloner Object. The Volume Tool was very useful for the snow on the trees. In combination with Thinking Particles, I was able to generate snow automatically on the branches. The LOD made it possible to manage the variation of the trees and to optimize the scenes.
The 3D character of OrbyBot consists of separate 3D objects. For me it was important to put the UVs on a single map and to arrange them optimally.
For texturing, I used the Projection Settings from Cinema 4D's Material Tag, like Cylindrical and Flat, to project the texture elements, which I made in Illustrator. Then I baked the textures to the UV map. I also generated an ID map, so I could continue painting and generating details in Substance Painter for the final single texture.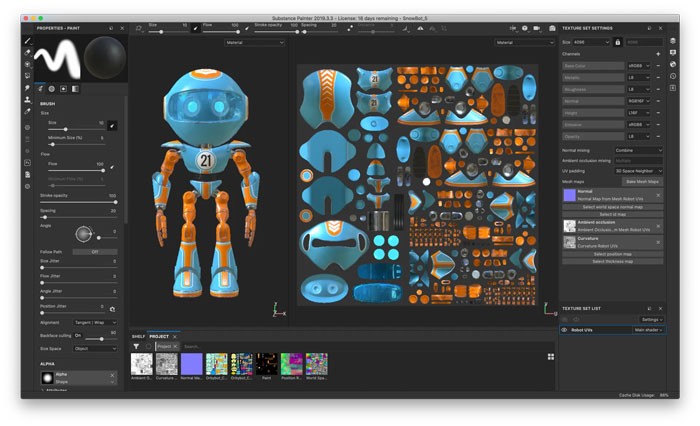 A hero in the making: a detailed look at the UV mapping of OrbyBot and his racing gear.
Could you walk us through the development process step by step?
In order not to go beyond the scope, I'll try to summarize the work steps briefly. In this case, I had already roughly developed OrbyBot. Because I developed OrbyBot with the idea to tell different stories with him without having a special story in mind.
1. First I tried to develop a story that includes one or two turning points and ends with a punchline.
2. In this case, the story is following the sledge track, which also meant I had a clear orientation. I scribbled down a side view of the sledge track and marked the different stations of OrbyBot's ride, like snow cornice, snowman, tree catapult and landing.
3. In the next step I created a storyboard.
4. Then, I built the ground of the sledge track in Cinema 4D without landscape and set the different camera positions. I let OrbyBot ride the sled to get an idea how the different settings fit together.
5. I proceeded to split the route into different scenes, which I saved in separate Cinema 4D files, such as "climb", "snow cornice" and "ski jump". In these scenes, I created a low-poly landscape for orientation. Each scene also contains additional camera settings. The Cinema 4D Take System was very useful for this.
6. Then I focused on the animation and timing.
7. In the next step, I dealt with the details such as the design of the mountains and the trees, tracks and foot steps, snow cornice, the exploding snowman, the texturing in general and, as they were crucial for 'SnowBot 21', the lighting and the background in particular.
8. After rendering, the next steps were editing, compositing and color grading.
9. Last but not least, I created the soundtrack.

His trusty Sled by his side, OrbyBot is ready for his adventure as 'Snowbot 21'.
What software did you use to create this project? Any plug-ins you found particularly helpful?
The whole project was completely developed and implemented by me. With the exception of the RebusFarm farminizer, I worked without any plug-ins.
All objects and characters, as well as the film itself, were created in Cinema 4D. Certain Cinema 4D features like Character Animation Tools, MoGraph, Fields, Volume, Thinking Particles, Dynamics, and 3D Painting were all very helpful for my work. I used Substance Painter and BodyPaint 3D for texturing. For post-production, I worked with the Adobe After Effects, Photoshop and Illustrator. I created the audio track with Adobe Audition. For the sound, I used my own sound elements and stock material from Audiojungle. The yodeling was created by Julien Apelian's Audio Colors. Finally, the film was rendered on RebusFarm.
What's next for OrbyBot? Can you share some of your ideas for the character's future?
The next film is already in planning. I think the main character will be 'SpaceBot'. In the meantime, I will continue to publish short animation loops on OrbyBot's Instagram.
Compared to your commercial work, how important are personal projects to you as a 3D artist?
I think it's the only way to develop and realize your own creativity. Customers only buy what they have seen before, so you have to show them what you're capable of. Just talking about it is not convincing.
Producing a fully-fledged animation all by yourself is an impressive feat! What advice would you give to aspiring CG artists in tackling such ambitious projects?
I would recommend everyone to realize their own ideas besides commercial projects. Even if it sometimes takes longer, it is worthwhile to stay on it!
Please tell us about your experience with using RebusFarm! Is there anything you especially like about our service?
I have been using RebusFarm for quite some time and have rendered several projects with it. The implementation in Cinema 4D is seamless and easy to use. And if there's a problem, you guys always give great support!
In closing, is there anything else you want to say? Any present or upcoming projects you'd like to mention?
#iamarobotfollowme
You heard the robot, er, man! Patrick, thank you so much for taking the time and all the best in the future!
Keep up with Patrick Schürfeld and his work here:
---
How to join ArtWanted!
You want to get featured in our ArtWanted! campaign and win 250 RenderPoints on top? Submit your work, rendered at RebusFarm, to This email address is being protected from spambots. You need JavaScript enabled to view it.! Visit our Art Wanted! page for more information.
---
>> Read more articles on our blog