Monday, October 15th, 2018 by Julian Karsunky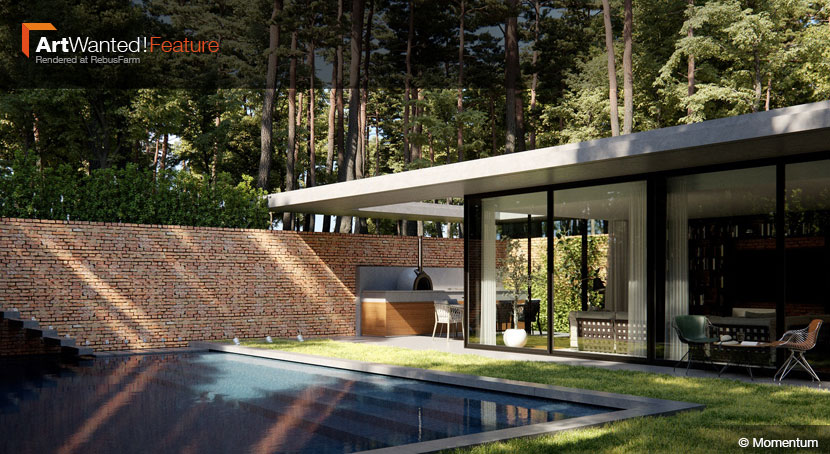 Home, according to a popular proverb, is where your heart is. While the saying refers not to a physical place, there is a clear connection between our well-being and our living arrangements. It certainly helps, then, if the people who design your future residence at the drawing board put a lot of heart into their work. The folks at Momentum, an architectural and design visualization studio based in Lisbon, Portugal, are not only masters of their craft, but equally passionate about their work. Continue reading to find out how founders Miguel Chuva Gomes and Paulo Quartilho create the houses of tomorrow.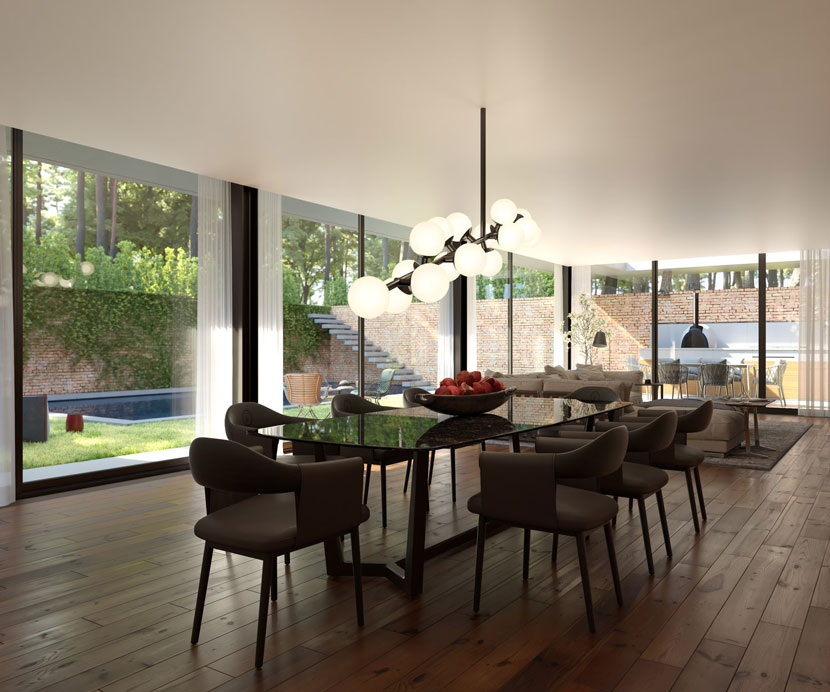 The living room of the 'Pine House' offers a pleasant view of the extensive outdoor area through its glass front.
Today, CG technology allows us to perfectly envision and experience interior space before a single brick is laid. The drawing boards and blueprints of old have conveniently been replaced by digital tools; architectural visualization in particular plays a crucial role in the development and construction of new buildings everywhere. With the help of capable 3D artists, clients can fully decorate and even tour their future homes in virtual reality long before the concrete is mixed.
Miguel Chuva Gomes and Paulo Quartilho, founders of Portuguese architectural visualization studio Momentum, have closely followed the advances of 3D technology for a long time: "With both of us coming from a classical architectural background, we encountered CGI early on in our careers", Miguel recalls.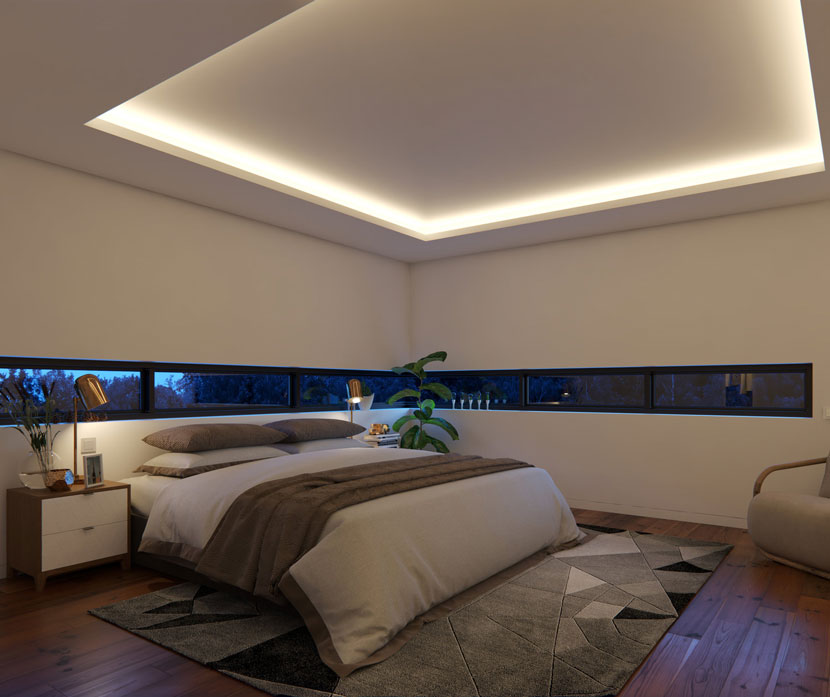 One of three bedrooms found in the 'Pine House', with the surrounding pine trees visible at dusk.
Once they recognized the true potential of realizing their creative visions in a 3D environment, the two of them decided to adjust their professional services accordingly. "My longtime friend and business partner Paulo was the one to initially make the switch to CGI full time," Miguel says. "He went to the UK to work on a couple of renowned projects for a while and when he returned, we followed through with our plans of founding our own company."
The team at Momentum produces photorealistic CGIs, animations and virtual reality for property developers, architects, branding agencies and interior designers. The guiding design principle of their work is a firm basis in reality, Miguel tells us: "Whether it's in magazines or architectural photography, we're constantly gathering reference material and checking our work against it. No matter how much we know from memory, I always compare with references."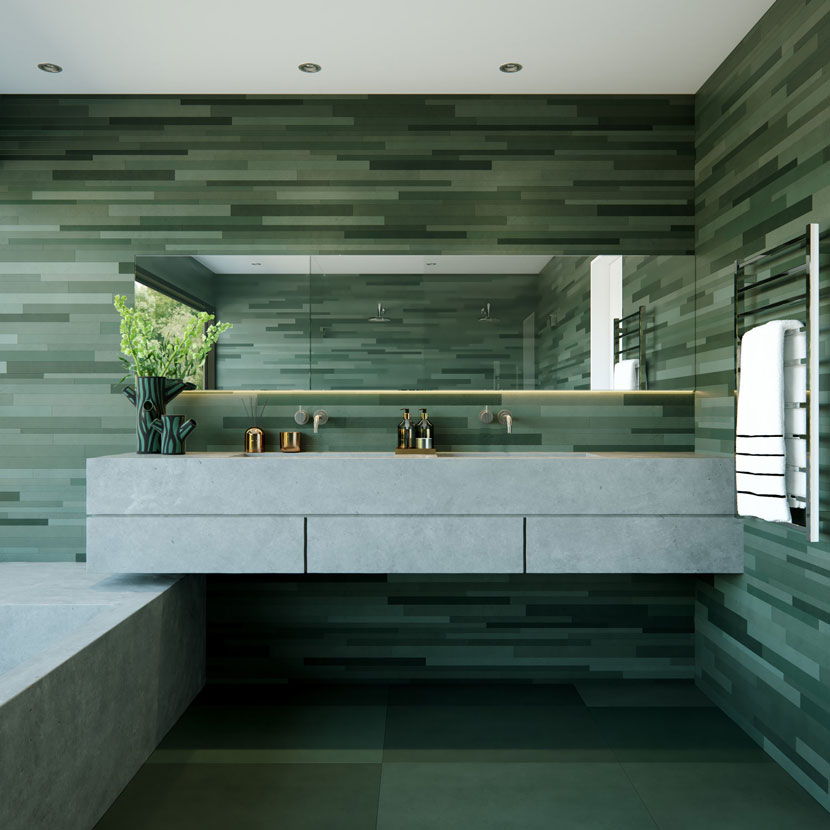 This bathroom front shows Momentum's subdued approach to interior design in the 'Pine House' over four stories and 400m².
One of Momentum's recent projects is the so-called 'Pine House', a luxurious residence to be built in Aroeira, a resort just south of the Portuguese capital Lisbon famous for its large golf course. Located in the middle of a protected pine woodland that lend the project its name, the 'Pine House' showcases three bedrooms, an elegant, open kitchen, several recreational rooms and even its own wine cellar over four stories and 4002 meters total. "The Pine House was designed from the ground up to be integrated within its surrounding terrain and as one with nature", Miguel summarizes his team's approach.
"Our client gave us a lot of creative freedom from the start, which made this a very fun project to work on", he goes on to describe the development process. "We began by modeling all the spaces and set up some lighting and cameras, just very basic scenes not obscured by furniture or other objects. Once the client signed off this initial design, we move on to sketching a rough concept of the interiors. Then as we produce the actual visuals, we go back and forth with the client until everybody's happy with the results!"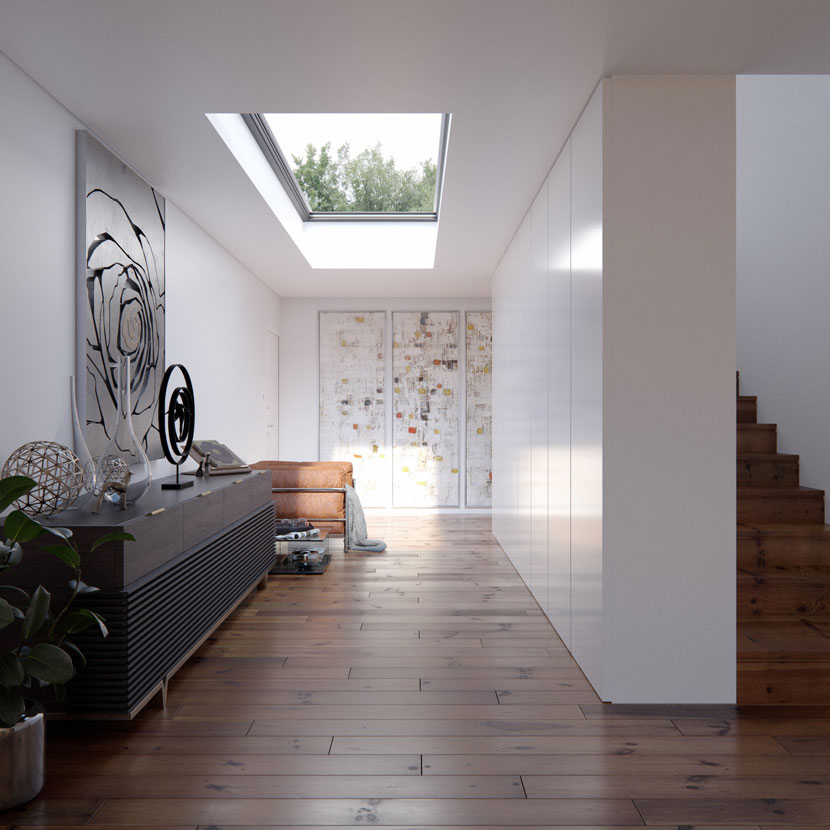 A spacious hallway with light shining in through a ceiling window.
The 'Pine House' project was realized entirely in 3ds Max and V-Ray. Miguel cites popular scattering tool Forest Pack as the most essential plug-in not only for this particular project, but the studio's workflow in general. Considering the prominent placing of trees and plants in and around the 'Pine House', it is easy to see why. "We wanted to maintain the feeling of being surrounded by nature in every aspect of the house", Miguel explains. This effect is not only achieved by a simple and pure spatial division, but can also be seen in the conscious decision to do without lavish pieces of furniture. "In terms of interior design, our main goal was to keep the furniture subdued, to have it almost blend in with its natural and architectural surroundings."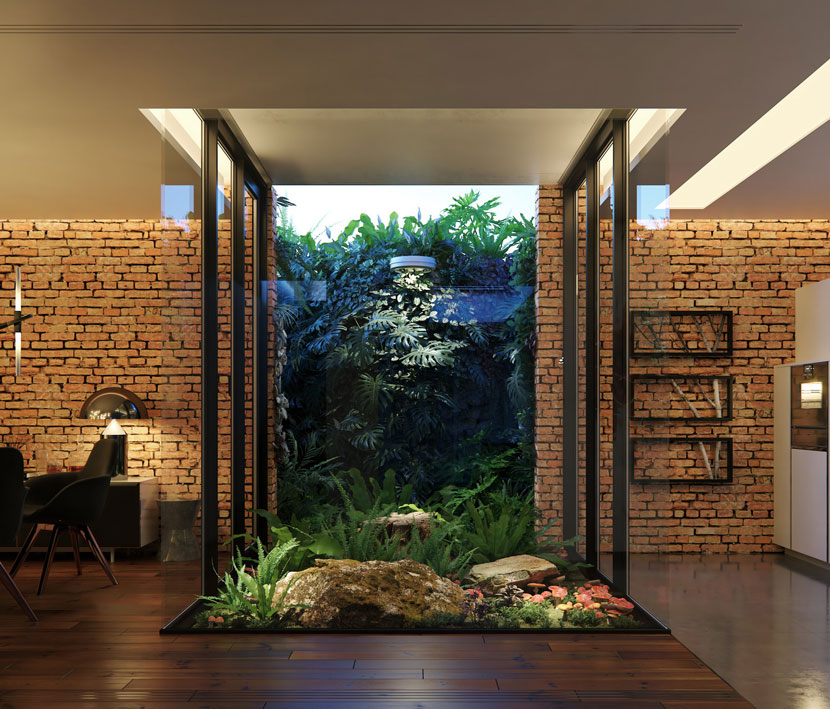 Nature seamlessly creeps in all around the Pine House in surprising ways, as with this alcove found in the kitchen.
While the 'Pine House' in all its understated, yet still very palpable opulence is above and beyond the price range of the average person, we can still appreciate it as a prime example of elegant design. As the lines between virtual reality and real life continue to blur, architectural visualization lets us travel to imaginative places with a simple mouse-click.
Miguel and his team at Momentum, meanwhile are already working on further developing the limitless digital space. "Unfortunately we can't give away too much at this point, all I can say is that we're currently working on some really exciting projects in Unreal. We'll share them as soon as we're able, so please stay tuned!"
Keep up with Momentum here:
| | | | |
| --- | --- | --- | --- |
| | www.behance.net/geral628d | | |
---
How to join ArtWanted!
You want to get featured in our ArtWanted! campaign and win 50 RenderPoints on top? Submit your work, rendered at RebusFarm, to This email address is being protected from spambots. You need JavaScript enabled to view it.! Visit our Art Wanted! page for more information.
---
>> Read more articles on our blog