Monday, October 1st, 2018 by Julian Karsunky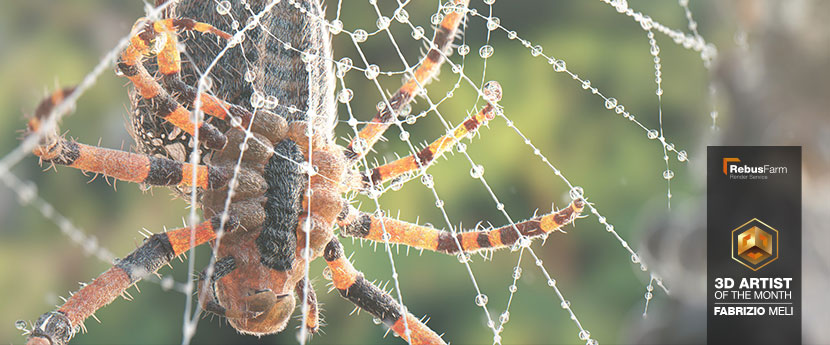 For all the arachnophobes among you, please bear with us as we introduce Fabrizio Meli as our October 2018 3D Artist of the Month. Part of his recently completed thesis, Fabrizio's rendition of an orb-weaver spider is so lifelike, it might send a tingle or two down your spine. Not particular fond of spiders himself, he conquered his initial fear to achieve the best possible results for his demo reel.
Continue reading as we shine the light on an up-and-coming talent on the verge of breaking into the industry after finding his true calling.
A fresh graduate from PIXL VISN media arts academy, 21-year-old Fabrizio Meli stands at the start of a promising career. Currently a senior 3D artist focused on interior visualization at an architectural company in Cologne, Germany, he takes great joy in his work: "As a lighting and lookdev artist, I feel like a kid in a candy store. It's just all around exciting and fun!"
Fabrizio's fascination with CGI started as a teenager, when he first took an interest in compositing. Attempting to edit recorded clips of the popular FIFA video game franchise, he began messing around with Adobe After Effects on his own. "I remember the first time I opened a 3D program", Fabrizio recalls. "It was all so overwhelming and confusing, with thousands of buttons to choose from and seemingly endless possibilities, I had no idea what to click." Since then, his determination has lead him to become a full-fledged and versatile 3D artist, as evident by his impressive demo reel.
Before deciding on a career in the CG industry, Fabrizio underwent a training as an audiovisual media designer. However, after three years of schooling, his initial goal of working in television had turned sour: "It just was nothing like I expected it to be, it wasn't challenging at all".
Disillusioned and in search of a more skill-intensive career path, Fabrizio enrolled at PIXL VISN media arts academy in 2017, specializing in lighting, texturing and lookdev. Over the course of 15 months, there he learned everything from the basics to advanced techniques. Among his teachers were accomplished industry professionals such as modeler and texture artist James Schnauf and animator Jonathan Symmonds.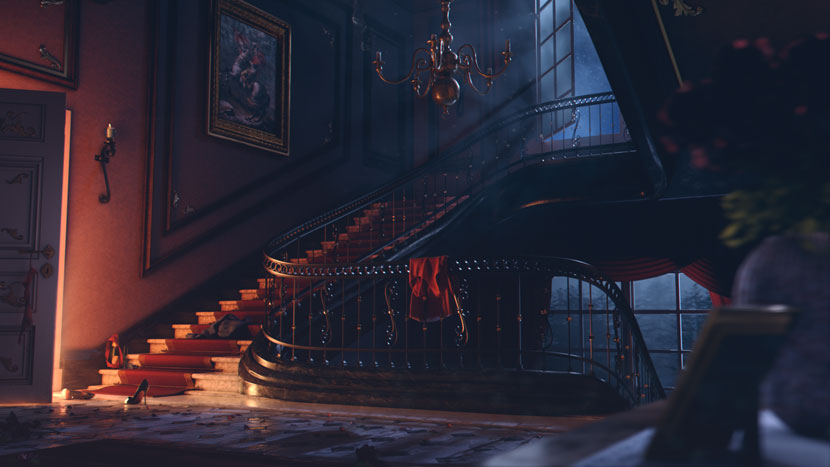 Fabrizio says, interiors were the most fun during his time at PIXL VISN. This scene was part of his final assignment.
To complete his education at PIXL VISN, Fabrizio had to put together four different projects for a demo reel in just three months, one of which turned out to be the orb-weaver spider. "I had already settled on an interior scene, a car and a watch, so I was looking for an organic subject", he describes his approach. "After a few hours of brainstorming, I found the spider to be the perfect animal for what I had in mind: It's small, so I could use a lot of depth of field, it offered ample opportunity to play around with subsurface scattering and finally, its dew-covered web would make for a great backdrop!" Elaborating on his last point, Fabrizio tells us that composition is the defining aspect of his work, referring to its crucial role in shaping the overall impact of an image.
At first, Fabrizio, who describes himself as "not the biggest fan of spiders", felt repelled by his eight-legged subject of choice. But during the four weeks he worked on the project, fear slowly but steadily gave way to genuine interest: "Every time I see a spider now, I try to take a macro photo of it. After all this time closely studying the anatomy and physiology of spiders, I developed a strong sense of appreciation."
Orb-weaver spider, from wireframe to final render
Aiming for a photorealistic depiction, Fabrizio began by gathering reference material, organizing his pictures with PureRef. Actual development started with the modeling process in ZBrush and retopology done in Maya, followed by the UV-mapping. "I used 8 UDIMS for the spider go as close as I wanted", Fabrizio says. "I actually taught myself Mari in order to use the resolutions of the UDIMS to the fullest. I then hand painted the maps to get a natural look of asymmetrical color patterns. This also allowed me to change little things later during shading without changing the whole texture.
"To split the body from the legs, I made frequent use of RGB masks, which also granted me additional freedom to push the image in different directions. For grooming, I used the Ornatrix plugin and compositing was done in Nuke. Finally, I rendered the whole thing through Arnold."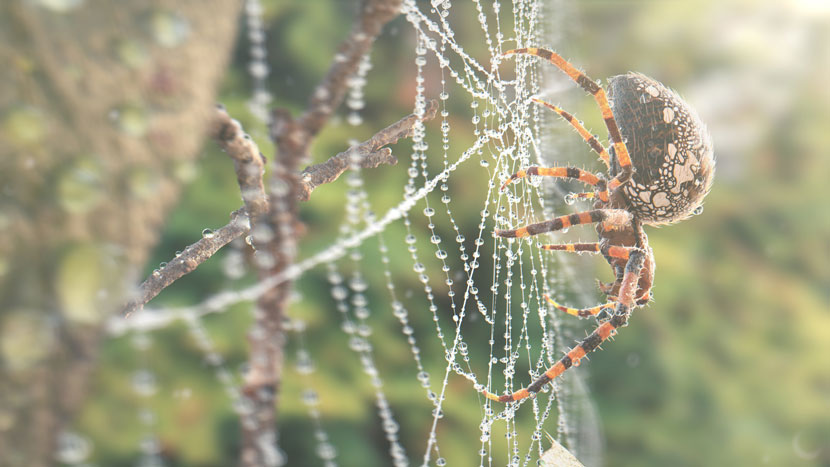 This shot offers a closer look at the fine texturing of both the spider's abdomen and its web.
As a long-time partner of PIXL VISN media arts academy, we continue to be impressed by the quality of the work of their student body. Fabrizio is a prime example of how far one can come in a comparatively short time, given the right resources and learning environment. However, as the young artist notes, proper education alone is not enough: "At the end of the day, you have to be passionate about 3D!"
We are thrilled to see what he comes up with next and have no doubt he will put his free RenderPoints to excellent use!
Keep up with Fabrizio Meli here:
---

HOW TO JOIN OUR MONTHLY CONTEST
You want to be our next featured 3D Artist of the Month and win 250 RenderPoints? Just visit our  3D Artist of the Month competition page and submit your entry. We'll choose the best image and contact the winner.
---
>> Read more articles on our blog