Monday, March 21st, 2022 by Julian Karsunky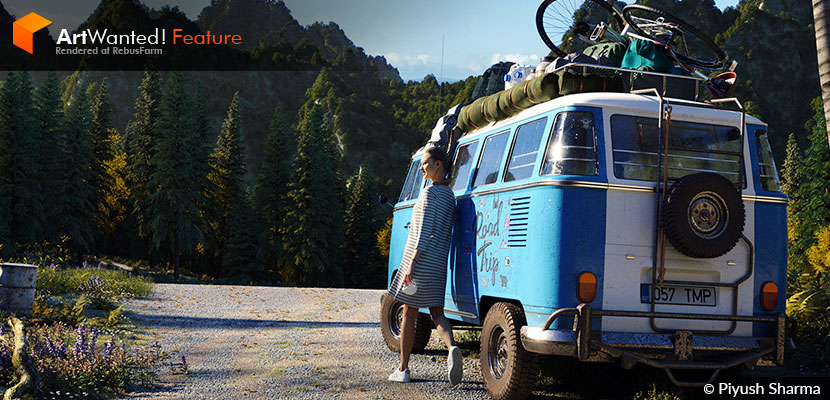 While virtually traveling the world is hardly a substitute for the real thing, seeking refuge in digital landscapes can at the very least alleviate unfulfilled feelings of wanderlust. Piyush Sharma, our featured artist in March 2022, creatively converted his experience during the pandemic into a CG 'Road Trip'. Because sometimes, the journey is more beautiful than the destination.
Check out our interview to learn about Piyush's favorite form of traveling, his own journey from hobbyist to professional, and working freelance.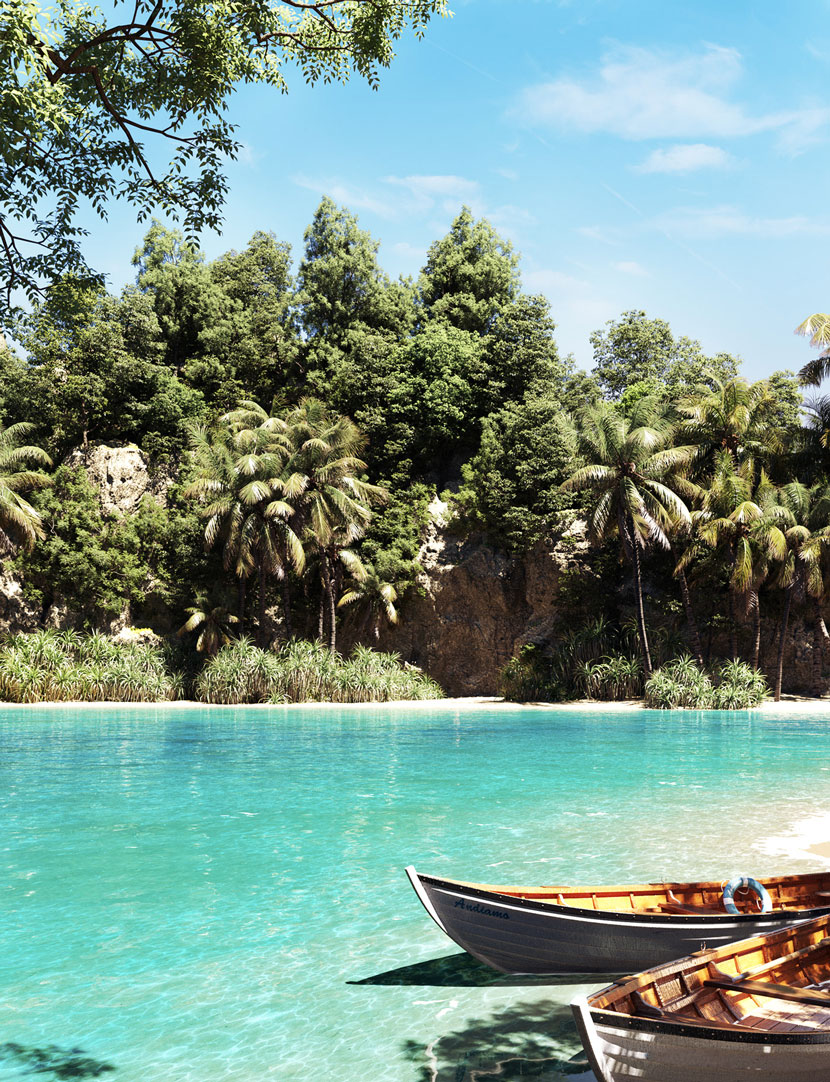 Piyush is no stranger to our campaigns. Last year, this scene titled 'Venezuela' scored him second place in the Rebus Render Farm 'Summer Vibes' challenge.
Hi Piyush, thanks for joining us! To start things off, please introduce yourself to our readers.
Hello everyone, my name is Piyush Sharma, I am 25 years old and I am an archviz artist and 3D visualizer from New Delhi, India, with over four years of industry experience.
When did your passion for 3D first come to be and how did it then turn into a career?
I have been enthusiastic about CGI in movies and video games ever since I was a kid, so I have always had a natural interest in it. It started out as a hobby, initially, but after completing my secondary studies, I decided to pursue a professional career in 3D.
What training or education do you have?
I have a diploma in multimedia as part of a two-year program. In addition, I taught myself a lot of things using freely available online resources.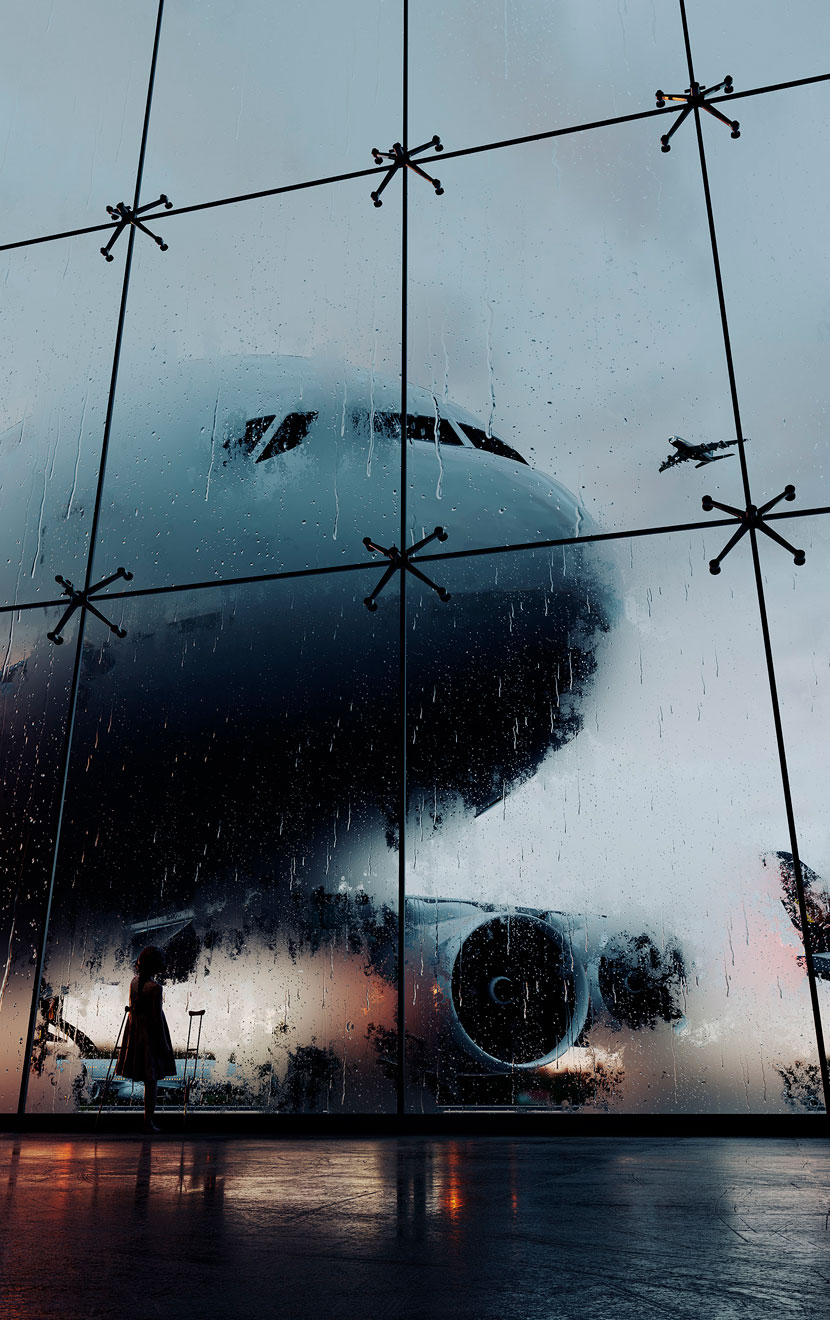 While wanderlust is a recurring subject in Piyush's personal work, the title of this image, 'Hope', evokes less pleasurable forms of traveling.
Tell us about your current job situation! Are you exclusively freelancing at the moment?
I have been freelancing full-time for two years now. I was not really happy with my job at the time and had generally wished for more independence for a while. So I quit and went freelance…and here I am! 
What services do you provide?
Architectural animation and still renders, and product modeling
In your experience, what are the biggest benefits and challenges of working freelance?
The most obvious advantages are the independence and flexibility it allows. Furthermore, as an employee, you will most likely only receive a small raise each year. As a freelancer, on the other hand, your income is directly tied to your own quota: if you are willing and able, you can work on multiple projects at the same time, potentially allowing for better pay. Of course, you can also work from the convenience of your own home.
One of the most difficult aspects of working as a freelancer is always having to plan ahead. There is also the possibility of constantly having to worry about the next project. That is the flip side to what I said about income just now, although having regular clients certainly helps take off some of that pressure.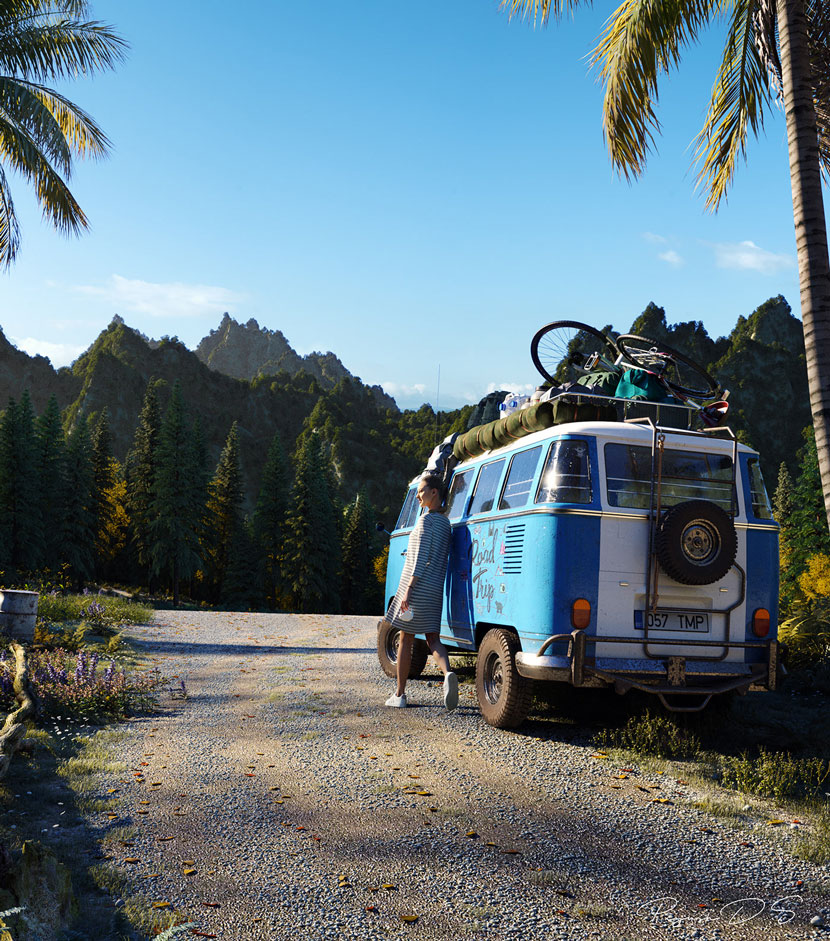 Every now and then, I take to the road looking for adventure. My bluebird, the mountains, the cool breeze, the sunset hues.
Can you first tell us about the origins of the project? Was this a commercial job or a personal project?
This was a personal project and the direct result of being forced to stay at home during the pandemic. It was a way to express how I felt at the time – trapped and unable to travel – while also mitigating that feeling by going on a virtual 'Road Trip'.
The goal of the project was to portray what it is like to travel alone while feeling comfortable with yourself, and enjoying your own company. Visually conveying this narrative was particularly important to me, and I tried to set the mood for the image accordingly.
A "personal" project in the truest sense of the word! Tell us a bit about your history on the road!
Sure, road trips are among my favorite pastimes. It refreshes me and fills me with a wonderful sense of adventure. You meet plenty of new people and make a lot of memories. This form of traveling has always been very enjoyable for me, and I start planning my next trip just as the last one is coming to an end.
What were some of the challenges you had to overcome for this project?
Time management was slightly challenging, as I had to find time outside of my working hours. The project took me about a week to complete.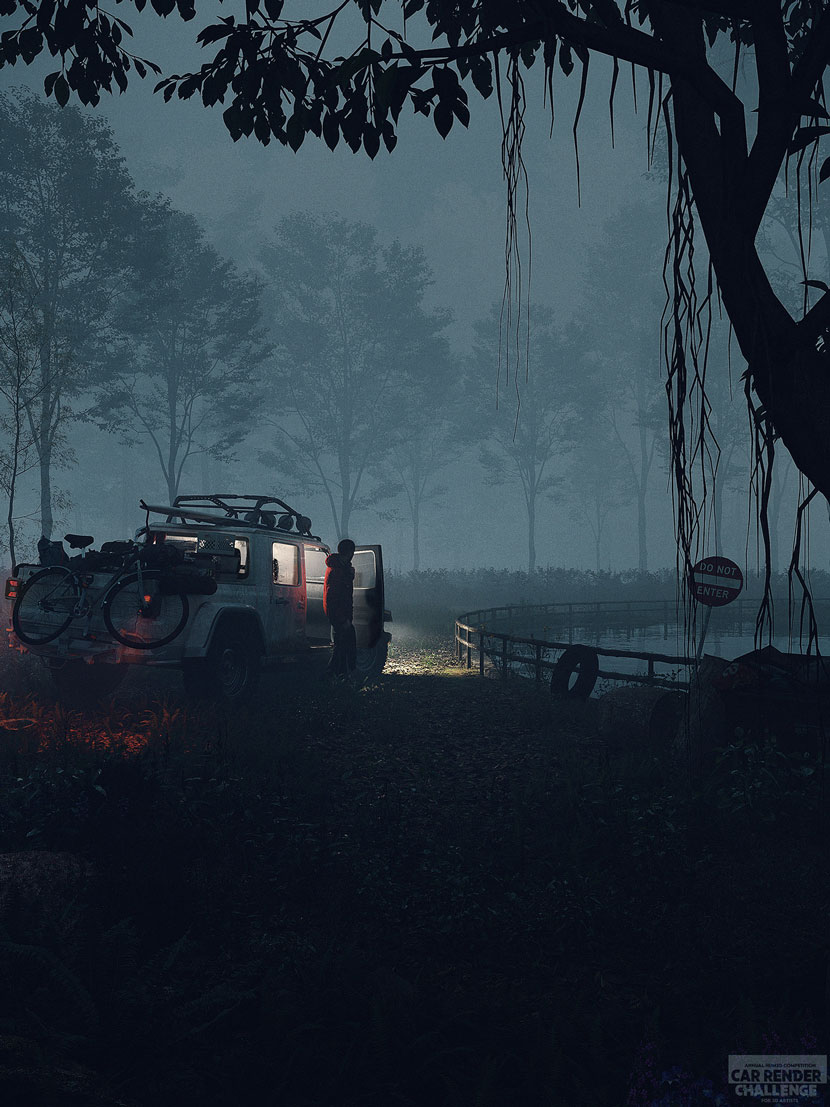 Another submission to a render challenge, 'Morning Mist' might be interpreted as a variation on the themes of 'Road Trip'.
What software did you use to create this project?
I used 3ds Max, Corona Renderer, the itoo Forest Pack, and Photoshop.
In closing, is there anything else you want to say? Any plugs, shoutouts, or upcoming projects you would like to mention?
Thank you so much for having me, it is an honor to be featured on ArtWanted!
Piyush, thank you so much for taking the time and all the best in the future.
---
Keep up with Piyush Sharma and his work here:
---
How to join ArtWanted!
Do you want to get featured in our ArtWanted! campaign and win 250 RenderPoints on top? Submit your work, rendered at RebusFarm, to This email address is being protected from spambots. You need JavaScript enabled to view it.! Visit our Art Wanted! page for more information.
---
>> Read more articles on our blog
Get started with your own renderings