Wednesday, March 9th, 2022 by Gabriela Mazur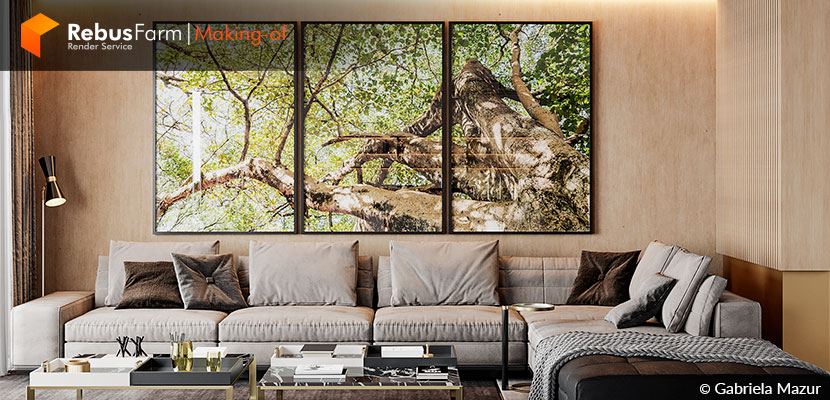 Gabriela Mazur, the founder of 'Mazur Rendering Studio', talks to us about her work within the furniture industry and her beliefs on how going digital is the best option to save the manufacturer's wallets and the world's resources from unnecessary expenses. An interesting story of entrepreneurship and useful tricks on how 'Furniture II' was rendered.
Let's hear more from Gabriela.
ABOUT
First I want to thank the Rebus Farm team for the invitation, I was very happy, it's an honor for me.
My name is Gabriela Mazur, I work with 3D for the real estate and furniture market at my studio, MAZUR RENDERING. I have been working in the 3D area for exactly 4 years, I started in 2018 after a period of the interior design course, where I discovered my passion for 3D art, and in the end, I ended up dropping the course and started to specialize in archviz, and since then I never stopped. I consider myself a born artist!
For as long as I can remember, I've loved art. I'm from music, drawing, cinema, dance and I discovered that I could express my art in 3D, make my ideas real and bring to life my look at something, bring some kind of feeling in my visualizations for architecture and furniture.
FURNITURE II
Well, Furniture project II was one of those projects where I end up loving working with furniture. To model furniture in 3D, it is necessary to understand a little of the history of furniture creation, the finishes and its public target need to be clear, without this information it would be impossible to achieve any result. The customer was approached with a proposal to renew the catalog of his store that was available for e-commerce, as this is the new universal format. The pandemic, in which we have had to book for 2 years and only little has been experienced, reinforced the idea that having all the equipment done, it is possible to reduce costs with something as extended as rent and the transportation of teams and the product in question. Imagine having to take that product to Switzerland to photograph just to create a cold climate and have a person sitting on it having a nice hot chocolate on a super warm blanket, can you imagine? Did you guess the costs too? For these reasons and many others, it is cheaper to produce digitally, without transportation or expensive equipment, the planet thanks you for choosing digital.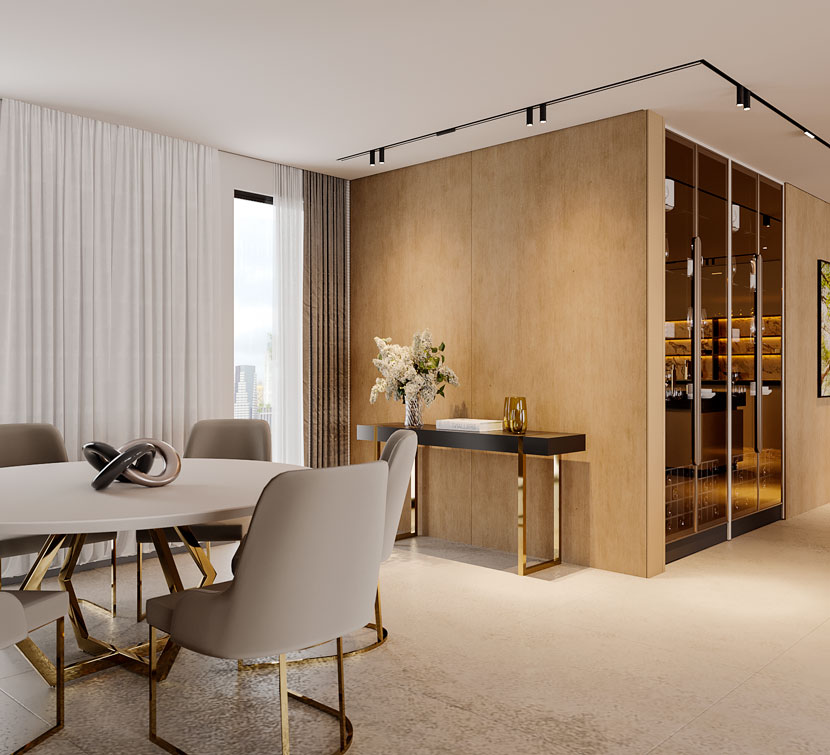 Digital visualization of the furniture design project.
Modeling

Modeling on 3ds Max.
The modeling was done in 3ds Max and Corona Renderer, they are the main flow software here at the studio. The idea was to create a setting with a half-European feel, like the design fair in Milan, as it would raise the eye on this furniture. I chose an integrated environment where we could work the main environments, living room, and kitchen. The room needed to highlight the very elegant coffee tables with metallic bases and top like a lacquered woodworking box. In the scene, everything was modeled, the environments, the furniture in question except the sofa. We used 3D decor models from 3dsky, which I love, and some textures from poliigon.com.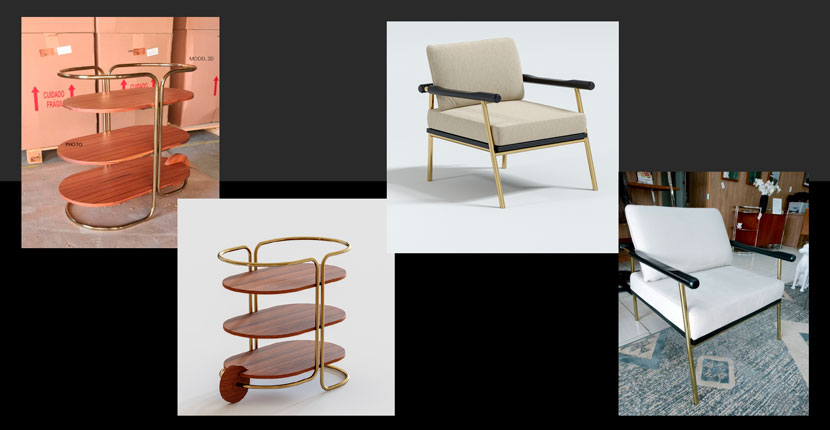 3D models from photography.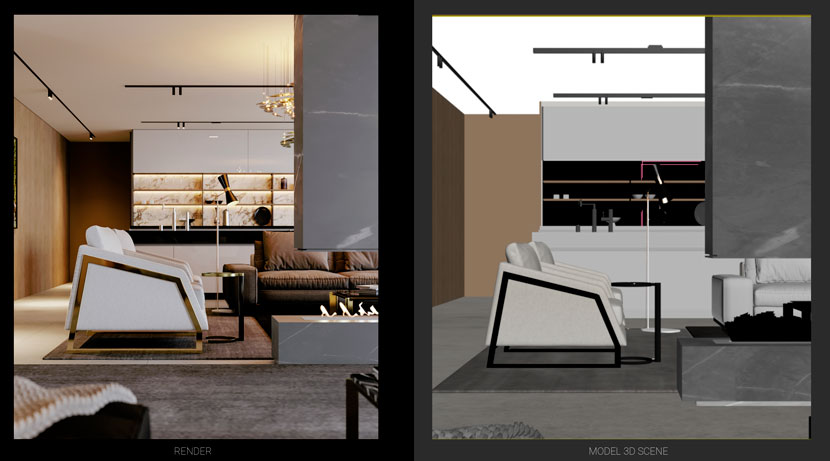 Model vs. final render.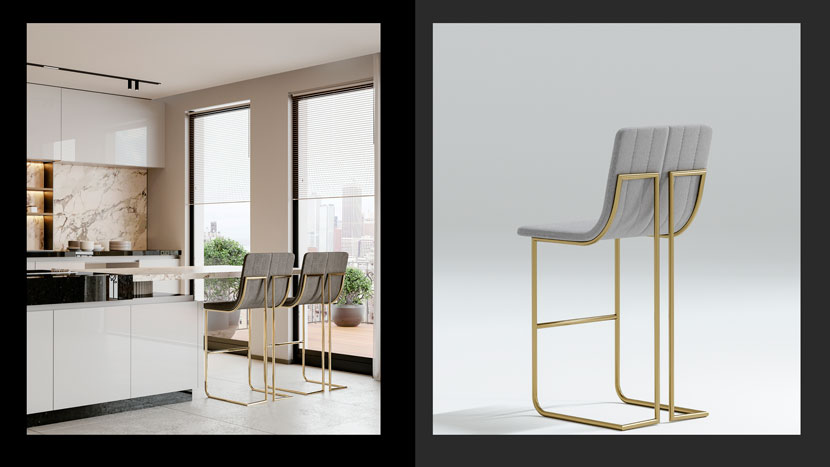 Model of kitchen stools within the final rendered scene.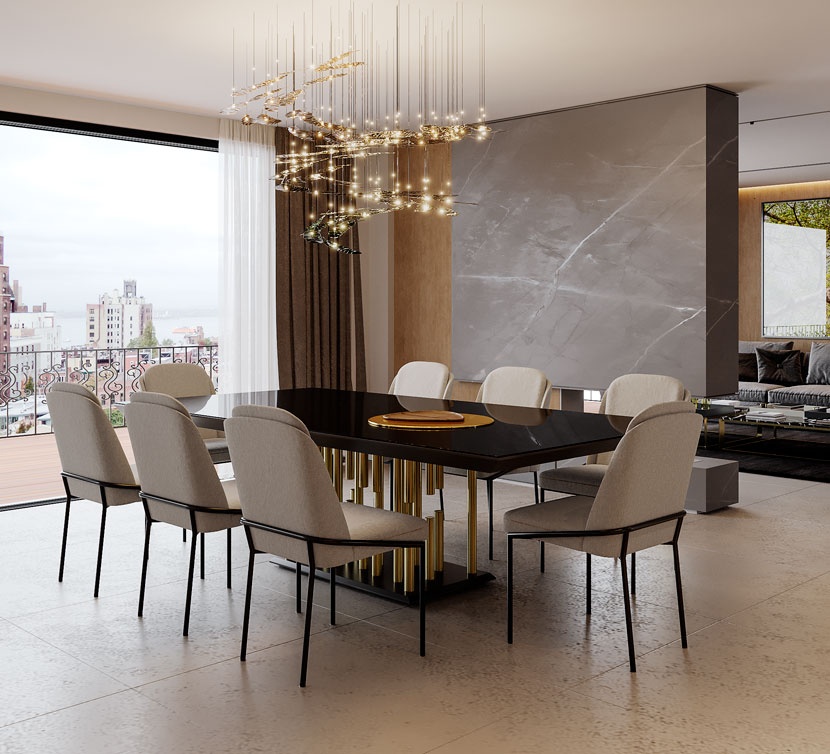 This image was even displayed at a billboard.
LIGHTING
I love creating stories through lighting. Light is the first thing we see when we open our eyes, and it is through it that we see and can affirm the things we see and how they are. The proposal was to create a light that highlighted the wefts of the fabrics and the metals of the structures in a sophisticated and unique way. Lighting is one of the most elegant techniques of our task because without it everything is lost. It's no use making the best material to have the best 3D models if you don't have her to reveal your idea.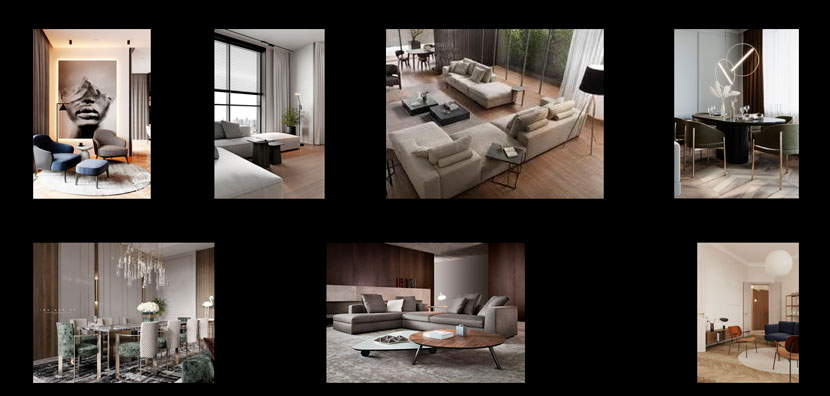 A visual panel of references for lighting.
I believe that the biggest source of inspiration is HOW YOU LOOK AT THINGS AROUND YOU, if you change your look, you will be able to recreate anything...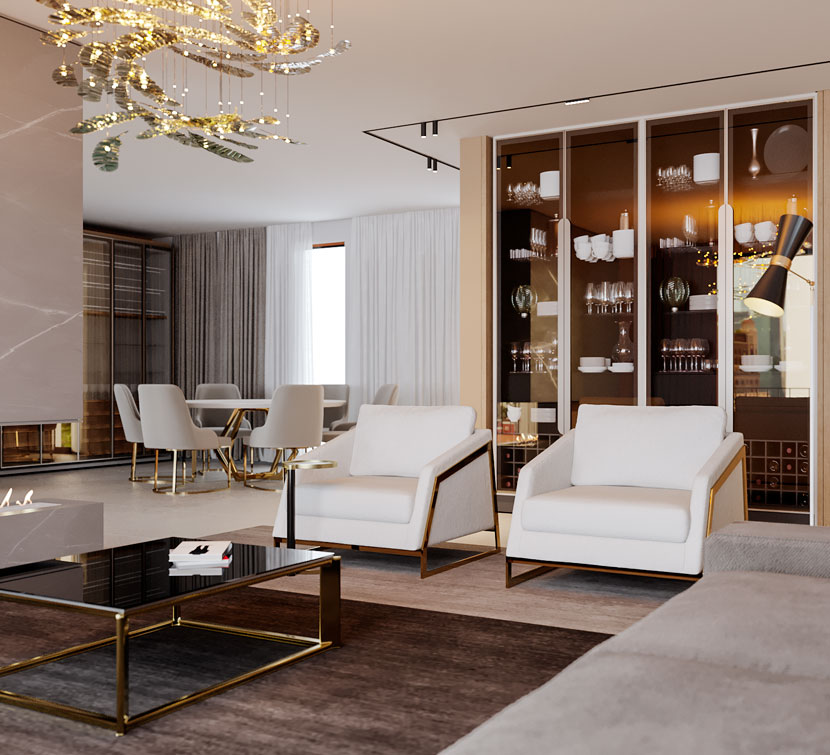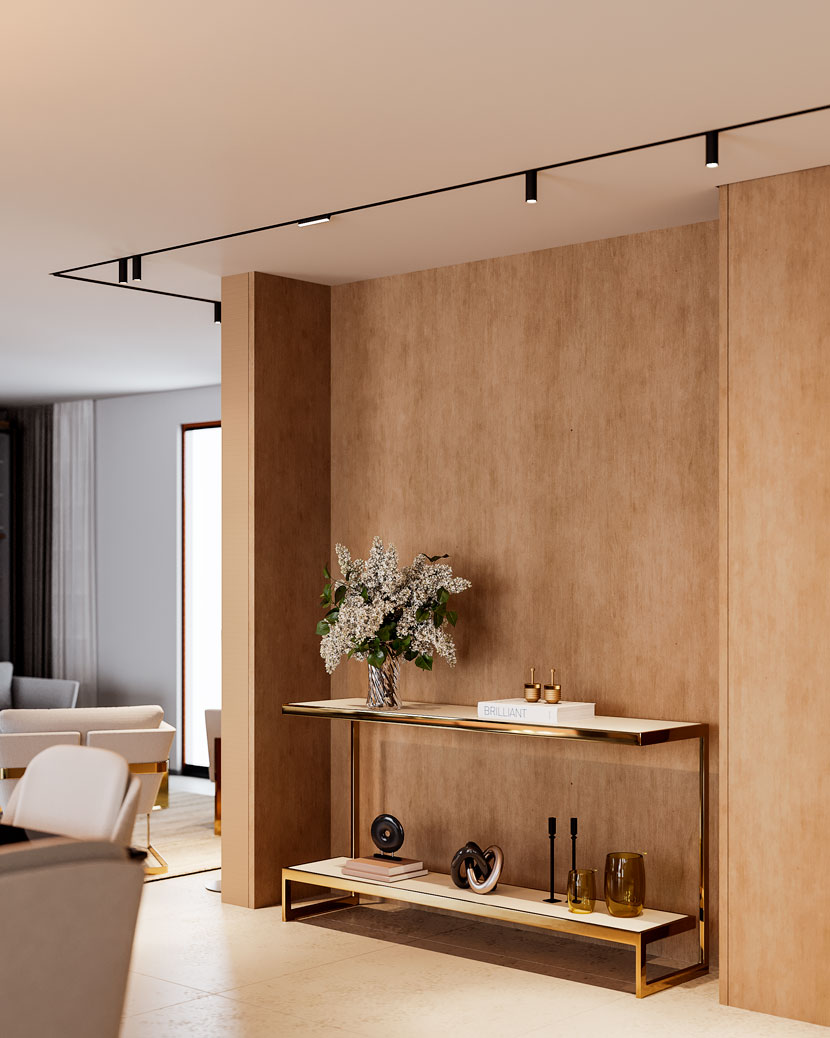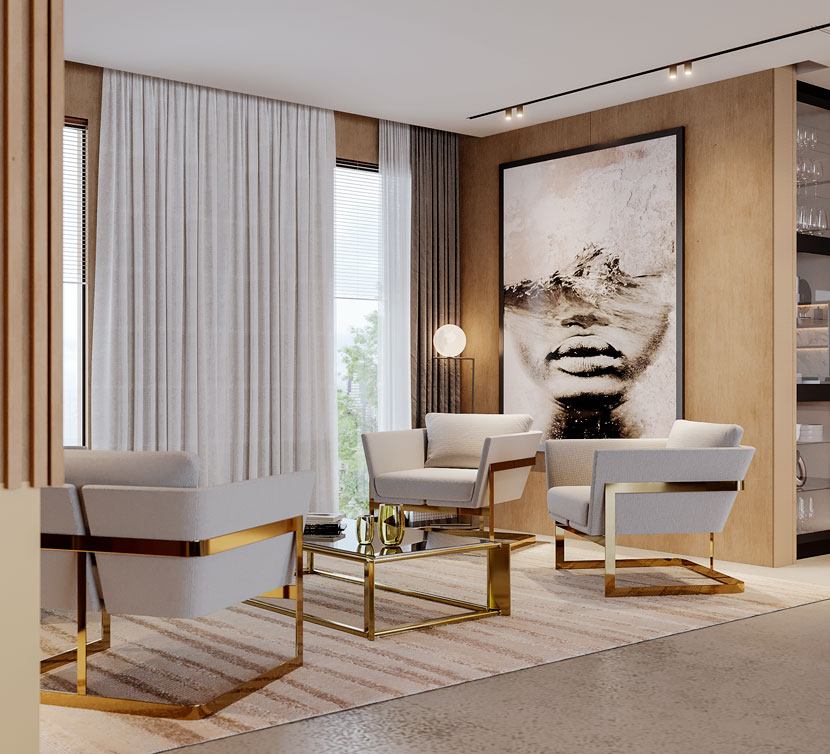 Thank you, Gabriela, for sharing your project and your knowledge with our Rebus community. Check out more of her work on her different channels:
---
Want to share your work with our community too?
Contact us at This email address is being protected from spambots. You need JavaScript enabled to view it.and tell us about your favorite project.
---
>> Read more articles on our blog