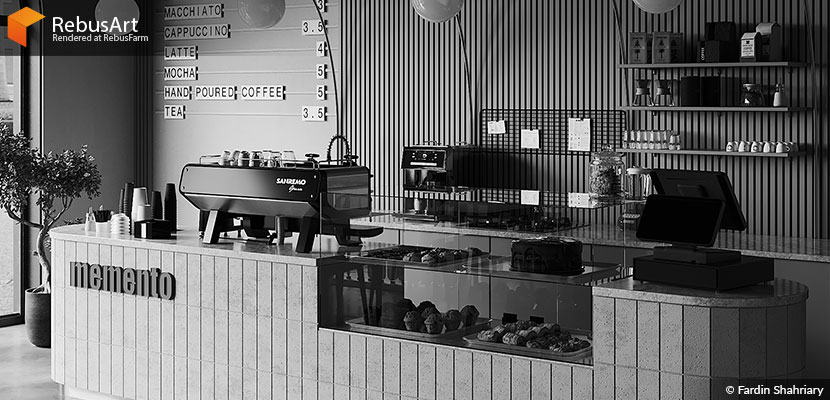 Here at the Rebus render farm, we rarely decline a nice and relaxing cup of coffee – especially not when it is on the house! So when Fardin Shahriary invited us to his 'Memento Café', we are bringing the whole team for our March 2023 RebusArt feature. The young Iranian archviz artist not only perfectly captured the atmosphere of a small coffee shop in beautiful black and white, but added a deeply personal note to the scene.
Continue reading and join us on an exclusive tour, as Fardin explains his design choices, speaks of his love for light and shadow, and offers a glimpse into his subtle artistic approach. 
Welcome to Fardin Shahriary's 'Memento Café'! We hope you'll have a most memorable visit.

Hi Fardin, thanks for joining us! To start things off, please introduce yourself to our readers.
Hello everybody, my name is Fardin Shahriary, I am a 23-years-old archviz artist born and raised in Shiraz, a historical city in Southern Iran, you may have heard of it.
Do you recall when and how you first consciously encountered CGI?
I first took notice of CGI while playing video games. For as long as I can remember, the 3D graphics and visual effects have amazed me.
When and why did you then decide to pursue a professional career as a 3D artist?
After graduating, I started to seriously teach myself architectural visualization. Since there are no dedicated CGI courses in Iranian formal education, I decided not to go to university. I have been working as an archviz artist for less than two years, and I am more than proud of the path I have chosen for myself.
Please tell us about your current job situation!
I am working freelance as an architectural visualizer, the services I offer include 3D modeling, single shot rendering, animation, and VR. In the future I would like to lean more into VFX as well. My client base mostly consists of construction companies and architectural studios.
What are your main areas of expertise?
Lighting and texturing. I especially enjoy working with light as I love shadows.
What inspires you as a 3D artist?
For me, everything can be an inspiration. I like to listen to music while working, it helps me to get into the proper flow, especially if I put on some rock or metal.
Fardin tells us he carefully matched the furniture to the atmosphere, opting for a minimalist style.

Let us talk about your work in more detail, namely your submission to our campaign, the industrial-style 'Memento Café'. Can you first describe the circumstances that lead to the creation of this project?
The 'Memento Café' was a personal project. I have always enjoyed the vibe of coffee shops, I find it very relaxing. I knew I wanted to create a café, the theme and mood of the place naturally emerged during the design phase.
What were your main goals in doing this project? Was it more of a technical exercise or about the creative expression?
A bit of both, I believe: initially, I wanted to demonstrate my skills as a designer and 3D artist and sought to gain some valuable experience in creating a coffee shop. At the same time, I wanted the project to be reflective of my personality and my creative vision. The two things I strive for in my work are realism and eye-catching design; I always try to balance these two aspects.
What parts of the image were especially important to you, both from a visual/design and technical point of view?
The board with the sticky notes on it, it was the most important and exciting part of the project. The notes contain handwritten texts from the people in my life.
What were some of the challenges you had to overcome and how long did it take you to complete the project?
Matching the furniture to the atmosphere was a delicate process. From initial design to visualization, the project almost took me an entire week.
De-light-ful: You can almost smell the coffee through the black and white color palette.

How would you describe this style of interior design and its defining features?
Since my primary goal was to create a relaxing space and a calming atmosphere, I went for a minimalist design. I tried my best to match the furniture to the curves of the surrounding area.
We are curious to learn more about some of the aesthetic choices you made for this project! Why did you decide to publish the project in black and white only?
First and foremost, I wanted the focus to be on the shadows instead of the colors. On a more personal level, the dark theme arose from the feelings inside of me at the time.
The one striking exception to this monochrome color scheme is the yellow post-it-note on the notice board. Can you explain the meaning of the note and why it is highlighted as such? 
Out of all the notes, the colored one was the one I wrote myself. With all my projects, I try to include something personal, you can think of it as sort of an easter egg.
Can you briefly walk us through your development and production process step by step?
First, I designed the main scene based on the ideas I have in my mind. I then set up the cameras to find the best angles and added the furniture. Next, I worked on the lighting until I have a properly balanced scene. Finally, I work on all of the materials and details until everything fully matches my initial vision.
What software did you use to create this piece? Any plug-ins you found particularly helpful?
The whole project is designed with base apps such as
3ds Max
,
Corona Renderer
, and Adobe Photoshop.
Amidst the various mementos left on the notice board, Fardin's own note is a real eye-catcher.

What has the feedback been like so far? Are you satisfied with the results yourself?
Yes, I am quite happy with how the project turned out; I managed to realize the exact design concept I had in mind.
What is one thing you yourself have learned from this project that you can share with us?
Creativity and personality go hand in hand: the more of yourself you put into your work, the more unique and meaningful your projects become.
Please tell us about your experience with RebusFarm. Is there anything you especially like about our service?
The most outstanding thing to me is your friendly and helpful community.
In closing, is there anything else you want to say? Any plugs, shoutouts or present or upcoming projects you would like to mention?
Currently I am focusing on real-time rendering and animating, so please look forward to my future projects!

Fardin, thank you so much for taking the time and all the best in the future!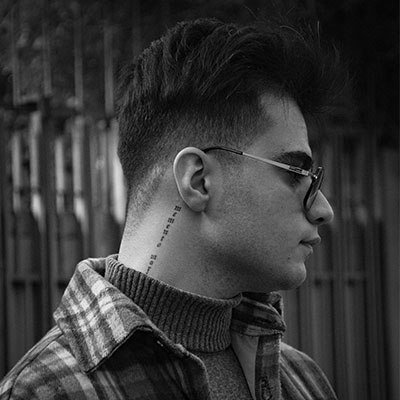 About the artist
Fardin Shahriary is a freelance Iranian archviz artist. Not deterred by the absence of opportunities in formal education in his home country, he pursued his passion by teaching himself, quickly establishing himself as a young professional. A master of lighting, Fardin's work is deeply engaging and filled with subtle personality.