Thursday, December 17th, 2020 by Julian Karsunky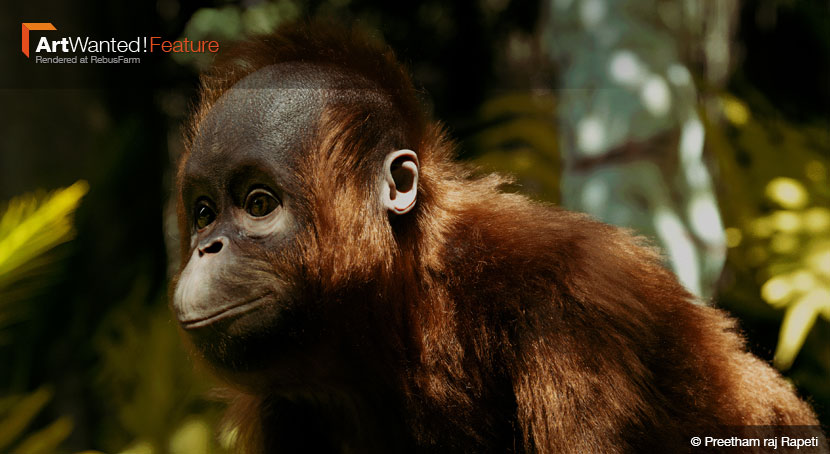 As an exceptional year draws to a close, what could make for a more soothing and conciliatory conclusion than looking at baby animals? Although he created a photorealistic orangutan for his demo reel, Preetham raj Rapeti is certainly not monkeying around! A recent graduate of Gnomon, the Indian 3D artist specializes in lifelike characters and is eager to break into the industry.
In our interview, Preetham talks about the development process of 'Boro the orangutan', career goals and the virtue of being patient.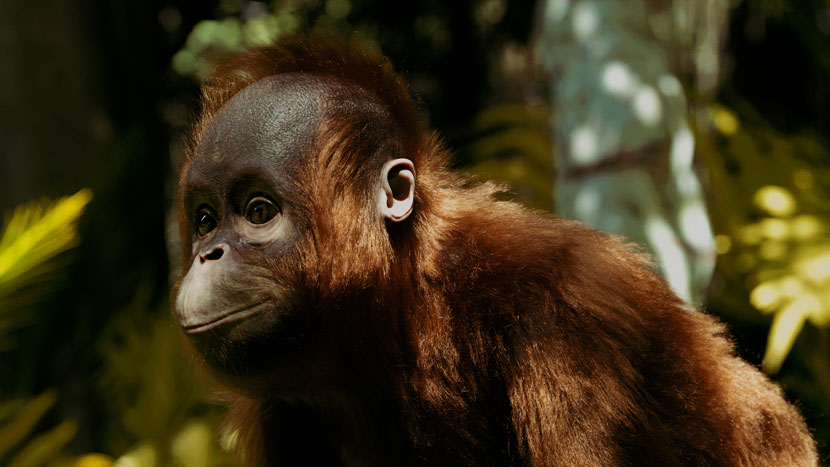 Too much monkey business? On the contrary, having never worked on an animal before, Preetham did a bang up job on 'Boro, the orangutan'.
Hi Preetham, thanks for joining us! To start things off, please introduce yourself to our readers!
Hey Everyone! My name is Preetham Raj Rapeti, I just turned 22 and I am from a small place called Kirlampudi in the southern part of India. I recently graduated from Gnomon School of Visual Effects and am currently looking for work opportunities. I love working on digital humans and realistic characters.
Do you recall when and how you first consciously encountered CGI?
Yeah, I definitely do. Way back in 2010, I met with my cousin who was playing around with Autodesk Maya 2009 at the time, and as soon as I saw it, my curiosity took over! I wanted to do that for a living ever since. I vividly remember learning Maya by watching Digital Tutors on my very old desktop during my school years.
What training or education do you have?
I had no formal art training until I went to Supinfocom, Pune, for college, where I underwent foundational training in both 2D and 3D animation for three years. During my time there, I took more interest to digital sculpting and wanted to go further in that direction. I had known about Gnomon from watching their student reels every year, so after graduating, I enrolled in the two year full-time digital production program in the modeling & texturing track.
As a recent graduate from Gnomon, please tell us more about your studies, the school community and your overall experience!
In terms of my education, Gnomon is the best decision I made. They have amazingly talented and helpful trainers. It was a great experience overall and I'd definitely suggest Gnomon to anyone who is looking for training in VFX.
Describe your profile as a 3D artist. What services do you offer or specialize in? What are some of your favorite areas in CGI?
I want everyone who looks at my reel or portfolio to immediately think of terms like "realistic", "grounded", "true to life", and "believability". I love working on realistic characters, whether it's humans or animals. As of now, my profile has somewhat of a generalistic feel to it, but I am adding more characters soon.
Do you have any long-term goals? Do you have a dream job, whether it's a specific position or a certain company you admire?
I love the work of ILM and MPC, I have been following their work for years now. I hope to be a lead character artist at ILM someday!
Is there a specific design philosophy or school of thought you adhere to? What inspires you as a 3D artist?
I watch a lot of movies and I am inspired by a lot of artists who keep pushing the limits of digital sculpting and portraiture.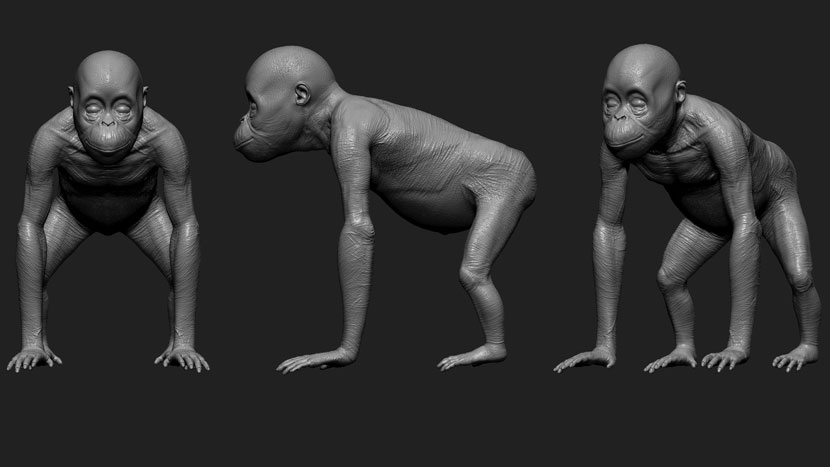 The importance of being furry: this bare sculpt highlights Preetham's point of character defining qualities of Boro's hair.
Let's talk about your work in more detail, namely 'Boro', the realistic baby orangutan you created for your demo reel at Gnomon.
First, tell us more about the work on your demo reel, and the role the ape fulfills within the greater context of your reel.
I really wanted to do something new and challenging for my demo reel, and since I had never worked on or sculpted an animal before, that was my first choice. I wanted to show I could sculpt, texture and groom animals too. Plus at that point, I had already done the character portrait and environment for my reel, so I thought an animal would fill in the remaining blank space nicely.
What made you then settle on an orangutan?
When looking for concepts or ideas, I came across this series of pictures of a baby orangutan on the Instagram account of Danish wildlife photographer Mogen Strolle. Once I knew I wanted to do that for my next piece, I just scoured the internet for more reference material. I looked at tons of images and videos of baby orangutans, I even watched several documentaries on them.
Where did the name 'Boro' originate?
I had multiple ideas for names when I first started working on this piece. Eventually, I sent a render of the sculpt to my friend Samhitha and asked her to suggest a name fitting the character. She came up with 'Boro', I liked it and decided to keep it.
What were your main goals in doing this project? What parts of the character and image were especially important to you?
I really wanted to get the final image looking as realistic and as close to a photograph as possible. Since I knew I ultimately would end up with a close-up, portrait-like render, I spent a long time working on the face. It was very important to me that no one looking at the image would be put off by even the smallest detail looking unnatural.
What were some of the challenges you had to overcome?
This project was a big learning point for me. Finding good references for the whole body was already quite challenging, since in most of the photos they are covered in fur. I took a class on portraiture by Kris Costa. I also decided to make the project more personal and sculpt high-res tertiary details by hand. Using HD geometry was really time-consuming and felt like so much of work in the beginning, but then I was having so much fun sculpting pores and wrinkles, I ended up sculpting the entire body by hand. I know that sort of thing is not exactly feasible for a real pipeline, but I just wanted to put in the extra effort.
Then, after all of that, the hair too took so much time to make. I'm not the most proficient at grooming, so I had to do a lot of experiments before I finally got what I wanted. It was time well spent, though, because the hair adds so much character to the orangutan.
How long did it take you to complete the project?
It took me around ten to eleven weeks to finish this piece, but I was doing work for some of my other classes on the side as well.
What software did you use to create this piece? Any plug-ins you found particularly helpful?
I used ZBrush for sculpting, Mari for texturing, Maya for lookdev. Hair was made using XGen. I rendered it in V-Ray and used Nuke for color grading. I also used Speedtree for the environment.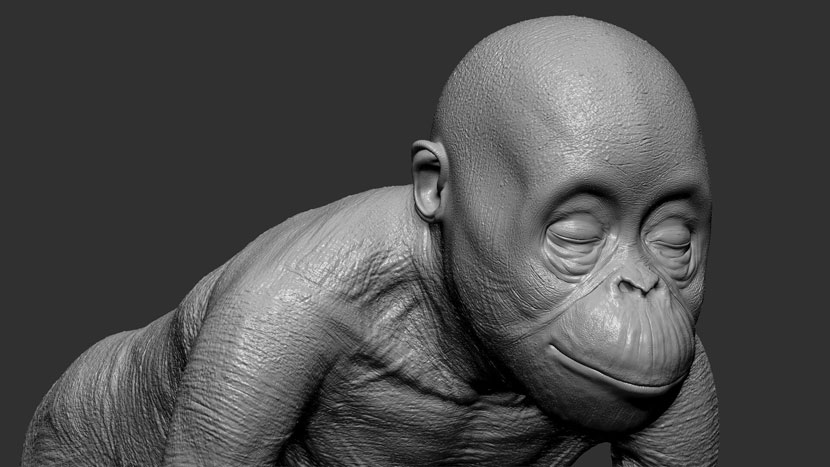 Using HD geometry, Preetham meticulously sculpted details on the whole body by hand.
Once you had a basic concept in mind, how did you approach realizing it? Can you briefly walk us through the development process step by step?
I started working on the sculpt right away. It's really more of a sketching phase, I try to figure out correct proportions and landmarks looking at the skeletal and photo references. Once I feel I had reached a decent point, I move on to retopo in Maya. I made sure I had clean topology and enough loops to hold details on the low-resolution model
Then, back in ZBrush with the new low-resolution mesh, it's only sculpting from then on. After working on secondary details, I started working on high-res details in HD geometry, going back and forth with secondary and tertiary forms. All the while doing so, I tried to export displacement maps at the end of each day and do test renders in Maya. I played around with different lights and setting up the skin shader. Once I was done with sculpting, I exported the mesh and final displacement and curvature maps from ZBrush to Mari for Texturing. I do the same process as before, so as many texturing-lookdev-iterations as needed.
At the same time, I also began working on the hair. Everything comes together at the end in Maya. From then, I focused more on the final image in terms of camera and composition. I created a small environment to put the orangutan in and tried different lighting setups. After I had found a satisfying solution, I started taking good renders and switched over to Nuke to work on compositing and grading, to see what the final image will look like. At this point, I usually work on corrections and iterations until I am happy with the final result.
Are you satisfied with the results? What has the feedback been like so far?
I was satisfied with it initially, but looking back at it now, I keep finding things I want to change. But I think I should move on to other projects for now and maybe come back to it a while later. The feedback has been positive so far. Also, I was given some helpful advice on the hair, which I intend to implement eventually.
What is one thing you have learned from this project that you can share with us?
To be patient. I know that's a common saying, but it really helps to be calm and pace yourself when trying out new things. I usually try to get things done fast, but I made a conscious effort to take it slow this time to avoid errors at the end, and it paid off!
Please tell us about your previous experience with RebusFarm. Is there anything you especially like about our service?
I used RebusFarm for the first time when I was under pressure to submit an assignment and needed a fast render job. I used it again for this very project. It's fairly priced, and I like that it doesn't take much time for me to submit a render. It's very easy to use as well.
In closing, is there anything else you want to say? Any plugs, shoutouts or present or upcoming projects you'd like to mention?
I want to thank all of my trainers at Gnomon for their support throughout my program. I want to specifically shoutout Miguel Ortega and Tran Ma for helping me with my demo reel. I also want to thank my friends for all their feedback and helping me to achieve better results for all of my projects.
Right now, I am working on another portrait, which I hope to finish – and post – soon.
Last but not least, I want to thank RebusFarm for giving me this opportunity and promoting my work. I feel very honored to be chosen as a featured artist!
The pleasure is all ours! Preetham, thank you so much for taking the time and all the best in the future!
Keep up with Preetham raj Rapeti and his work here:
---
How to join ArtWanted!
You want to get featured in our ArtWanted! campaign and win 250 RenderPoints on top? Submit your work, rendered at RebusFarm, to This email address is being protected from spambots. You need JavaScript enabled to view it.! Visit our Art Wanted! page for more information.
---
>> Read more articles on our blog