Friday, December 11th, 2020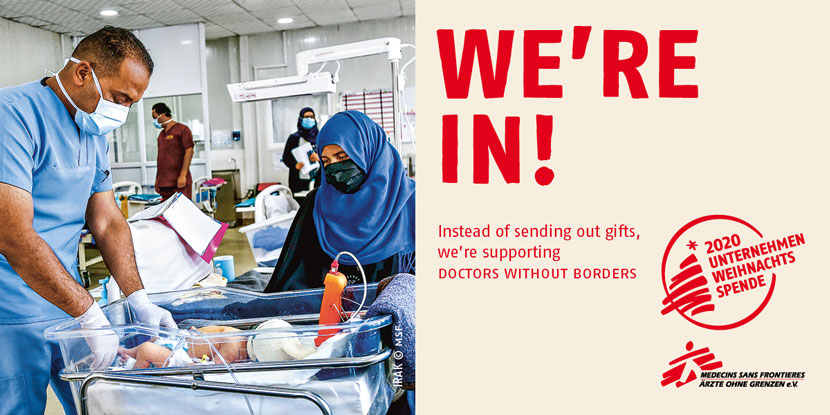 This year has been a difficult year for everyone. But we can't forget the even less fortunate. That's why like the last few years, RebusFarm is supporting the organization DOCTORS WITHOUT BORDERS with a donation.
DOCTORS WITHOUT BORDERS has the goal to provide lifesaving medical humanitarian care as well as speaking out about the issues that they are witnessing.
It would be great if you could join in and maybe make a donation too!
Many parts of the world are in need of help. The organization makes it possible to send medical care and food to areas and people struggling for survival. The causes for this are many like disease, malnutrition and dirty water.
We provided you some examples of the work DOCTORS WITHOUT BORDERS do:
Northwestern Syria: Millions of displaced people and an impending Winter.
Millions of people are living displaced in northwestern Syria and already facing harsh living conditions. With Winter approaching their conditions become even more unbearable. Forced to flee because of fighting in the Idlib region, these people live in leaking and mud-filled streets with freezing temperatures.
These conditions make it hard for people to go to work, buy groceries or see a doctor. It also makes it hard for aid workers to reach the camp.
To help the people during winter, Doctors Without Borders have started handing out winter kits to approximately 14,500 families in more than 70 camps. The kits are composed of warm clothes, tarpaulins, mattresses, and blankets. Furthermore, the organization started rehabilitating 2,275 tents in six camps. This includes: installing flooring, improve the thermal insulation as well as building flooding protections out of bricks.
Source: Doctors Without Borders
South Sudan: Displacement, poor living conditions and missing security.
© Jan Grarup/MSF
Due to armed conflict in South Sudan since December 2013, thousands of people were forced to take refuge near the international peacekeeping troops on UNMISS bases. Doctors Without Borders run a hospital in Bentiu but the camp's conditions are very concerning. According to the survey, less than 60 percent of the families have their own water jug for basic needs such as clean up after using the toilet.
With such conditions, the risk for diseases is very high, including diarrheal diseases, hepatitis, cholera, typhoid fever, trachoma, and skin infections.
The Doctor Without Borders' hospital has an inpatient department, emergency room and operating theater for surgery. It also provides maternal care, care for survivors of sexual violence, mental health care, treatment for HIV/AIDS, tuberculosis, and malnutrition.
With the peacekeeping troops responsible for security withdrawing since the beginning of 2020, the camp is left to face an uncertain future to the already miserable conditions in the camp.
Source: Doctors Without Borders
COVID-19 Global Response
As the COVID-19 pandemic is still holding the world firmly in its grip, Doctors Without Borders responded to the pandemic through existing programs from the organization and dedicated COVID-19 interventions in 63 countries.
The organization has sought to get medical care and assistance to the most vulnerable population like remote communities, people on the move, homeless people, and elderly people living in long-term care facilities. Doctors Without Borders also helped out local health facilities across five continents, working to strengthen infection prevention and control measures to protect everyone involved.
You can read the complete report to Doctors Without Borders' COVID-19 Global Response here
---
For more information about DOCTORS WITHOUT BORDERS visit
---
>> Read more articles on our blog