Tuesday, November 16th, 2021 by Julian Karsunky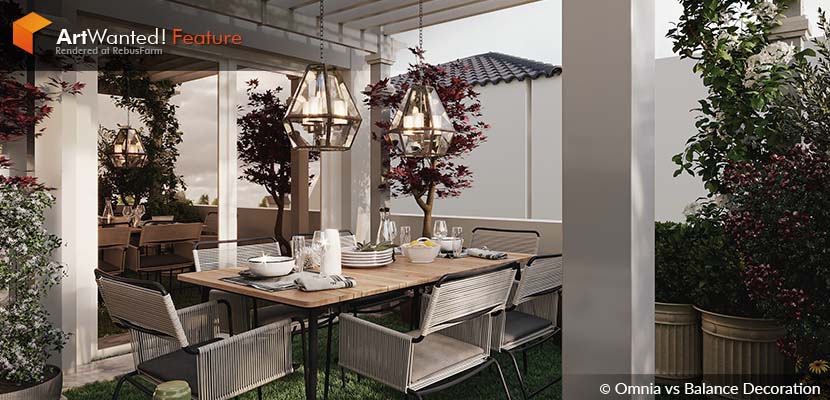 At first glance, the distinction between interior and exterior in architecture and design seems clear-cut. However, liminal spaces such as gardens or rooftops blur this line: should we consider them separate entities or are they two sides of the same coin? In search of answers, we have reached out to Omnia Ahmed, a talented young CG artist from Egypt. An interior designer specialized in furniture, fixtures and equipment, Omnia has also enjoyed working on several outdoor areas as part of a series of projects for Balance Decoration.
In our interview, Omnia discusses consistency in interior and exterior, going freelance and bottom-up design.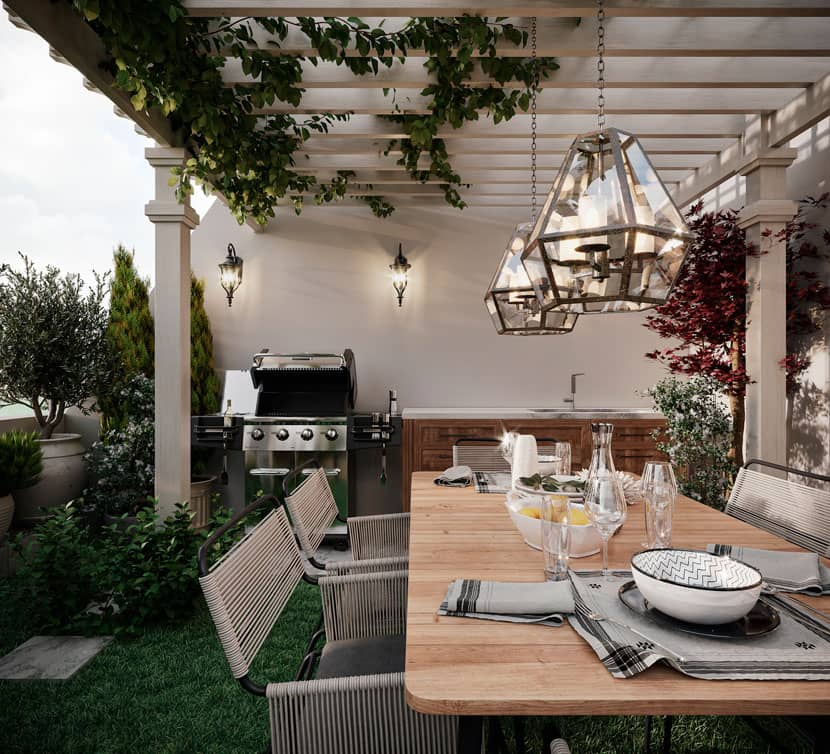 This rooftop dining area is one of several projects Omnia Ahmed designed for Balance Decoration.
Hi Omnia, thanks for joining us! To start things off, please introduce yourself to our readers.
Hello everyone, this is Omnia Ahmed, I am 27 and I am from Egypt. I have a bachelor's degree in applied arts and have been working as an interior designer and home stylist for four years now.
Do you recall when and how you first consciously encountered CGI?
My initial interest in CGI sprung from a desire to present and convey my ideas and designs as a student in a more realistic way. For this purpose, I decided to first start learning CGI, and I subsequently attended several training courses.
When and why did you then decide to pursuit a professional career as a 3D artist?
Having studied the whole range of interior design as a field, I found myself leaning more and more towards visualization; it has always felt like the best way to share my ideas with everyone. This is not the only reason, of course, I am also driven by passion and the willingness to succeed!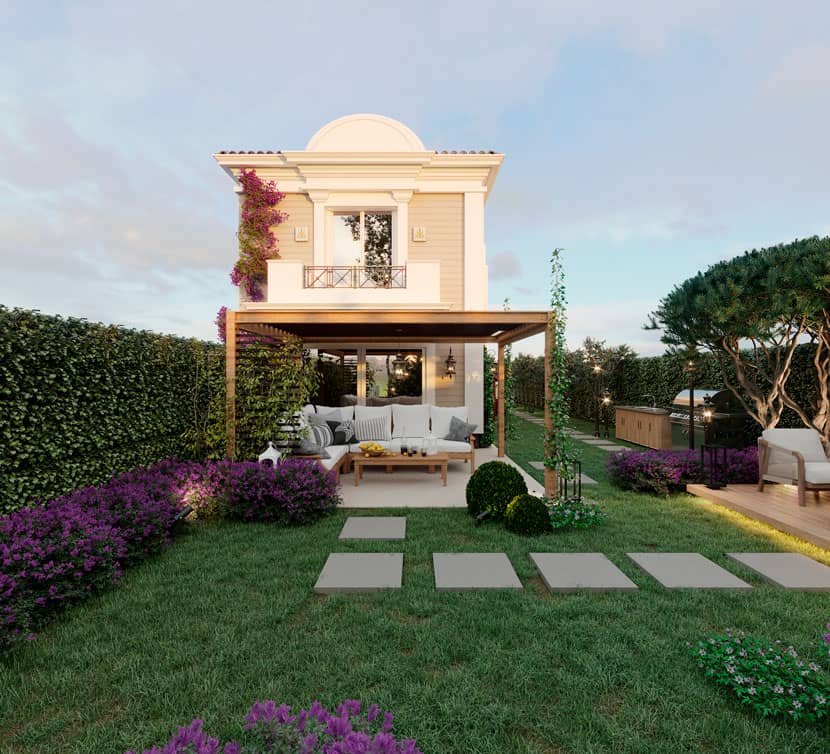 Primarily an interior designer, Omnia has a blast working on the occasional outdoor area, such as this 'Garden in the Heaven'.
Can you briefly summarize your career up to this point? What are some of your personal highlights and projects you particularly enjoyed in the past?
For the first three years of my career, I worked at an architectural company as an interior and furniture designer. I then switched jobs and worked as a furniture, fixtures and equipment specialist, which I enjoyed immensely, as it bridged the gap between my virtual designs and their real-life application. As of now, I am working freelance as an interior designer and home stylist.
Tell us about your brand OMNIA AHMED DESIGNS and how it came to be!
The pandemic is the main reason I started my own business. With little work and a lot of free time during the quarantine, I focused on improving my 3D skills. Eventually, this led to me offering my services online, and I founded OMNIA AHMED DESIGNS in early 2020.
How would you describe your vision and approach to interior design?
My philosophy is that everyone should live in a comfortable space. Space does not have to be luxurious to be comforting, I strive to create coherent designs that are pleasing to both the eyes and the soul. To achieve this effect, all elements have to be carefully attuned to one another: the style, the mood, the materials, the colors – everything has to synergize on an aesthetic and functional level. There is a story to be found within every space I created and hopefully, there are countless more stories for me to tell in the future!
Good design has universal appeal, it transcends borders. While I have been most active in the MEA region, I ultimately hope to reach people from all over the world.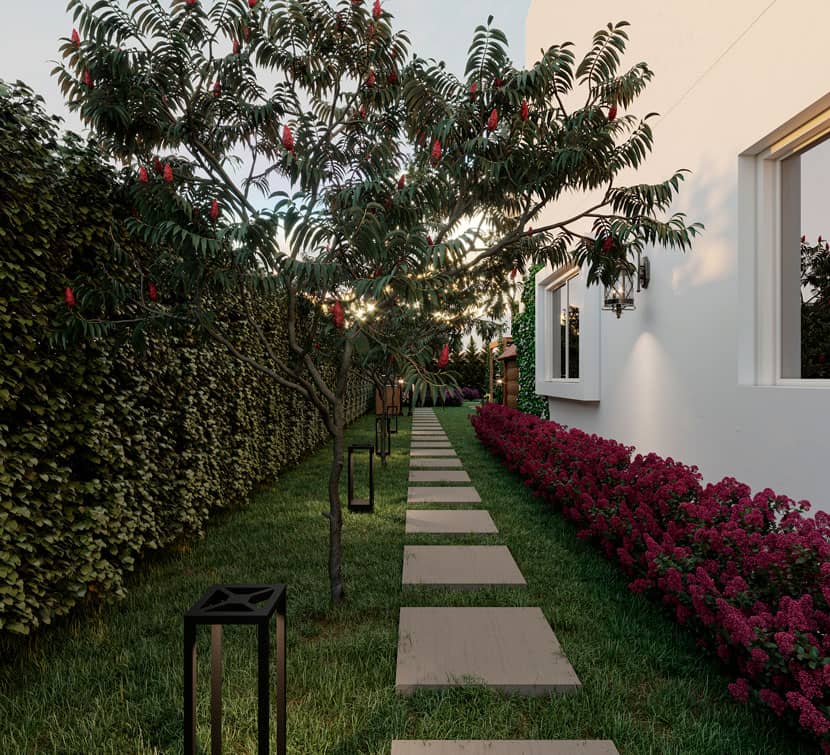 The neat lawn and accurately trimmed hedges highlight the English style of Omnia's 'Garden in the Heaven'.
Describe your profile as a CG artist. Is there a part of CG-related work you particularly enjoy?
First and foremost, I am focused on interiors, but I also design gardens and connecting outdoor areas. I particularly enjoy working on these landscapes, because it gives me the opportunity to shape a space in its entirety, allowing for a more encompassing creative vision.
What has your experience been like as a young and aspiring woman in the traditionally more male-dominated CG industry? Is there something that should be done to increase female representation?
Thank you for asking me this question! I am very proud that recently women have been able to impact not only the CG industry but a lot of other male-dominated fields. Though I would not say that CGI is dominated by anybody nowadays. Ultimately, talent and creativity will prevail and shine brightest, so we need to provide equal support to everybody and encourage them to become their best.
Personally, my focus has always been on myself and improving my skill set continues to be my main goal.
What can you tell us about the current state of the CG industry and community in Egypt?
With the overall quality of life in Egypt steadily improving, people gravitate towards better and more luxurious living spaces. This development naturally causes the domestic CG industry to evolve, as clients want to see a proper visualization of an idea before construction. Consequently, real-estate developers employ CGI in their work and their marketing, further consolidating the field.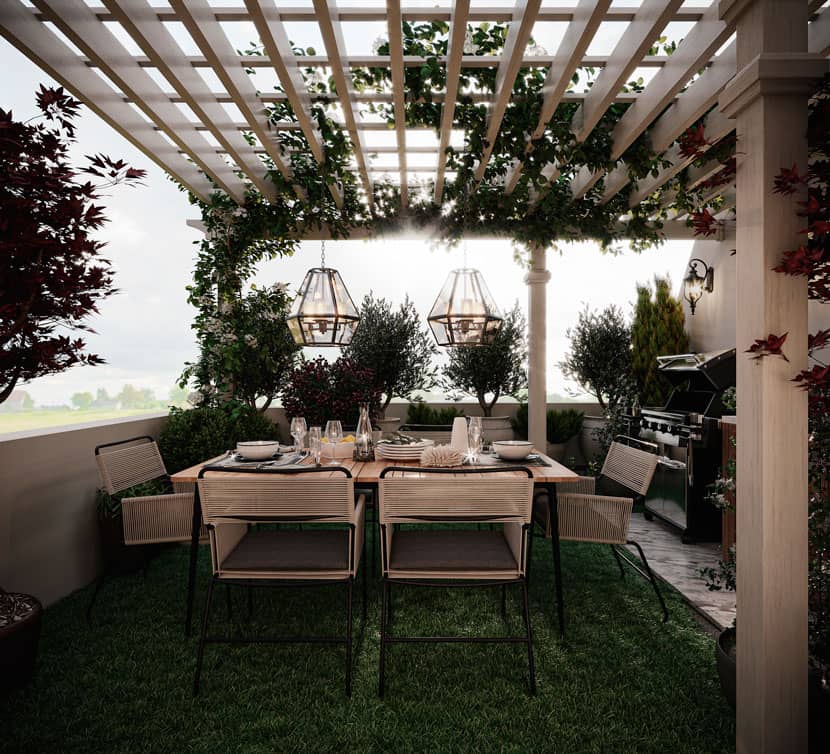 Omnia's expertise as a furniture, fixture and equipment specialist shines through in her elaborate work on lamps and lanterns.
Let's talk about your work in more detail, namely a series of garden and roof designs you did for Balance Decoration. Can you tell us more about the circumstances of the project and describe the concept?
The Balance interior design office has enlisted my services frequently, but this project was the first time we collaborated. Our client, real estate developer Mountain View Egypt, tasked me to design an English-style villa, complete with an outdoor garden and a rooftop area. While the concept provided some specifics such as a BBQ area, I designed almost the entire space from scratch.
It was challenging to achieve a consistent look between the interior and exterior, as I wanted a modern interpretation of the English style yet also maintain some of its hallmark design. To this effect, I paid special attention to elements such as the lights and plants.
Once you had a concept in mind, how did you go about realizing it? Can you briefly walk us through the production process?
With the concept outlining the basics in terms of space and style, I could fully focus on making it a reality. Since I am a furniture, fixtures and equipment specialist, I started with these items and worked from the bottom up. In relating these seemingly small elements to the overarching design, I develop a sense of what works and what does not. To me, the start of a project is usually the most difficult phase, so once I have a grip on the design – even if it is through a minor object – everything else soon falls into place.
Neither the 'Garden in the Heavens' nor the various rooftop scenes are interiors in the strict sense. Can we still consider these spaces to be interiors in regards to composition and such? Do similar design principles apply to a garden or a rooftop terrace or is your approach different?
As I have mentioned, if you are mostly working on interiors, every chance to design an outdoor area is a welcome change of pace. It is challenging, yet also very fulfilling to bridge the gap between the inside and outside. Consistency is key; the exterior is like an extension of the interior design and vice versa, both should mirror and complement each other.
There is no hierarchical relationship, so I think it is important to work on both at the same time. Exteriors are more than facades, plants and seating areas, they have a unique identity. So in terms of mood, style, materials and such, a lot of basic design principles apply.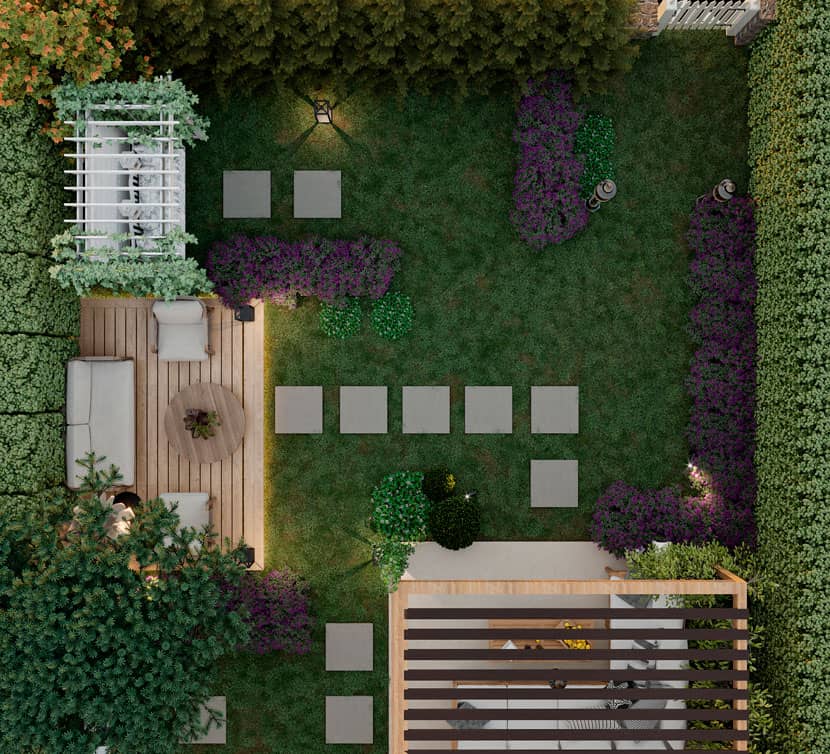 This top-down shot of the 'Garden in the Heaven' shows the composition of the major seating areas.
What software did you use to create these scenes? Any plug-ins you found particularly helpful?
I used AutoCAD, 3ds Max, Corona Renderer, iToo Forest Pack, and Photoshop. I am equally fond of every piece of software at my disposal, they complement each other well.
What has the feedback been like so far and how satisfied are you with the results yourself?
The client was very satisfied with the results. Even though, I am still learning with each and every project and always aim for the following project to come out even better!
Speaking of, what is one thing you have learned from these projects that you can share with us?
Actually, I have learned so many things that I wrote up a small list:
Always keep developing your skills and do not let anything hamper your creativity.
Focus on usage, form and function and stay up to date with trends and materials.
Working on exteriors is as important (and enjoyable!) as interior design.
Everybody has different tastes. As a designer, it is your job to find the right solution for every individual client.
The location of a project is crucial, as it directly affects the material and design choices.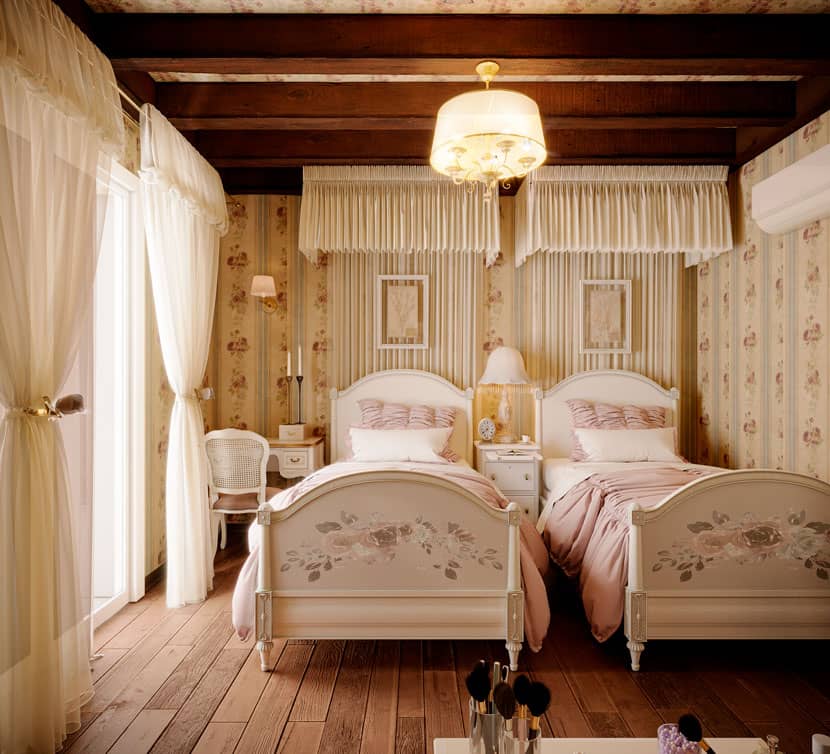 Interior design remains Omnia's bread and butter. Please enjoy this English-style bedroom as a sample of her work.
Please tell us about your experience with RebusFarm. Is there anything you especially like about our service?
RebusFarm was my first experience with cloud rendering, and I have no need or desire to search for another service. The entire team is very helpful and supportive, and I have saved countless hours rendering my work through RebusFarm.
On top of that, my impression is that it is not strictly business, but that the company truly cares for the community, supporting established and up-and-coming artists from all over the world.
In closing, is there anything else you want to say? Any plugs, shoutouts or upcoming projects you would like to mention?
Thank you for giving me this opportunity to talk about myself and my work, it is a great honor and a pleasure to be featured on your website.
Keep creating, keep learning, be unstoppable – it is never too late!
Omnia, thank you so much for taking the time. We wish you all the best in the future!
Keep up with Omnia Ahmed and her work here:
---
How to join ArtWanted!
Do you want to get featured in our ArtWanted! campaign and win 250 RenderPoints on top? Submit your work, rendered at RebusFarm, to This email address is being protected from spambots. You need JavaScript enabled to view it.! Visit our Art Wanted! page for more information.
---
>> Read more articles on our blog