Tuesday, June 22th, 2021 by Julian Karsunky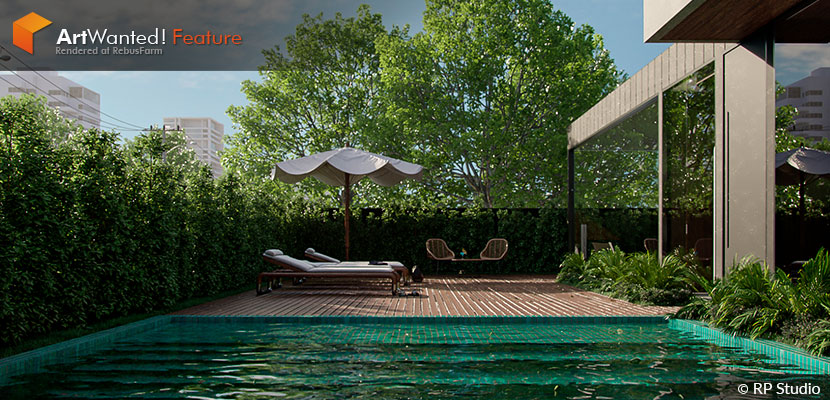 This month's ArtWanted! feature once again takes us to the wonderful world of architectural visualization. Meet Thiago Pimenta and Andrey Rodrigues, co-founders and project directors at RP Studio, an up-and-coming full service archviz production company based in Porto Alegre, Brazil. Together, the young entrepreneurs recently aced one of Ander Alencar's Rendermind challenges with their 'Edificio VK', a visionary residential complex, put on impressive display through a short film and a series of images.
Continue reading to learn how Andrey and Thiago went from starting their own company in their dorm rooms to establishing and managing a professional studio.
Hi guys, thanks for joining us. To start things off, please introduce yourself to our readers!
Thiago: Hi, my name is Thiago Pimenta, I'm 26 years old and co-founder and project director at RP Studio.
Andrey: Hello! I'm Andrey Rodrigues, 25; we are both from Porto Alegre, Brazil and together we founded RP Studio.
How did the two of you initially get started as 3D artists?
Thiago: Everything began at UniRitter, where we both studied architecture. My renderings almost immediately stood out from those of my peers. Then, in 2017 during my undergraduate studies, I started making professional renders for architects. Eventually, I enlisted the help of some of my classmates for the renders, among them Andrey. Together, we set up 'RP3D', which became 'RP Studio' after our graduation. The company's consistency was just a process, we never gave up RP Studio, but always improved it.
Andrey: I have always liked hand drawing, and learning different drawing and compositional techniques in college made me improve a lot in this area. As technology was part of the curriculum, I was gradually introduced to various modeling and rendering software. Everything just clicked in my third semester, and I fell in love with 3D: I realized I was no longer thinking only in 2D when drawing or conceptualizing projects, but through the observer's view.
What training or education do you have?
Thiago: I am largely self-taught. I learned a lot from YouTube tutorials on software such as SketchUp, V-Ray, AutoCAD, Revit, and Photoshop. Networking was another important part of my learning process: during a stay in Spain, for example, I had a very knowledgeable roommate, who taught me how to use 3ds Max.
Andrey: I've always been an autodidact as well, searching for solutions on my own. I attended some archviz workshops here in Brazil, such as on V-Ray, Illustrator and Revit, but I had great teachers in the CGI area: Gabriel Chahoud, who taught me a lot about modeling and texturing, and Ander Alencar, from whom I learned a great deal about industry workings and marketing.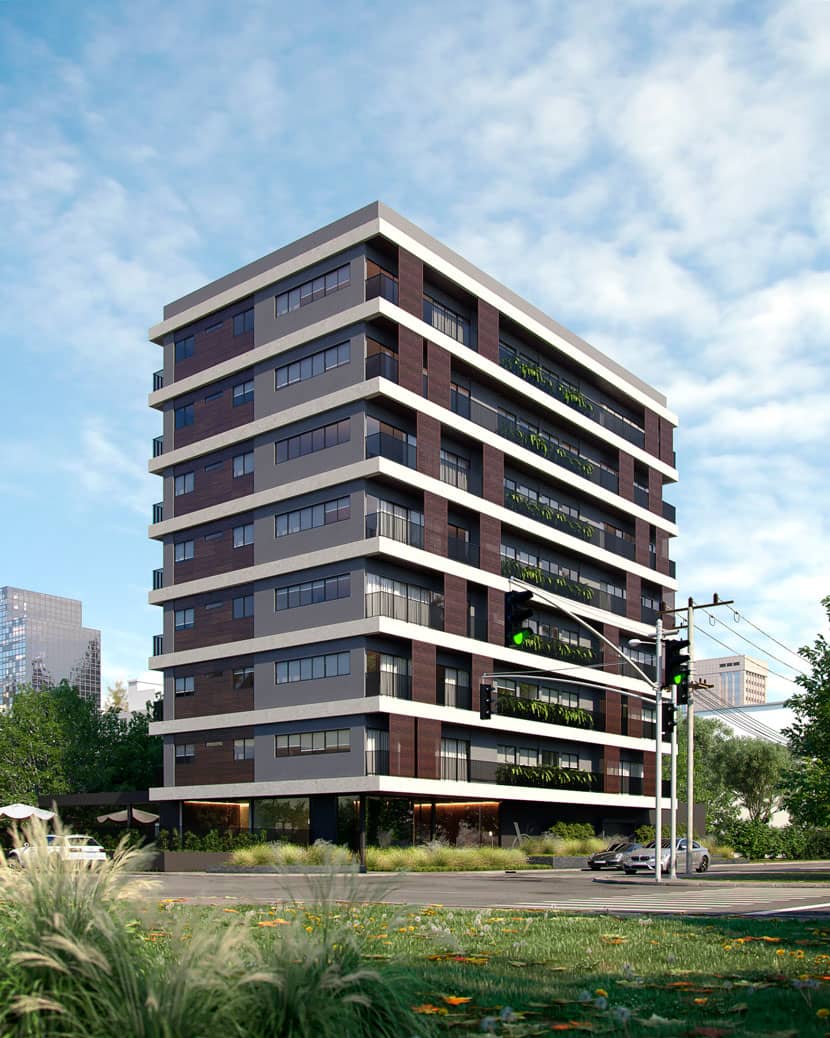 'Edificio VK', exterior. The building houses 14 spacious apartments on seven floors.
Please tell us more about RP Studio. When and under what circumstances was the company established?
Thiago: As I already mentioned, the foundation of the company was laid in our college days, when we managed our projects in our dorm rooms via WhatsApp and video calls (laughs). At the time, we were interning at different architecture firms, so we did our CGI work at night time. Using SketchUp and V-Ray, we made horrible images at first, but we steadily improved over time.
Once we felt the quality of our work was up to par, we decided to fully commit to our business, so in 2019 we left our day jobs and properly set up RP Studio. We professionalized our structures and improved our workflow, and took on architectural projects as well. As our services continued to improve, we also upgraded our software: in early 2020, the company adopted 3ds Max and Corona Renderer. 
Today, we have five people working at our office in Porto Alegre: besides Andrey and me, we employ two additional CG artists and a marketing specialist. Our plan is to have ten people working for RP Studio by the end of the year. It has been a long and arduous process, but we are well underway now, acquiring more and bigger clients.
What is the meaning of the name 'RP Studio'?
Thiago: Well, we had to come up with a name quickly, as we already had clients before we officially joined forces. To consolidate our partnership, we settled on 'RP3D Maquetes Eletrônicas'. RP simply stands for the first letter of our last names: Rodrigues and Pimenta. 
After some time, we decided to simplify the name, and RP Studio was born. We branded ourselves as a studio. because we have always worked in both architecture and CGI. However, while we have operated as RP Studios for two and a half years now, we are still looking for a name that will lend itself to more brand recognition.
What services do you provide?
Andrey: Architectural design, construction monitoring and the entire CGI side of the process: from floor plans, 3D and 360° VR images, to film and animation. Our client base consists of architects and developers, with the ladder being our main focus.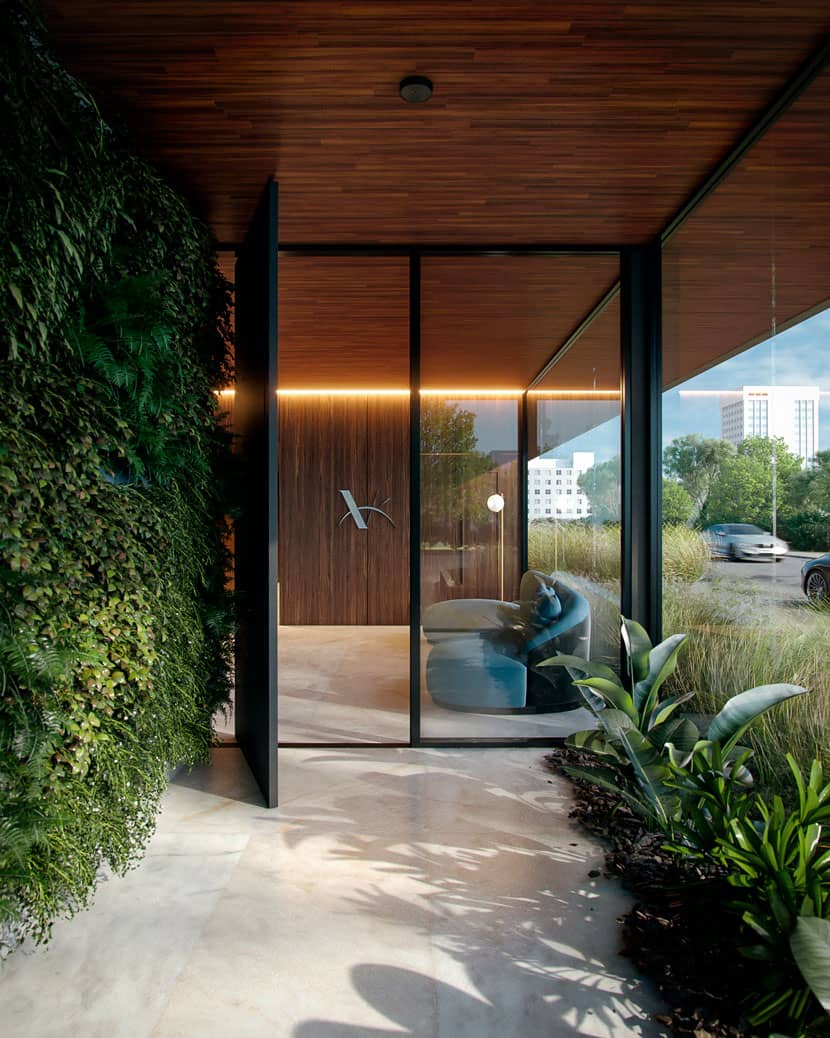 Welcome to VK! The building's hallway contains most of the central ideas: community, comfort, and sustainability.
What are each of your general responsibilities and daily tasks in running the studio?
Thiago: I am project director and take care of all of the company's finances, including contracts and payments. As directors, we assist the artists throughout the entire image process. 
Andrey: I also act as a director, doing what Thiago said, and I'm also responsible for the company's online presence – our website, Instagram and Facebook page.
To you personally, what are the biggest benefits and disadvantages of running your own studio compared to more traditional forms of employment?
Thiago: All of the administrative work can be overwhelming at times: accounting, marketing, networking, project management – you have to do it all on your own. But you miss 100% of the chances you don't take, and to us, it's worth it!
How are you holding up in these trying times? Has the current crisis impeded your work?
Andrey: I have to admit that I was quite scared at first. But I channeled my fear into studying a lot, everything from 3D, to photography, and film directing. At the height of the pandemic, I studied almost 12 hours a day, on top of my management duties for the studio. Meanwhile, Thiago was finishing the projects we still had on our plate.   Everything I learned, I adopted for the company and shared at the office in my free time.
Is there a specific design philosophy or school of thought RP Studio adheres to? What inspires you as 3D artists?
Thiago: Our philosophy is centered around creating and conveying sensations and emotions; you need to know how to achieve such effects before beginning any 3D work. Good architecture is the best marketing, and this should always come first, which is why we carefully select only the best references to follow. Second comes lighting and the choice of angles – I don't have to show everything about a project if I know how to properly emphasize and highlight. 
Our designs are rooted in a contemporary style and we share the outlook of fellow Brazilian architects, like Marcio Kogan, Arthur Casas, and the folks at Idea Zarvos and Bernardes.
What areas of CG work do you enjoy the most and for what reasons?
Andrey/Thiago: Shading, texturing, and composition. That's where the best ideas come from, and it's also this junction that is crucial in achieving a realistic look.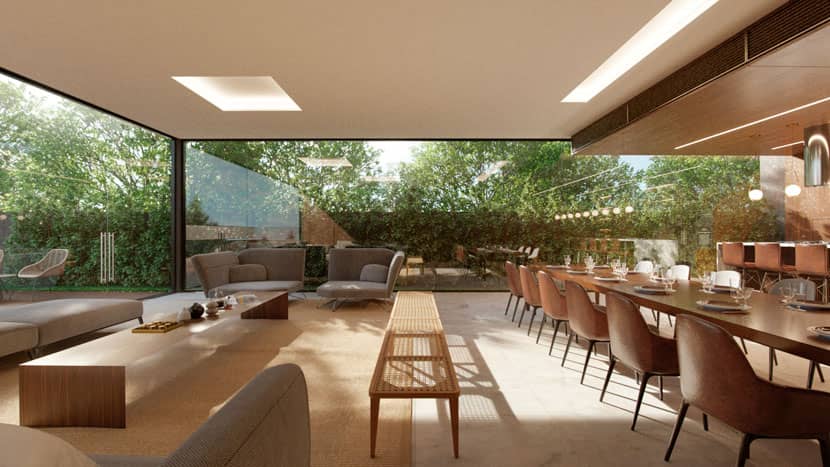 The party room is furnished with beautiful wood paneling and wall-to-wall windows.
Let's talk about your work in more detail, namely 'Edificio VK', an ambitious archviz project you created for Ander Alencar's Rendermind challenge, consisting of a short film and a set of images. Can you first tell us a bit more about the challenge itself and your motivation to participate?
Andrey: We had 30 days to complete at least 15 images of preselected environments, with the five best portfolios winning a BRL 10,000 contract, which equals around USD 2,000. It was a rather demanding challenge, to be eligible for the actual contest, we first had to participate in 12 smaller weekly challenges. 
Regarding my motivation, I was in it to win it. I felt I already had a firm grasp on 3D thanks to Gabriel Chahould, and was confident I could succeed. So, while some of my classmates still had not even started the course, I was almost finished after only two weeks. Out of 300 participants, about 40 entered their initial submission. For the following round, I focused on adjustments and improvements.
Please summarize the basic idea for the project, both for the apartment complex and the animation!
Andrey: 'Edificio VK' is a residential apartment complex, an inspiring space for people to share their lives, experiences, work and happiness. Its architectural design is innovative, empathic and sustainable.  
From the moment I bought the course, I knew I wanted to make a short film. We are big fans of world-renowned Brazilian archviz studio Blackhaus, and were inspired by their image and film direction.  
As this was not a commercial project, I took references from Arthur Casas to design the spaces. His Brazilian perspective on landscaping was very beneficial for the project as a whole, as was our decision to resort to a contemporary architectural style. 
In terms of materials, we wanted all of the environments to share the same unified language, so all of the wood panels have the same hue and only one type of marble is used throughout. This lent a certain originality to the project.
What were some of the challenges you had to overcome and how long did it take you to complete the project?
Andrey: Meeting deadlines was quite challenging, and I got little sleep during the time as a result. To get everything delivered on time, I had to strategize accordingly. For example, I focused on small camera movements with the angles I had. 
RebusFarm was a huge time saver as well: while my PC is good at generating frames, it still would have taken about one to two weeks to render everything myself; the first take alone, which is three seconds long, took 120 hours on my machine. With RebusFarm, the entire film was fully rendered within a single day!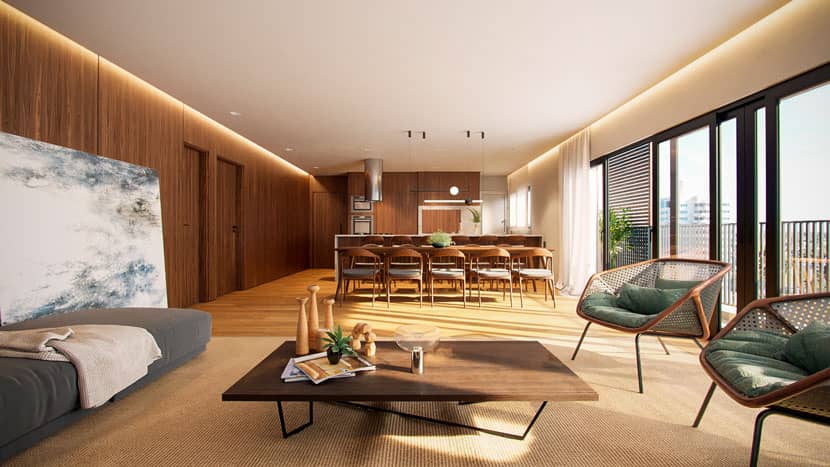 RP Studio, 'Edificio VK', living room
Can you briefly summarize your general approach to the development process?
Andrey: First, I did the 3D volumetric modeling, which was used for all other angles. Then I separated it by environment to prevent the file from becoming heavy. For the images, all angles were designed with a single vanishing point, only the detail angles contain two vanishing points, a method we still use in our current projects.
Why led to the decision to intercut the 3D shots with real-life footage? Even though it is just a couple of seconds, this seems like a lot of additional effort.
Andrey: First and foremost, we want our presentation to elicit an emotional response; this is how the developers market the project to their buyers. The mood we were aiming for is comfort, well-being, and serenity. The necessary "human touch" is conveyed much better by real people, for obvious reasons. 
What software did you use to create this project? Any plug-ins you found particularly helpful?
Andrey: I used 3ds Max and Corona Renderer. The main plugin I used was Forest Pack, which is fully compatible with RebusFarm and thus allowed for a very smooth render process.
What has the initial feedback been like and how satisfied are you with the results yourself?
Andrey: Overall, I am pleased with the results, although I still notice things that could have been improved with more time. However, knowing when a project is an important skill for any artist, so eventually, we had to call it a day. I met a lot of good people in the 3D community while working on this project, whom I'm still friends with to this day.
What is something that you have learned from this project that you can share with us?
Andrey: This was our first major design simulation for a developer, and since it involved environments I had little to no prior experience with, the success of the project greatly encouraged me to seek out more industry exposure and networking opportunities. Not least due to the unwavering support we received from RebusFarm, if I might add! 
Another thing I improved upon from previous projects was working fast, and having good file optimization to make rendering easier.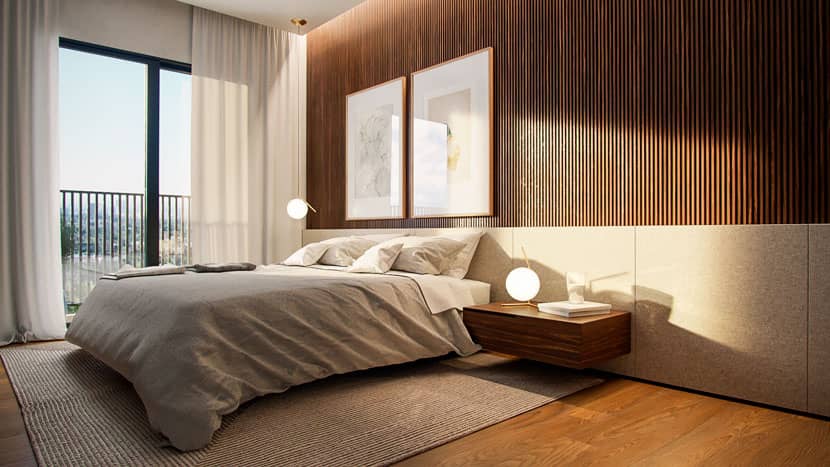 The best way to start and end the day at 'Edificio VK': each apartment unit has a total of three master suites.
Tell us more about your overall experience with RebusFarm. Is there anything you especially like about our service?
Andrey: Even though I didn't speak English well, RebusFarm was fully committed in their support of our project. Whenever we encountered any difficulties, even if it was a mistake solely on our side, RebusFarm reacted extremely responsive and accommodating, which cemented our trust in the company. 
Thiago: On the technical side, I'd once again like to highlight the seamless integration of all plugins in 3ds Max.
In closing, is there anything else you want to say? Any plugs, shoutouts or present or upcoming projects you'd like to mention?
Andrey: Thanks to the opportunities provided by both Ander and RebusFarm, I am proud to say that Thiago and I have turned RP Studio into a consolidated company. Last May, we sold over 40 images to developers! From here, we want to continue to improve our existing products and offer additional services in the future. 
In our business, problem-solving is fundamental in our business. There are times when customers want the images as quickly as possible, and we can always count on RebusFarm for that.
Thiago, Andrey, thank you both so much for taking the time. We wish you all the best in the future!
Keep up with RP Studio and their work here:
---
How to join ArtWanted!
You want to get featured in our ArtWanted! campaign and win 250 RenderPoints on top? Submit your work, rendered at RebusFarm, to This email address is being protected from spambots. You need JavaScript enabled to view it.! Visit our Art Wanted! page for more information.
---
>> Read more articles on our blog