Thursday, July 1st, 2021 by Julian Karsunky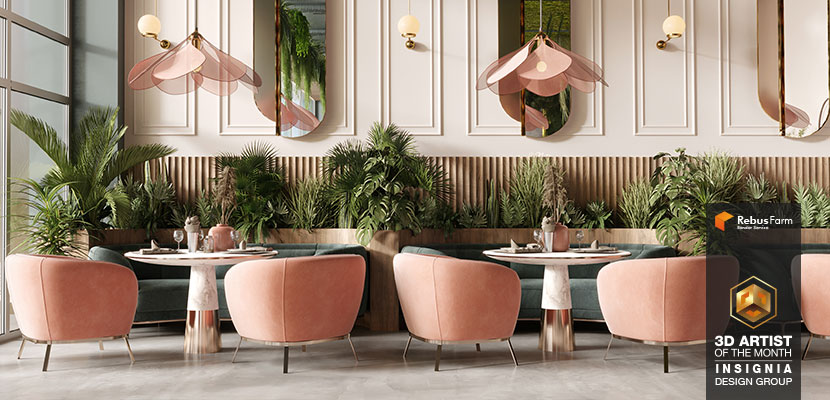 Welcome to the world of Fathy Ibrahim, our July 3D Artist of the Month! The Egyptian archviz artist manages his own studio, and has a green thumb, at least digitally speaking: his interior designs incorporate plant life in surprising and creative ways. Combined with his mastery of colors, the results are aesthetically pleasing and calming spaces.
Check out our interview to learn more about Fathy and one of his most seminal projects.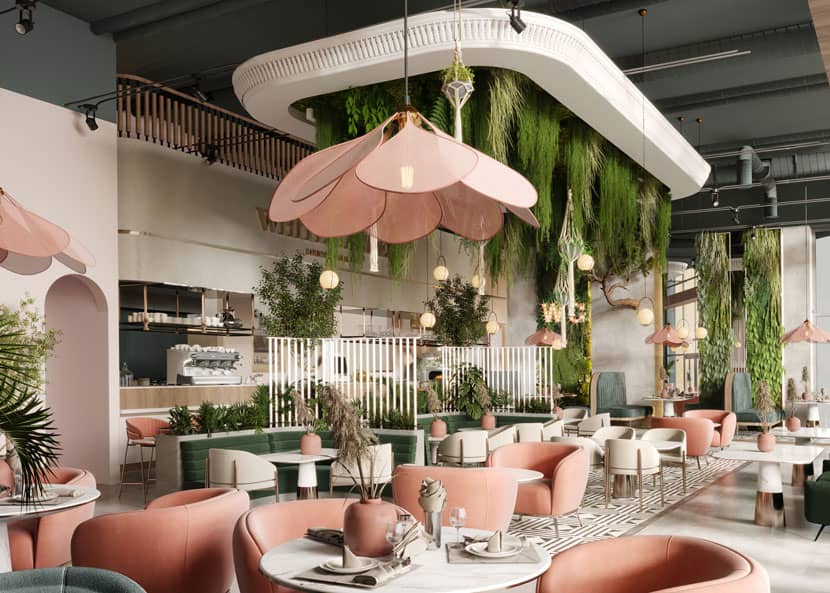 Located in Riyadh, Saudi-Arabia, the 'White Garden Restaurant and Lounge' is an oasis of serenity amidst a bustling city.
Hi Fathy, thanks for joining us! To start things off, please introduce yourself to our readers.
Hello everybody, my name is Fathy Ibrahim, I'm a 29-year-old architect and 3D artist from Cairo, Egypt, and founder and CEO of Insignia Design Group.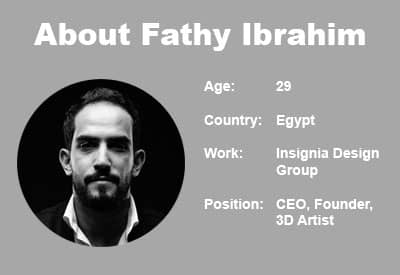 How did you end up becoming a professional 3D artist?
I knew I wanted to pursue a career in architectural visualization ever since I did my first render nine years ago. I first encountered CGI as part of my studies, and it became a passion soon after.
What training or education do you have?
I graduated with a degree in architecture from the Faculty of Engineering at Alexandria University.
Can you briefly summarize your career up to this point? What were some of your personal highlights or projects that you particularly enjoyed in the past?
After graduating, I traveled to the sultanate of Oman, where I stayed for two years. Upon my return to Egypt in 2018, I founded Insignia Design Group, my own startup. 
Since then, I had the opportunity to design a lot of amazing restaurant interiors, and I look forward to the future.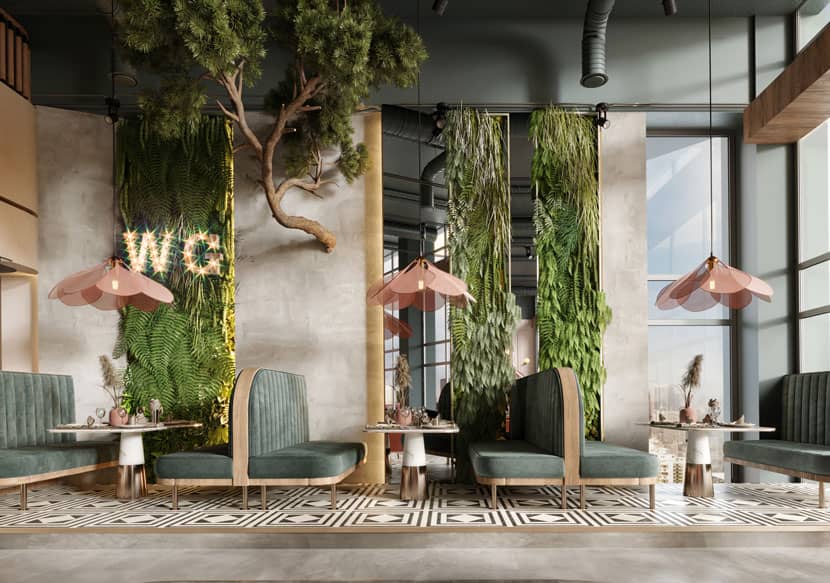 Fathy's design organically integrates the lush vegetation in surprising and innovative ways.
Please tell us more about Insignia Design Group, the company's history, its field of work and general philosophy.
As I've said, Insignia Design Group (IDG) was established in 2018 as an architectural office. Our services include interior design, landscaping, and, of course, visualization. Most of our clients come from outside Egypt, primarily from the gulf states.
Is there a specific design philosophy or architectural school of thought IDG adheres to? What inspires you as a 3D artist?
Not specifically, no, but I love mixing and experimenting with colors in my designs, especially natural greens and light tones.
What can you tell us about the state of the CG industry and community in Egypt?
The market is full of very talented designers and 3D artists, and with such a high-quality standard for renders, competition is fierce.
How are you holding up? Has the pandemic impeded your work?
Not too much, thankfully. The majority of our work comes from clients outside of Egypt, so we're not that dependent on the situation here.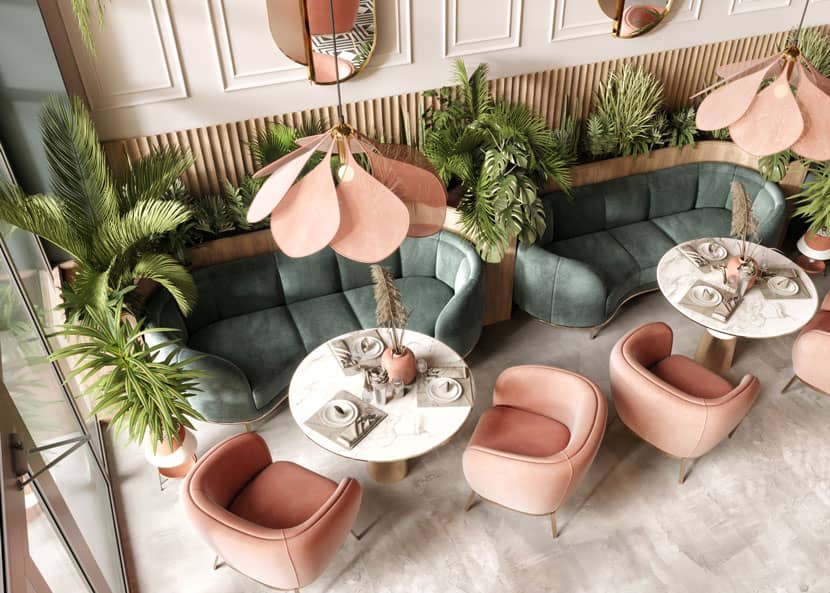 In the 'White Garden', even the lamps are designed to look like flower petals.
Let's talk about your work in more detail, namely the 'White Garden Restaurant and Lounge' you submitted to our campaign. Can you first give us some basic information about the job?
'White Garden' is the Riyadh branch of a Saudi-Arabian restaurant chain. The client granted us a lot of design freedom. The basic concept was to blend natural and light colors, so various shades of greens and browns complement the vegetation, as well as beige and pastel colors. Most, if not all of our design hinges on the color palette, which usually serves as our starting point.
To me personally, this was a pivotal project, as it earned me much exposure and recognition – in fact, most people know me for this work.
What were some of the challenges you had to overcome?
To live up to the name of 'White Garden': our goal was to make the restaurant-goers feel surrounded by nature in every square inch of the place.
How long did it take you to complete the project?
From start to finish, the design took about a month.
Can you give us an insight into your approach to the production process and briefly outline the work steps you took?
We usually start by preparing a mood board, where we collect ideas for materials, furniture, and overall tone and atmosphere. Next, we choose the color palette. Then, we start realizing our concept in 3D. As the project takes shape, we closely consult with the client and modify it according to their wishes step by step, until we have achieved the best possible results.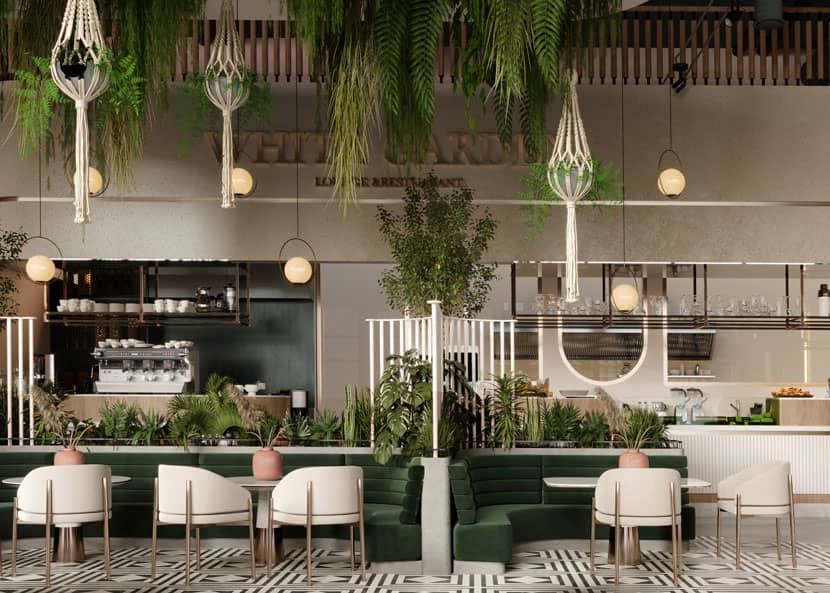 Fathy tells us his actual design work largely depends on his choice of colors. For the 'White Garden', he went with his favorite, a harmonic mix of greens and lights.
What software did you use to create this piece? Any plug-ins you found particularly helpful?
I used 3ds Max, Corona Renderer, and Photoshop.
What has the initial feedback been like and how satisfied are you with the results yourself?
I was not 100 % satisfied initially, but when I published the images on social media, I received a lot of appreciative comments and messages. Thanks to the kind feedback, my own dissatisfaction eventually vanished, and now 'White Garden' has become one of my favorite projects.
What is one thing you have learned from this project that you can share with us?
Don't be afraid of using bright and flashy colors!
Looking through your portfolio, I noticed multiple other restaurants and cafés. Is food service an industry you have special expertise or interest in?
No, this is mostly due to chance. Architecturally speaking, these establishments offer a lot of creative design space though, which is nice.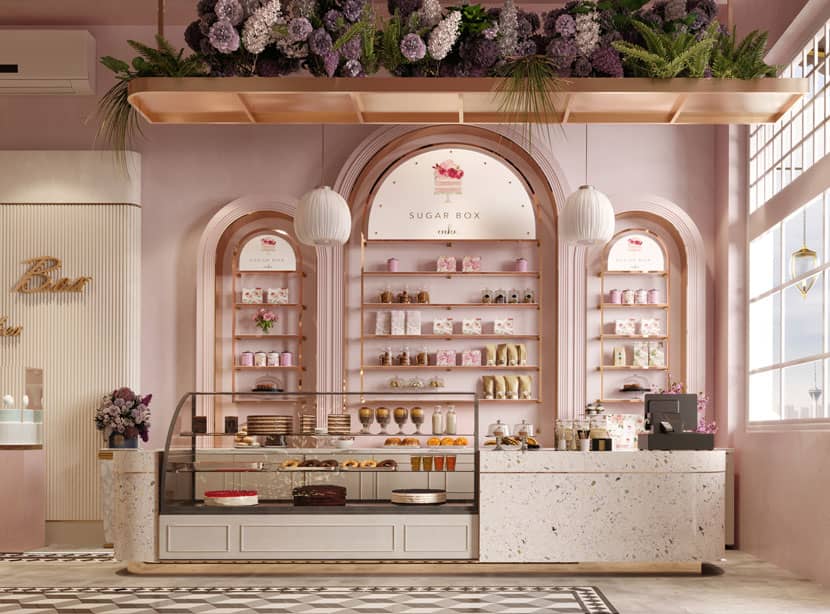 Fathy hardly designs spaces without including plant life. This pastry shop houses a beautiful floral arrangement close to the ceiling.
In closing, is there anything else you want to say? Any plugs, shout-outs or upcoming projects you would like to mention?
I would like to thank RebusFarm for choosing me as '3D Artist of the Month', I greatly appreciate it! I would also like to extend an invitation to all readers to follow our social media channels and check out more of our projects!
Fathy, thank you so much for taking the time and all the best in the future!
Keep up with Fathy Ibrahim and his work here:
---

HOW TO JOIN OUR MONTHLY CONTEST
You want to be our next featured 3D Artist of the Month and win 250 RenderPoints? Just visit our 3D Artist of the Month competition page and submit your entry. We'll choose the best image and contact the winner.
---
>> Read more articles on our blog