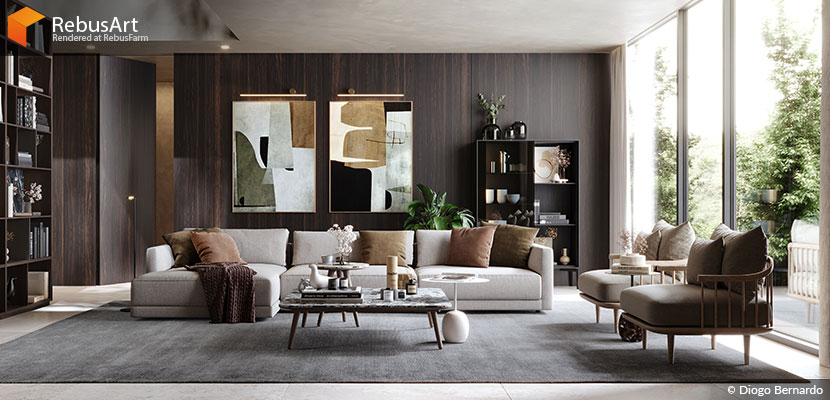 Déjà vu? With the steady influx of capable archviz work the Rebus render farm sees every day, you might think we experience the occasional illusion of memory. But while the work of Diogo Bernardo might evoke a vague sense of familiarity, the Portuguese artist's visualizations are certified fresh! His interior designs stand out thanks to their thoughtful compositions, inviting ambiance, and authenticity.         
In our interview, Diogo talks about balanced design, the essence of contemporary living, and a sofa named 'Jozeef'.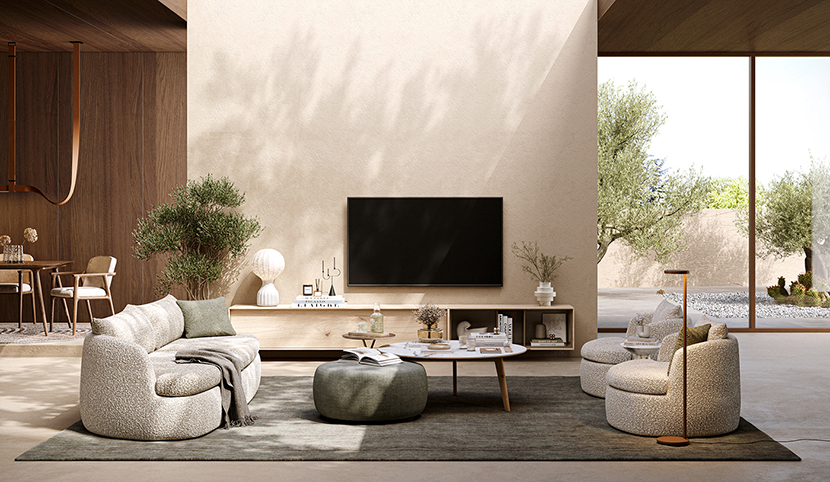 Diogo Bernardo, 'Living Room in Alentejo'.
Hi Diogo, thanks for joining us! To start things off, please introduce yourself to our readers!
My name is Diogo Bernardo, I'm a 35-year-old interior designer and archviz artist originally hailing from Coimbra, Portugal.
Can you briefly recount your professional history and how you got started as a 3D artist?
My journey into the world of 3D started after graduating, when I was working my first job as an interior designer. I soon realized that it would be much easier to reach new clients if, instead of constantly creating showroom spaces, photographing them, and putting them on the company's website, we envisioned and created these spaces through realistic visualizations.
The decision to then pursue a professional career as a 3D artist was a natural progression, fueled by my passion for visual storytelling and creating immersive experiences. The realization that I could bring ideas to life and evoke emotions through CG was the defining moment.
Please tell us about your company DÉZZÀVU Studio. When and under what circumstances was the studio first established?
DÉZZÀVU Studio emerged in 2020 during the pandemic, and was established in response to the increasing demand for innovative and immersive design representations in architecture.
The name is a portmanteau, combining "design" and "déjà vu", and embodies our philosophy of creating designs that resonate with a sense of familiarity and yet offer a fresh perspective, similar to the concept of déjà vu.
What services do you offer and who are your clients and target audiences?
We offer a diverse range of services encompassing architectural visualization, 3D modeling, rendering, and interactive experiences. Our aim is to provide our clients with visuals that transcend the ordinary, leaving a lasting impact on the viewer.
Our clients are a mix of architectural firms, interior designers, real estate developers, and advertising agencies. Our target audience comprises professionals seeking to elevate their projects with compelling visual narratives.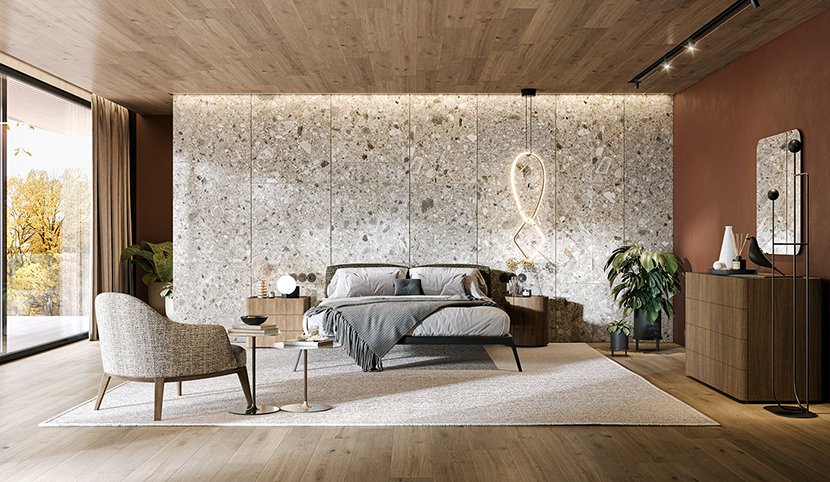 With its warm, wood color palette and minimal furnishings, this 'Still Master Bedroom' is a prime example of Diogo's style.
Describe your profile as 3D artist! What are your main areas of expertise? Is there a part of CGI that you particularly enjoy, and if so, for what reasons?
My main areas of expertise in CGI are architectural visualization, interior design, 3D modeling, rendering, and product visualization. The very beginning of a new project is the part that I most enjoy: the process of meticulously crafting each detail – whether it's the interplay of light and shadow or the texture of materials – is truly captivating.
Where does your own fascination with architecture and architectural visualization stem from?
I simply love turning architecture ideas into realistic images that tell a story and make people feel things.
Is there a specific design philosophy or architectural school of thought you adhere to? What inspires you as a 3D artist?
As an artist, inspiration comes to me through the work of great 3D artists as well as through prominent figures in architectural photography. While I don't strictly adhere to a particular design philosophy, I find myself drawn to the principles of modernism and minimalism. The idea of 'less is more' resonates with me, and I strive to reflect this in my work.
How would you describe the current state of the 3D industry and community in your home country of Portugal?
The 3D industry and community in Portugal are growing and becoming more vibrant. There is a rising interest in 3D modeling and visualization, especially in fields like architecture and design. The community is becoming more connected, with artists and professionals sharing knowledge and collaborating on projects. While it may not be as prominent as in some other countries, there's a lot of potential and enthusiasm for 3D work in Portugal.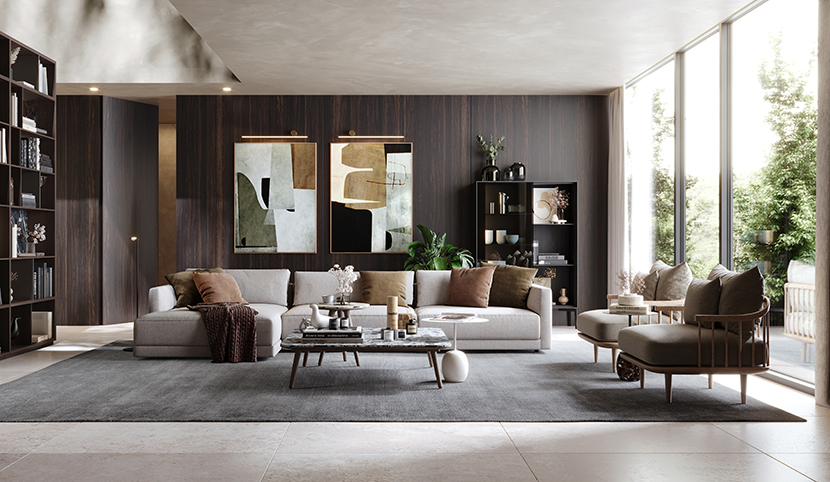 Some of the living room furniture in Diogo's 'Sala de Jozeef' was specifically requested by his client.
Now let us talk about your work in more detail, namely 'Sala de Estar Jozeef', a modern living room interior. Can you first describe the circumstances that lead to the creation of this project?

'Sala de Estar Jozeef' is a commercial project, emerging from the client's desire to envision a modern, elegant living room space. Jozeef is the name of the most significant piece of furniture in a living room: the sofa, the central piece of this room. I can say that "he" owns the space.
How would you describe the central idea behind this project? What were your main goals?
The central idea behind this project was to encapsulate the essence of contemporary living. My primary goal was to create a space that seamlessly integrates comfort, functionality, and style, making for a living room that people actually would want to live in.
What parts of the scene were especially important to you, both from a design/visual as well as a technical point of view?
Every element in the scene was meticulously chosen to contribute to the visual appeal. The lighting played a crucial role in accentuating the ambiance, while the choice of materials and colors aimed to strike a balance between modernity and warmth.
What were some of the challenges you had to overcome and how long did it take you to complete the project?
The main challenge was achieving the perfect lighting to enhance the mood of the space while ensuring the materials looked realistic and inviting. Additionally, maintaining a balance between a clean, minimalist design and incorporating enough elements to make the room feel lived-in was also a delicate task. The client also specifically requested me to use certain furniture, so I had to include these into the overall design.
The project, from conceptualization to final rendering, spanned approximately five working days, including iterations and refinements to achieve the desired result.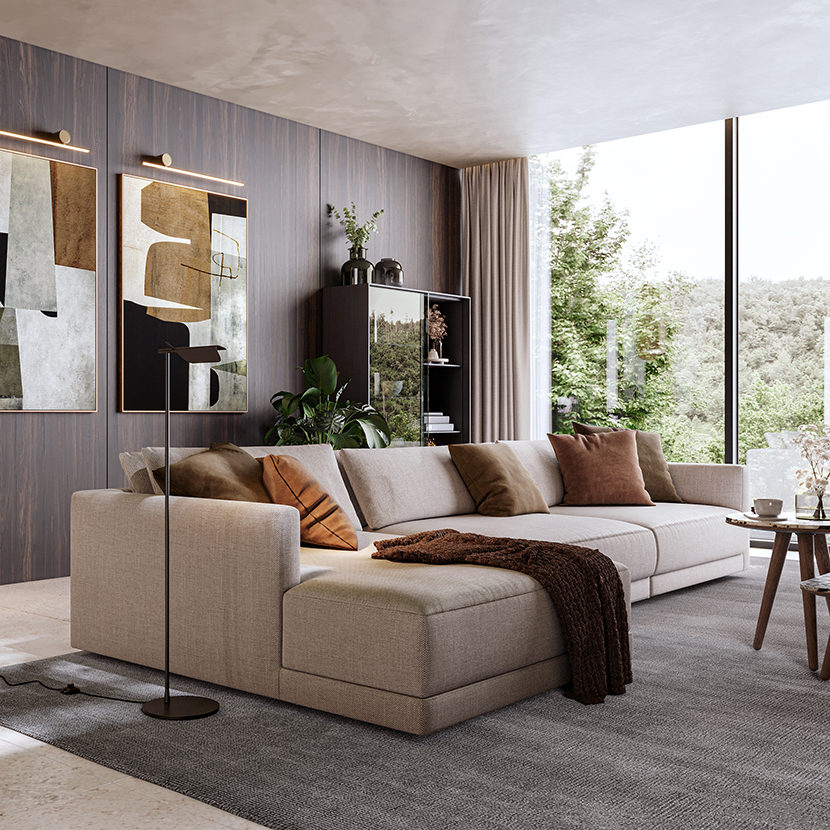 The star of the show: the eponymous 'Jozeef' sofa sits at the heart of the composition.
Can you talk more about your use of colors, materials, cameras, lighting, and overall composition?
The color palette for 'Sala de Estar Jozeef' was chosen deliberately to convey a sense of elegance and tranquility. The design features an elegant balance between wood and warm tones: the wood panels also add texture and depth to the room, creating a sense of coziness and comfort, whereas the warm tones, such as beige and brown, blend perfectly with the wood, establishing an inviting ambiance. These colors were complemented by strategically placed decor elements, adding vibrancy without overwhelming the minimalist aesthetic.
The chosen mood presents natural lighting on a slightly overcast day. I used different camera placements to both provide an overview of the living room and to highlight important details.
The books on the coffee table include pioneers of modern architecture – a reference to some of your stylistic influences?
Indeed, the selection of books on the coffee table was a deliberate nod to my stylistic influences, they feature works by pioneers such as Portuguese architect Álvaro Siza Vieira and Richard Neutra. These architects have had a profound impact on the field of modern architecture, and their innovative designs have inspired my own archviz work from time to time.
The selection of the coffee table books pays homage to some of Diogo's architectural influences.
What software did you use to for this project? Any plug-ins you found particularly helpful?
For this project, I primarily used Autodesk 3ds Max for modeling and scene setup, RebusFarm for rendering, and Adobe Photoshop for post-production. These tools provided the versatility and control required to achieve the desired level of detail and realism.
What is one thing you have learned from this project that you can share with us?
One of the key takeaways from 'Sala de Estar Jozeef' is the importance of balance in design. Achieving harmony between minimalism and warmth, modernity and comfort, and aesthetics and functionality proved to be equally challenging and rewarding. This project reinforced the notion that every element in a visual composition, no matter how small, or how big, contributes to the overall narrative and atmosphere.
What has the feedback been like so far and how satisfied are you with the results yourself?
The feedback received thus far has been overwhelmingly positive. Viewers have appreciated the meticulous attention to detail, the inviting ambiance, and the seamless integration of architectural and interior design elements. Personally, I'm extremely satisfied with the results as it aligns closely with my initial vision for the project. And of course, the client loved it as well!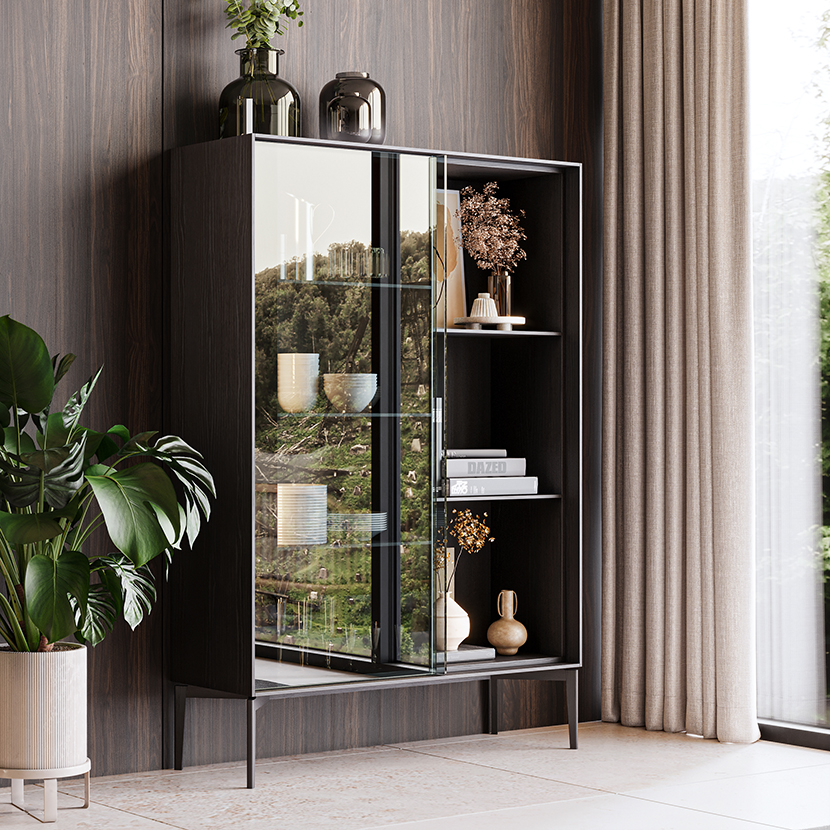 This cabinet closeup shows more of the strategically placed décor elements found all over the 'Esta de Sala Jozeef'.
Can you talk a bit about your previous experience with RebusFarm? Is there something you particularly like about our service?
My experience with RebusFarm has been consistently excellent. The speed and reliability of the rendering service have greatly expedited my workflow, allowing me to focus on the creative aspects of my projects. The seamless integration of RebusFarm into my pipeline has been invaluable in meeting project deadlines and delivering high-quality visuals.
In closing, is there anything else you want to say? Any present or upcoming projects you would like to mention?
I'd like to express my gratitude for this opportunity to share my work and insights with the RebusFarm community. I look forward to continuing to push the boundaries of CGI and create visuals that inspire and captivate audiences worldwide. Stay tuned for more exciting developments from DÉZZÀVU Studio!
Diogo, thank you so much for taking the time and all the best in the future.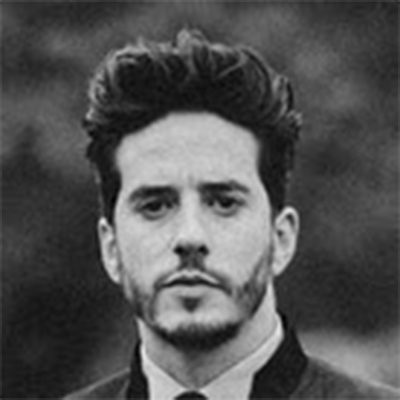 About the artist
Diogo Bernardo is a Portuguese interior designer and archviz artist. Through his brand DÉZZÀVU Studio, he creates immersive 3D experiences and compelling visual narratives for clients worldwide. A digital artisan, Diogo's designs show compositional prowess and meticulous craftsmanship, making for elegant yet authentic living spaces.