'ArtWanted' è ora 'RebusArt', ma il processo di selezione e le caratteristiche delle opere scelte rimangono. Per maggiori dettagli, leggete qui sotto.
Ottenete una caratteristica da RebusArt con i vostri progetti renderizzati da RebusFarm
Siamo sempre alla ricerca di lavori 3D renderizzati a RebusFarm per realizzare una funzione di artista 3D nelle nostre campagne pubblicitarie, ovviamente riconoscendo i crediti.
Inviaci il tuo lavoro tramite il modulo di invio. Se scelto, la tua immagine verrà mostrata sul nostro RebusArt Gallery e condivise sui nostri canali di social media. Come prescelto riceverai 100 RenderPoint del valore di USD 99.34 per esplorare la nostra enorme potenza di calcolo.
Potresti ricevere un'intervista che verrà condivisa sul nostro blog e su diverse pagine dei social media dei partner relativi alla CG. In tal caso riceverai un totale di 250 RenderPoint del valore di USD 248.35 per utilizzare il nostro servizio.
Ti preghiamo di comprendere che non possiamo utilizzare ogni singola iscrizione per la nostra 3D artist feature. In caso di utilizzo, il nostro team ti contatterà.
RebusFarm on Social Media: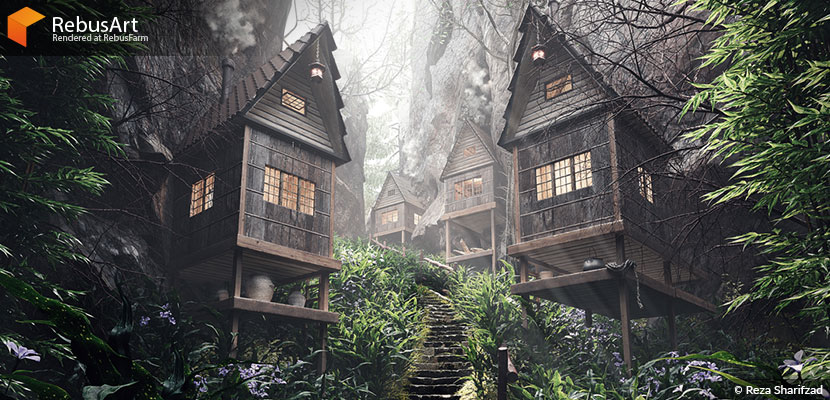 Latest Interview | Reza Sharifzadeh
The arrival of the new year brings some change to our 'ArtWanted' campaign, though mostly in name: going forward, we aim to highlight the wonderful work of our community under the moniker 'RebusArt'. Make no mistake though, art is still very much wanted! We hope you continue to submit your images and scenes, so we can share just a tiny amount of the great content that is produced at our render farm every day. Leading by example in January 2023 is Reza Sharifzadeh, who sent us a beautiful and whimsical landscape lined with 'Mountain Cottages'.
Join us on our journey as venture deep into the woods and explore the undergrowth of the artist's mind!
---
---