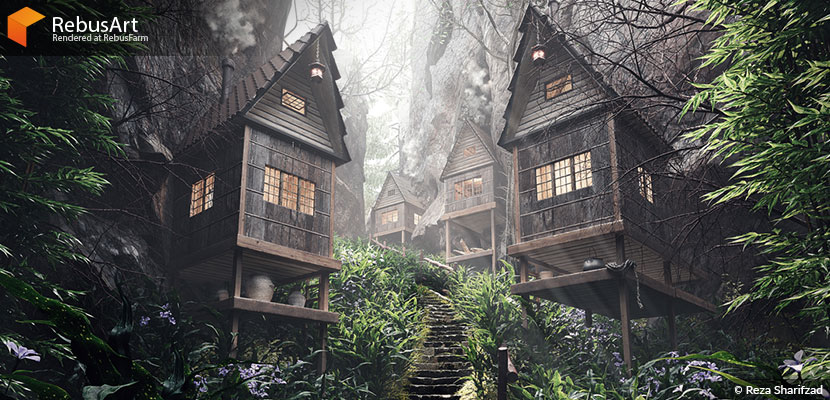 The arrival of the new year brings some change to our 'ArtWanted' campaign, though mostly in name: going forward, we aim to highlight the wonderful work of our community under the moniker 'RebusArt'. Make no mistake though, art is still very much wanted! We hope you continue to submit your images and scenes, so we can share just a tiny amount of the great content that is produced at our render farm every day. Leading by example in January 2023 is Reza Sharifzadeh, who sent us a beautiful and whimsical landscape lined with 'Mountain Cottages'.
Join us on our journey as venture deep into the woods and explore the undergrowth of the artist's mind!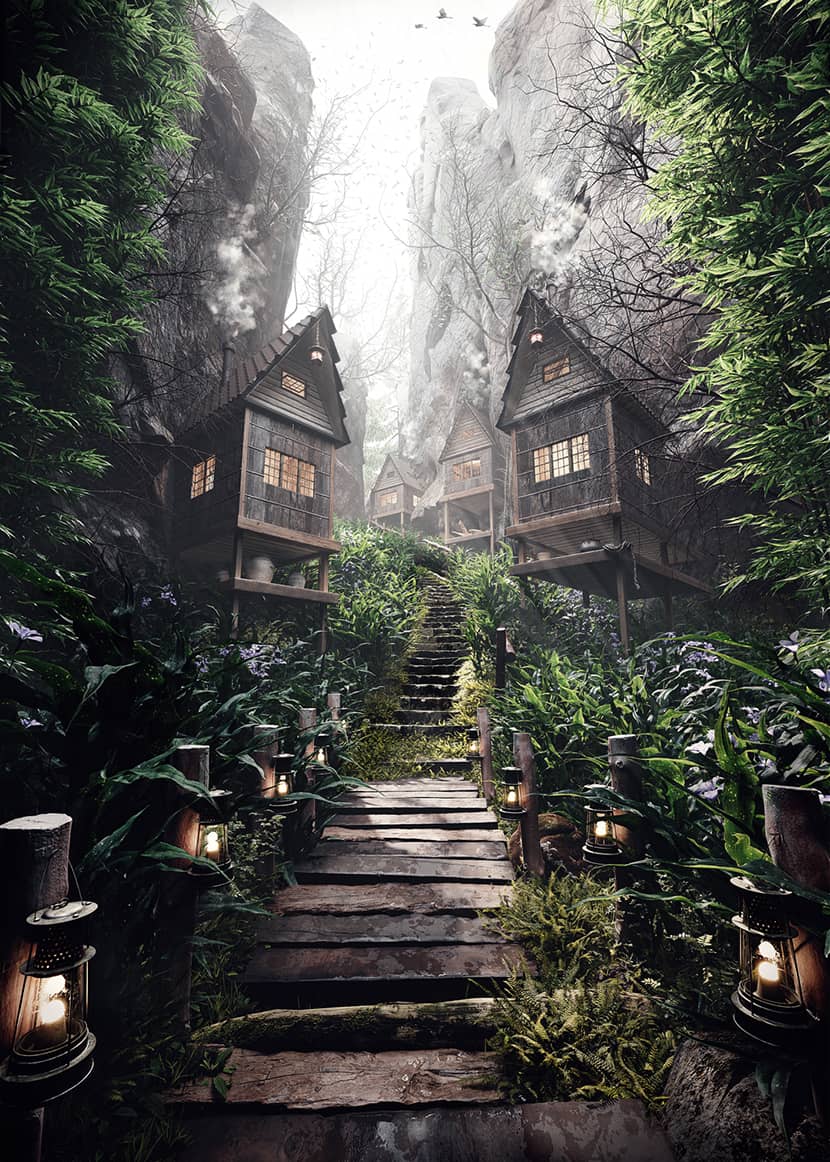 Reza Sharifzadeh, 'Mountain Cottage'
Looking at the mossy stone steps, one cannot help but wonder what lies at the end of the curved path in Reza Sharifzadeh's 'Mountain Cottage'. But maybe the journey itself is the reward, as the age-old adage suggests. A notion the Iranian 3D artist can attest to: when Reza set out to learn CG software just two years ago, he had no idea it would lead to a life-changing career move. "I had always been artistically inclined but I decided to pursue other options professionally", he tells us. "However, owing to a lack of interest in these fields, I did not succeed. Only in discovering 3D did I found my true vocation."
Non-committal curiosity soon gave way to serious interest, with Reza seeking out professional training. Just a few months after he had started learning, he was receiving his first job offers. Next to the enjoyment he already derived from working with 3D, this was all the motivation Reza needed to make the switch and focus exclusively on his newfound passion. Today, he works as a freelance archviz artist for architects and designers.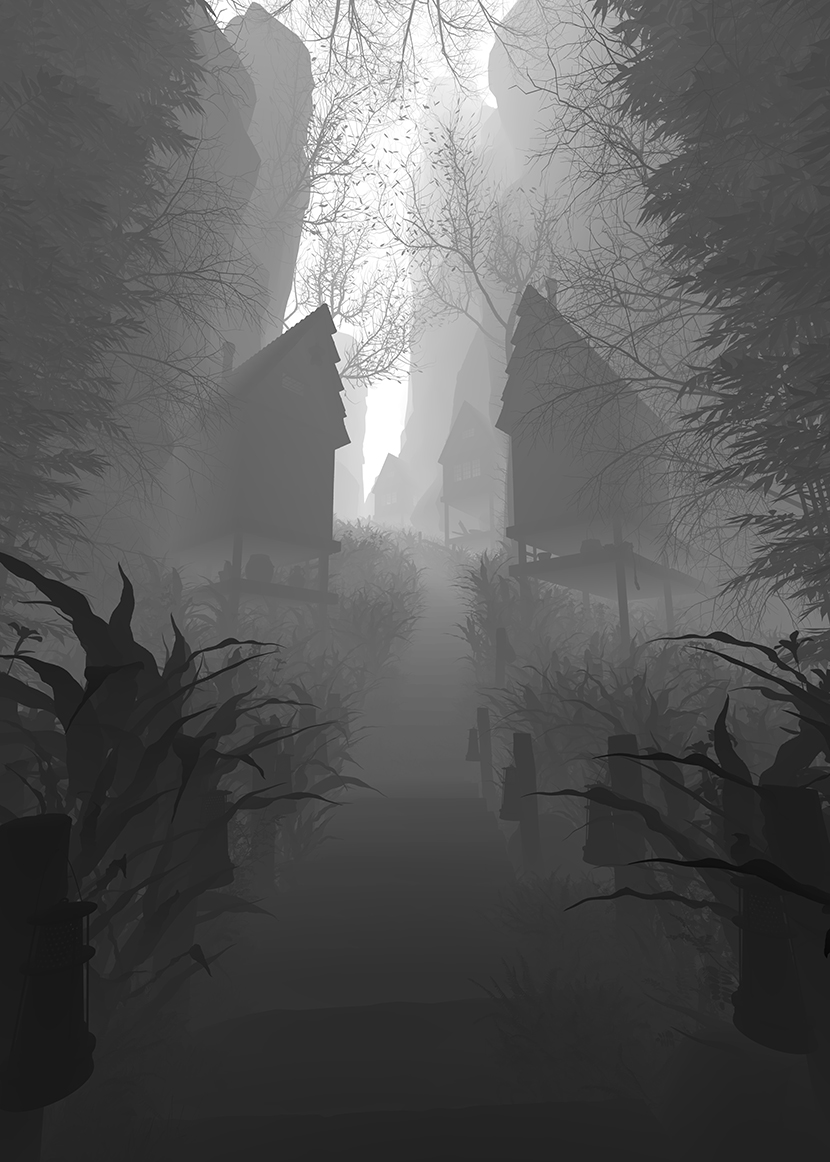 This lighting test sees the scenery drenched in thick fog, highlighting the mysterious atmosphere.
Unable to publicize the render work he did for his clients, Reza set out to expand his personal portfolio. Curiously enough, when he first began working on the 'Mountain Cottage', the project did not include the eponymous buildings: "originally, I just wanted to create a beautiful sylvan mountain landscape", Reza recalls. "Eventually, the image of the stairs leading to the mountaintop formed in my mind. That opened the floodgate, and the ideas started flowing freely." Reza tells us this stage of the creative process proved most difficult for him. From there, adding the stilted huts to both sides of the stairs was just one of many different designs he tried to make the scene more interesting visually, but it was the one that stuck.
With the stairs firmly established at the center of the scene, the atmosphere, too, was set in Reza's mind. "There is a dreamlike and fantastical quality inherent in this motif", he says, "a set of stairs deep within the forest leading all the way to the mountaintop, where a spectacular view awaits – symbolically, it is quite charged." The decision to not show the final destination thus only adds to the strange mood, leaving the viewer to fill in the blanks of this journey in their imagination.
"Curious and curiouser": the almost psychedelic colors in this sketch make the huts stand out even more.

The production began with Reza gathering photo references and took about a week.  Soon, the scene took on a life of its own, with the actual landscapes he had reviewed setting the stage for a more whimsical experience. The 'Mountain Cottage' project was realized using 3ds Max, Corona Renderer and Photoshop, while Quixel Bridge provided easy asset management of various rock and vegetation Megascans.   
Since 'Mountain Cottage' marked Reza's first foray into 3D environment modeling, he was a little hesitant when it came to publishing the project. "I was far from dissatisfied with the results but I still thought of it as a rather ordinary piece of work", he remembers. "So I was all the more surprised by all the positive feedback I received when I finally posted the image to my
Instagram
. It encouraged me to submit the project to other outlets, where it was subsequently featured. 'Mountain Cottage' was not only a big learning experience but it also motivated me to keep going!"
| | | |
| --- | --- | --- |
| |   | |
These two work-in-progress pictures provide a better understanding of Reza's composition.

When Reza first embarked on his 3D journey, he was driven purely by passion, with little regard for any specific outcome or destination. To this day, he has maintained the childlike sense of wonder he first felt upon learning CG software. "One of the most marvelous things in this line of work is that there are no limits to your creativity, every new project is an empty canvass, waiting for your mind to paint upon it." This very sentiment is what guides all of our efforts here at the Rebus render farm, which is why we could not be happier than to kick off our new RebusArt campaign with Reza. What is next, then? We have just as little idea as you, but we are sure the CG community will continue to surprise us and cannot wait to showcase more great artwork and outstanding talent. After all, not knowing is half the fun – the journey is the reward!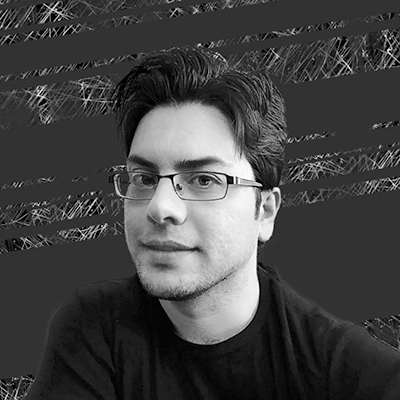 About the artist
Reza Sharifzadeh is a freelance archviz artist from Shiraz, Iran. Having tried his hand at numerous careers, he found his true calling in 3D and has not looked back since. He takes great pleasure in sharing his work with the community and keeps his DMs open for job offers and general discourse at all times.