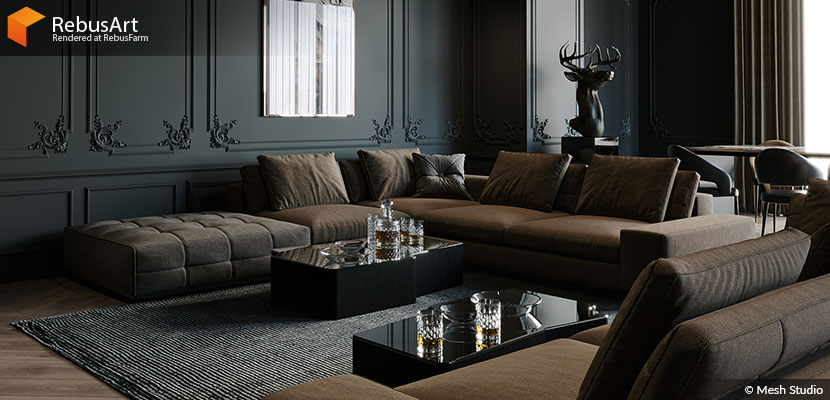 Here at the Rebus Render Farm, we always like to keep it classy! So, when Doğukan Erkal, our featured artist in August 2023, invited us to his luxurious living room interior to discuss his work over a nice glass of juice, we gladly accepted. A gentleman through and through, the young Turkish archviz talent has extended his invitation to our wonderful community and welcomes each and everybody to join us in admiring the ornate, yet simple elegance of 'Symmetry Black'.

Continue reading to learn more about the project and the person behind it!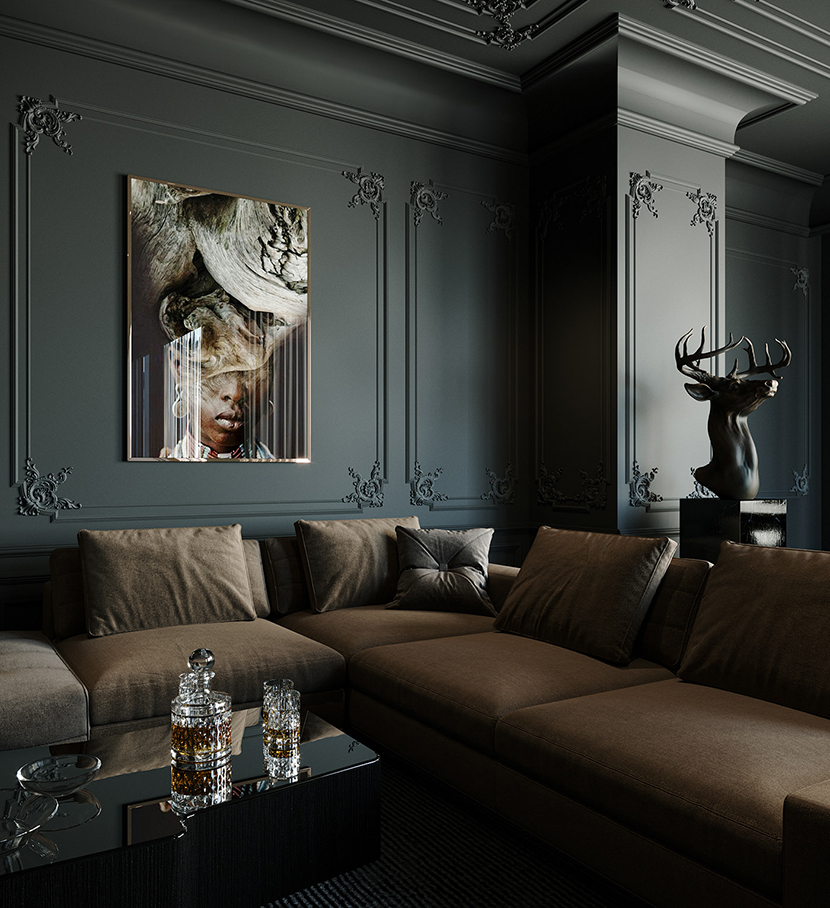 Come in, and have a seat: Mesh Studio, 'Symmetry Black'.
Hi Doğukan, thanks for joining us! To start things off, please introduce yourself to our readers!
Hello everybody, my name is Doğukan Erkal, and I am a 24-year-old archviz artist from Istanbul, Türkiye.
Can you briefly recount your personal history with 3D?
Sure! I studied graphic design at university, and around 2017 I first became interested in architectural visualization and CG projects. Initially, I was just curious to try my hand at it, but as I improved, I started to take it more seriously. So, I stuck with it and just continued learning as much as I could.
Please tell us about your brand Mesh Studio!
Before founding my own studio, I was working at an agency, only taking on the occasional freelance job on the side. Eventually, I had grown a sizeable customer base, and I began thinking about starting my own business. About three years ago, I pulled the trigger and Mesh Studio was born. I love my job and pride myself on having a strong work ethic.
What services do you provide and who are your target markets?
I offer both exterior and interior visualizations and animations for architects, real estate companies, and movie and production studios.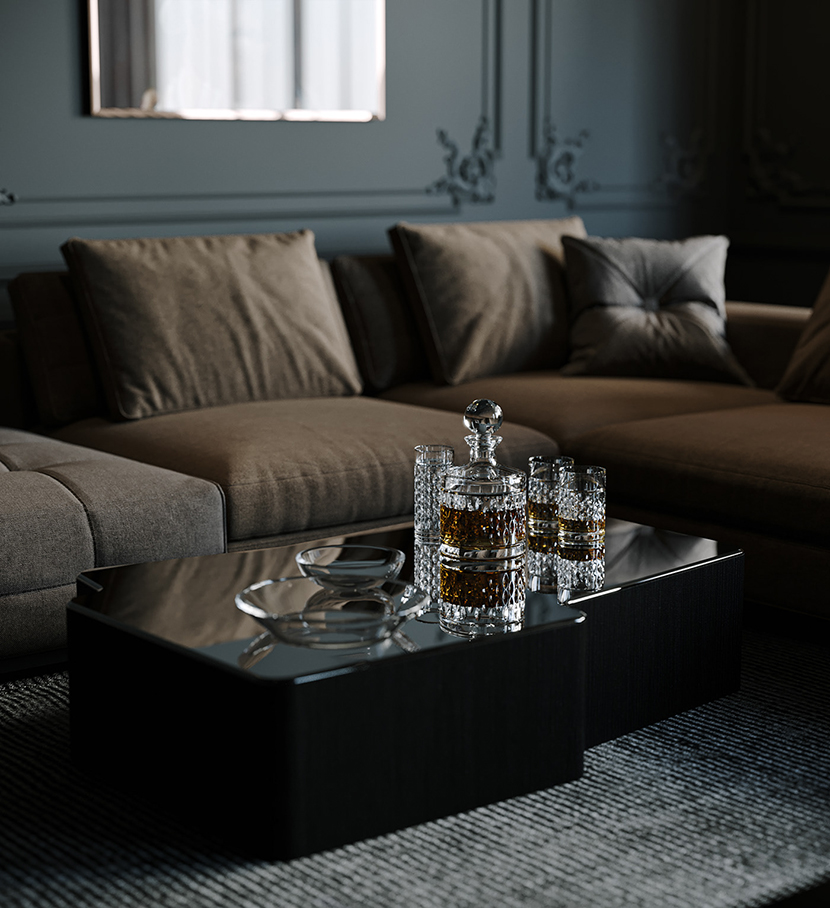 Help yourself to a refreshing drink from this "coffee table".
Where does your own fascination for architecture and archviz stem from?
Architecture has been a steady source of fascination since my childhood. Buildings have always captivated me, and I am grateful I can further explore this passion of mine through my work.
What inspires you as a 3D artist?
Photorealism is a huge motivator for me; whenever I see a realistic render, I immediately want to sit down and work on my own projects – it very much inspires the urge to create in me.
How would you describe the current state of the Turkish 3D industry and community?
There is a lot of great talent in architecture here, but what I often find to be severely lacking are the renders. The designs are impressive, but the quality of the renders is generally not quite up to par.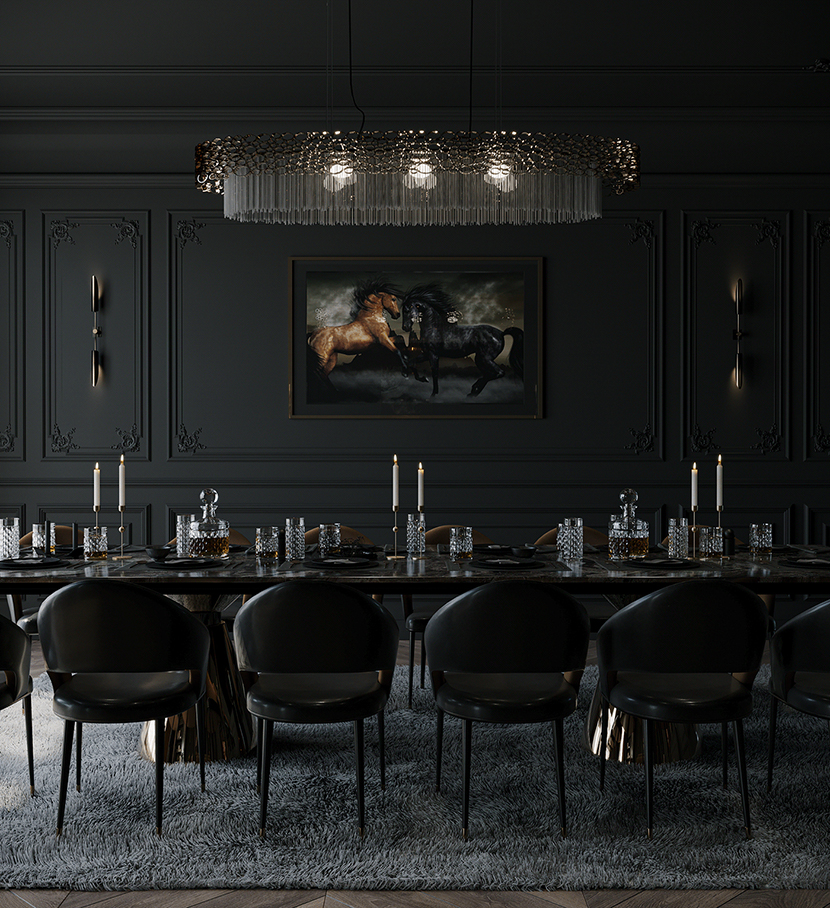 Illuminated by an ornate chandelier, the spacious dining table easily accommodates a large party.
Let us talk about your submission in more detail, namely 'Symmetry Black', an ornate living room interior. Can you first describe the circumstances that lead to the creation of this project?
My client provided this artful interior design and I tried my best to capture and convey the emotion that I saw in it. 'Symmetry Black' is actually the color-shifted version of the project, as I was later asked to create a dark-themed alternative to the original concept.   
How would you describe the central design idea and how did you go about visualizing it?
The interior is all about this classy and luxurious aesthetic, so I really wanted my images to stand out as well.
What parts of the scene were especially important to you, both from a design/visual as well as a technical point of view?
While the living room as a whole was without a doubt the most important, the portrait specifically was crucial in achieving the atmosphere I was aiming for. Choosing the right portrait was definitely a breakthrough in that regard, although I wanted all of the décor to give off a strong aura of integrity and character.   
What were some of the challenges you had to overcome and how long did it take you to complete the project?
The scene was too dark initially and I had some trouble with the lightning in turn. Fortunately, I was able to resolve this issue without too much of struggle, and I managed to finish the project in a little less than two weeks.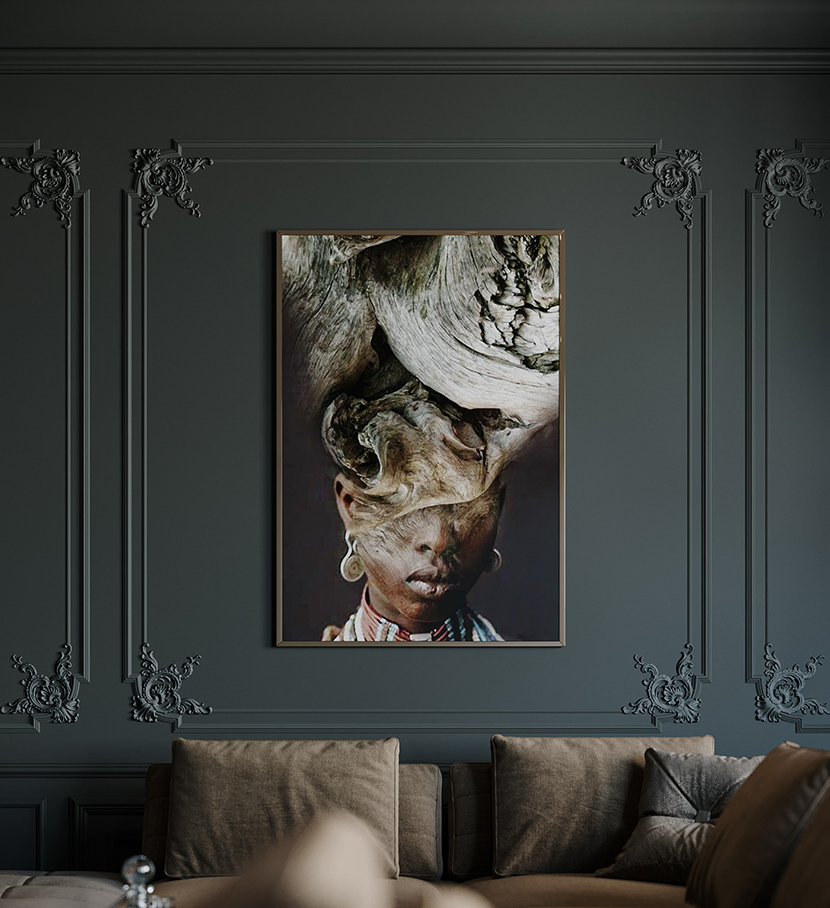 A maybe surprising choice at first glance, Doğukan tells us the portrait ties the entire room together.
Can you talk more about your use of colors, materials, cameras, lighting, and overall composition?
In all these areas, my approach was to prioritize simplicity, with the overarching goal of highlighting the elegance of the interior. Since the room is already dark, I put the cameras opposite of the light sources to make the composition shine more.
What software did you use to for this project? Any plugins you found particularly helpful?
I used 3ds Max, Corona Renderer, and Adobe Photoshop. The flooring was created with the FloorGenerator plugin.
What is one thing you have learned from this project that you can share with us?
This project taught me how to properly light up dark interiors and how challenging, yet important this process can be.
What has the feedback been like so far and how satisfied are you with the results yourself?
The feedback I have received from both my client and the general public has been overwhelmingly positive and very fulfilling.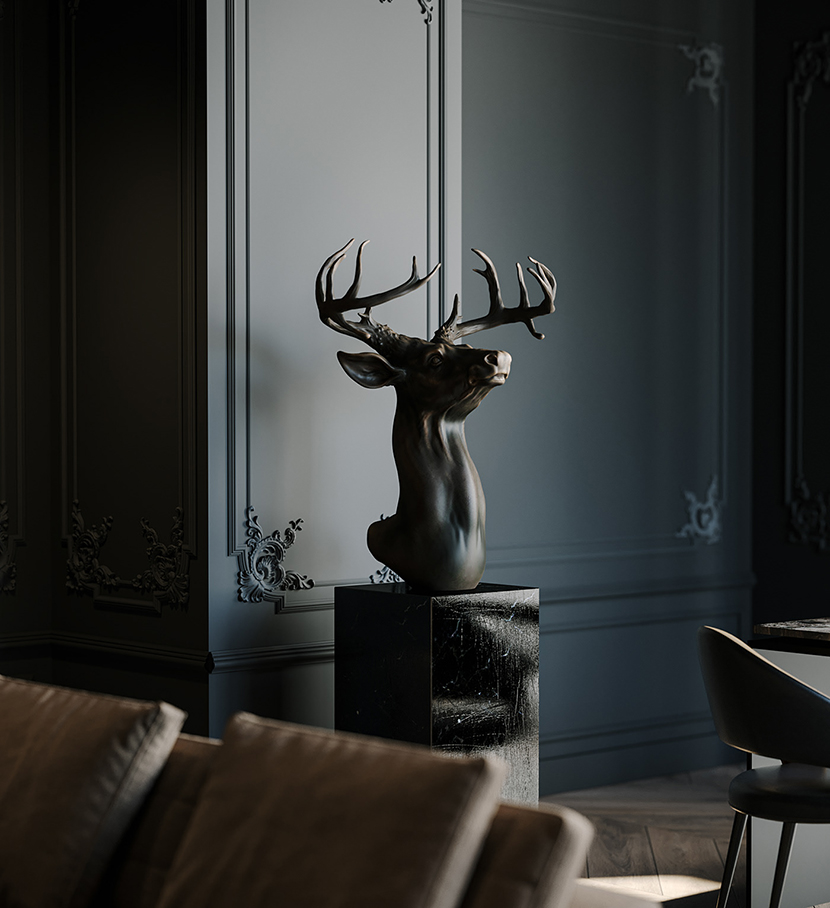 Oh, deer: Doğukan wanted all decorative elements to reflect the character of the room.
Can you talk a bit about your previous experience with RebusFarm? Is there something you particularly like about our service?
Whenever I was faced with difficult times, I could count on RebusFarm to come to my rescue. I am extremely grateful for the service you provide and have been recommending it to all of my friends. I especially like the affordable render prices for animations, and I honestly cannot thank you enough.
In closing, is there anything else you want to say? Any present or upcoming projects you would like to mention?
Another project of mine, 'Resting Room', has recently garnered quite a bit of attention, and I would kindly ask you to check it out as well. Other than that, I just want to say thank you so much for having me, and I hope to return with more projects in the future!
The pleasure is all ours! Doğukan, thank you so much for taking the time and all the best in the future.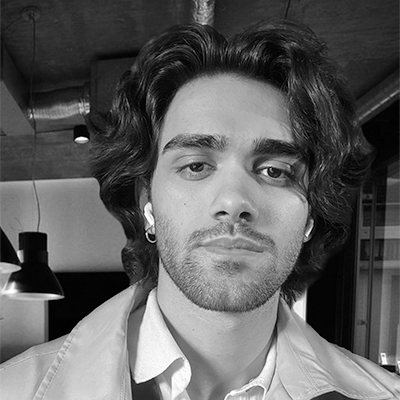 About the studio
Founded by Turkish 3D artist Doğukan Erkal, Mesh Studio offers photorealistic solutions for property developers, project marketers, creative agencies, architects, and interior designers. Equipped with a strong work ethic and an equal amount of passion, Doğukan aims to help establish a higher quality standard for architectural visualization in his home country.