Friday, September 24th, 2021 by Julian Karsunky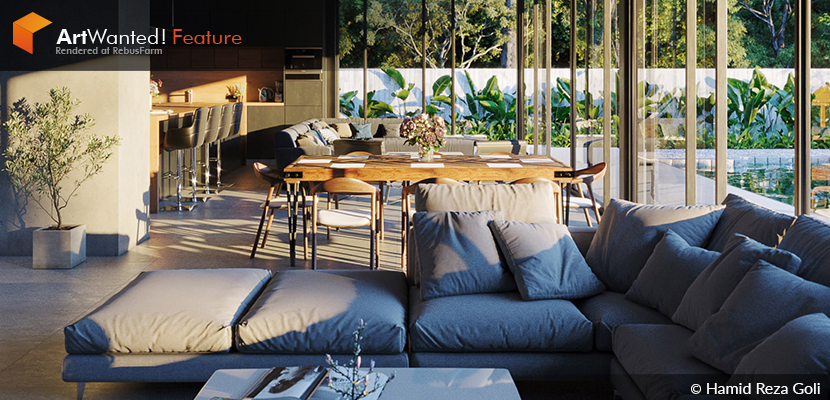 The relationship between architecture and nature is a conundrum as old as time. When Iranian CG artist Hamid Reza Goli encountered the site of environmental degradation, he was immediately inspired to counteract. Together with his wife, and fellow architect, he envisioned a structure that would revive the barren space and harmonically incorporate its lush surroundings. The result, the 'Koi House', is a blend of contemporary architecture and traditional Far Eastern aesthetics, bridging the gap between past and present, and pointing to a reconciliatory future.
Check out our interview to find out more about Hamid Reza, his artistic vision, and the making of the 'Koi House'.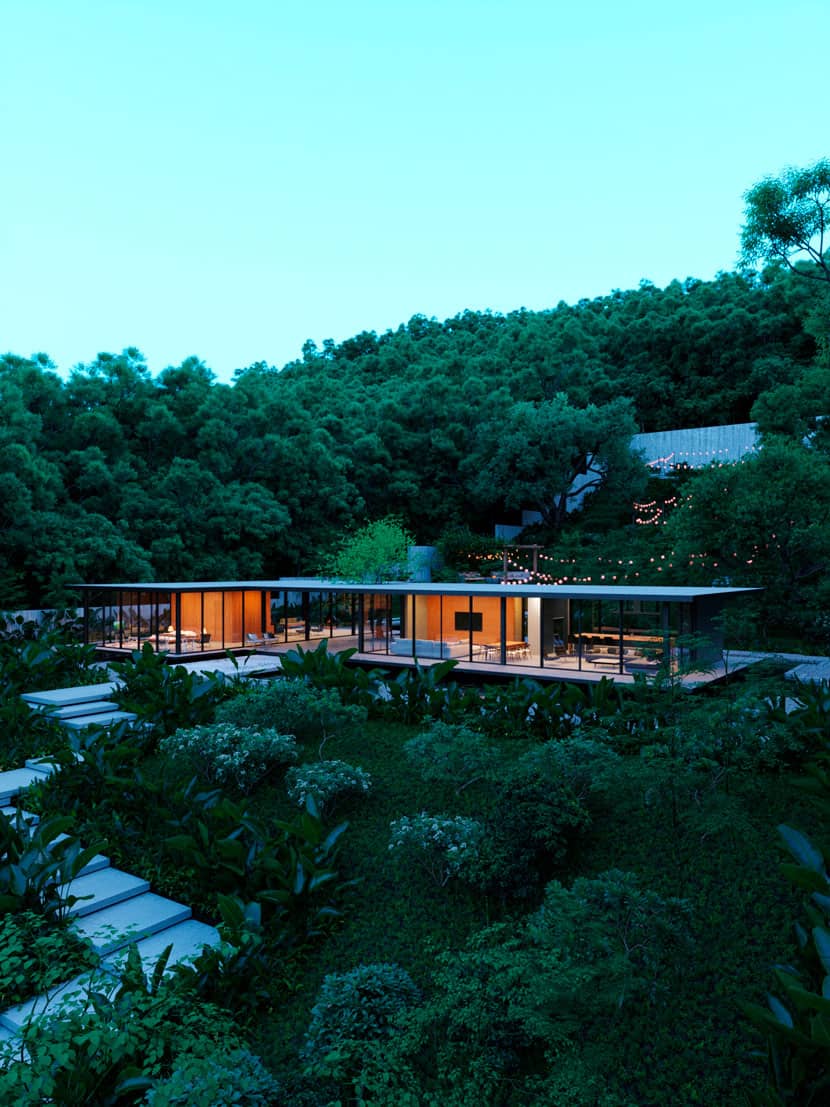 Designed by Hamid Reza and his wife, the 'Koi House' seamlessly blends in the landscape of Mazandaran Province, Iran.
Hi Hamid Reza, thanks for joining us! To start things off, please introduce yourself to our readers.
Hello everyone, my name is Hamid Reza Goli, I am 33 years old and I live in Iran.
Do you recall when and how you first consciously encountered CGI?
Fifteen years ago, as a university student, I first heard the name of a software called 3ds Max. This immediately piqued my intense interest in artistic creation and driven by the desire to learn, I eventually got my hands on a book about Maya, which became my gateway to the CG world.
When and why did you then decide to pursuit a professional career as a 3D artist?
When I met Hossein Yadollahpour. Hussein and I were classmates at university and soon became good friends, I not only consider him one of the best in CG, but he also shaped my own perspective on the medium.
What training or education do you have?
I have a degree in architecture, but in terms of CGI, I am entirely self-taught. Almost all of my knowledge comes from tutorials and similar online resources.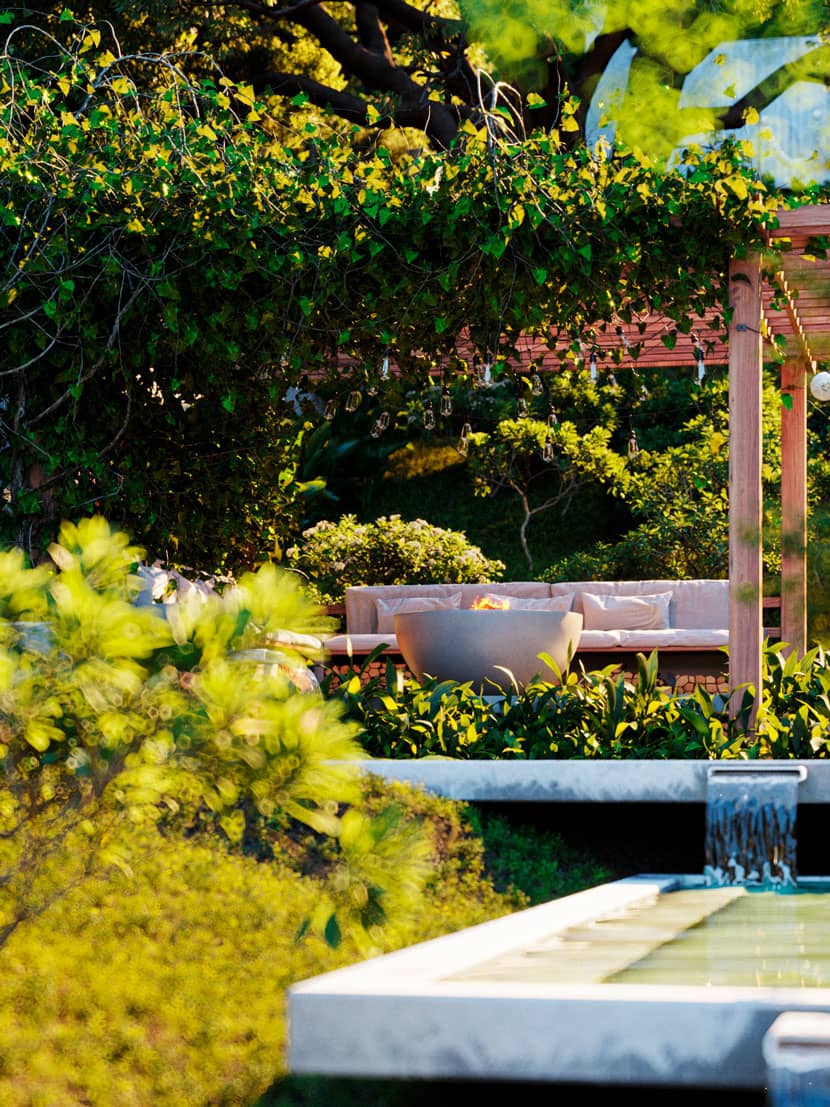 A reconciliation of nature and architecture, the building harmonically incorporates lush vegetation.
Can you briefly summarize your career up to this point? What are some of your personal highlights and projects you particularly enjoyed in the past?
Most of my professional 3D work has been related to architecture. However, my love for art goes much deeper than that and I enjoy exploring my creativity through all sorts of different subjects.
Please tell us about your current job situation: Are you employed or exclusively freelancing at the moment?
My wife and I have our own architectural office, but I do take on occasional freelance work in my spare time.
Describe your profile as a 3D artist!
To me, the world of CG is more than a mere source of income – it is a canvas to paint with my imagination. Variety is what I enjoy the most, which is why personal projects are so important to me.
In addition to architectural simulation, I am very interested in VFX and game development, and I hope to work professionally in these fields in the future.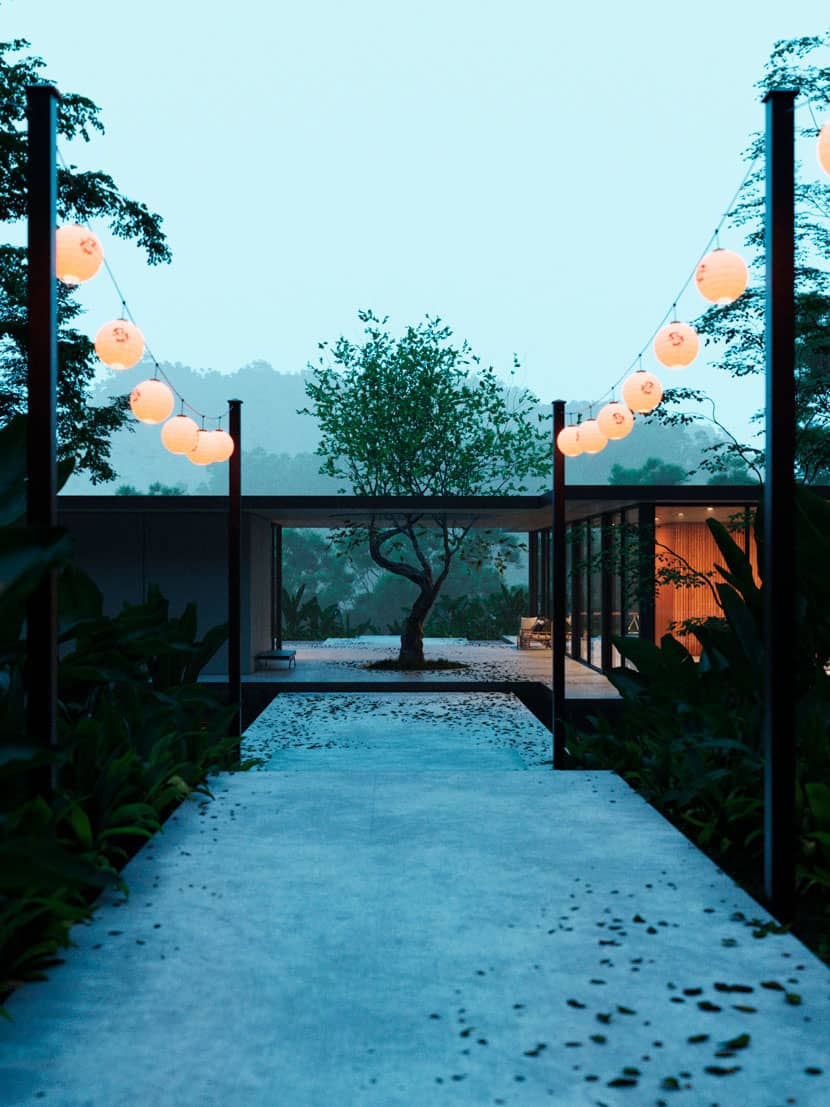 The 'Koi House' combines traditional Eastern aesthetics with modern architecture.
As both an architect and a 3D artist, how intertwined have these two areas become? Is architectural visualization an essential tool for any architect today?
Architects are always challenged to communicate their ideas to laypeople. Architectural simulation and 3D tools are invaluable tools, as they can bridge the gap between the mind of the architect and his audience.
Is there a specific design philosophy or architectural school of thought you adhere to? What inspires you as a 3D artist?
As both an architect and a CG artist, there is no singular architectural or design principle that completely resonates with me. Generally speaking, I have always been fascinated by the relationship between man and nature in architecture, and the challenge of solving this problem – you can probably see this influence in the 'Koi House' project as well.
What can you tell us about the current state of the CG industry and community in Iran?
There is a lot of talent here and the number is increasing every day. Nowadays, access to in-depth tutorials has become readily available to anyone with an internet connection. Over the years, the number of dedicated teachers of CG software has increased significantly, along with an ever-growing user base.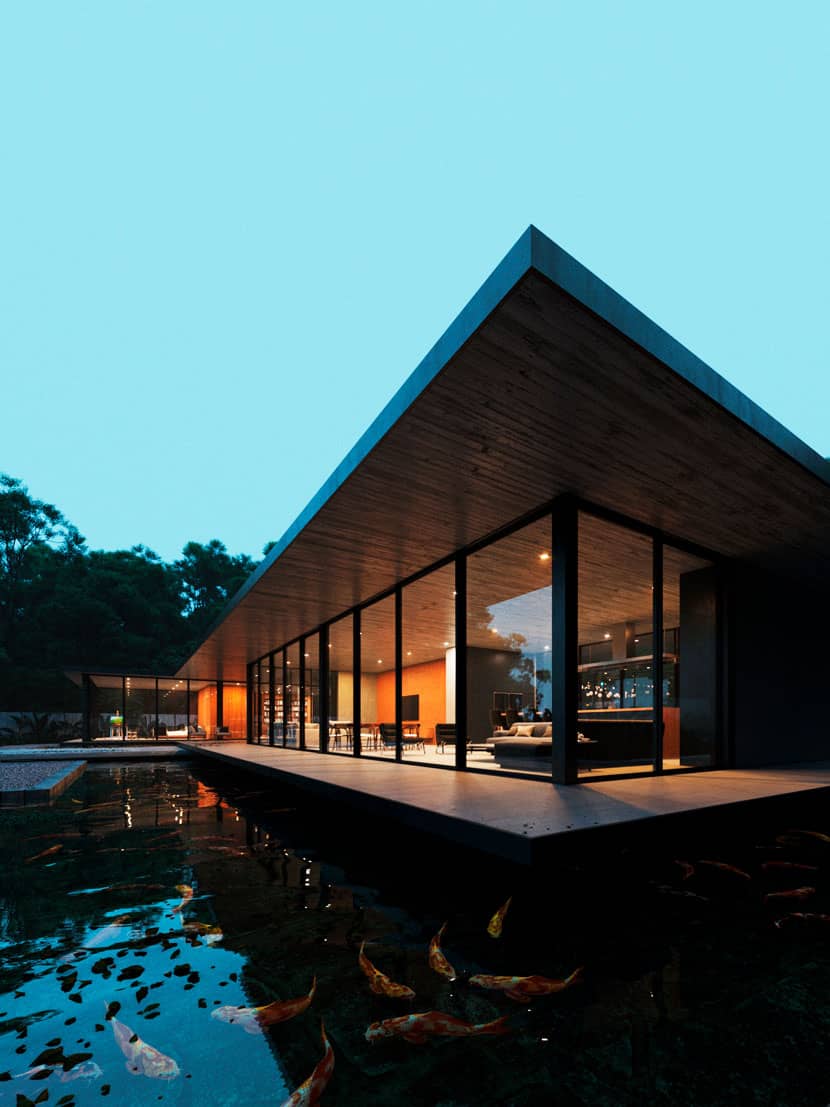 The façade of the 'Koi House', with the eponymous fish clearly visible in the water.
Let's talk about your work in more detail, namely the 'Koi House', a luxurious Japanese-themed mountainside resort designed by Iranian architect Soheyla Ranjbar. Can you first tell us a bit more about the origins of the project, the people involved and your role in particular?
First of all, let me disclose that Soheyla Ranjbar is, in fact, my wife. She is a very talented and creative architect, one of her biggest strengths is her ability to identify and correct mistakes.
You should also know that Mazandaran is one of Iran's northern provinces, located between the Caspian Sea and the Alborz mountains. As such, it features beautiful landscapes. One day, while my wife and I were traversing the area, we found a manmade clearing amidst the trees. It was then and there that the idea of the 'Koi House' came to our minds, to beautify that barren space.
How would you summarize the general design of the 'Koi House'?
This project was designed to communicate with its natural surroundings, it is a cure for the wounds that humans have caused to the environment. We tried to reinvigorate and ensoul the space by including natural and vivid elements, such as plants and fish.
What parts of the scene were particularly important to you, both from a technical and visual standpoint?
The architecture was obviously very important to me, but as a CG artist, I want to create an animate image, not just a virtual and lifeless piece of work; what I want most is to tell a story!
How long did it take you to complete the project?
As this was a personal project, we were not working under any time constraints and took it rather slowly. Overall, it took us almost three months.
How did the Far East aesthetic influence your work?
The philosophy of Eastern architecture, especially the connection between water and nature, has always fascinated me. I tried to combine this idea with a modern approach to architecture, which I found to be the perfect fit for the environment of Mazandaran.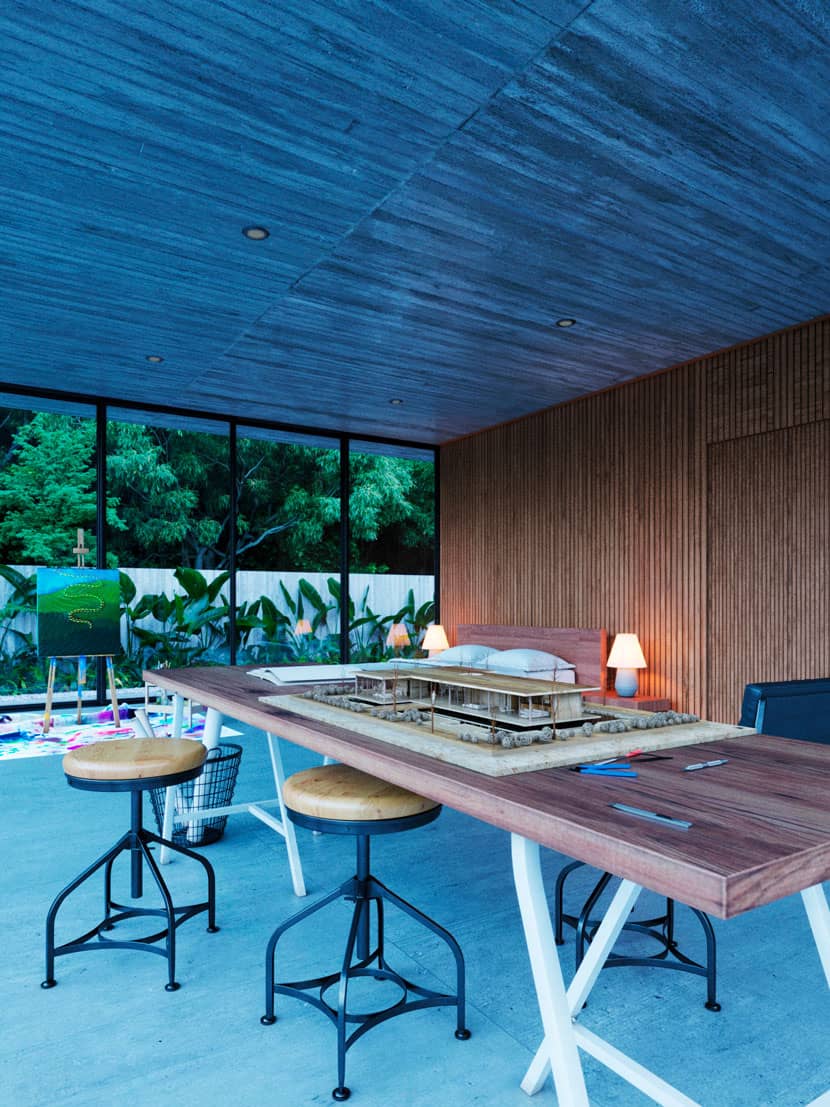 Another look at the 'Koi House' interior: Hamid Reza tells us it was designed as a space for meditation and relaxation for an artist couple.
What software did you use for this project? Any plug-ins you found particularly helpful?
The main software I used was 3ds Max and Corona Renderer for rendering. Some of the models, including the fish, I created in ZBrush, the textures were made with Substance Painter. I also used Speedtree to build some of the vegetation, such as the lone tree in the middle of the building. To scatter the trees and plants, I mostly used Corona's built-in tools. Finally, post-production was done in Photoshop.
What is something that you have learned from this project that you can share with us?
I realized that no matter how much I like to lose myself in the details, I still had to set a limit and eventually move on to make progress.
What has the feedback been like and how satisfied are you with the results yourself?
The feedback has been excellent so far. The project has been shared by several architectural and CG sites and outlets, for which I am very grateful!
Tell us about your overall experience with RebusFarm. Is there anything you especially like about our service?
Reducing rendering time in an easy and proficient manner is obviously very important in our line of work. However, the way you support the community is what I appreciate the most. Thank you for truly caring about your users.
In closing, is there anything else you want to say? Any plugs, shoutouts or present or upcoming projects you'd like to mention?
Thank you for giving me this opportunity to share my thoughts with you and your audience and all the best to everybody reading this!
Hamid Reza, thank you so much for taking the time. We wish you all the best in the future!
Keep up with Hamid Reza Goli and his work here:
---
How to join ArtWanted!
You want to get featured in our ArtWanted! campaign and win 250 RenderPoints on top? Submit your work, rendered at RebusFarm, to This email address is being protected from spambots. You need JavaScript enabled to view it.! Visit our Art Wanted! page for more information.
---
>> Read more articles on our blog