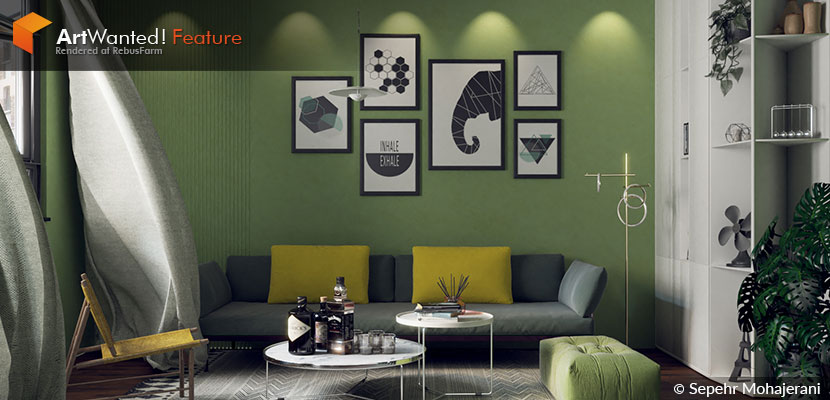 While winter is slowly but surely taking hold of the Northern Hemisphere, Sepehr Mohajerani invites us to his 'Modern Summer Interior' to soak up the last rays of sunlight, an offer we at the Rebus render farm are more than happy to accept! From his early college days, when 3D was just a hobby to becoming a full-fledged archviz artist, Sepehr has come a long way – not only in the figurative sense, as he relocated from his home country of Iran to Italy, where he works as freelance interior and exterior designer.
Continue reading for some relaxing summer vibes and an exclusive insight into the life and work of Sepehr Mohajerani!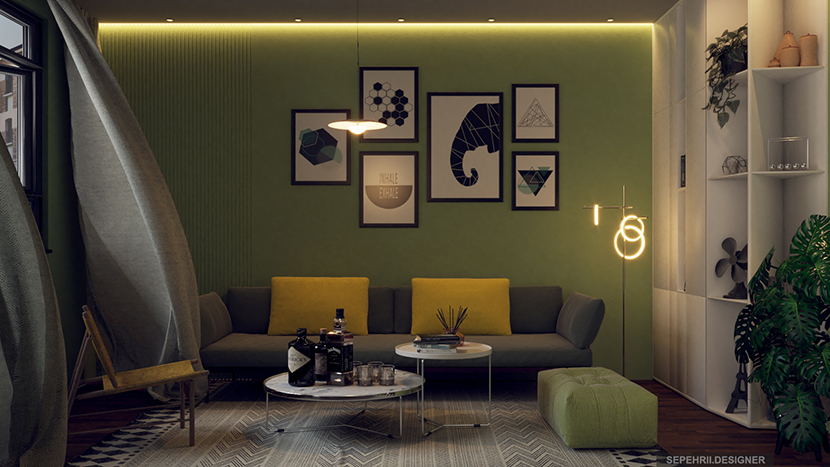 Sepehr's 'Modern Summer Interior' looks great at any time of the day.
Hi Sepehr, thanks for joining us! To start things off, please introduce yourself to our readers.
Hello, my name is Sepehr Mohajerani, I'm a 32-year-old interior and exterior designer and archviz artist from Iran, currently residing in Florence, Italy.  
Can you tell us a bit about your professional background and how you got started as a CG artist?
Sure, I have a master degree in design from the University of Florence, and initially, CGI was just something I dabbled out of personal curiosity and to solve the occasional problem I encountered as a student. For the first few years after graduating, I worked as a booth designer at Iranian design studio
Arano
. This was my introduction to professional 3D design and I gained a lot of invaluable experience, but eventually, I felt the need to upgrade the way I presented my work. That was when I fully immersed myself in architectural visualization, and over the last three years, I have dedicated myself to improving my skills and abilities – I hope you can see the difference!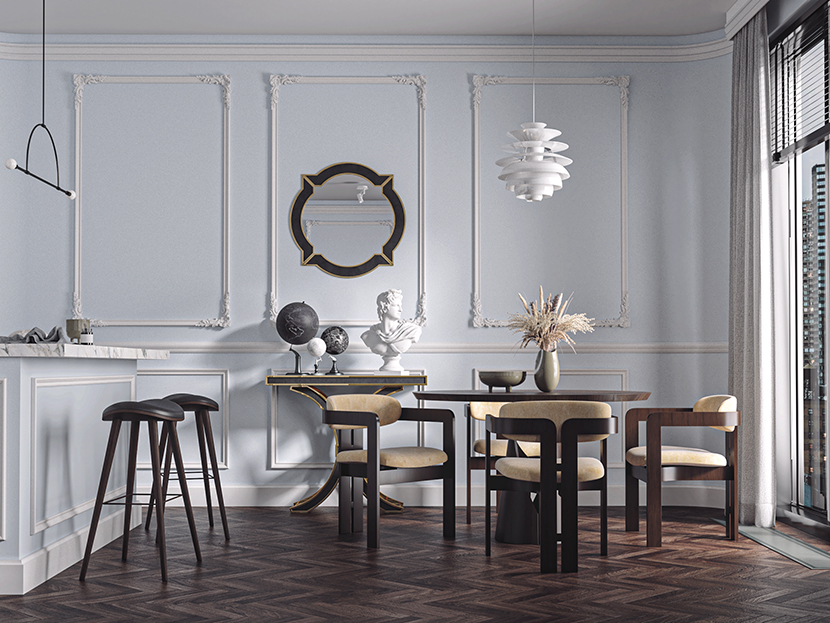 One of Sepehr's latest works, this interior radiates minimalist elegance.
Now that we are up to speed, please tell us about your current job situation!
Today, I work as a freelancer, though every now and then different companies contract me on a more permanent basis. This sometimes can lead to rather intense workloads and time constraints, but then again it is nice to have a fixed income for extended periods. The services I offer include exterior and interior 3D modeling, rendering, and animation.
Describe your profile as a 3D artist. Is there a part of CG-related work you particularly enjoy? For what reasons?
Currently, I am mostly focused on rendering. While I do plan on getting more into animation in the future, the enjoyment I derive from creating and presenting an artwork is so strong I feel no rush to branch out.
Is there a specific design philosophy or school of thought you adhere to? What or who inspires you as a 3D artist?
There are no particular principles I follow, but I always keep a close eye on current trends and developments. My biggest inspiration is the CG art world itself; its diverse and competitive nature is what continuously pushes me to keep improving in all aspects.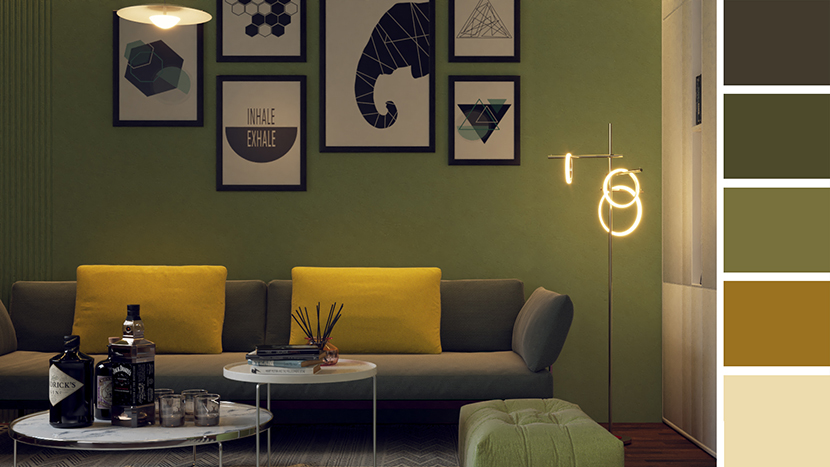 The color palette, as seen on the right side of the image above, was integral in portraying the spirit of the summer season.


Let us talk about your work in more detail, namely the 'Modern Summer Interior' you submitted to our campaign. Can you first tell us about the origins of the project and describe the underlying concept?
This was a personal project with the express purpose of creating a proper summer feeling. Using a special color palette, I wanted to create an interior in line with my own taste and stylistic preferences. From a more technical perspective, my goal was to better understand the power of the depth of field of clarity, and since I considered this an important exercise, I approached the project with the same care and seriousness as if it was a paid job. In fact, during the week it took me to complete the project, I worked on it with an intense obsession, only focused on conveying this particular mood I wanted to evoke.
Tell us more about this mood and how it is reflected in the design.
The entire design hinges on crafting a sensory viewing experience that communicates a very specific atmosphere – what I would describe as the identity of summer in more abstract terms. The color palette was crucial in capturing the mood of the season, it is derived and balanced from both warm and cold indoor lights and also in alignment with the simplicity of the furniture and decoration.
Can you briefly walk us through your development and production process step by step?
Any project I tackle begins with an elaborate planning phase during which I try to not only lay out a detailed course of action, but to calculate the amount of time that should be allotted to every individual step of the process. My workflow itself has been firmly established over the years, it is a well-oiled machine by this point. The most difficult and time-consuming parts for me are texturing and choosing a color palette. Finally, detailing and lighting are among the last things I work on.
"Summer time, and the living is easy": a closer look at some of the decor Sepehr designed for his 'Modern Summer Interior'.
What software did you use to create this scene? Any plug-ins you found particularly helpful?
I modeled the scene in Rhino, which I have about seven years of experience using, and rendered it in V-Ray.
What has the feedback been like so far and how satisfied are you with the results yourself?
I mostly share my work on Facebook and Instagram, and even though I always make sure to tag bigger outlets, this work unfortunately was not picked up by any of the more famous pages. Still, I was able to reach about 3000 people, and the feedback I received was positive. Whether it comes from employers, clients or peers, feedback has always been an important source of encouragement for me, it is what keeps me going on this journey even when times get a little tough.
What is one thing you have learned from this project that you can share with us?
This is an older work, and I was still learning a lot by trial and error at the time. Nonetheless, the project definitely made me take a deeper look at the composition and overall structure of a scene and was also an important lesson in how to create a mood and convey feelings through my work.
Please tell us about your experience with our service. Is there anything you especially like about the Rebus render farm?
Your team is always professional and willing to help at the drop of a hat. Your support is indispensable for artists like me, and I hope you can continue to provide such excellent services and facilitate the rendering process even further!
In closing, is there anything else you want to say? Any plugs, shoutouts or upcoming projects you would like to mention?
I want to encourage all my colleagues to please never sell yourself short, but to value your time and energy at the proper cost. I know competition is high, especially amidst the economic turmoil we currently find ourselves in, yet I still feel it is in our shared interest that we do not undercut each other but stand in solidarity.
Sepehr, thank you so much for taking the time and all the best in the future!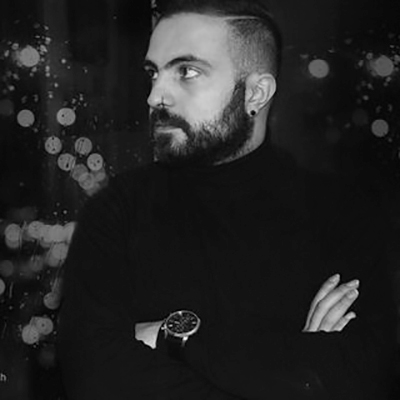 About the artist
Sepehr Mohajerani is a freelance 3D artist based in Florence, Italy. He started his career as a booth designer in his home country of Iran, but soon fully dedicated himself to architectural visualization. Today, he works as an interior and exterior designer, offering realistic 3D modeling, rendering and animation services to the market.




Get started with your own renderings