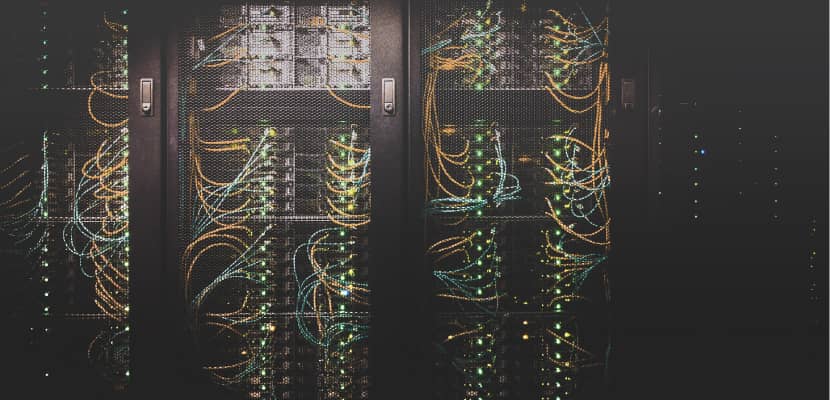 When starting in the render farm world, there are many options you can choose from, which might result in a confusing process for you. In this article, we summed up all the current great render farms, so you can get to know them a little better and choose the perfect fit for you!
1. RebusFarm Render Service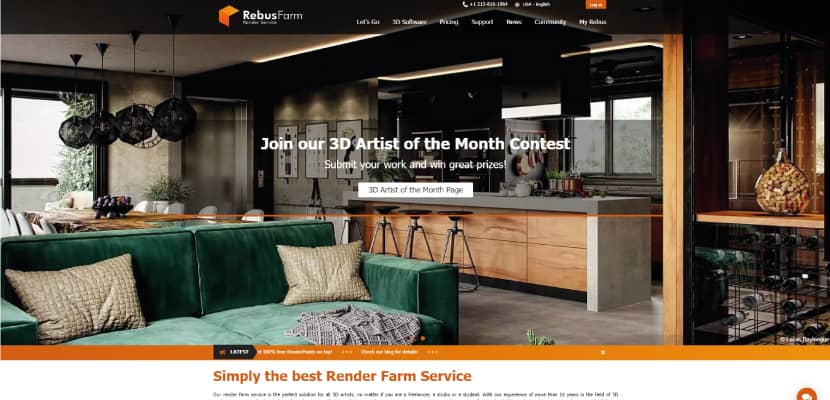 The RebusFarm Render Service is based in Germany. In 2006 this online render farm was established due to the growing demand for rendering power in the 3D animation field. It supports all the main 3D applications, as well as secondary rendering applications, plus a wide range of third-party plugins, while offering both CPU and GPU rendering for Windows and Mac users.
With one of the easiest interfaces in the market, the software (RebusDrop) integrates into the 3D applications you use and offers a lot of features, so you can submit your job, whether it's set with multiple cameras or if you want your single image to render on several nodes at the same time, so you can get the results faster. This unique software provides a wide range of options with just a few clicks.
To set up your project for submission with RebusDrop, first, you need to create an account, then download RebusDrop, which will install automatically on your 3D software, as we mentioned before. Once you completed these two steps, you can submit your project from your 3D software. RebusDrop will let you know if there are errors, and the exact steps to take in order to fix them. Once uploaded, you can manage the job in the ControlCenter (if needed). As soon as your project is done rendering, the software downloads the entire job automatically, even if you have the ControlCenter closed, so you can check it on your local machine.
RebusFarm's goal is to provide the biggest possible rendering power at the most affordable price, offering student discounts and more. All of this, while maintaining a service-oriented connection with their customers, offer 24/7 all-day support, as well as a $25 free trial.
2. GarageFarm Render Service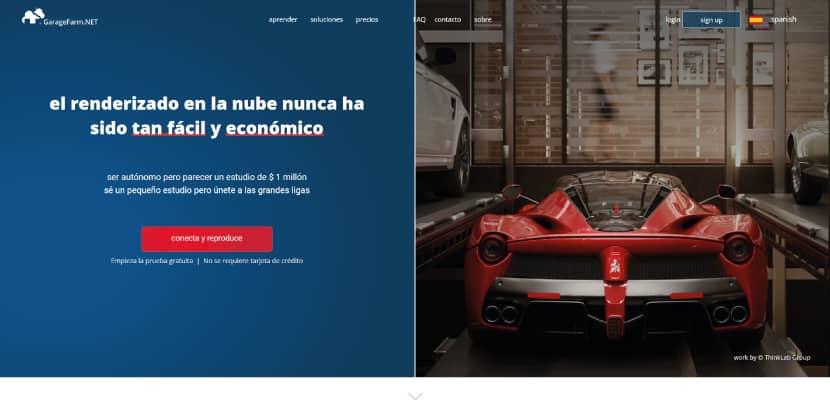 GarageFarm is a fast and reliable render farm service with a team of technical and 3D enthusiasts. Supporting many 3D software & plugins such as 3ds Max, Maya, Cinema4D, and Blender for both CPU and GPU rendering. GarageFarm also offers 24/7 service support.
In order to render at GarageFarm you need to create an account, download their software (Renderbeamer), set up and submit your project and manage your project, if needed. Once the render job is completed, your output will download automatically.
GarageFarm offers pricing based on the priority you choose. The higher the priority, the faster your project starts to render. This render farm also offers a free trial for $25.
3. Ranch Computing Render Service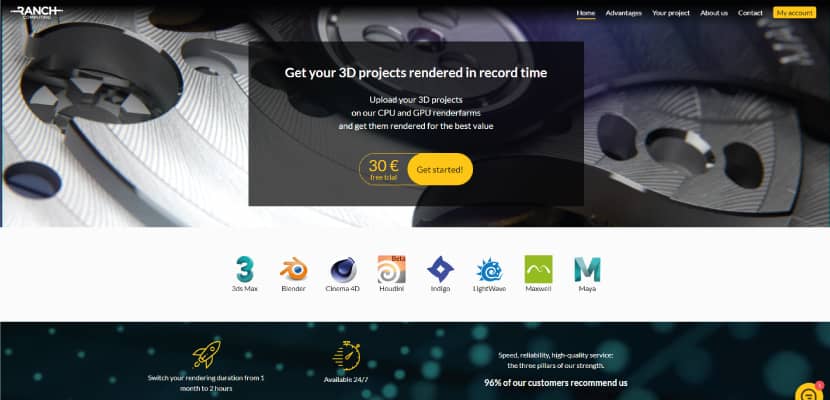 The company was founded back in 2006 and is based in Paris, France. They support both CPU and GPU servers, having a combined core count of nearly two million. This render farm supports a lot of the main software such as 3ds Max, Blender, Cinema 4D, Houdini, Indigo, LightWave, Maxwell, and more.
If you want to render with Ranch Computing Render Service, this is how it works; This render farm has its own application called RANCHecker. It collects all the textures on your scene, checks and adjusts all the information of your file project before uploading the file, also, it will let you know if there is a problem that must be fixed. If there are no errors, the file will be uploaded and is ready to render on their farm. Once the job is completed, another application of them, RANCHSync, will help you download the frames. If you encounter any problems, you can contact their support team via phone, email or chat.
Ranch Computing's goal is to help graphic designers of all backgrounds access rendering power. This farm offers a €30 free trial.
4. Fox Renderfarm - Render Service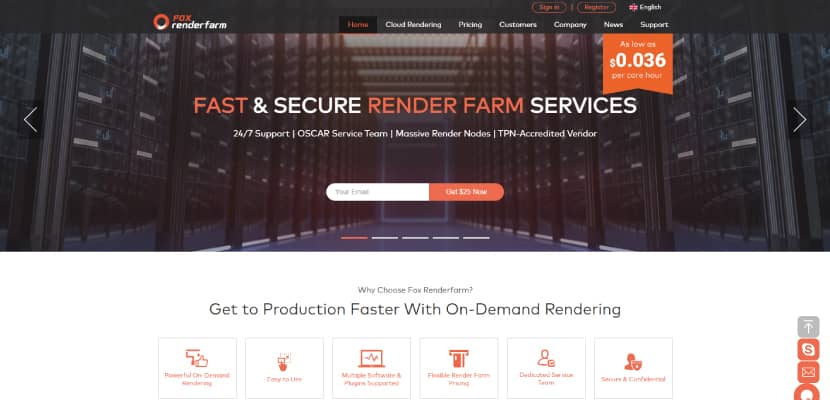 Established in 2011, Fox Renderfarm has become a fast and secure cloud render farm. They offer fast render nodes and support multiple 3D software. They offer both, CPU and GPU rendering and also support the major 3D software such as 3ds Max, Maya, Cinema4D, Blender, and more.
If you want to render with Fox Renderfarm, you will first need to create an account, then decide whether you want to submit your job via the web or via their application.
When submitting via the website:
You will need to use Raysycn, a free application developed by Fox Renderfarm, used to download/upload any type of file format of any size. If the uploading process goes well, your scene will start rendering. Once it's completed, you again will need to use again to download the results.
When submitting via desktop:
You can submit directly from the software, they will then analyze the scene, upload it and render it. Once it's done, you will need to use Raysycn to download your output.
Fox Renderfarm has a 24/7 technical support service available if you need any help. They also offer a $25 free trial.
5. iRender Render Service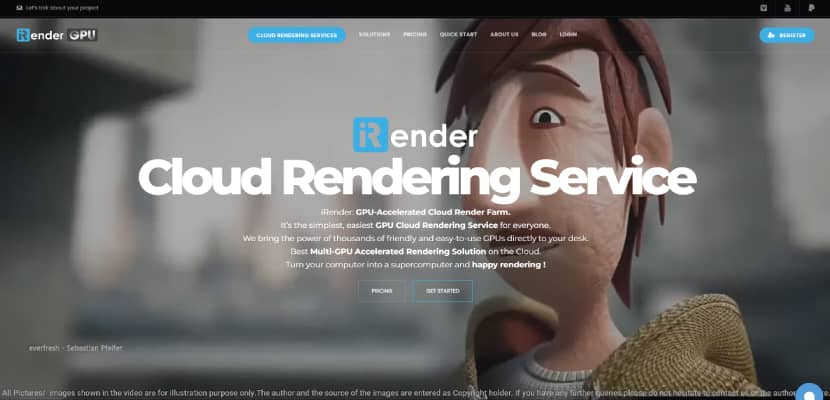 iRender is a render farm based in Vietnam. They offer a computer network with GPU server rendering, data processing, and other GPU/CPU-intensive services. One of the good things about this render farm is that the data center is also solar-powered, so it does not have a huge environmental impact when using them.
iRender displays support for major software like 3ds Max, Maya, Cinema 4D, Blender, Keyshot, Enscape, and more. Because you are renting their servers for rendering, it means that after registration you will need to create a new system image (your own working environment) and manually install the software you want to use on their machines, or use the software for which iRender has a license for.
GpuHub is the application this render farm has, to transfer files from their local computer to a remote server and vice versa, even if the server is turned off, your files can be transferred. They have a 24/7 support team which you can contact via chat.
In conclusion, every render farm has its perks and you need to find the one that fits your needs. With this article, we hope you are more clear on how the main render farms work and take the final step to start using one!
Get started with your own renderings