Wednesday, August 7th, 2017 by Julian Karsunky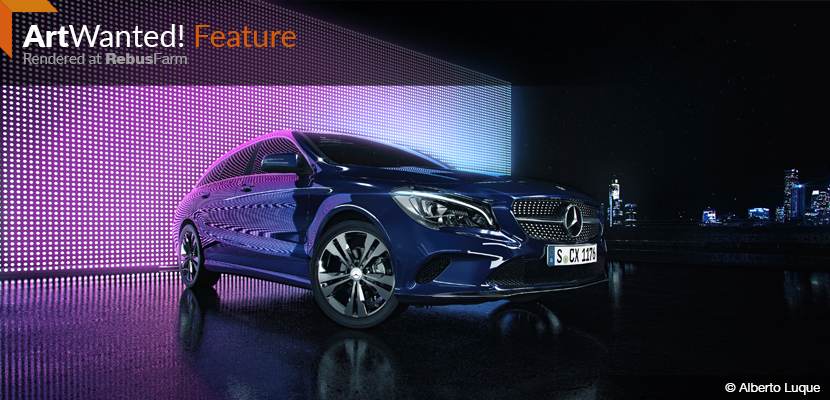 Fasten your seatbelts and make yourself comfortable for this month's ArtWanted! Feature, as Alberto Luque is about to take you for a ride. The self-taught 3D artist and graphic designer from Spain is currently building up a 3D motion department at his employer Scholz & Volkmer, a high-profile German creative agency for digital brand management that works for prestigious clients such as Coca Cola, Adidas, Mercedes-Benz and Deutsche Bahn. Continue reading to join us on a cross country trip that is Alberto's career retrospective as he recalls his journey from street art to digital art.
Growing up during the eighties in the city of Córdoba in southern Spain, Alberto Luque first became involved in the world of design through graffiti. After having suffered through high school, he decided to pursue his artistic inclinations further by enrolling in the then newly established graphic design degree program at the local art school. Soon, his talent was recognized, as he was one of only four recipients of an international scholarship that saw him to Berlin at the young age of 19. Throughout his studies and his stay in the German capital, Alberto still mostly focused on 2D graphics, yet kept experimenting with three-dimensional representations in his free time.

Experimenting with 3D: Vectorized model pastel from pencil sketch
Although he was only gone for three months, Alberto felt shocked upon returning to Spain: "Having experienced the scene in Berlin, I immediately wanted to go back", he recalls. "But when I told my parents about my plans of working abroad, they were afraid of letting me go again and offered me the opportunity to study at the design school in Valencia instead. I leapt at the chance and spent four amazing years there, never looking back."
It was then that Alberto developed a deeper understanding for 3D design, learning from his girlfriend (now wife) who was studying architectural design at the time. He started teaching himself 3ds Max and V-Ray on her laptop, the software that to this day remains an integral part in his work as a motion and 3D graphics designer. During his final year he once again successfully applied for a scholarship abroad: "I had the chance to go to a renowned design school in the Netherlands. But I was still obsessed with Germany and so I ended up switching with another student, who was 'only' eligible for a place at Wiesbaden due to his lower marks".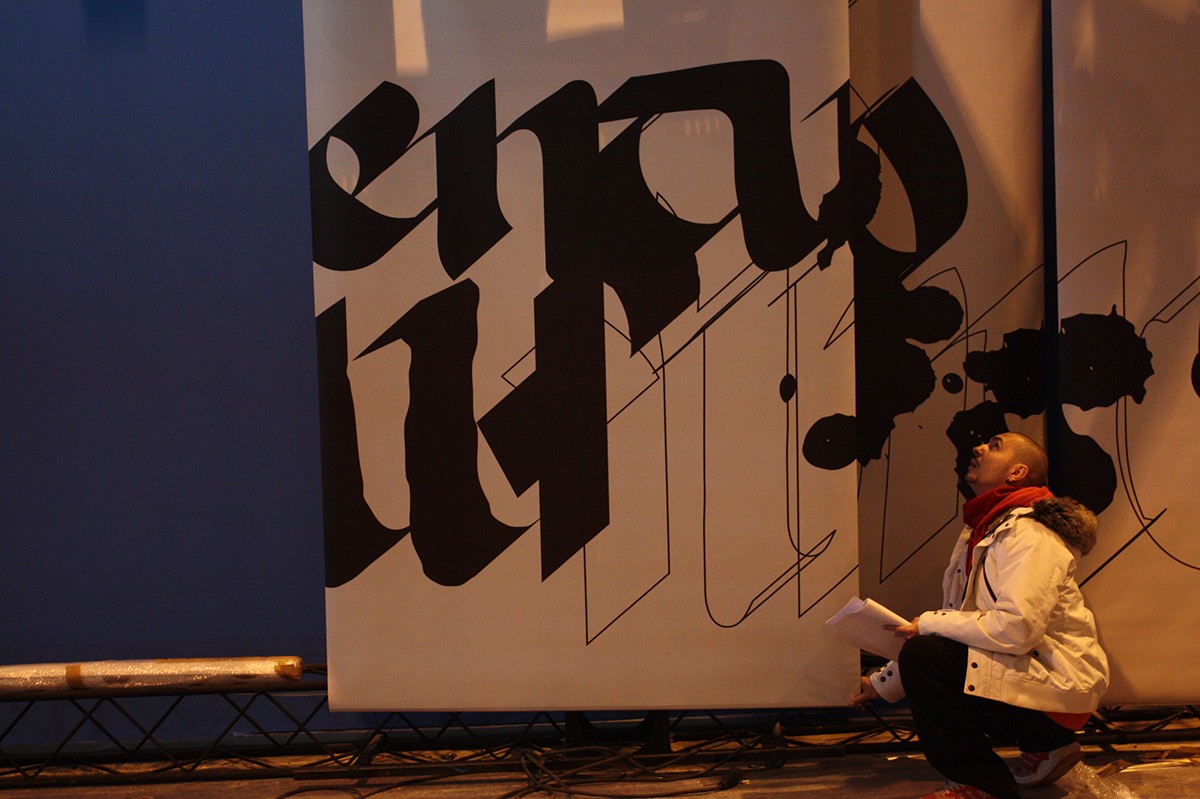 Alberto Luque overseeing construction of an exhibition hall he designed for the Spanish Ministry of Education in 2011.
Thanks to his talent and the support of one of his professors, he managed to land his first job in the industry during his second stay in Germany, working for the design and communications agency Fuenfwerken, which Alberto simply refers to as "family". He spent the following years oscillating between Spain and Germany, advancing his studies in 3D and motion design. "At the time I was constantly trying to combine my knowledge of design with motion and 3D. I became infatuated with photorealism, textures in particular. Textures are still among my favorite subjects in CGI next to lighting and motion".
While working an intermittent job in Frankfurt, Germany, Alberto was introduced to the world of automotive design by his good friend and car enthusiast André Matos. What started as simply another project, eventually turned out to be the tipping point of Alberto's career: Following the advice of his friend, he fully shifted his focus to 3D, finally replacing his ten-year-old computer with a more capable machine in the process. And despite not being a car buff himself, he found them to be the "perfect objects in terms of CG production," providing a wide variety of different textures to recreate digitally, ranging from glass, leather and metal to plastic and rubber.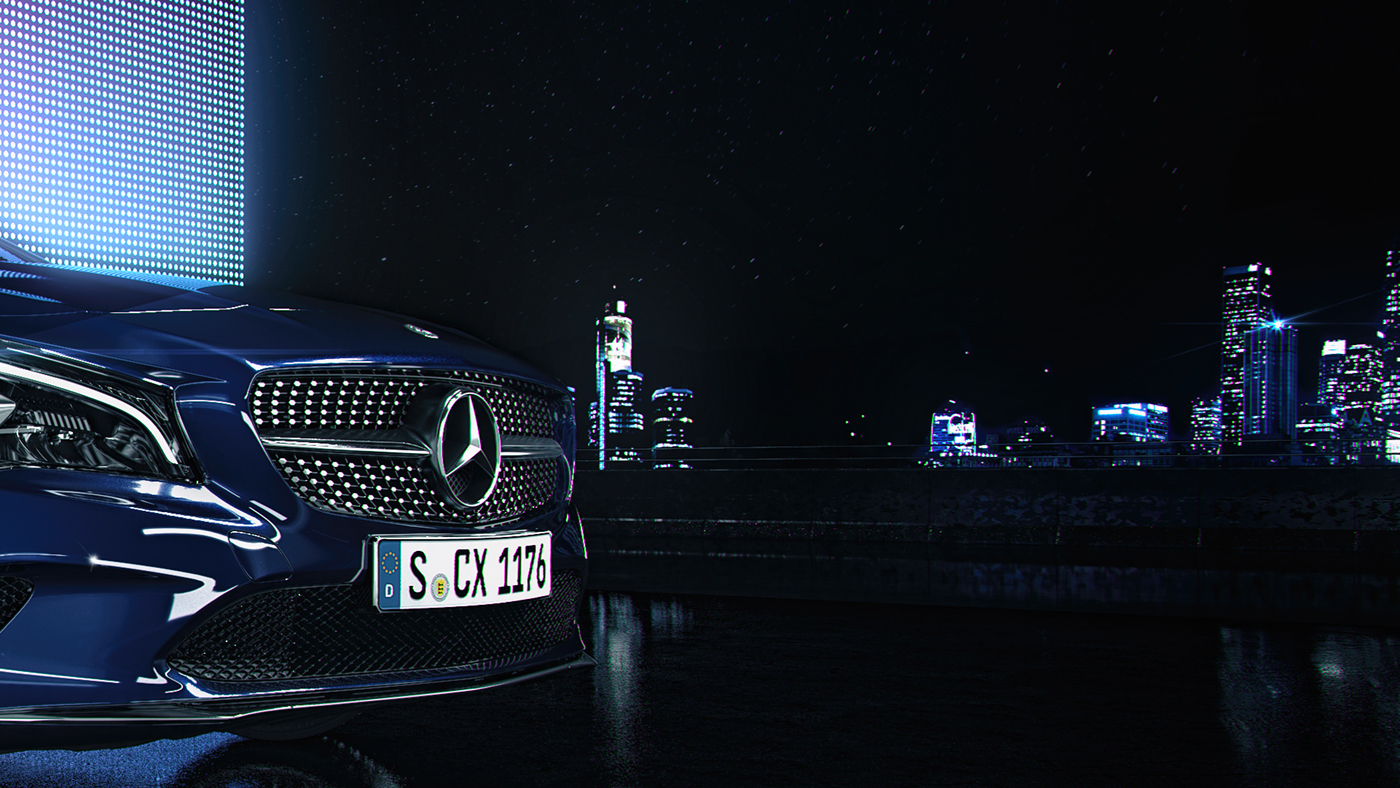 Interactive highlight reel for the Mercedes-Benz CLA by Scholz & Volkmer
The above image is part of a recent project for Alberto's current employer Scholz & Volkmer, a highlight reel created in conjunction with a website for the Mercedes-Benz CLA class. With regard to the sheer scope of the job and the required hardware power, this proved a considerable challenge for Alberto and his colleagues: "I think the entire team - designers, art directors, project managers, etc. - we were all figuring things out in the process. We learned a lot about how to deal with timings and overall quality, but in the beginning, we were a bit lost."
From developing a fitting 3D scenario to coordinating the interval of the looping LED animation, the team had to come up with creative solutions to numerous intricacies. "The biggest issue was the render time," Alberto tells us. "I had a single Dell workstation to both create and render the project. Sounds crazy, right? Well, it was! At that point, the entire team was still relatively new to 3D and unfamiliar with render times. When we realized our calculations were off, we immediately started looking for solutions. That's when we learned of RebusFarm. After they explained the entire process to us, I just started sending the files. To be honest it was really easy – I could focus just on the animations and the rest was done by RebusFarm. I remotely controlled the render time to download the files on time at home, which was really comfortable, no issues at all."

A personal tribute to the Ford Sierra Sosworth, the first car Alberto saw with his father in the Sierra Morena Rally.
Like many proficient 3D artists today, Alberto Luque is for the most part self-taught. He tells us he feels very grateful to all the people that guided and supported him on his journey and in turn, feels obligated to give back: "That's the reason I started dedicating extra time to share the development process of my work. I'll try to help anyone if possible, so feel free to contact me and ask for help!"
Make sure to check out Alberto's elaborately crafted making of's including time lapse videos on his Behance page.
If you want to take Alberto up on his offer or keep up to date with his work, you can do so here:
---