Friday, February 15th, 2019 by Julian Karsunky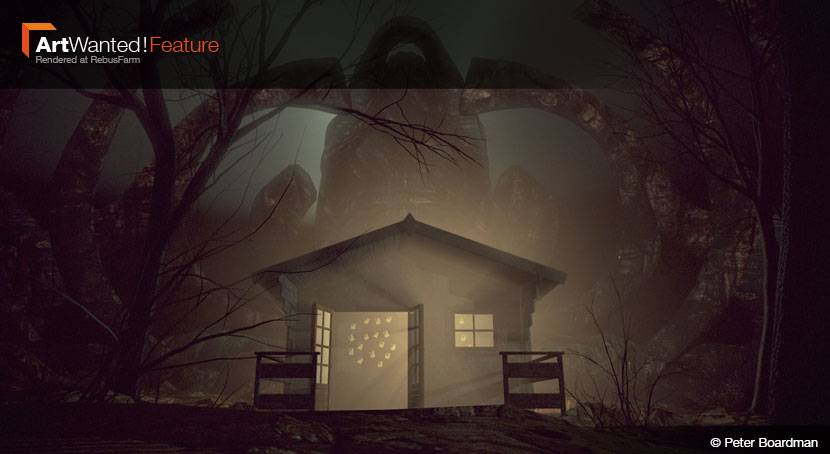 For our ArtWanted! feature in February, we're all about keeping it weird! Join us, as we shine the spotlight on the great Luis Torres, better known as Mr. Flama, and take a closer look at his astonishing career and versatile skill set as a traditional and digital artist. From a stellar rise at some of the top global players in advertising to the rocky paths of freelancing and managing his own studio, prestigious awards and repeated setbacks – Luis has seen it all in over 20 years of working as an illustrator and motion designer.
In our interview, he openly discusses his experiences in an everchanging industry, rekindling his creative drive and his collection of weird, imaginative friends.
Hi Luis, thanks for taking the time, we are thrilled to have you! To start things off, please introduce yourself to our readers!
Hi everybody, my name is Luis Torres but more people probably know me as Mr. Flama. I'm a 46- years-old 2D and 3D artist from Mexico City, where I currently work as creative lead at Cluster Studio.
Do you recall when and how you first consciously encountered CGI?
Towards the end of 1999, I worked on the cover art of a technology-oriented magazine from the Chicago Tribune. As far as I can remember, that was my first CG illustration, done in Animation Master and Photoshop. Around the same time, I began working in motion design and I became more and more intrigued by the potential of 3D software.
What formal training or education do you have?
I have a bachelor's degree in graphic design from UAM Azcapotzalco here in Mexico City. I majored in communication.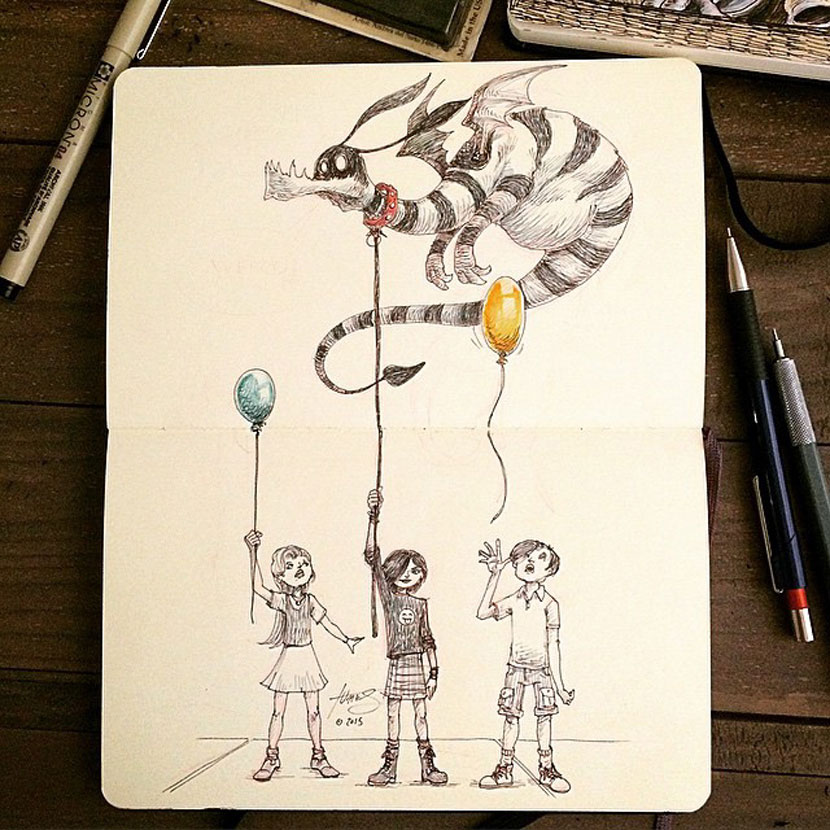 While many of Luis's ideas start as simple sketches, they frequently continue to take on a digital life of their own. Check out the process here.
With over 20 years of experience in the industry, you have prominently worked in a wide variety of fields including advertising, graphic design and animation. Can you recapitulate your career thus far?
Certainly! My career began in advertising; my first job was at J. Walter Thompson Mexico as a storyboard artist. From there, I started to move up in the creative departments of various agencies such as Proeza and Leo Burnett. Eventually I became associated art director at Grey.
I wasn't 100 percent satisfied with what I was achieving in the advertising industry, so I made a career change and landed a job at Virgin Studios Mexico, where I worked in motion design and animation. This career move took me abroad to Toronto, Canada, where I worked for SPIN, first as senior motion designer and later as art director. Eventually I took on freelance projects as well, working with clients like Cuppa Coffee and The Juggernaut in Toronto. It was during this time, that I became known as 'Flama' and took on motion design and animation freelance projects under that moniker. The work I did as Mr. Flama eventually lead to me becoming part of the roster of directors at Resistor (formerly The Electric Company), Spy Films and Curious Pictures.
After a long and rich history of working at several different studios and agencies, you eventually decided to go freelance and founded your own company. What lead you to this decision?
When I returned to Mexico, I wanted to take advantage of the name I had made for myself working abroad, so I put together my own motion design studio and creative boutique named 'La Flama'. For over ten years, we worked for the advertising and entertainment industry in Mexico, Canada and the United States.
At that moment in my life, I really wanted to have more control over projects and be even more involved in the creative development side of things. I wanted to make my own design voice heard in the industry! This turned out a lot more difficult than I thought and over the years, I moved further and further away from my initial goals. Ultimately, I was barely involved in creative endeavors, left to deal with the pressure from my partners, who wanted to grow the company into a big studio. For me, La Flama never was about making big bucks and having an overwhelming number of people working under the same roof. It was more about creating a space of artistic freedom to share with like-minded individuals. It should be financially feasible, sure, but to me what mattered most was making things that I loved.
La Flama was a successful studio, until it was not, and my creative drive and passion for design and animation began to diminish. I ended up burned out from the experience and decided to leave for good. At that point, I wasn't doing the company any good and the company was destroying my creative drive and interest for this industry.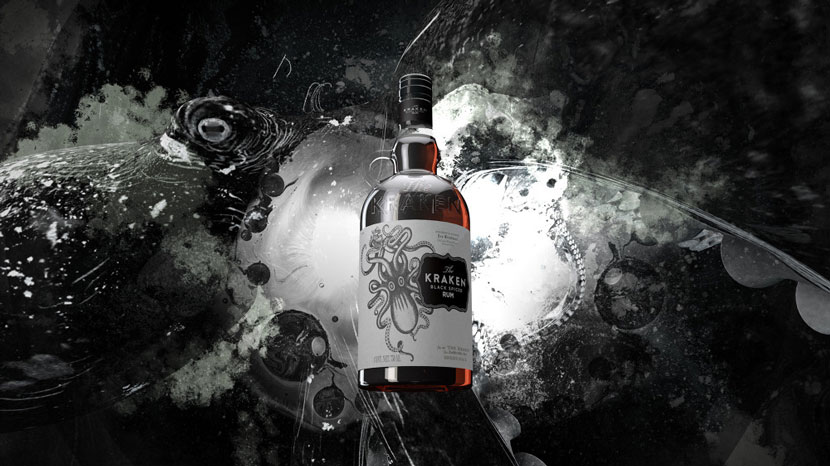 Advert for 'The Kraken Rum'.
What, in your personal opinion, are the biggest benefits and potential harms of freelancing compared to other forms of employment?
Freelancing is a double-edged sword and you have to know how to wield it. For years, it gave me a lot of experience, recognition and the opportunity to work with wonderful and creative people all over the industry and around the world. During the time when freelancers were still paid within 30 days, it also gave me a solid, regular income.
Then there was a shift, as clients were no longer expected to pay in a timely manner. Suddenly I had to wait for payments for up to three months at a time, sometimes even longer. This eventually became my downfall, as you need to have strong financial skills or a large savings account to make it through the times in between payments.
At the same time, I started struggling to maintain a healthy amount of jobs and balancing work and leisure time. To be successful as a freelancer, you have to stay in touch with your clients and the competition at all times, so you know how to manage yourself and also recognize when you are losing relevance in the creative industry and community. As with everything in life, you have your ups and downs and you always need to be aware of this to have a successful and steady career as a designer.
A staff job at a company, on the other hand, gives you the peace of mind that comes with a monthly paycheck. However, you bear additional responsibility for the company and your bosses. Overall, both freelancing and employment have their unique up- and downsides.
In May 2017, you rebranded yourself as Mr. Flama to focus more on your work as an illustrator, designer and motion designer. A few month later, you joined forces with Cluster Studio. Can you explain the significance of your brand name?
As I already mentioned, I was known in the industry as 'Flama' while working abroad. The name became a brand of my own; it helped me to be noticed when I decided to go independent and spawned a company that I was with for ten years. When I parted ways with my company, I was fed up with the name, but fellow designer and director GMUNK made me realize that 'Flama' was more than just a name: it was an identity that I had forged over all these years and he thought I should embrace it. Adding the Mr. to Flama totally made sense at the time, as it stands for the experience I accumulated throughout the years, and my maturing as a designer.
Please describe your involvement with Cluster Studio in more detail!
By the time I left 'La Flama' and became independent again, I needed to get back in the game, which, amongst others, meant reconnecting with clients. During the ten years that I was involved with the company, either sales or the producer handled client acquisition, while my only concerns were developing the creative department and pitching for jobs. Naturally, once I got back to freelancing I found it very difficult to pick up the thread again. On the very first job I landed after I left the company, I was screwed by the company that hired me and never was paid.
As my savings began to diminish, I began looking for options to go back on staff and that's when Cluster came in. I saw an ad looking for someone to do previsualizations for them and submitted my reel. The owner, who happened to be a good friend of mine from back in the days, called me as soon as he noticed my applications. He arranged a meeting with the other partners of the company and I was hired on the spot as animation and creative director of the studio.
Actually, there's a bit more backstory between Cluster Studio and myself. When I first started working as a motion designer in 1999, I knew the eventual founders and even was involved in the process that later lead to the formation of Cluster Studio. At the time the studio was established, I was already working in Toronto and decided to take a different path. It's so funny how things turned, seeing how at some point, we were competing companies, and now me returning to the studio after all these years feels a bit like coming home.
Can you tell us more about Cluster Studio, the company's field of work and its clients?
Cluster Studio is one of Mexico's oldest postproduction, animation and VFX companies, with 15 years of experience in the domestic and international advertising, entertainment and film industries. We specialize in high end VFX, color grading, motion graphics and animation. Our clients include major brands, agencies and production companies from Mexico, Latin America and other parts of the world.
Cluster Studio stands for excellence in production values and service for our clients. As head of the creative department, it's my job to now strengthen the studio's creative work, establish a more design and creative driven team and find new job opportunities for the studio.
What career advice would you give to aspiring artists looking to breaking into the industry nowadays? Is there something like a key to success for having a long-lasting career such as yours?
My advice would simply be to be true to yourself and find your own creative voice. Nowadays, we are strangled by this constant need for instant gratification, success and acceptance, which I feel completely overshadows the true value of building a strong foundation of knowledge and skills.
Back at university, I had a teacher who always told us, "Avoid becoming a flavor of the month designer! Instead, strive towards becoming a solid designer whose work remains relevant independent of times and trends". I think that might be the key to my, as you put it, long-lasting career.
Your work has been recognized and prominently featured in various publications, exhibits and award ceremonies. What are some of your personal highlights of your working career?
Some of my personal highlights include my work being selected to appear in Taschen's 'Latin American Graphic Design' book, the two gold world medals I received from the New York Festivals for my animated short film 'The Hollow' and when I was part of 'Pixel Perfect: The Digital Fine Art Exhibition" curated by Agora Gallery in New York.
You are a proficient illustrator and animator in both 2D and 3D. Is there a specific subject or type of work you enjoy the most?
Stylistically, I'm very much drawn towards pop surrealism, and try to incorporate that into all of my personal and design work. I like traditional drawing a lot, just working with ballpoint pen and ink in my sketchbooks. Blending analog and digital elements is what I currently enjoy the most.
How much has modern technology influenced and shaped your art and your personal style?
A lot, really. Not only being able to work within different media, but also mixing and matching them has really influenced both my workflow and my style. Sometimes it's just work in my good old-fashioned sketchbooks; sometimes it's digitally enhancing or altering a piece originally drawn on paper. A simple sketch might even lead to me putting together a CG image or even a full-blown animation. I think modern technology gives us artists a huge toolset to play with and let our creativity flow freely.
What inspires you as an artist?
The possibilities of creating your own worlds and narratives within a 3D realm is my biggest inspiration. Adhering to the laws of nature and digitally recreating them, just to then bend them to your will in order to create something new and fresh is what I enjoy the most about working in 3D.
Is there something like an overarching creative vision behind your artistic endeavors?
A constant in my work is that I always create elaborate backstories for all my characters. This collection of weird, imaginary friends inhabit the realities I create, either in a drawing, a painting or an animation. I love to create stories, and my images are the medium I use to tell them to the world.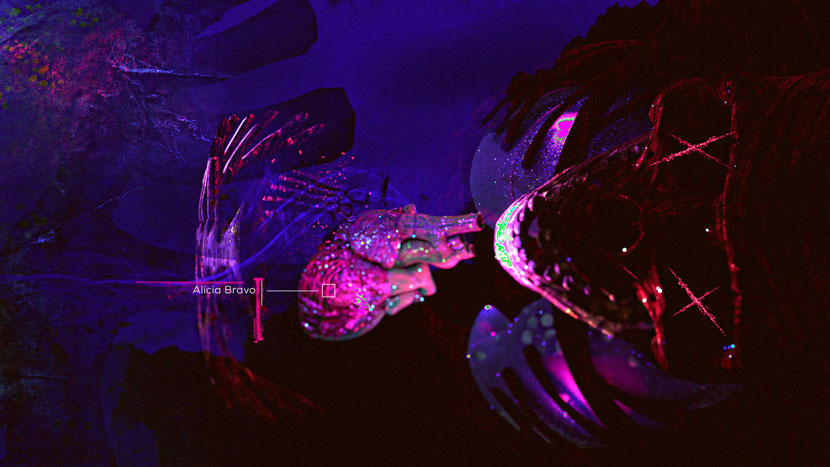 Guardia García opening, animatic. This mock-up not only helps to give a better idea of how the scenes will look and feel in motion, it also helps to time and position the actual credits.
Let's talk about your work in more detail, namely your submission to our ArtWanted! campaign, the animated opening credits for Mexican TV show 'Guardia García'. How would you summarize the general concept of the opening in your own words?
'Guardia García' is a Mexican TV crime drama created by North Films and Canal OnceTV. It follows a team of seasoned forensic investigators as they attempt to solve a series of gruesome murders and dives deep into the interpersonal relationships of its titular characters.
Now, the main idea behind the opening was to visualize the grittiness and mystery surrounding of the series. The concept I envisioned was based on surrealistic and abstract imaginary, consisting of crime scenes in the woods with the corpses becoming a part of the landscape. The viewer wouldn't be able to see where the forest ended and the corpses begin.
What were your exact responsibilities in regards to the animation?
I pretty much directed, designed and animated the entire opening. I also oversaw storyboarding and was responsible for the delivery of the final product.
How precise were the client's wishes? Design wise, did you have a lot of leeway or were you working under strict requirements?
The original idea of the director was always centered on traveling through the woods and the discovery of a crime scene. I proposed the idea of this surrealist landscape with the corpses mimicking the environment. Once I had developed the first style frame – the skull with the forest on top – the idea began to take shape and it was easy to develop the overall look of the opening, which quickly earned the approval from all people involved.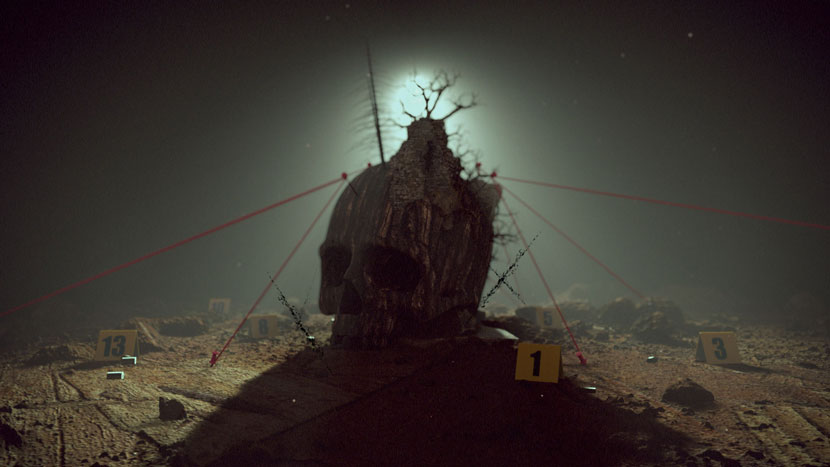 Guardia García opening, style frame. Notice the eerie moonlight evocative of an ivestigator's flashlight.
Once you had this rough concept in mind, how did you then go about realizing the idea? Can you walk us through the development process?
For the aforementioned first style frame, I came up with this visual narrative following the forensic investigators from their arrival to the discovery of different corpses deep within the woods. To create a fitting atmosphere, I wanted everything to be backlit, as if only the flashlights of the investigators and the moon illuminated the scenes. Then, I developed a storyboard, set up a style frame for each scene of the opening and made an animatic to see the timings and position and match the credits along the duration of the animation. Finally, once all the key and style frames were completed, I set up the camera movements and animation of each scene and prepared the files for rendering.
What were some of the challenges you had to overcome?
Lighting was crucial in properly conveying the mood we were going for. We used volumetric lights to set the scene and put a strong emphasis on the misty, mysterious forest and the flashing lights appearing throughout the opening. Therefore, I needed to carefully balance the technical aspect of using volumetric lights in every scene without missing deadline or exceeding the budget I allocated for rendering.
From the first production meeting to the delivery of the opening, the project took three months to complete.
Is there a notable difference working on a TV show compared to other media?
I enjoy working on opening titles a lot. I find that you have more creative freedom and can achieve better results. As the opening serves as a presentation card for the overall narrative, its importance generally is reflected in the high quality of the production.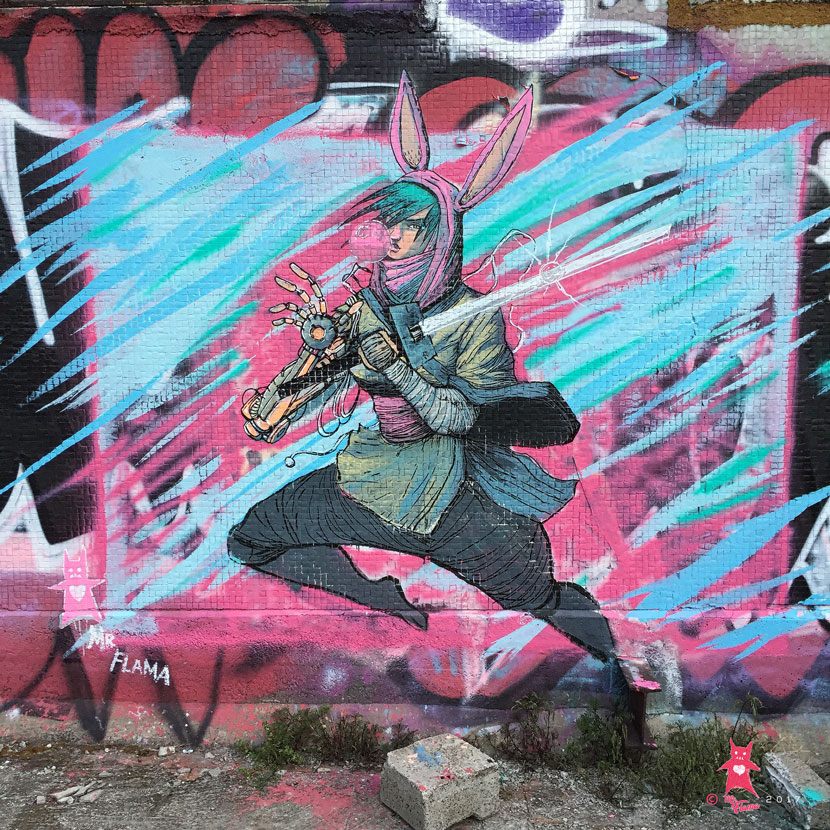 An equally accomplished and versatile artist, Luis 'Mr. Flama' Torres feels at home on every surface. Pop surrealism mural painting of one of Torres' weird, imaginary friends, 'Bubblegum Ninja Girl'.
What software did you use to create this piece? Any plug-ins you found particularly helpful?
We mostly used Cinema 4D R20 and After Effects. While I'm generally a fan of the features and improvements in the R20 release, for this piece in particular, the voronoi fracture tool proved especially useful.
Can you please describe your experience with RebusFarm? Is there anything you particularly like about our service?
I really like the reliability of your service and the support from the staff. Furthermore, I like its implementation with most 3D software and its overall ease of use.
In closing, is there anything else you want to say? Any present or upcoming projects you'd like to mention?
Currently, I'm working on a piece for a Jules Verne exhibition that is going to take place in London in April of this year. I'll be posting sketches and WIP on my social media accounts. Thanks for the interview!
You certainly piqued our interest! Once again, thank you so much for taking the time and all the best in the future!
Keep up with Mr. Flama and his work here:
---
How to join ArtWanted!
You want to get featured in our ArtWanted! campaign and win 50 RenderPoints on top? Submit your work, rendered at RebusFarm, to This email address is being protected from spambots. You need JavaScript enabled to view it.! Visit our Art Wanted! page for more information.
---
>> Read more articles on our blog