Friday, February 1st, 2019 by Julian Karsunky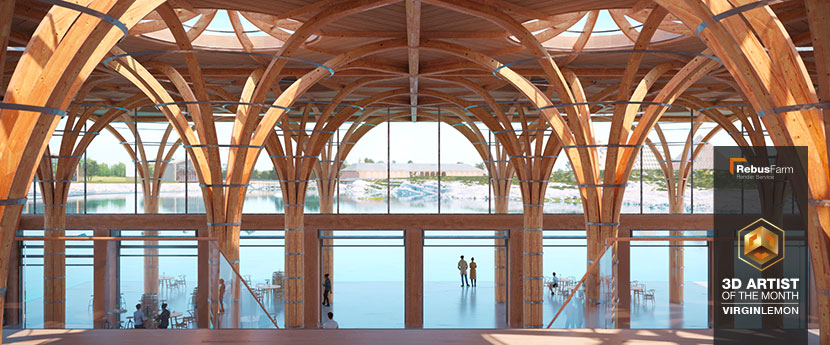 In November 2018, star architect Shigeru Ban unveiled his plans for Kentucky Owl Park, a 420-acre complex in Bardstown, Kentucky, dedicated to the production of the famous American bourbon whiskey. The stunning 3D animation used to showcase the design, however, is the work of the talented team at Virginlemon, an Intereuropean studio specializing in architectural visualization and winner of our 3D Artist of the Month competition in February 2019.
We sat down with Carlotta Cominetti and Tamás Fischer to talk about digital worlds, their guaranteed sober approach to archviz animation and an exceptional collaboration spanning different continents.
Hi Carlotta, hi Tamás, it's a pleasure to have you! To kick things off, please introduce yourself to our readers!
Hi everybody! We are Carlotta from Morbegno, Italy and Tamás from Budapest, Hungary, we're both 31 years old. Together with fellow 3D artists Camélia and Stew, we make up Virginlemon, our very own production company for architectural imagery and animation. The two of us share a background and a passion for architecture, but besides our degrees, everything we do today in terms of CGI is more or less self-taught.
When and where did you two meet?
Many years ago, our architectural studies brought us to Paris, France, where we both started our professional careers. We first met each other at French studio ECDM architectes, which was the beginning of our working relationship. We started to click and have been sharing our work AND our personal lives ever since <3.
Can you tell us more about Virginlemon, the studio's history, its field of work and general philosophy?
We both love architecture and are passionate about spaces, forms and materials. In search of the right way to express this passion of ours, we worked at various architectural studios. Soon after we met each other in 2013, we decided to try something on our own. The point was to create a space where we could link up with other architects and exchange different ideas and points of views, as we wanted our daily jobs to properly meet the unique challenges that come with each new project. Today, we are a team of four, sharing responsibilities, ideas and sleepless nights!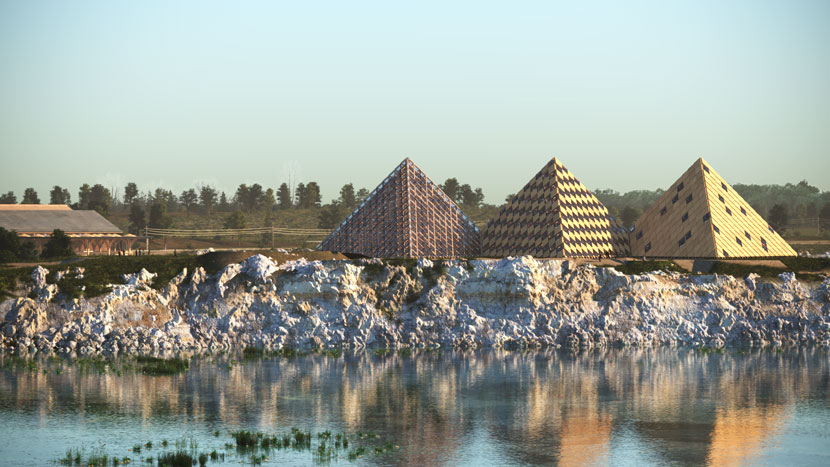 A sight to behold, three pyramids sit at the heart of the Kentucky Owl Park complex.
What does your usual workflow look like when working with a client?
Most of our clients are architects. In approaching a project, the first thing is to understand the message our client wants to communicate. With this initial flow of information, including course plans and 3D models, we try to come up with a design that is both expressive and sophisticated. The first shot we share with the client is almost fully developed. It's easier and more efficient to have something comprehensive to discuss, so we try to integrate materials, lights, atmosphere and even animation from the very beginning. Taking more time on this first phase allows us to concentrate more on details later and, in turn, make our scenes livelier overall.
Is there a specific design philosophy or school of thought Virginlemon adheres to? What inspires you and your team as 3D artists?
We don't really have a specific philosophy, but we approach every project looking for a challenge and trying to learn something new: employing a new technique or using a new plugin can make even a seemingly 'simple' project much more interesting.
Our biggest inspiration stems from observing our surroundings – at a concert hall, on the street, in nature, and most importantly, while traveling. Surely, it's a common occupational hazard for a 3D artist to spend minutes looking at the structure of an oak tree and thinking about how to set it up in speedtree...
While I don't mean to reduce either of you to your gender, it still seems rather rare to find women in certain positions in our line of work. From your personal experience, do you think women have a harder time breaking into the industry? What could be done to increase female representation?
Unfortunately, yes, it's harder for women. Occasionally, people are not comfortable working with a woman. Although this – for lack of a better word – 'lack of trust' usually affects them more than me and my team. However, things are definitely changing, especially between younger working teams like us. So, I'd like to think that it's just a matter of time until everybody views and welcomes differences, whether in gender, nationality or personality, as new opportunities.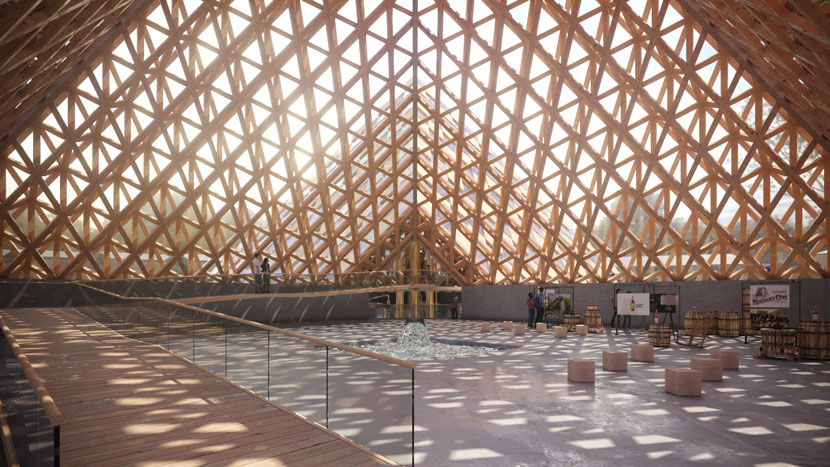 The interior of one of the three pyramids, containing the visitation center and distillery equipment.
Let us talk about your work in more detail, namely your animated unveiling of Japanese architect Shigeru Ban's design plans for the Kentucky Owl Park complex. Please summarize the overall project!
The Kentucky Owl Park is a 420-acre site dedicated to the production of whiskey along the Kentucky bourbon trail. The complex includes a vintage train station, a convention center and everything else needed for bourbon production - a distillery, rickhouses for ageing, and bottling facilities. The buildings are sited within the natural landscape, an old limestone mining site. The secondary function of the complex is a visitor trail that presents the bourbon making process along this scenic route.
Now, the actual animation is built entirely on recreating the experience of visiting the site: You first arrive at the station and make your way through the visitor center, where you are introduced to the distilling process and can already do your first tasting. You then visit the 'main attraction' of the site, the trio of pyramids, where you can see the limestone fountain, the main water source for the bourbon, as well as the distillery area and the third pyramid. After crossing a wooden bridge, you enter the rickhouse and bottling area, where you then can do more tasting. The complex also offers various outdoor activities unrelated to whiskey, such as a biking trail, kayaking on the lake or hiking through the forest.
For both the architectural plans as well as the animation, this seems like a massive undertaking. With a runtime of over three minutes, how long did it take you to complete the animation?
One of the biggest challenges was the short time we had to manage the whole project. From inception to finalizing the 3D scene, we had only two weeks, including choosing camera movements and lighting, client feedback and editing.
Another complicated part was the overall organization, that is how to create 16 different ten second scenarios on such a vast site. We decided at the very beginning not to split our model by scenarios, opting to make everything in the same file instead, from interiors to aerial views. So, to keep everything smooth and fast even in rendering, we had to come up with a solution as optimized, automatized, and as low-poly as possible.
Maybe the trickiest part was the environment model. We had to recreate it from scratch based on a google earth import and a detailed masterplan. We painted every zone over different map channels, both for our layered material, and also for our scatters. Once finished, we only had to 'walk around' the site in search of the best view points and lighting consistent with our timeline.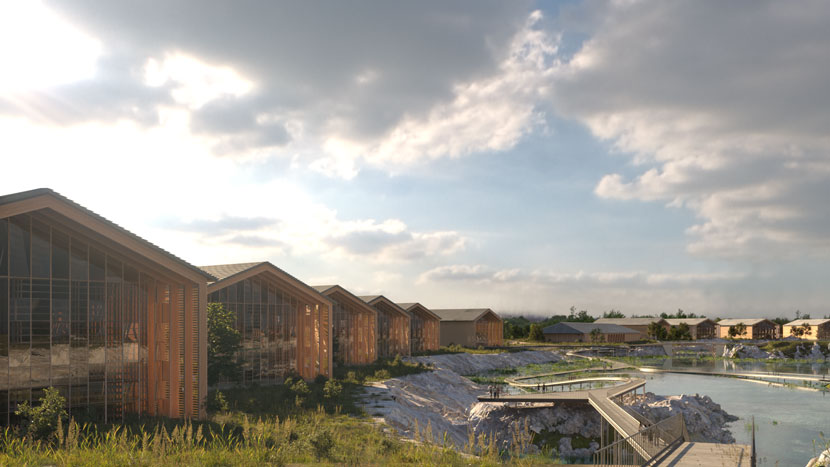 With its real-life counterpart spanning an area of 420 acres, Virginlemon went above and beyond recreating Kentucky Owl Park in 3D.
So, you never got around to visiting the actual site in Bardstown, Kentucky? How did working across different continents and time zones work out?
Due to the tight deadline, we didn't have time to visit the site, even though we would have loved to spend a day in Bardstown, tasting a good bourbon. Our animation was shown by Shigeru Ban during a public presentation at Bardstown Townhall on November 15th. We followed the event with the whole team via livestream :)
As for working remotely, we are quite used to working with clients from other continents. Scheduling has never been a problem – as long as we wake up before everybody else!
Going back to the production of the animation again, can you describe the development process and your overall involvement in the project in more detail?
With a deadline as short as ours, we can say that this project was an exceptional collaboration. We were quite free in the choice of materials: everything from colorimetry, lights, to camera movements and atmosphere was left to our discretion. As the project booklet was very accurate and the design process 100% finished, we really enjoyed concentrating on detailing, creating our low-poly vegetation library and filling up interiors with life.
Since we didn't really have a script to follow, showcasing the design by guiding the spectator through the visitor trail was our main intention. As already mentioned, the development process was therefore based on the idea of replicating the entire site as one small world completely set up in 3D, where you could then walk around, 'take pictures' and search for nice viewpoints.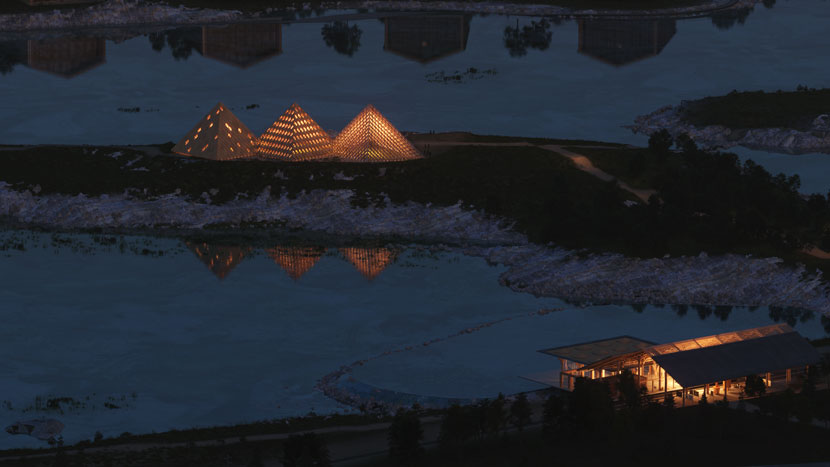 With the entirety of Kentucky Owl Park contained in one 3D file, the team explored every nook and cranny in search of viewpoints such as this one.
How did you then go about realizing this concept during production?
We started by making a wireframe rough cut of the base model, just to validate the timeline with our client. The second step consisted of recreating the 420-acre site in 3D, creating our low-poly vegetation library, and making a selection of low-poly trees from our collection. Based on references, we worked on painting, texturing and scattering different surfaces, detailing the archi-3D model of buildings and developing the interior design of each space from scratch. Once everything was set up properly, we shifted our focus to finding the best lights and camera movements for each scenario we imagined.
For each of our 10-second-long scenes, we made a complete low definition test render to see if everything works as intended. This also helped Lucas Archambault, our filming and editing specialist, get a head start in editing. Once the low-quality scenes had been approved by the client, we launched the final renders. It took around three days to set everything up correctly and sent all 16 scenes to RebusFarm. Closing out the process, we worked on compositing and postproduction on the HQ renders.
What software did you use to create this project? Any plugins you found particularly helpful?
We used 3ds Max 2018 with Corona 2.0 as render engine. Besides the built-in scattering tool in Corona and Phoenix FD, Mixamo proved really helpful for auto-rigging and animating our 3D humans.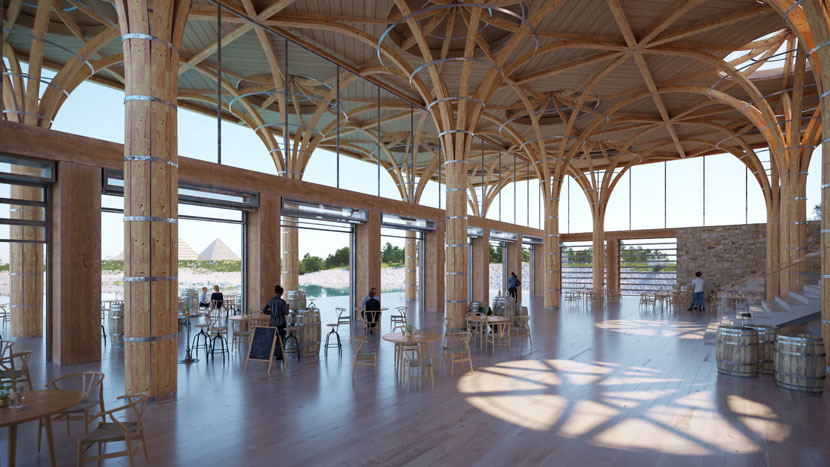 Digital visitors populating the visitor center, with the three pyramids visible in the background.
There has been a steady increase in the demand for 3D animation in the field of architectural visualization. How does this approach differ compared to still CGI imagery?
We still fondly remember our first animation, made four years ago for a beautiful project, which is now built in Southern France. Since then, we have more and more requests for video animations. We actually prefer them to still CGI imagery projects. An animation well done is the easiest, immediately accessible way to showcase a project. You can tell a story. You can show everything or you can even hide parts. Animations are useful for both sides of the development process.
You mentioned that you used RebusFarm before. Please tell us more about your overall experience. Is there anything you especially like about our service?
Ever since our first animation, we have been using RebusFarm on a weekly basis. Even for still images, in distributed mode, RebusFarm saves time. The plugin works perfectly and quickly since our upgrade to 3DS max 2018. Every plugin we use is supported and the pricing always matches our budget! We're particularly fond of the direct communication lines and the 24/7 support!
In closing, is there anything else you want to say? Any present or upcoming projects you'd like to mention?
We are currently working on three animations for the next few months. We also have been working on our 2018 demo reel, which is coming soon :) Aside from that, we are planning to do some more personal projects, which we find especially enjoyable. Finally, we'd like to thank RebusFarm for giving us this opportunity. Cheers and good luck to the next 3D Artists of the Month!
Carlotta, Tamás, thank you both very much for taking the time, it has been a pleasure talking to you! We are eagerly following your work and wish you all the best in the future!
Keep up with Virginlemon and their work here:
---

HOW TO JOIN OUR MONTHLY CONTEST
You want to be our next featured 3D Artist of the Month and win 250 RenderPoints? Just visit our 3D Artist of the Month competition page and submit your entry. We'll choose the best image and contact the winner.
---
>> Read more articles on our blog