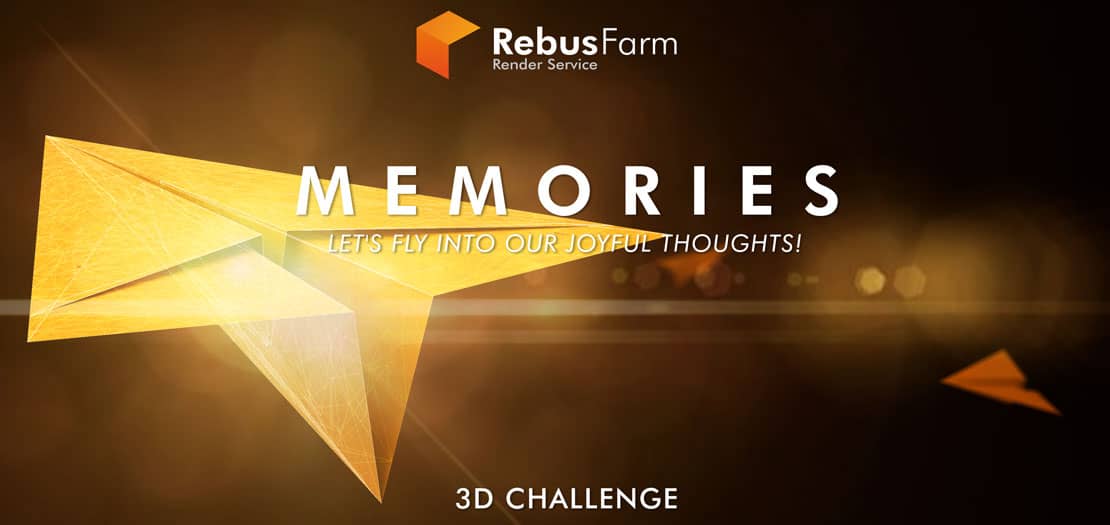 MEMORIES 3D CHALLENGE
Winners Announcement
We are very happy to announce the winners of the MEMORIES 3D CHALLENGE, created in cooperation with our sponsors and our 3D expert jury members, to give us all an opportunity to remember happy moments and be grateful for what we miss or for what we already have.
Participants were to create a 3D image, based on what makes them happy - it could be a place, a feeling, a person, an object, anything that makes them feel complete. 
We want to say a special Thank You to our sponsors and our jury members for being part of our team on this incredible journey. And a very big Thank You to all the artists who participated and put all their effort and creativity into their masterpieces. It was a pleasure.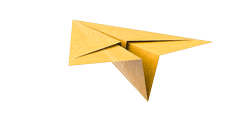 1st Place - 'Memories that Matter' by Deepak Jain
"My memories were when we, as future parents, used to imagine life within my partner and were desperate to feel and touch our child. It is amazing to be a parent and guardian. You just relive your own life ... the happiest memories of my life …"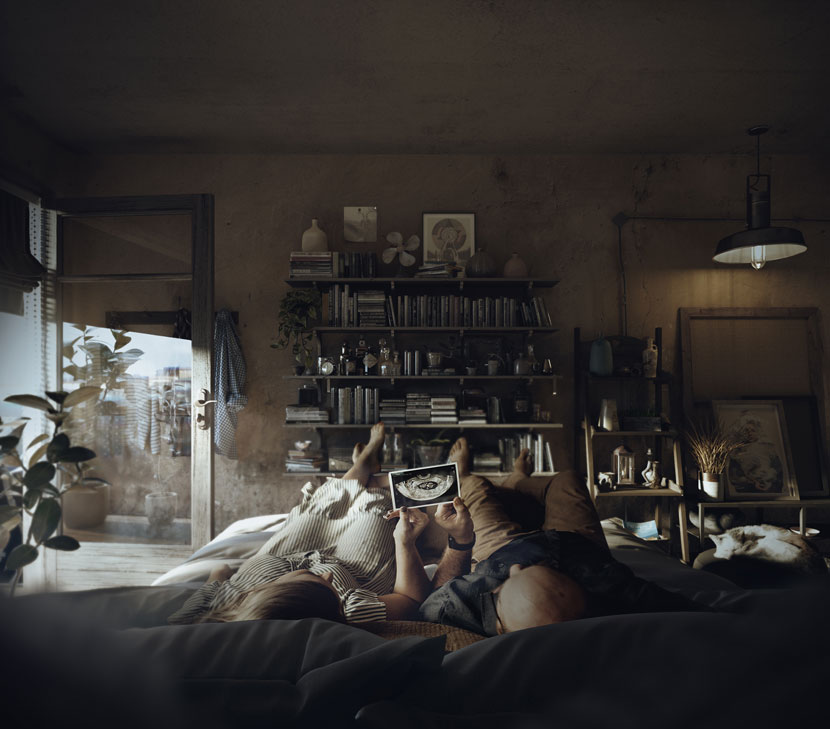 Some comments from the Jury
Anderson R. de Alencar: I loved the idea of this image and also the quality. The composition and the way everything is in the scene, takes us to that moment there with the couple admiring the ultrasound and imagining what their lives will be like once the baby becomes part of the family.
Alex Alvarez: A beautiful image that strongly conveys a story and mood while also fitting the theme of the challenge. Well done. 🙂 
Adam Klich: Stories make visualizations stand out from others, they take art to the next level. Stories capture the viewer's attention and help create a connection between the viewer and the artist. And the image 'Memories that Matter' uses storytelling perfectly. Not only is it a well-done technical image, but it also shows a beautiful story that many people can relate to, which gives additional value to the image. 
Paul Roberts: For me, this project best met the brief and captured a personal memory in a very nice cinematic, almost painterly render. The set-building really contributes to the story -  the characters contemplate how their lives, like the cluttered city apartment in which they live, are surely about to change with the birth of their first child.
2nd Place - 'Fog House' by Alessandro Giraldi / Studio vir
"The idea behind the creation of this image was to bring the feeling of escape from everyday life, through the refuge in the forest of peace and tranquility in these difficult times."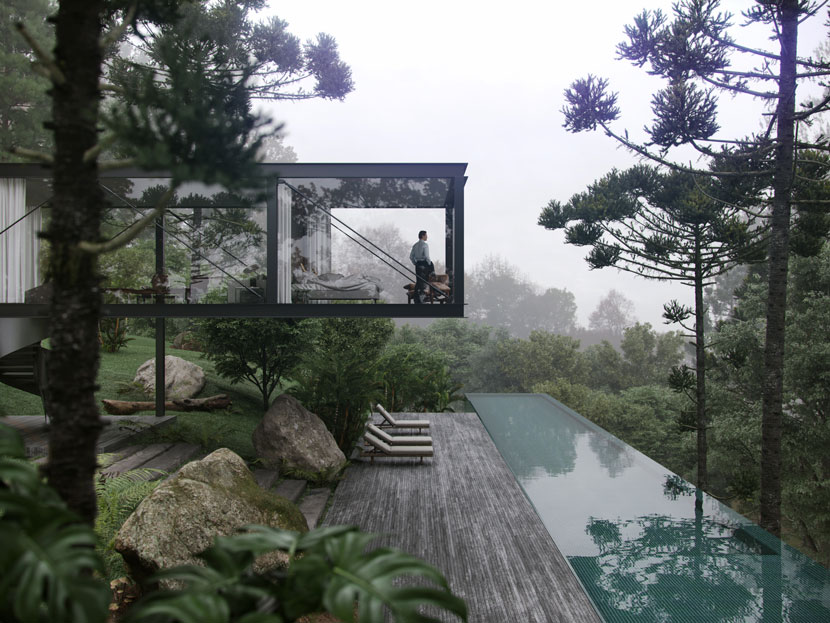 Some comments from the Jury
Alex Alvarez: What a beautiful place, both in the design of the home and how it integrates into the landscape. I love the lighting and atmosphere and wish I could visit.
Bogdan Sasu: I think 'Dream House' is an equal candidate as names go; the entire image evokes freedom and a feeling of being one with the world. Besides, who wouldn't want a house like this? :)
Anderson R. de Alencar: When I look at this image I can easily imagine myself there in that place, looking at the view. Very well executed rendering and a wonderful idea behind it all. Congratulations.
Frank Cordero: This image stands alone (literally and figuratively) in its design and layout, lighting and execution. I love when an image gives me the feeling of what the artist is communicating without needing his supporting description. He smartly created negative space around the male figure in the architectural structure, framing the figure so we could see its silhouette and then created space around the architectural structure to visibly see its shape difference in contrast to the organic shapes of nature that frame the image. It's the balancing act compositionally to create space for the eye to move and travel within the framing of the image while providing us the lush details to linger on. The reading is clear even at a thumbnail level.  
3rd Place - 'Palladian Memory Lane' by Kay John Yim
"Having worked as a Chartered Architect in London for the past few years, I have developed a deep appreciation for Palladian Country Houses, particularly Chatsworth House, of which is characterised by its classical forms, symmetry and strict proportions that sits austerely among the rich and undulating landscape in Derbyshire Dales. I have referenced Chatsworth House in numerous projects, and what always brings me joy and satisfaction is the "minimal grandeur" of its Palladian facade built upon simple and easily replicable architectural proportions despite the lack of lavish or opulent ornaments. Chatsworth House and its surrounding landscape has gradually grown to become my totem of perfect proportions and timeless compositions; every time I come across the Palladian Country House I feel like as if I am being teleported to the serene countryside, taking a gaze down memory lane and reminiscing about my intertwined life and career."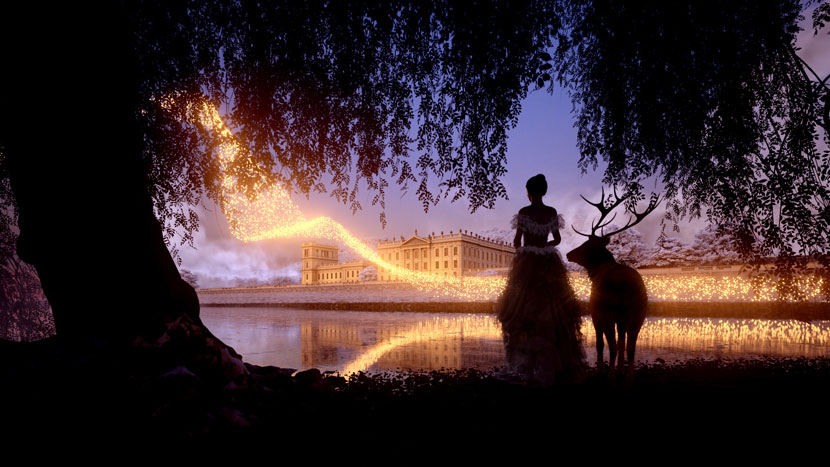 Some comments from the Jury
Bogdan Sasu: Original idea and well assembled as composition goes. The balance between light and shadow gives depth and meaning to the image. 
Frank Cordero: I almost thought I was looking at an advertisement for one of Disney's Theme parks and Tinker Bell leaving a trail of pixie dust! The read is instant but sometimes I want to linger in an image longer than just an instant read. You can do this by creating small, subtle lighting events within the silhouette areas and perhaps just giving us some hints of tree and costume detail. It's a delicate balance. Well done overall! 
---
It would be great to see your comments on our social media channels.
---
Prizes
---
Submission
1. Submit a 3D image that makes you happy, it can be a place, a feeling, a person, an object, anything that makes you feel complete.
2. Include a description of your 3D image and tell us the story behind it. We want to know what kind of memories represent this image to you and the reason why it makes you happy. 
Memories Challenge Guidelines

Your submission needs to be a self-made 3D image. The main emphasis of the image may not be a bought 3D object. Read more detailed information in our Terms & Conditions.
Memories Challenge Submission

Thank you for your interest in participating. Unfortunately the submissions are closed.
---
Sponsors
 
 
 
 
 

XP-PEN is one of the top drawing tablet brands, with more than 15 years of history. They provide all passionate and engaging individuals, young and new, an opportunity to create and draw what they love. No matter if they are a professional designer, illustrator, or digital art hobbyist, everyone can always find a product that suits them well.

 
 
 
 
 

For over twenty years, Gnomon has educated many of the world's best digital artists. Called "the MIT of visual effects" by Fast Company magazine, Gnomon offers a variety of educational options to help students reach their goals in the entertainment industry, with both degree and vocational certificate programs, specialized courses for high school students and over 100 individual courses for professional enrichment.

 
 
 
 
 

The Gnomon Workshop was established in 2000 by Alex Alvarez to share professional techniques with artists unable to attend the award-winning Gnomon School in Hollywood. The curated library of over 300 video workshops — over 1,000 hours of training — is available 24/7 with a monthly or annual subscription and covers the entire pipeline of animation and effects production, from concept design and pre-viz to modeling, rigging, texturing, lighting, rendering, and everything in-between. Start your free 3-day trial at thegnomonworkshop.com/subscription.

 

 
 
 
 
 

GTAPR was born out of passion and with it, they later established 'The Juice Bar', their own publishing house. They offer customers a highly valued experience, one that makes it possible for their customers to align their actions with their values. They strive to be their customers' favorite place and their favorite partner, so they incorporate their customers' input in what they do.

 
 
 
 
 

VWArtclub is a community of thought, a shared 3D art gallery, a thirst to know how 3D design will evolve worldwide, a respect for this way of art, and a decision to record this fact visually.

 
 
 
 
 

Arch Viz Artist teaches how to create great architectural visualizations and animations. It's the best place to look for the arch viz tutorials, tricks and tips that will improve your artistic skills.

 

 
 
 
 
 

Founded in 1999 in Cádiz, southern Spain, iToo Software is a 3D software development company best known for creating Forest Pack and RailClone, two of the highest-ranked plugins for Autodesk 3ds Max with a wide range of applications in Archviz, VFX and games. They also publish high-quality plant and tree assets under the brand name The3dGarden and have recently launched The Parametric Libraries, a new line of innovative procedural assets
---
Jury
| | | |
| --- | --- | --- |
| | | |
| Ralph Huchtemann |  Alex Alvarez |  Bogdan Sasu |
| RebusFarm | The Gnomon Workshop | GTAPR |
|   |   |   |
| | | |
|  Vasilis Koutlis | Frank Cordero |  Jeff Mottle |
| VWArtclub | CGSociety | CGarchitect |
|   |   |   |
| | | |
| Adam Klich  |  Anderson R. de Alencar  |  Paul Roberts  |
| Arch Viz Artist  |  Oficina 3D |  iToo Software |