Your ArtWanted! 3D artist feature
Siamo sempre alla ricerca di lavori 3D renderizzati a RebusFarm per realizzare una funzione di artista 3D nelle nostre campagne pubblicitarie, ovviamente riconoscendo i crediti.
Inviaci il tuo lavoro tramite il modulo di invio. Se scelto, la tua immagine verrà mostrata sul nostro ArtWanted! Feature Gallery e condivise sui nostri canali di social media. Come prescelto riceverai 100 RenderPoint del valore di USD 99.34 per esplorare la nostra enorme potenza di calcolo.
Potresti ricevere un'intervista che verrà condivisa sul nostro blog e su diverse pagine dei social media dei partner relativi alla CG. In tal caso riceverai un totale di 250 RenderPoint del valore di USD 248.35 per utilizzare il nostro servizio.
Ti preghiamo di comprendere che non possiamo utilizzare ogni singola iscrizione per la nostra 3D artist feature. In caso di utilizzo, il nostro team ti contatterà.
RebusFarm on Social Media: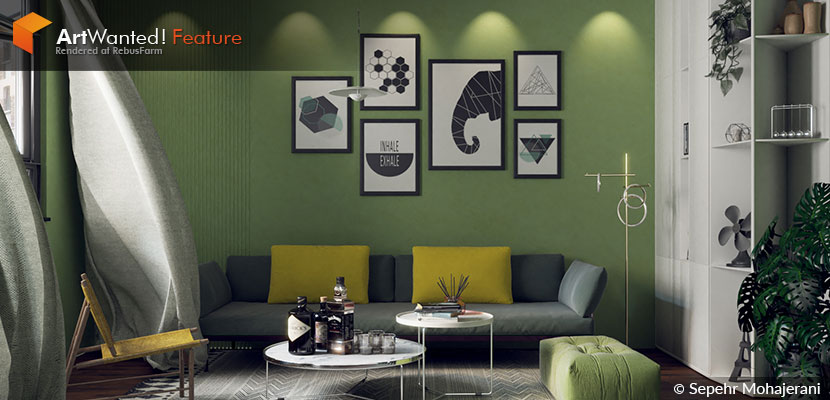 Latest Interview | Sepehr Mohajerani
While winter is slowly but surely taking hold of the Northern Hemisphere, Sepehr Mohajerani invites us to his 'Modern Summer Interior' to soak up the last rays of sunlight, an offer we at the Rebus render farm are more than happy to accept! From his early college days, when 3D was just a hobby to becoming a full-fledged archviz artist, Sepehr has come a long way – not only in the figurative sense, as he relocated from his home country of Iran to Italy, where he works as freelance interior and exterior designer.
Continue reading for some relaxing summer vibes and an exclusive insight into the life and work of Sepehr Mohajerani! 
---
---