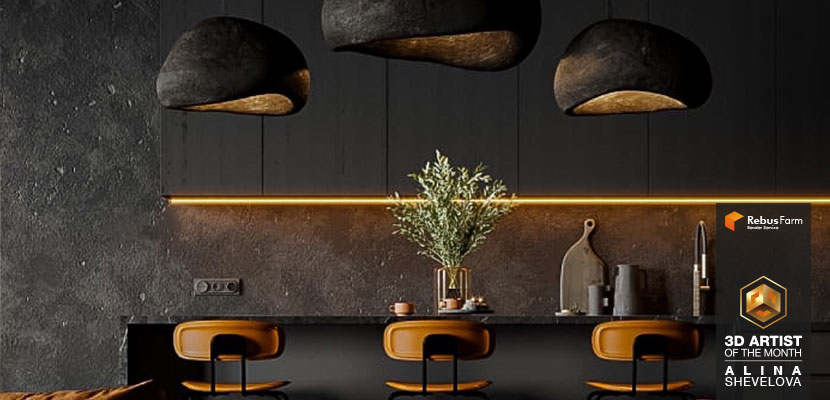 A ray of hope can illuminate even pitch-black darkness. We at the Rebus renderfarm are therefore proud to shine the light on Alina Shevelova, our May 2023 3D Artist of the Month. To the Ukrainian interior designer, her work has become an important outlet in times of hardship. Always eager to explore new creative avenues, Alina has incorporated dark themes in her more recent designs, creating a series of interiors that dispel the lurking gloominess by expertly devised lighting.

In our interview, Alina talks about her latest designs, explains why she has never worked a day in her life, and recalls a formative hug.
Described by her client as "spicy coffee with cinnamon", Alina created this interior titled 'Orange in the Dark'.


Hi Alina, thanks for joining us. To start things off, please introduce yourself to our readers!
Hi, my name is Alina Shevelova, I am a 27-year-old interior designer and archviz artist from Kharkiv, in my beautiful and beloved home country Ukraine.
Can you tell us a bit about your beginnings as an CG artist and your personal history with 3D?
My parents took notice of my artistic inclinations early on and sent me to art school. where I studied the fundamentals for six years. From color theory to composition, I learned a lot and even won numerous competitions, including international ones. Later, I started working with brush and canvas. After graduating from high school at the age of 15, I went to college for interior design, where I first encountered CGI. Since then, rendering and visualization have become an integral part of my work and my daily routine, and I have enjoyed every second of it.
Can you briefly summarize your professional history up to this point? What are some of your personal highlights or favorite projects of your career so far?
After graduating college, I immediately landed a job as an interior designer at a large company. With me being only 18 at the time, this was a source of great pride for me. I vividly remember my very first project – and the realization that came with it: I had designed a children's room and when the work was finished, the occupant, a young boy, was so overcome with joy he gave me a big hug! Faced with this surprising display of gratitude, I understood that this line of work is not only a great source of pleasure for me, but also for our clients, which I found very inspiring. To this day, with over eight years of experience and quite a few projects under my belt, I still feel a surge of great happiness every time a client sends me a photo of an implementation!
A look at the dining area, with the orange of the chairs complementing the darker colors of the table.

Now that we are up to date, please tell us about your current job situation and your brand Shevelova.design!
I am currently working at a design studio, but thanks to my online presence, I have some freelance work as well. My services include concept development, planning, and visualization; stylistically, my interior design work ranges from modern to Japandi, and an eclectic mix of everything in between. My clients are people who appreciate beauty, comfort, and coziness, and I in turn try to harmoniously combine these aspects.
Is there a specific design philosophy or school of thought you adhere to?
I believe that design should not only be beautiful, but also practical, that each and every detail should complement each other as part of a cohesive concept.
Who or what inspires you as a 3D artist?
Generally speaking, I am inspired by everybody who shows wholehearted commitment to their work, and I admire a lot of my colleagues for this reason. That said, I specifically want to shout out Sergey Makhno and his team of architects and designers, their work radiates beauty as well as the cultural identity of our country. My favorite of their products is the Makivka candlestick, a lamp resembling the shape of a poppy flower. In Ukraine, the poppy flower is a symbol of dreams and youth, which is why it should be in every home, filling the house with its silky glow and reminding you that anything is possible.
How has the ongoing war impeded your life and work?
I am sure everybody is aware of the situation in my country. A little over a year ago, I woke up at 5 AM to loud noise. What sounded a little like fireworks turned out to be bombs and rockets. That morning, the war started, and since then life has changed for all of us. For the longest time, all we thought about was rescue and safety. Only when we finally managed to relocate to a safer place, was I able to return to my work again. It was then that I created an Instagram page to share my designs. Initially, it was just a small distraction but it quickly became an important outlet, a means to connect with like-minded people and a source of solace and inspiration.
The dimly illuminated counterop.


Let us talk about your work in more detail, namely your submission to our campaign, 'Orange in the Dark', a graphite bedroom interior. Can you first describe the circumstances that lead to the creation of this project?


This was a commissioned job, the request was to create a dark interior, but instead of gloomy and oppressive, it was to look cozy and inviting. At one point, the client explained his vision as "spicy coffee with cinnamon", which I found a pretty concise description. From this outline, I tried to create a space that allowed for a pleasant living experience, ergonomically placing all the necessary furniture.

What parts of the image were especially important to you, both from a visual/design and technical point of view?
Just to name a few: the dressing table with a big mirror by the window – it functions as a major light source, while the mirror also creates a visual prolongation of the room, making it appear larger. Another central element of the room is the large, soft bed. To not overload the scene with dark shades, I decided on a bright color, and the orange hue is associated with warmth and comfort.
How long did it take you to complete the project?
I spent about three days creating the room, and a couple more admiring the results after receiving the final renders (laughs). I really enjoyed working in this style, so every minute of the project was a pleasure.
Conventionally, residential interiors tend to be brightly lit, with soft colors and daylight shining in through the windows. Why did you instead choose to drape this bedroom in darkness?       
I like dark interiors, they have their own mystery. The darkness really sucks you in, it makes you want to consider every detail more carefully.
Can you talk a bit more about your use of colors, materials, lighting, and overall composition?
As I have said, the central challenge for this interior was to balance, dilute and contrast the potential gloomy darkness with brighter elements. Creating a comfortable atmosphere within the dark required additional lighting scenarios. The soft warm lighting near the stone wall emphasizes the relief and texture without losing functionality. The pendant lights serve a similar purpose: when turned off, they are an interesting decorative element, but if you turn them on, they become a functional element in the illumination of the space. The plants also play an important role, their greenery gives life and energy to the interior.
Like a sunrise dispersing the darkness of the night, the orange bed brightens the entire room.

Among the books on the bedside table is a volume of 'Kinfolk', a lifestyle magazine that inspired an eponymous trend in interior design. Is this a subtle nod to your stylistic influences or just a fun reference?
This is quite observant of you, thank you for the question. The inclusion of the book serves as a reminder to keep an open mind and broaden your artistic horizon. Personally, I like the harmony of lightness, the airiness of space and the comfort found in the Kinfolk style, and I tried to introduce these elements in the stone wall behind the bed, in the abundance of plants and the general feeling of this room.
'Orange in Dark' seems like the logical conclusion to a series of dark rooms you recently produced, a striking contrast to most of your previous work. What brought about this aesthetic shift?
I like to experiment and explore new things for myself and my work. 'Orange in the Dark' probably stems from a desire to show how a bright ray of light will penetrate even the densest darkness, illuminating a hitherto gloomy environment and spreading the gentle embrace of peace.
What software did you use to create this piece? Any plug-ins you found particularly helpful?
I work with 3ds Max and Corona Renderer. One of the key factors of a realistic render is properly adjusted lighting, and I found the Dappled Light Generator script to be a very useful tool in this regard.
What has the feedback been like so far? Are you satisfied with the results yourself?
I am quite happy, if only because I am doing what I love. There is a popular saying: "Choose a job you like, and you will never have to work a day in your life." This is certainly true for me, as interior designer has always been my dream job.
What is one thing you yourself have learned from this project that you can share with us?
Attention to detail and materials both are very important; they create a special magic that draws the viewer in, making them pause for a moment and consider the texture.
These pendant lights are both highly stylish and functional.


Have you used RebusFarm before? If so, please tell us about your overall experience. Is there anything you especially like about our service?

Unfortunately, I have not yet had the chance to use your rendering services myself, but your rendering services have been recommended to me by colleagues many times in the past, and I am eager to finally try it out soon!
In closing, is there anything else you want to say? Any plugs, shoutouts or present or upcoming projects you would like to mention?
I would like to thank you for choosing my project, it means a lot to me! I will continue to develop my skills, and I want to wish everybody the utmost success in all their creative endeavors; May you achieve your goals and always find pleasure in your work!
Alina, thank you so much for taking the time and all the best in the future!