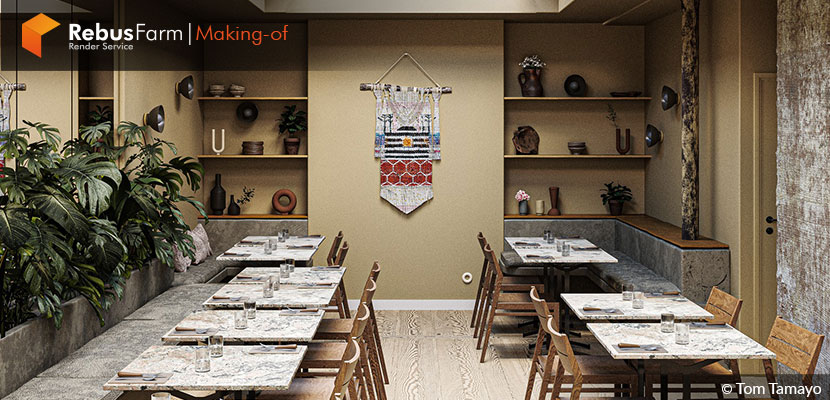 When you see a peaceful interior space while scrolling around the net and a desire to represent it in 3D directly comes. This is how Tom Tamayo, a Filipino architect, and 3D artist usually reacts to find his source of inspiration, make his experiments, and improve his rendering skills. Explore this very nice making-of article and learn more about the pre-production process which is so important for a beautiful output. Enjoy!
About me.
Hi everyone,

I'm Rustom Tamayo, a newly licensed Filipino architect and 3D artist. After I took my licensure examination, I made a big decision for my future and that was a switch to my career working as an architectural visualizer. I spent my time diving and learning in my own way, waking up early and watching tutorials and webinars. Luckily, I won the Rookie of the Year 2022 for the Architectural Visualization category. This competition was organized by 'The Rookies', and every year they received thousands of amazing entries from different artists around the world. It was such an amazing opportunity for me, the exposure I got, and the amazing people that I met. I even got a mentor that guides me in this industry.

At the moment, I'm a freelance 3D artist based in the Philippines, and most of the projects I got are outsourced abroad. I spent most of my time practicing 3D art and trying to learn new things when I do not work on commercial projects. If I see some random stunning pics of art & design on my feeds, I always try to save them, then represent them in 3D whenever I have the time. This is usually the way I get inspired.


About The Project.
"HoY Hotel in South Pigalle by Charlotte Gomez de Orozco".
This is an urban retreat wellness hotel located in the heart of Paris. Designed to experience the connection to place, nature, and yourself. Served as a holistic refuge in the middle of the bustling metropolis of Paris, the busy Pigalle district.

As the designer added "I created HoY because I couldn't find a place that offered all the things I love in one: yoga, meditation, healthy food, holistic therapies, and flowers".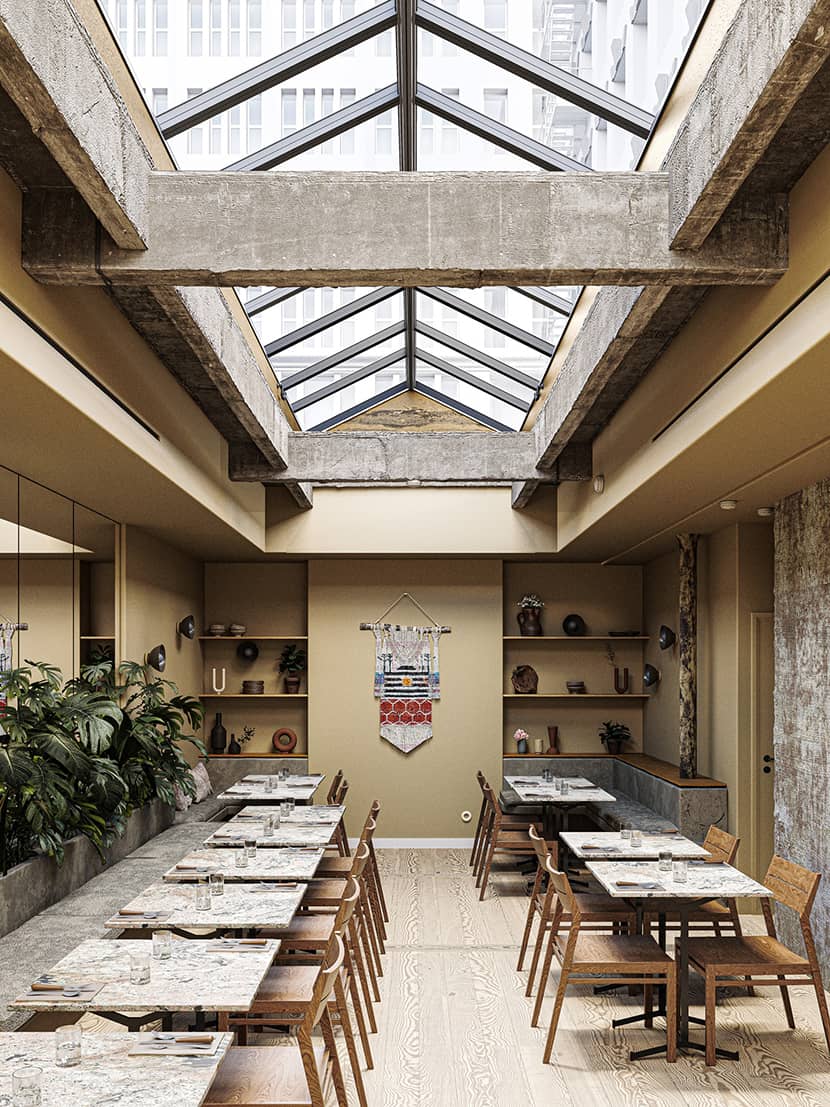 Inspirations.
I randomly saw such a beautiful image on my feed, an Interior space that is well-lighted and has a cozy atmosphere. As an artist with a goal to capture the emotion and feeling of an image, I need first to understand the space. I need to know where the light is coming from. Does it have a wall behind the camera? Did the photographer add some tweaks to the post-production? Do indoor plants receive enough sunlight? If not, then the plants should be close to pale green color, since they lack sunlight they won't produce chlorophyll (the green pigments in plants). These are some of the things that we have to consider when trying to imitate reality.

In order to understand the image or for instance the interior space in this image, I searched and found these images/vignettes so I could imagine an enclosed interior space with four walls. Then I categorized these images based on the proximity of the shots.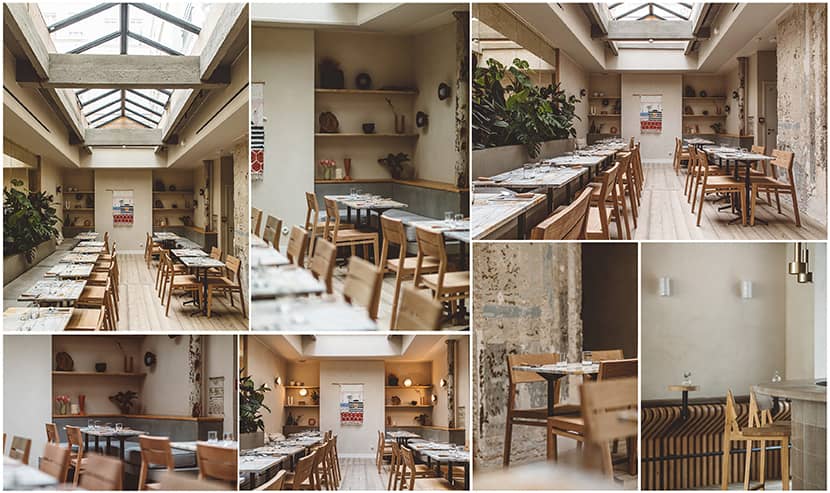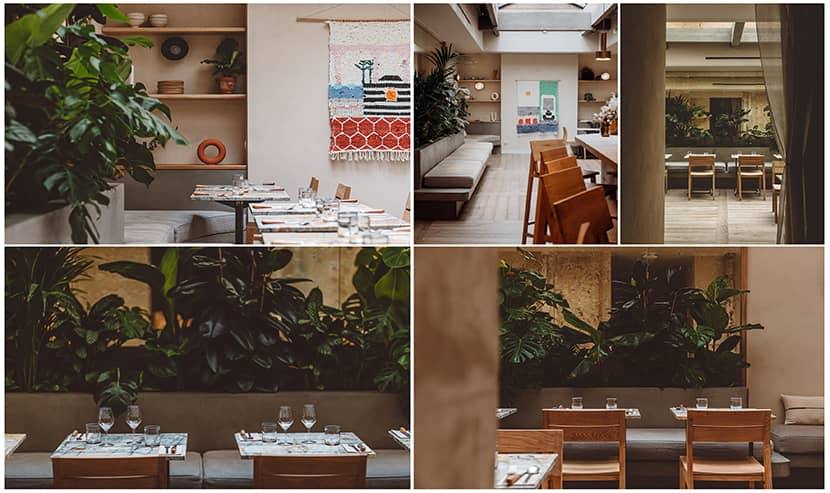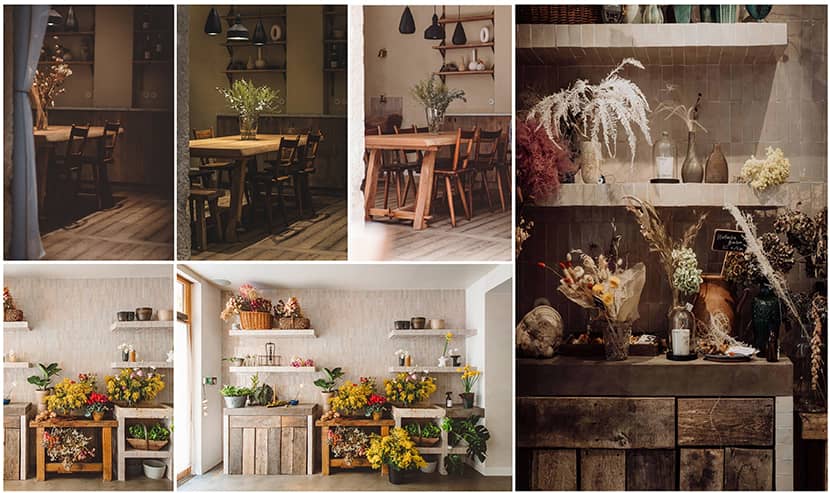 Pre-production.
In the filmmaking industry pre-production is the most important phase of the production process. This is where the staffs organize everything they need before they start rolling the cameras. Below you can taste a useful related video.


The same happens in architectural visualization. In order to save time during the actual production process, I usually organize everything I need before I open 3DS Max and this method includes studying the references and deciding what specific assets I can model myself or deciding which pre-made assets I can buy. This process can also enhance your creative process. For this project, I created all the 3d models except the pre-made assets below.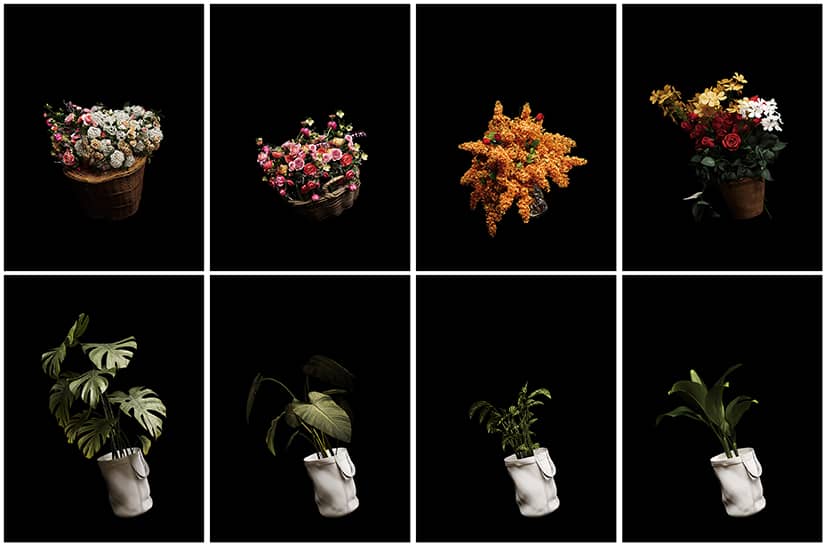 Approach.
This is how I understand the image: It's a one-point perspective, meaning lines are converging towards a single "vanishing point" on the horizon line. This was a very important consideration when I started tracing this image and setting it as my background map in 3DS Max.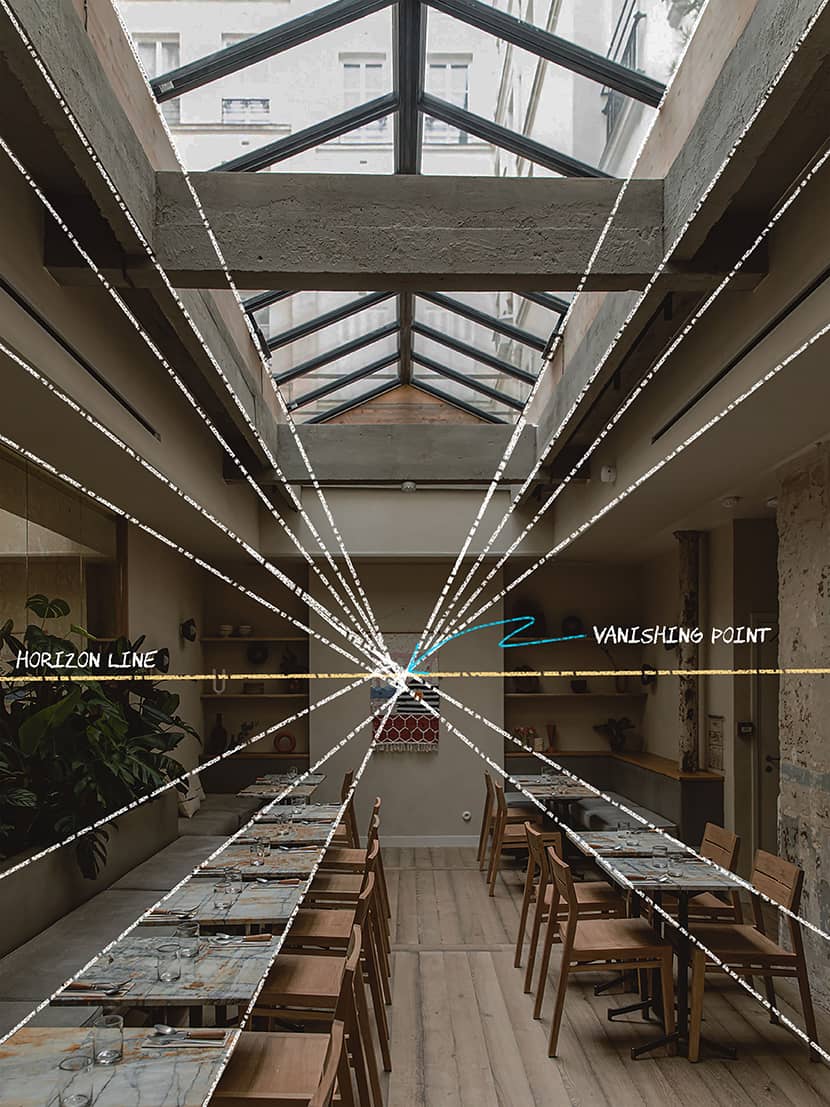 Since I analyze the images/photos/vignettes  I can understand how the sunlight affects the interior and why there are some dark areas within the space.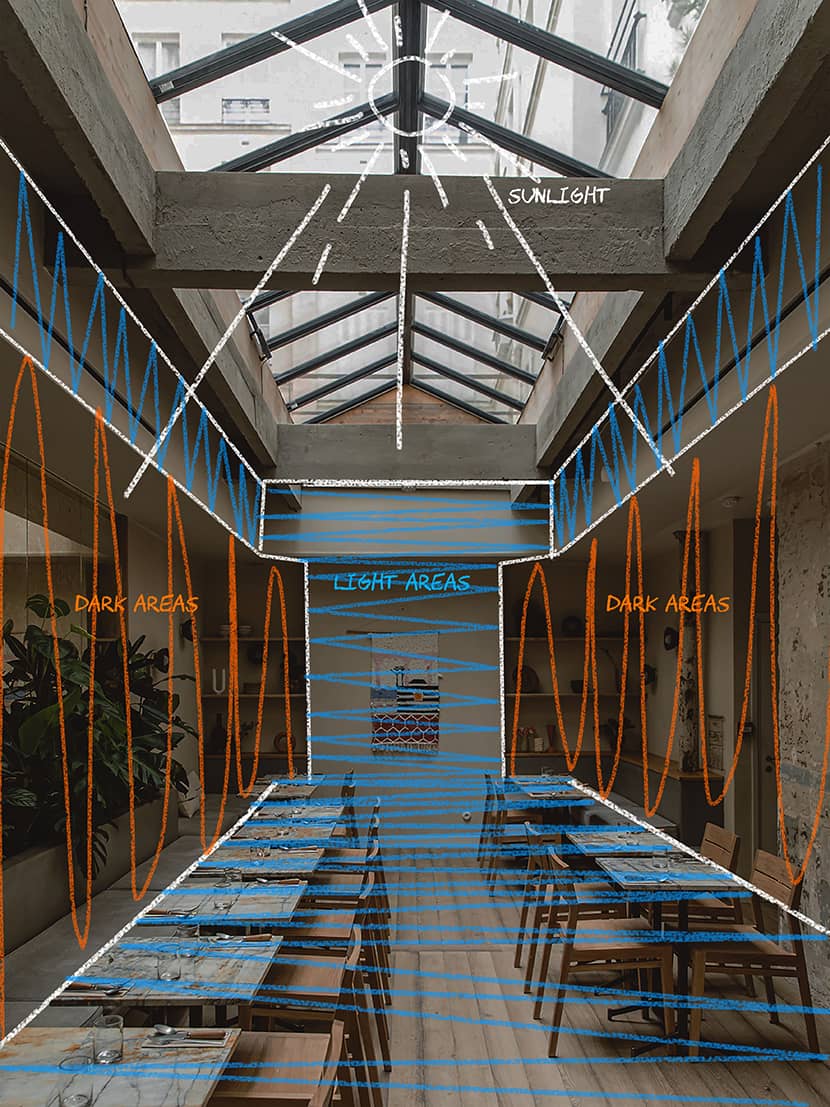 .


Understanding the composition of the Image through the depth of field. Blurring the foreground, and using dark and light areas, all lead my eyes to the main subject which is in focus.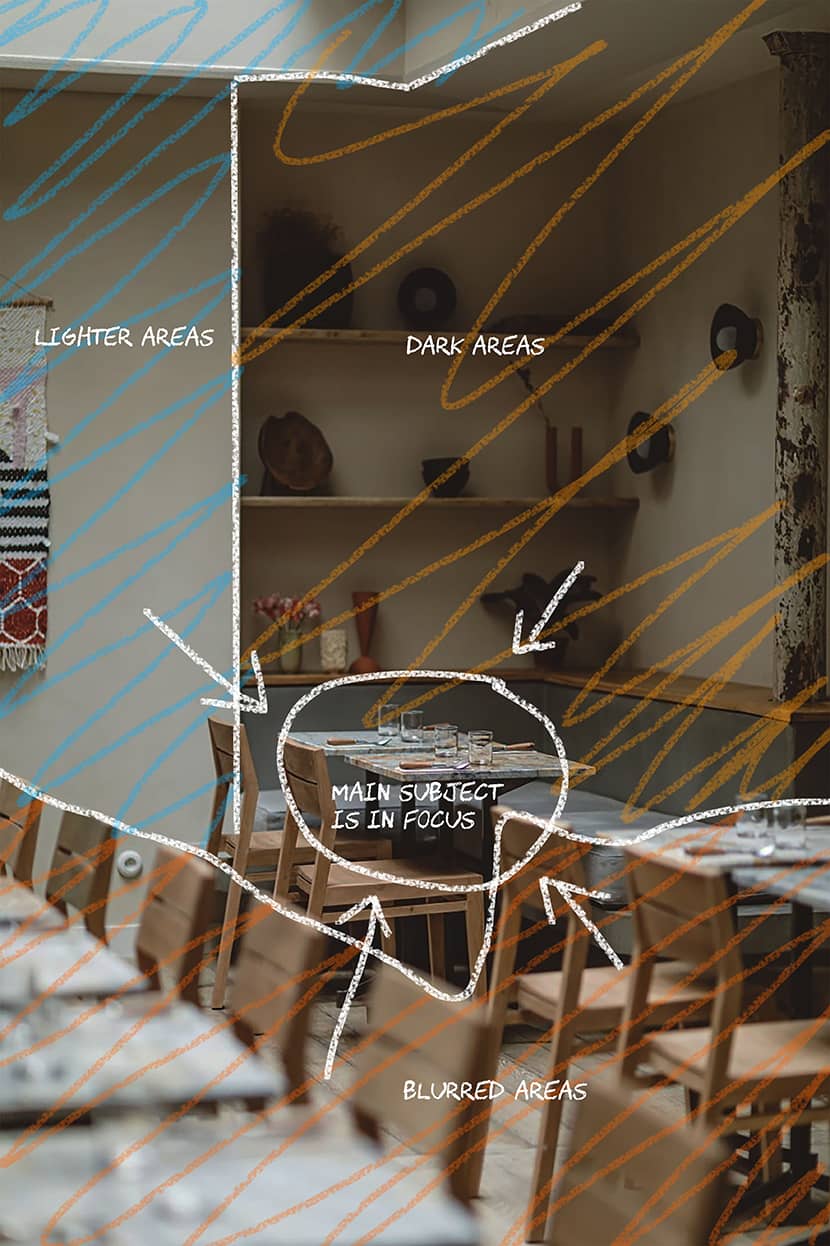 Understanding the composition of the Image through framing and contrast of shades. By using and adding framing elements to emphasize and lead the viewer's eye toward the subject. And by using the strong color of contrast to create a visual impact that adds interest to the subject.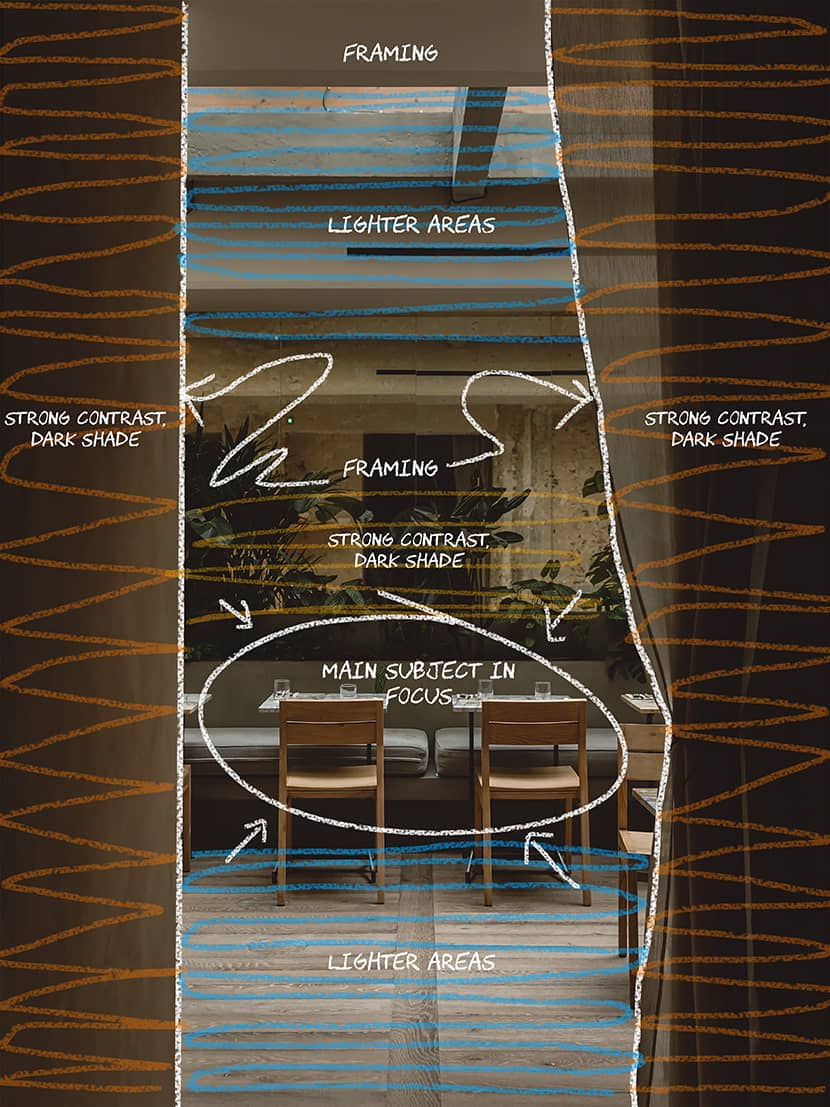 Understanding the composition of the Image through lighting the subject. Using this method you can create certain features and dramatic effects. Highlighting a portion of an image gives the main subject the opportunity to get viewer's attention.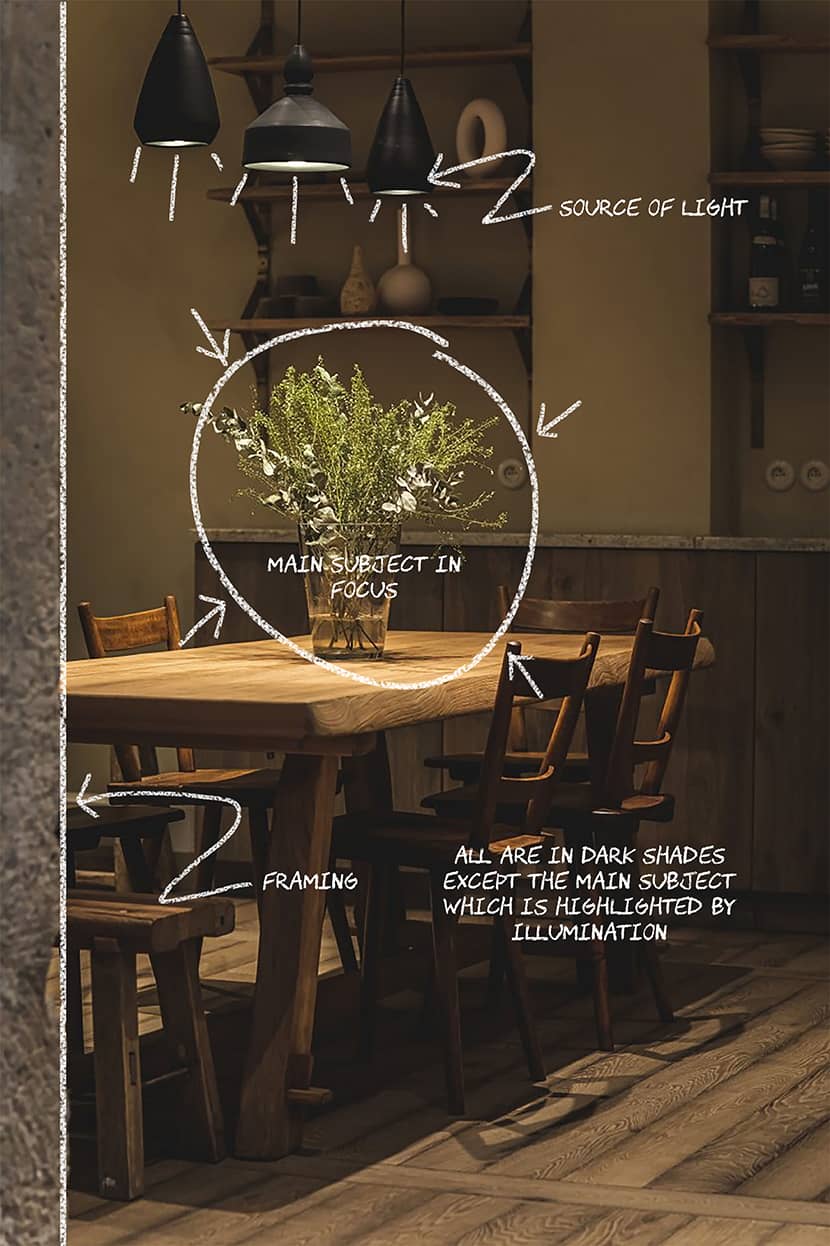 Software Used.
This is a personal project of mine and it was the second time I used V-Ray. I'm a Corona Renderer user but right now, I'm slowly switching to V-Ray and I'm happy using it so far. For the 3D software, I use 3DS Max and Photoshop for post-production.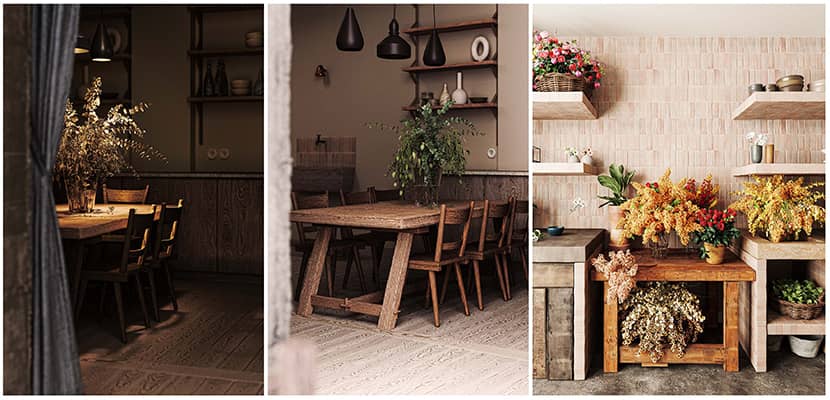 This is how I perceive the image when considering the colors. First, I understood that the general color is close to muted yellow mustard.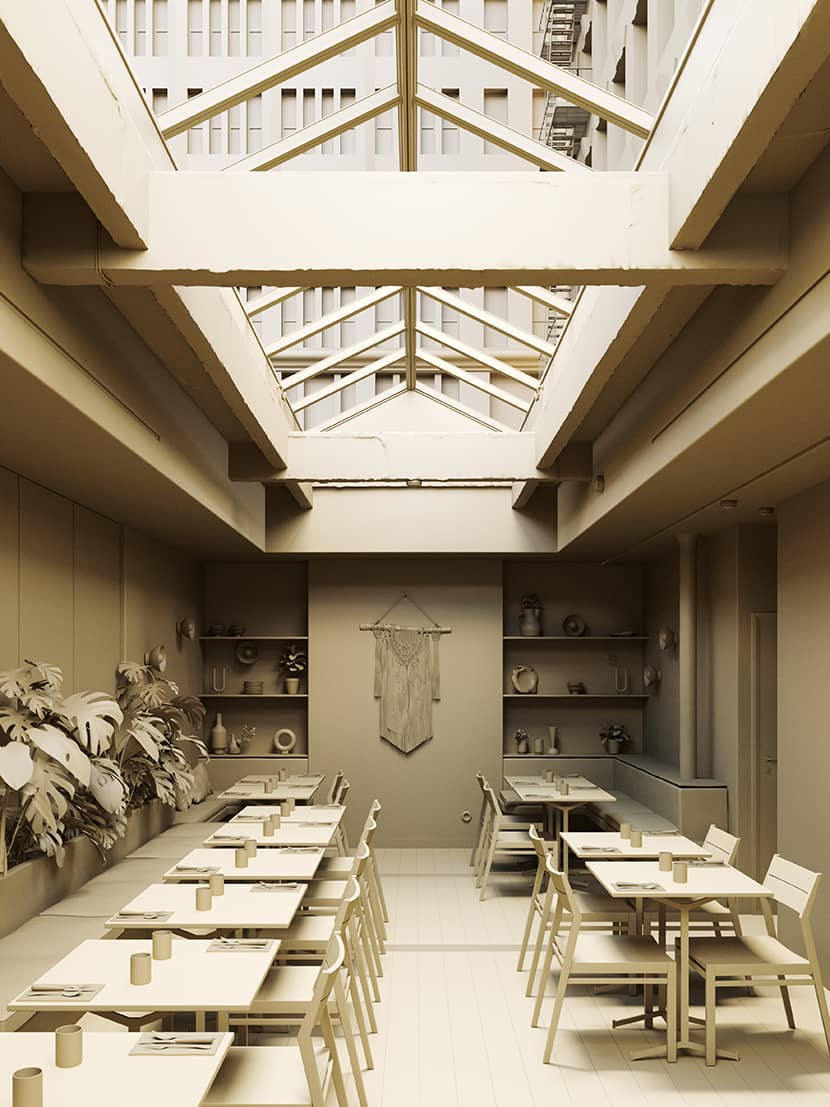 Then I moved forward by choosing, assigning, and simplifying it to local colors.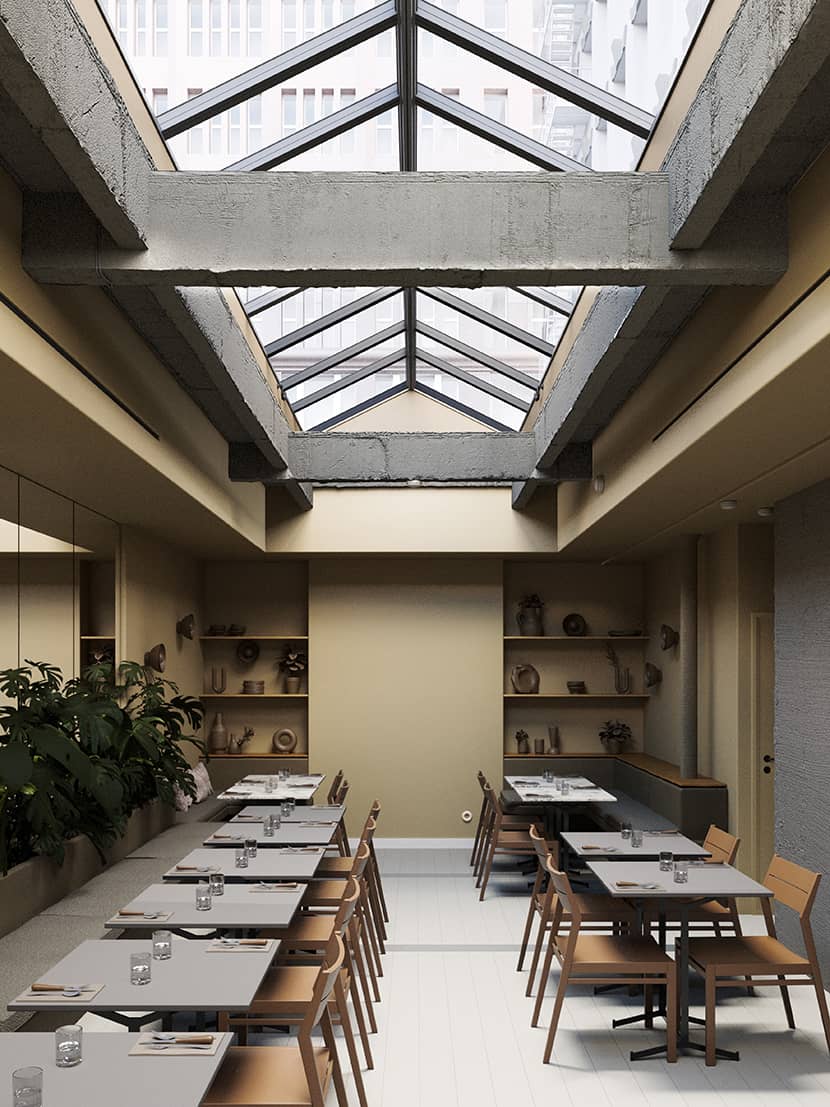 Modeling.
I started tracing the image by modeling based on the reference, 3d model development from scratch to final: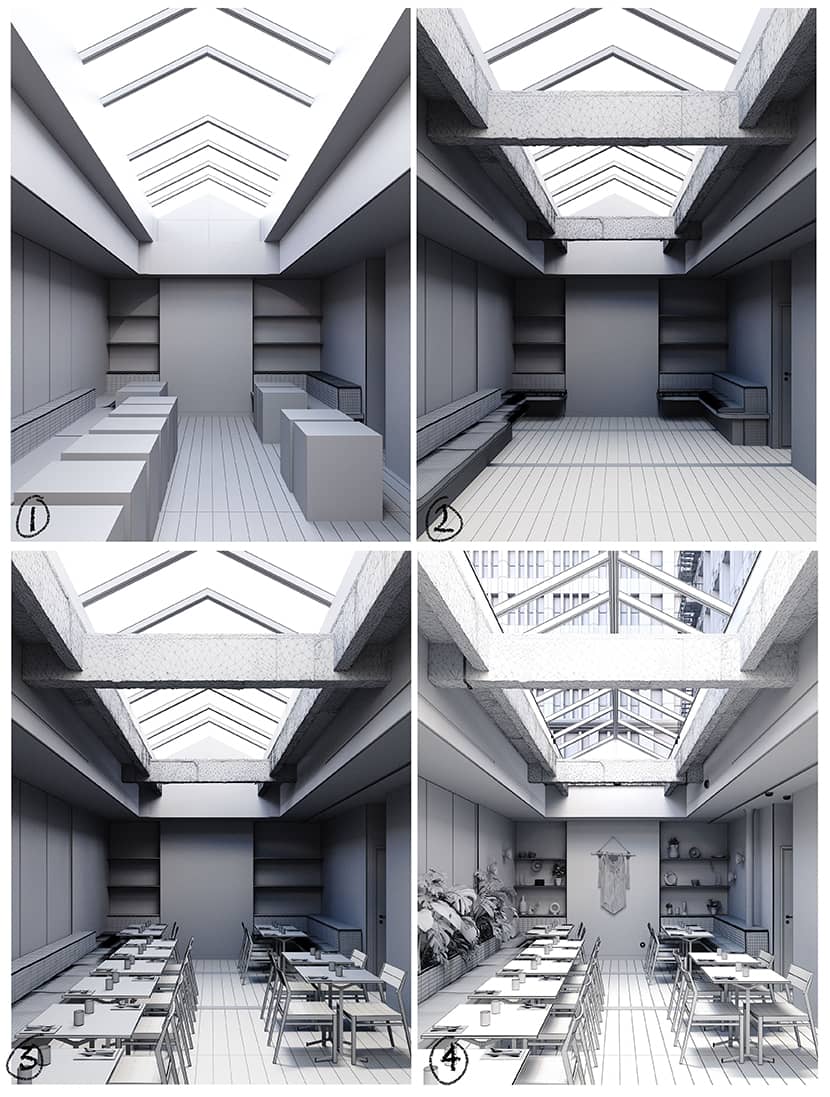 Materials.
I used the ready-made shaders from Quixel but I always tweak them to make them as simple as possible. For me, it's much better in this way, so I can go back and forth in tweaking without wasting time.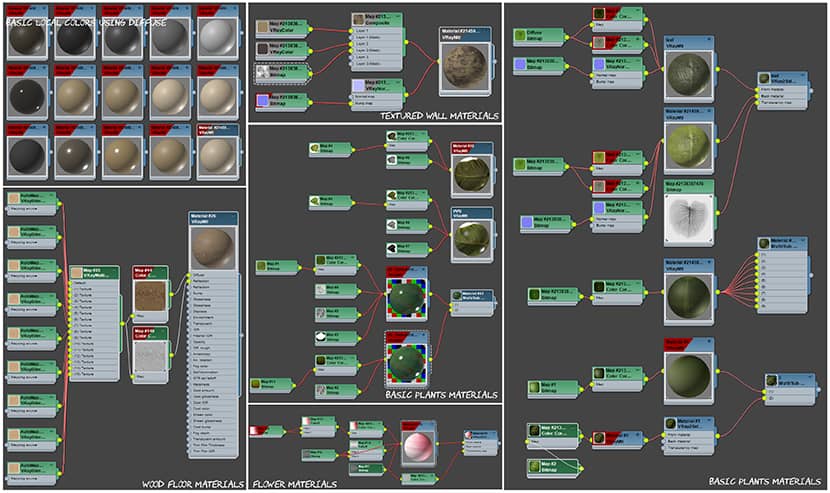 CLICK TO ENLARGE THE IMAGE.



Post-Production.
I love doing post-production but I always try to achieve the best output fresh from the frame buffer. In this project, I just did some minimal camera raw-filter adjustments.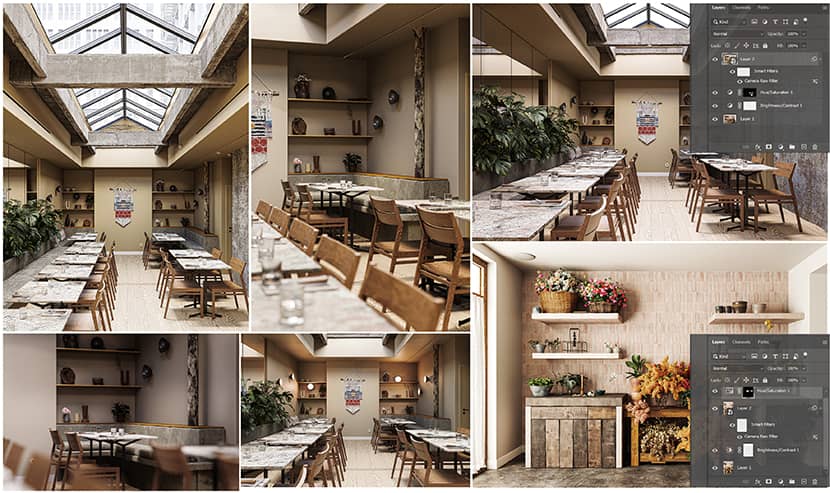 CLICK TO ENLARGE THE IMAGE.


I really enjoyed doing this making-of article for my project, so I really hope you enjoyed it and learned something new from it.
Thank you so much once again Rebusfam and VWArtclub, it's always a pleasure!
Sincerely,
Tom Tamayo.


Check more of Tom's work on these channels:
---
Want to share your work with our community too?
Contact us at This email address is being protected from spambots. You need JavaScript enabled to view it. and tell us about your favorite project.
---