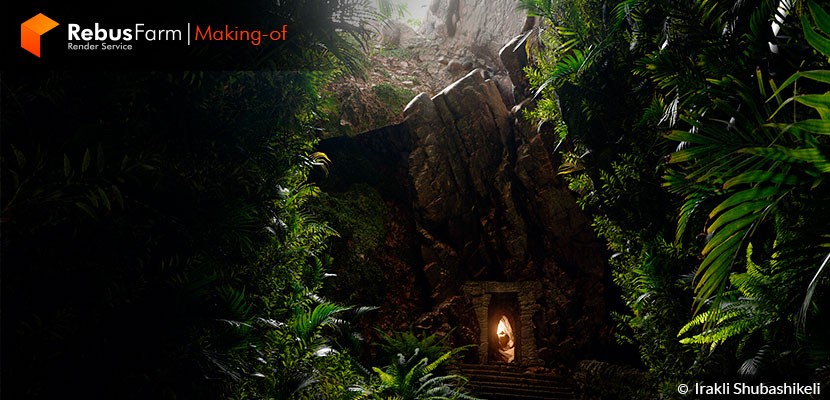 Irakli Shubashikeli finds his sources of inspiration in anything around him and he suggests to us to only catch the moment that gives us deep and nice emotions. In this making-of article, you can explore his way of thinking during the creation of his personal projects. Enjoy!
About me.
My name is Irakli Shubashikeli and I'm a 3D artist from Georgia. I found this occupation interesting fifteen years ago. In the very beginning, I was working as a color decomposer at a printing house. I was about 16 years old when a friend of mine first introduced me to 3DS Max and he taught me the working process. Actually, this moment was the very first time I realized that 3D visualization would be my vocation in the future.

The impression I got at that time was really incredible. I felt like there was an ocean of possibilities and I was just looking at its horizons. Of course, there were many difficulties throughout the development of my career. First of all, at that time this profession was newly born and aliened in my country. The only source of knowledge for me was a book related to 3D visualization that accidentally came to my hands. After many years of hard work, I think I've achieved enough good results. I do my best to never stop maturing, and developing my skills. I'm always in the process of learning new methodologies, tips, and tricks.
Thank you very much RebusFarm and VWArtclub for inviting me to write this article, your attention means a lot to me!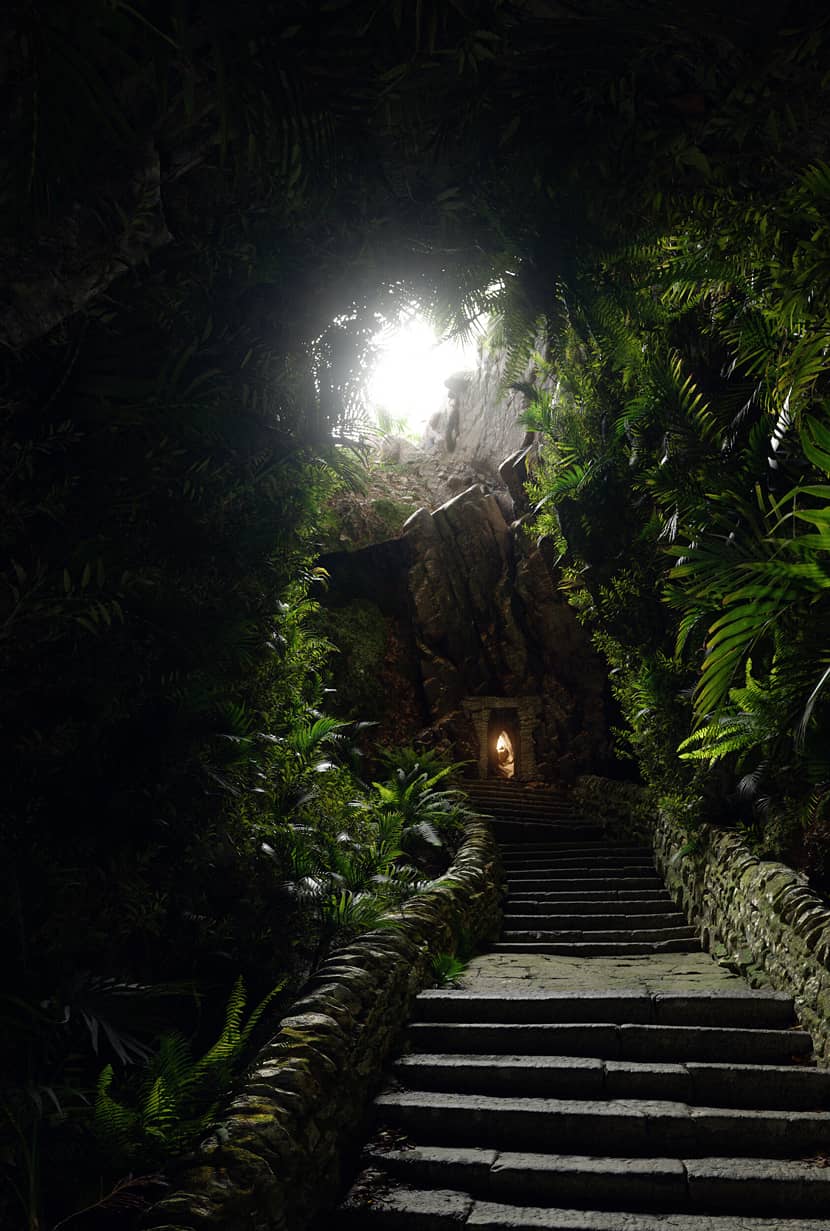 The project.
This is definitely one of my favorite personal projects so far and I was inspired to create it while listening to "Hanz Zimmers - Dark Knight". The emotions I felt while listening to this masterpiece were so beautiful and it made me imagine a cave with some old ruins. I wanted to start working on this artwork as soon as possible. As you see, you can find inspiration in anything and all you have to do is to "Catch the moment". Below, you can see some of the references I collected to help me start modeling, composing, and mainly creating the mood of my image.



Storytelling.
The most important thing for me is the emotions I have while working on a project. In order to represent my emotions, I usually play with light and shadows. Lighting is the most important factor in the artistic process of rendering. My main goal is to evoke emotions in people who look at my images, so they experience the parallels of their own lives. In this way, I feel that my work becomes more alive and attracts the viewers. 

For example, in this image, I wanted to give a mixed feeling of cinematic drama and mystery but also express a hope at the end of the story. Many times in our life, we face several difficulties that probably need some time and our dedicated effort to find the solution and get rid of them.



Modeling.
3D modeling is always a very important part of a project. 3DS Max is a very nice software that can help you to efficiently model a project. For rendering, I used 'FStorm' which gives great results and amazing DOF (Depth Of Field) compared to other renderers, and for the environment creation Quixel Bridge.




Quixel Bridge is an amazing tool that significantly changed the way we were used to creating 3D environments by simplifying the whole process and at the same time, rising the quality of our work. In this official video below, you can easily learn the basics and understand how it works.


Environment & Assets.
For the environment and ruins 3D models, I found the ones that were looking similar to my references, and after a few rendering tests, I selected the best ones.

Scattering & Composition.
Another very important part of environment & landscape renderings is scattering. You need to make it in a natural and beautiful way, just like in real life. There are several helpful and productive tools according to the software you use, such as Chaos Scatter, Multiscatter, Forest Pack, or even using the old traditional way to scatter assets manually. I usually prefer both of these techniques as the manual way gives me the opportunity to handle 3D objects close to the camera in the best possible way for a better composition and a photorealistic result. Below is a helpful video on mastering composition in photography.


Lighting.
I mainly use HDRI Haven maps to illuminate my scenes as their quality is really good and I get pretty nice shadows. 



The lighting in the scene is extremely important and I always try to set it according to my references. The generated shadows also help you create an interesting composition as well as tell your story. 
Here is a video tutorial that can help you understand how to illuminate a scene with one main lighting source. It includes some nice filmmaking tips that you can also apply to your work.





I would also like to share with you this video dedicated to one of the most influential Asian photographers who won over 300 awards over a span of only 20 years. His award-winning prints were a permanent collection in the Museum of Modern Art. "Fan Ho - The Great Master of Darkness".






Final result.
Below you can see my final result and some tips related to my workflow.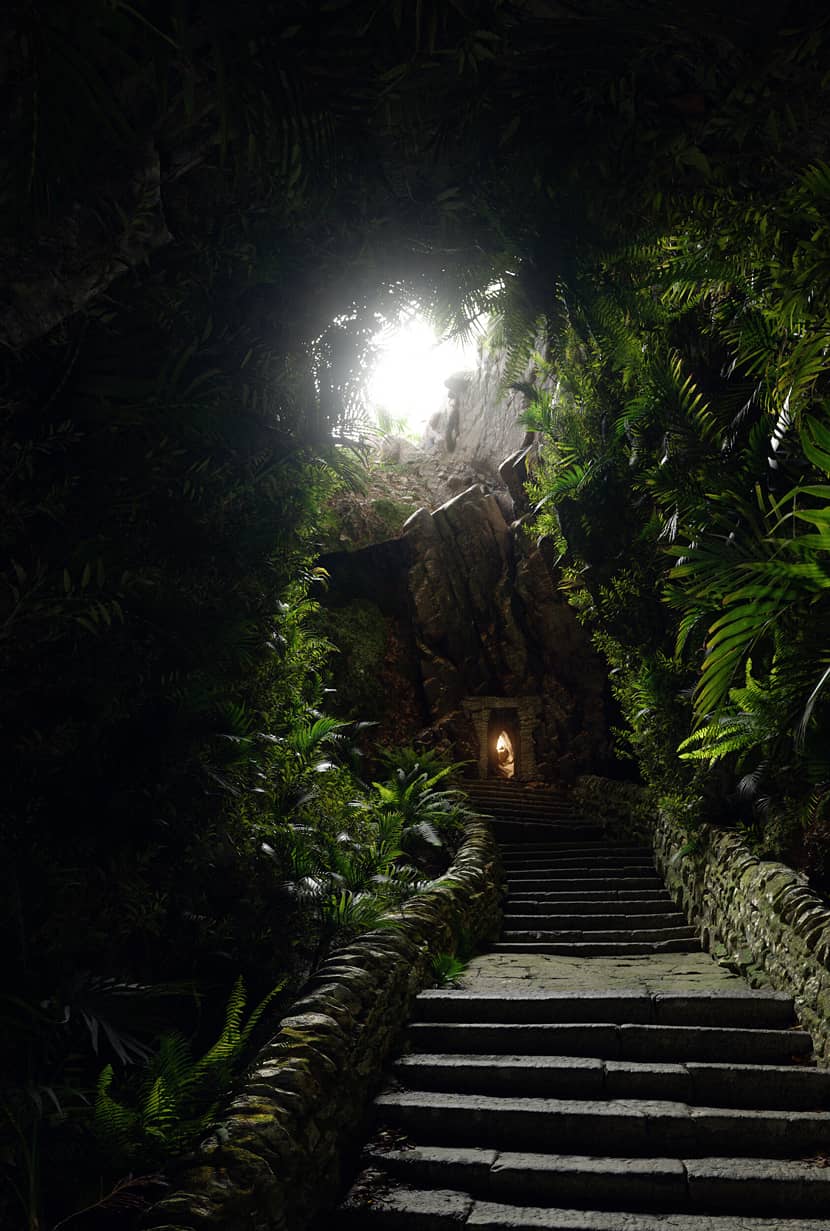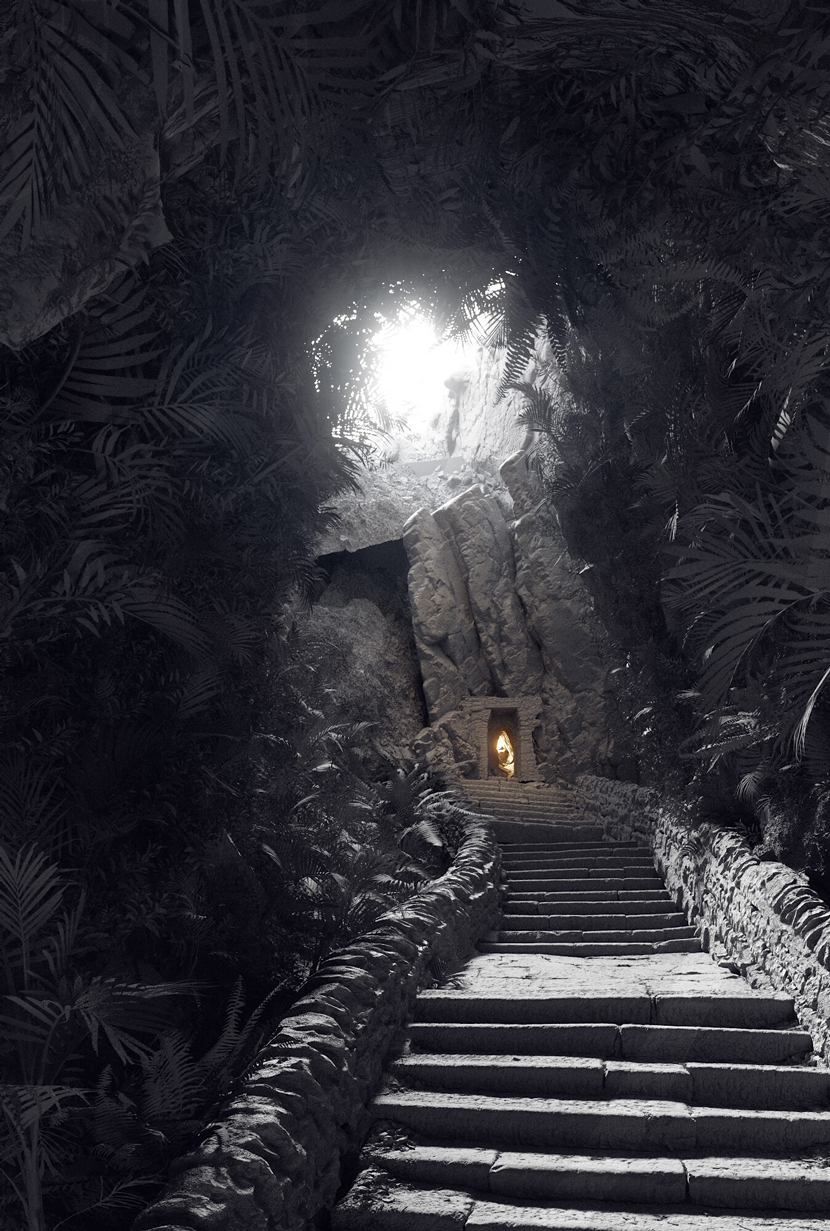 During the rendering process, I try to go very "close-up" testing the quality of both geometry and materials. Give some time to improve your 3D models and play with the materials until you'll get a result close to your references. In this way, you can get a very photorealistic result and an even greater one shooting from a larger distance.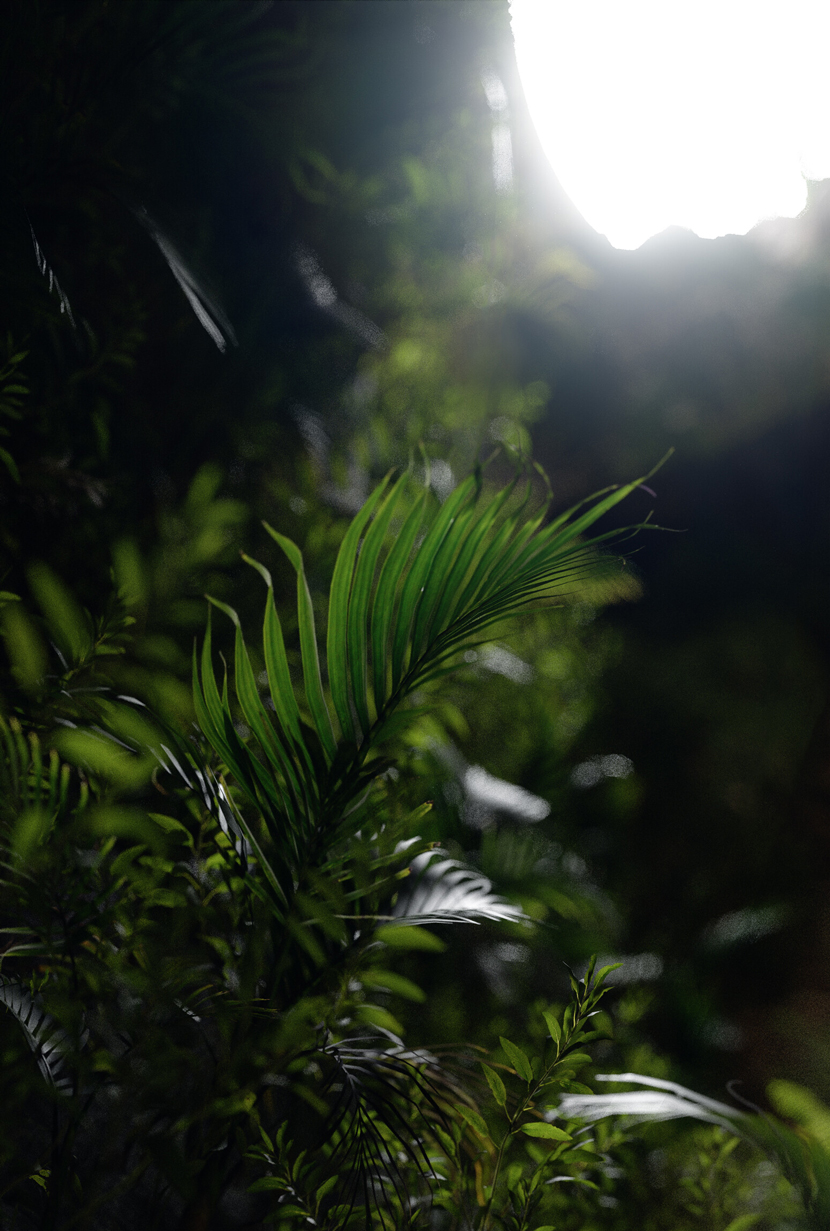 A 2nd small and discreet lighting source sometimes sounds essential just to give the 2nd point of interest to your image.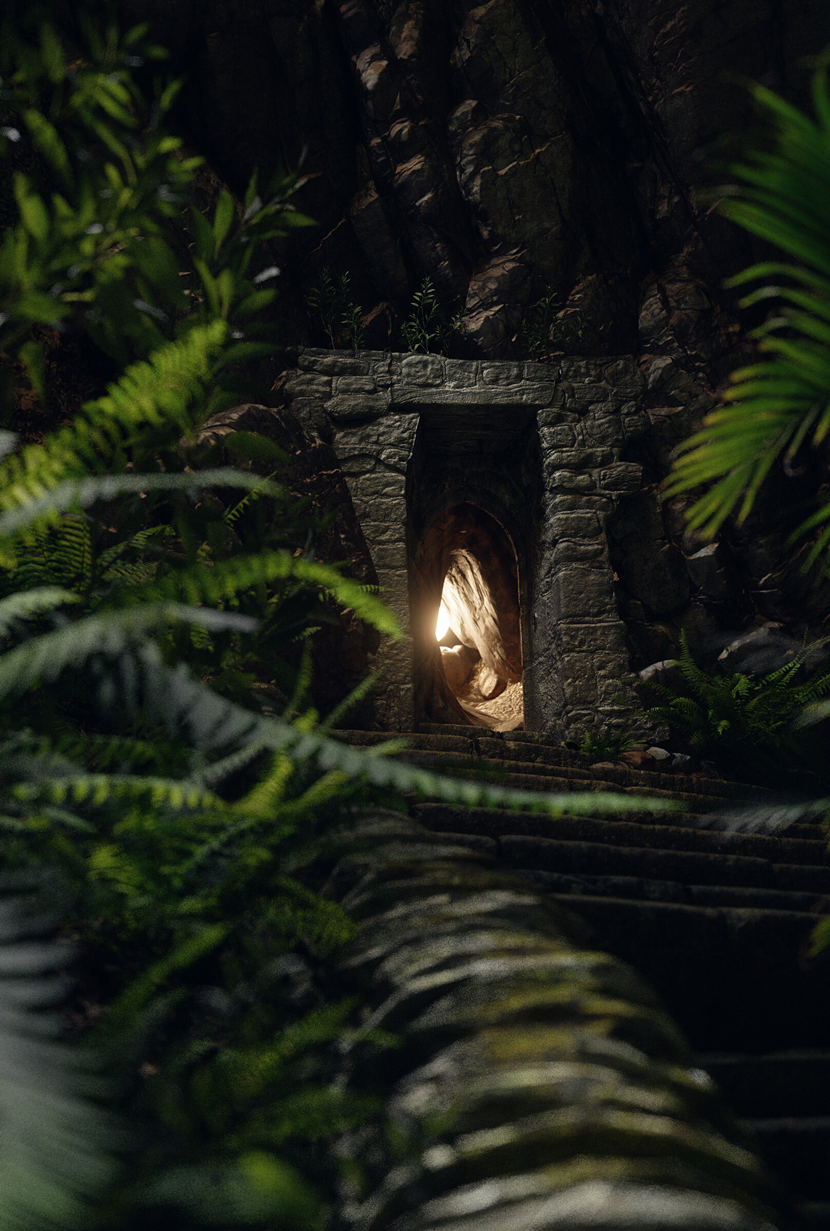 That's it. I hope you found something useful in this making-of article and I'm always open to any possible query you might have. Just connect with me using the links below!

Kind regards,
Irakli Shubashikeli.
Check more of Irakli's work on these channels:
---
Want to share your work with our community too?
Contact us at This email address is being protected from spambots. You need JavaScript enabled to view it. and tell us about your favorite project.
---
Get started with your own renderings