Friday, December 3rd, 2021 by Pedro Conti
A heartwarming story about the loving essence of being part of a community. Colors, music, and culture take us through a story about a young man helping his neighbor, an old lady, get her grocery shopping during the pandemic. A powerful feeling of satisfaction to be kind to others wraps you up as you watch every minute of this magical piece.
Pedro Conti, tells us about his inspiration for 'Tamo Junto' and some tips and tricks into what made this short film's animation and rendering possible.
Let's hear him out!
A brief intro to me and my work
My name is Pedro Conti and I'm a 3D artist and Director from Brazil. I started my career in 2006 working in the archviz field and right after I moved on the advertisement area. I've been always passionate to work with characters and for the last 15 years, I've been moving towards feature films, series, and games. I had the opportunity to collaborate with Walt Disney Animation, Dreamworks, Paramount, Marvel, Guerrilla games, and more.
Nowadays, I'm still living in Brazil due to the fact that I overall love the culture here and I feel really comfortable in my country. Sometimes I struggle connecting with animation projects due to the fact that Brazil is a 3rd world country and our journey is different from the one of artists from countries that actually produce most of the animated films. 
I'm slowly exploring myself, trying to tell more stories that I relate to. 'Tamo Junto' was a push towards that direction and I'm excited to share more details of the production here.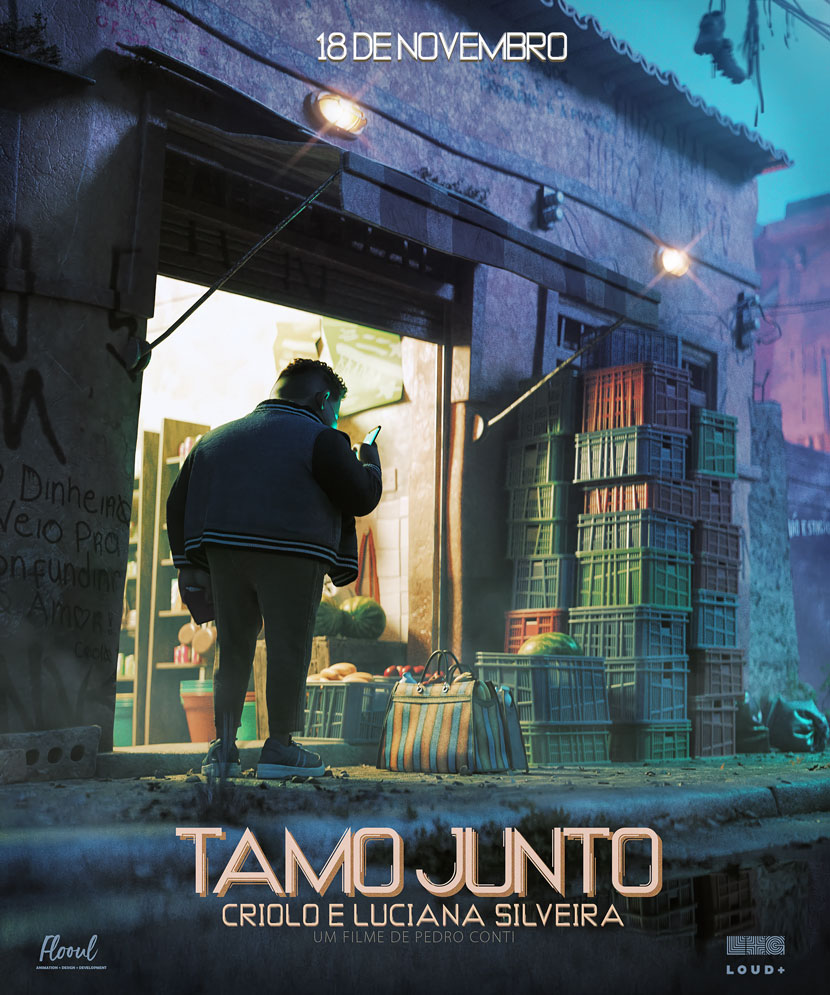 Conceptualization of 'Tamo Junto' 
I'm always thinking about new ideas and writing a few things here and there. When the covid hit Brazil last year, it was a really difficult time for me and my family. We had a 1-year-old baby and I lost my father a couple of months before the pandemic started. I was really scared and afraid of going through something like that again. 
Besides all the bad things Brazil made during the pandemic, there is something I consider very beautiful about our culture: the sense of community.
I grew up in a low-income neighborhood in Brazil called Jaçanã in São Paulo. My mother used to leave home really early like 6 a.m. and would arrive back around 9 p.m. The street I used to live in was like a big family. Everyone helped each other and I had a lot of ladies that I consider as my second mothers, as during the day I was spending a lot of my time at their places while my mother was working.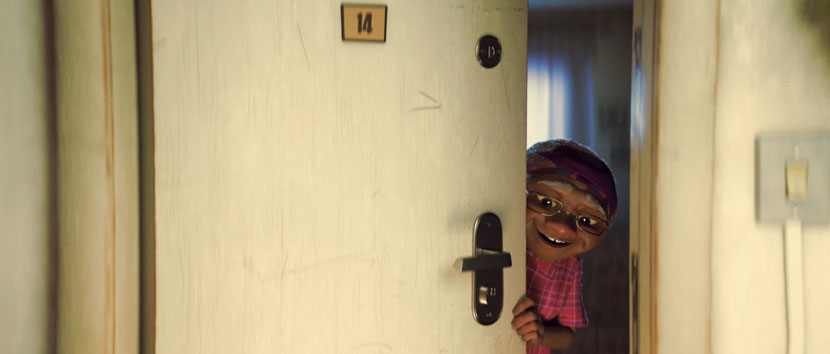 During the pandemic I saw that happening, really poor communities getting together and really supporting each other in that really difficult time. One day someone knocked on my door and it was a 13-year-old neighbor that prepared some bread and wanted to give us some as a gift.
So with all that chaos happening in Brazil, those things were really precious in my view. That was the main source of inspiration for the short. Try to believe in this sense of cooperation and community, it was also something important to keep me mentally busy with all the disasters happening around the world.
Design & Modeling
Most of the film was designed in 3D. I had Fernando Peque, an amazing designer, doing some early exploratory character design, but right after we moved into figuring things out in 3D. 
The source of inspiration was the city I grew up in, São Paulo. Since 2011 I had been trying to do something related to my country but finally, I had the opportunity to do it. During this time I was locked up at home, I was also reflecting a lot about my childhood and old friends. That thing was a topic of conversation with a lot of people and I decided to push the film towards the neighborhood I grew up in.
As I was living in another city, I was using google maps to virtually "walk" around the streets of my neighborhood, which was really magical and nostalgic.
We started designing the sets and playing with the characters at the same time and trying to find the style and balance them out. We used very basic primitives then we kept polishing and playing around with shapes. The environment design was almost realistic but we pushed a bit some shapes to kinda give this subtle feeling of stylization.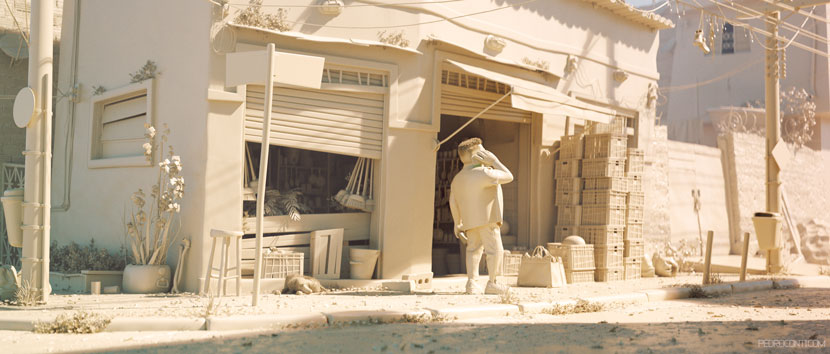 Technically, it was a really straightforward modeling workflow. We used mostly 3ds Max with poly modeling for sets and ZBrush for the characters. We used multi scatter plugin for scattering objects in the ground, etc.
Texturing/shading
Most of the texturing process was really procedurally done. As we had really complex sets and very few people working on this little production we decided just to take that route. We didn't do UV's or things like that as the amount of assets was just insane. We simplified the process.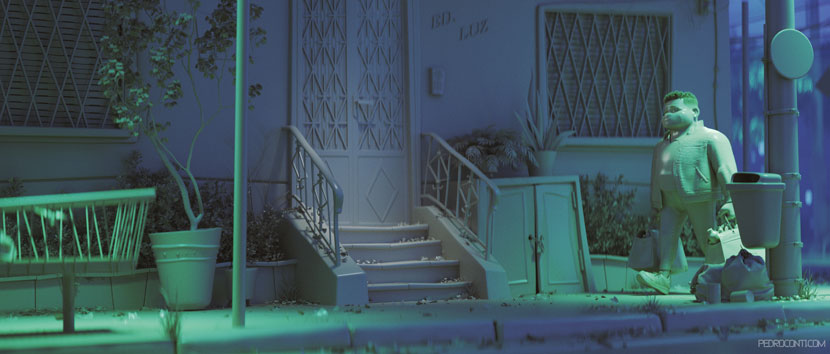 For the character, we spent more time as they were the most important thing in our film. So we used Substance Painter to paint some masks and little details to make the character really shine.
The render engine was Chaos group's V-Ray as always. I really love working with V-Ray due to the rendering times and flexibility. I also love the V-Ray dirt shader and V-Ray multi-sub texture. Those 2 shaders allowed us to create a lot of variations on the materials without spending too much time on them. Those were a big thing for the sets.
We created a few materials that we could reuse over and over for different objects and different sets.
Lighting and rendering
The lighting workflow was really straightforward. Most of the scenes were basic V-Ray sun and a few area lights as fill lights. We spent a lot of time balancing each shot and making sure all the elements were really beautiful for the camera.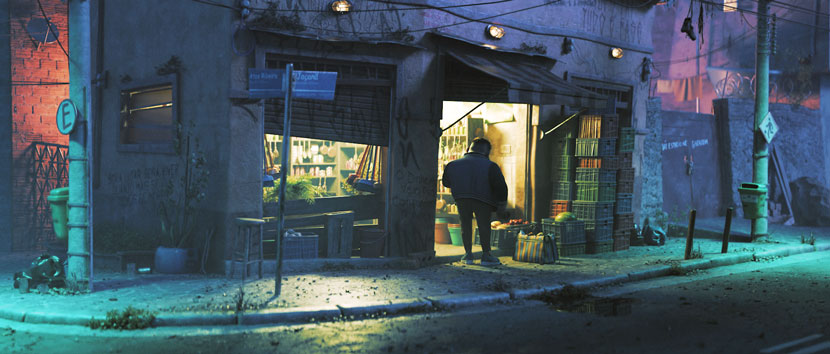 As soon as we received the animated characters from the animators we were doing low-res test renders at RebusFarm. The animation supervisor, Marcio Nicolosi, was taking care of the animation and sending it for us while we were rendering all the shots at least 2 or 3 times in a very low sampling. This way we could see what the film was looking like and we could interact and make things really polished for the final quality frames.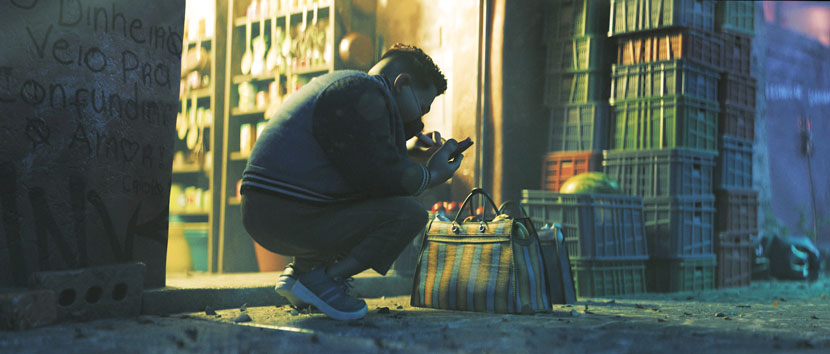 The render times were really quick overall. Around 5 minutes per frame in my computer that is a threadripper 3970x. V-Ray and RebusFarm were really stable and I didn't have any issues or concerns during the production. I've been working with this combo (RebusFarm + V-Ray) for over the last 7 years and I have arrived at a workflow that is as powerful as the one of any big production and that allows me to do any production with a really small team.
Compositing
The post-work was mostly done in After Effects and Premiere, As I was rendering and comping the whole film by myself I had to optimize a little bit the process. The shots have a minimum post work like adding details here and there with masks, playing around with reflection and reflection pass and then some color grading work that was a bit more intense to balance as a film. Grading is a subtle thing that took me days and days to arrive at where the film is now. I was slowly doing a pass, pushing more, then pushing it back. Lots of exploration in that sense.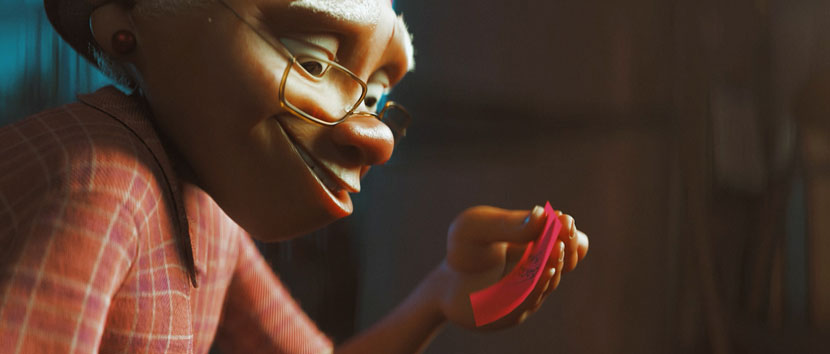 Sound
The Original soundtrack and sound design were produced by Loud+. They are a studio I have followed for a couple of years now. They just don't do film and advertising work but they also produce music for a lot of the musicians and bands that I follow. That was something important for the film. I really like the film to feel Brazilian and the music had a big role in that. I was also really fortunate to have the Rapper Criolo, Emicida, and Luciana Silveira doing the voices for the film. Their work was wonderful and added a lot of subtle things to make the film really believable. 
Criolo and Emicida are the main rappers here in Brazil and I've been following their work for the last decade or more. Things happened really spontaneously, they loved the film and the message we were trying to convey.
Conclusion
Producing Tamo Junto as an indie film was a really great experience. We learned so much about ourselves and what can be done with a little more resources. The feedback we had was really impressive. Everyone really loved the film and it was something we were really concerned about, as it's a really difficult topic to approach.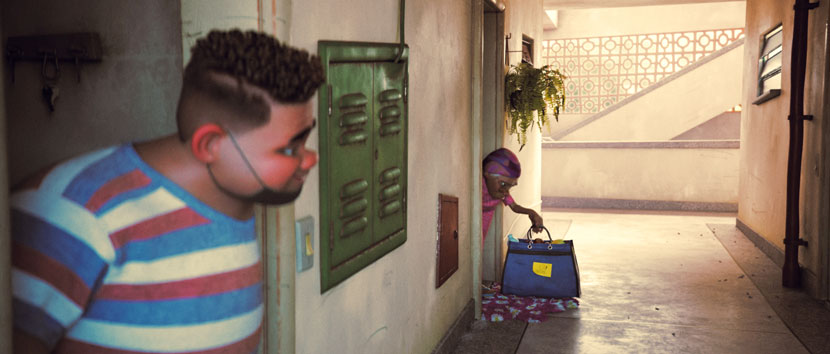 Taking the decision to set the film in São Paulo was something we had great feedback on, we could show more about the place we live, our language, and the beauty and the struggles of living in Brazil.
I hope everyone can relate to the short film as it's something we put a lot of our hearts into making happen. I really have no words to thank every artist that made this possible.
Thank you, Pedro! For sharing your tips and amazing project story with our Rebus community. Check out more of Pedro's work on his different channels:
---
Want to share your work with our community too?
Contact us at This email address is being protected from spambots. You need JavaScript enabled to view it.and tell us about your favorite project.
---
>> Read more articles on our blog