Wednesday, December 1st, 2021 by Julian Karsunky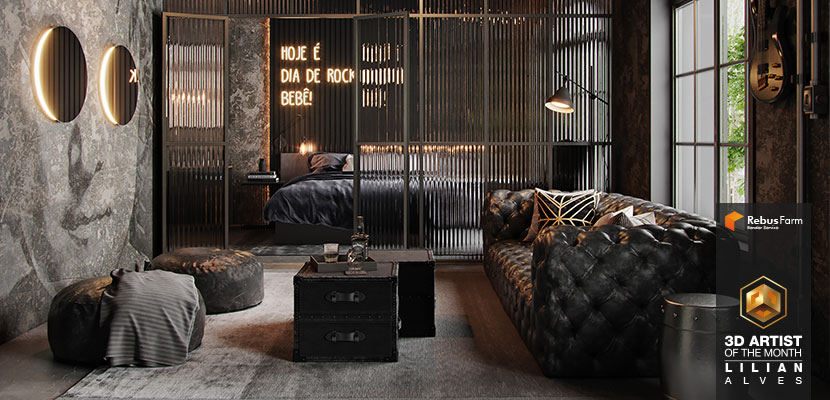 "There's nothing you can do that can't be done." Lilian Alves, our December 2021 3D Artist of the Month, has taken that line to heart and is ready to rock. Spurred on by the hardships of the pandemic, Lilian rediscovered her long-lost love for 3D and founded her own studio, leaving a successful career in architecture. Now, she is on a tear, perfecting her craft and absorbing every piece of information she comes across. Combined with her architectural expertise, her dedication is sure to make for a bright future.
Continue reading to learn how Lilian overcame her fear of editable poly, the strength of the Brazilian CG community and why cacti are most certainly rock 'n' roll!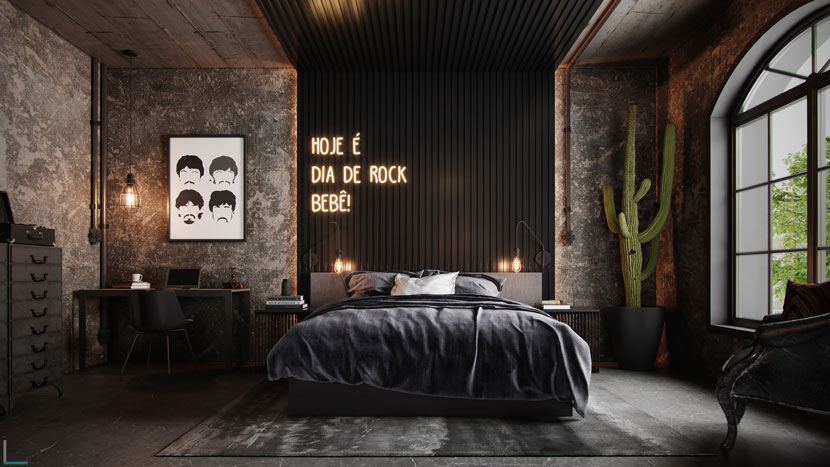 'Hoje é dia de Rock, bebê!' Lilian created this interior to honor Rock day, which is celebrated in Brazil on July 13th.
Hi Lilian, thanks for joining us! To start things off, please introduce yourself to our readers.
Hi, my name is Lilian Alves, I am 34 years old and I live in Itapevi, a small town in the Brazilian state of São Paulo, with my two children Pietro and Manuela. First, I want to thank you for this wonderful opportunity to talk a little about me and my work!
What else is there to say about me? I am an architect and urban planner by trade, and I have been working with 3D since the beginning of my career in 2006, albeit only on the most basic level. When the pandemic hit, I decided to step out of my comfort zone, so I quit my job and started my own studio – and now here I am, right in the middle of this exciting new chapter!
Let's go back to the very beginning of your story, the prologue if you will. Do you remember using 3D software for the first time?
Yes, I was still a child; computers had just become widely available, and my dad, who has always been tech-savvy, made a huge effort to buy a cheap computer. One day he came home with a CD-ROM containing a design program that turned floor plans into 3D shapes. It was rather crude, but it was the beginning of the BIM technology of today. I remember spending countless hours creating houses, putting paintings on walls, making different roofs and windows. 
Much later, during college, I landed a job as an intern at a small architectural studio that designed and built showrooms, storefronts, and booths for fairs and such. The company was working with 3D more extensively but had outsourced these services. Initially, my only task was to make plants in AutoCAD, but when the owner noticed my interest in learning more, he paid for some private lessons. And that's how I got started…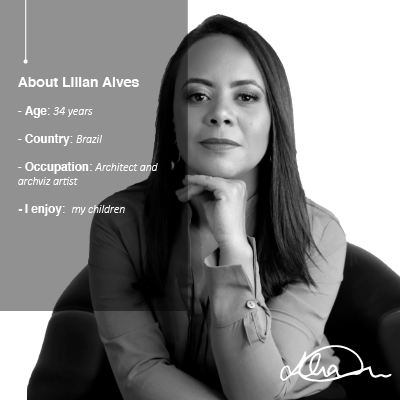 Did you consider 3D a viable career option then?
I did, yes. In fact, during my third year of college, I started to seriously question whether I wanted to finish my architecture degree, or fully focus on 3D. It was a difficult decision, but I ultimately decided to stick with my studies. At the time, there was a strong sentiment here in Brazil that any decent job required a degree. And even though I paid for my tuition all by myself, I was scared of how my parents and the people around me would react to me dropping out. Looking back, I regret not following my instincts.
After graduating, I was employed by the company I had interned at, and things went very well. I was promoted quickly and took on more responsibilities; soon, I was managing my own projects, often several at the same time. Since events played such an essential part in our business, we were working long hours all the time, including weekends and holidays.
With that tight of a routine, the time I had to improve my 3D skills amounted to zero. We tried to keep up with developments, but in the end, we always ended up using the same presets, and never made it past the most basic modeling. I was afraid of editable poly, for crying out loud (laughs)! Then I got married and had children, and time became even more scarce. While my co-workers were gradually improving, I was falling behind, which worried me.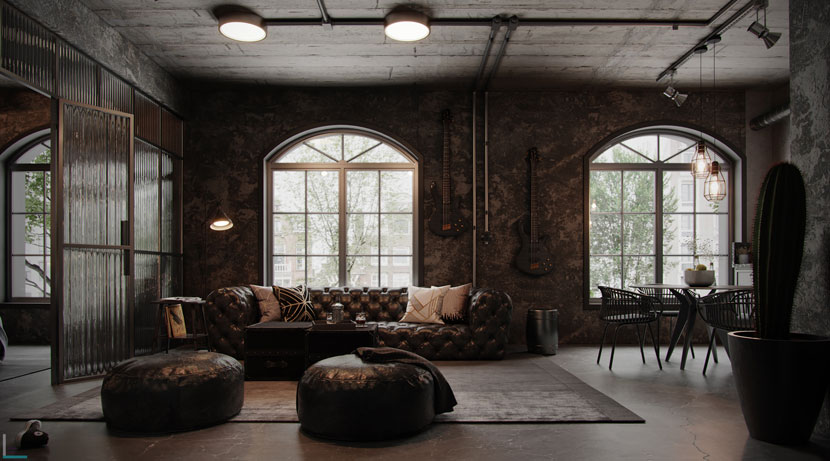 The living area of the studio apartment. Uncharacteristically, the electric guitars on the wall remain intact.
Then what made you decide to switch careers after all?
The pandemic affected our sector immediately, we had to take severe cuts in working hours and wages. It was a very difficult situation, with no end in sight. Since I was confined to my home anyway, I decided to make the best of it and finally catch up on my 3D skills. I started by revisiting one of Thi Lima's courses that I had bought years ago but never found the time for. Then I discovered Ander Alencar, and it was love at first render (laughs).
His content fully reignited my passion; I began thinking of following his example and start my own business. I did the math and found that my severance would be enough to pay my bills and invest in a good machine. I was scared, of course, but my will to push forward was bigger. So, I resigned and have been making a living on my own ever since. It takes a lot of work, time, and dedication, but things are looking up. I am happy with my decision!   
Please tell us more about liviz3d, your brand-new business!
I launched liviz3d between mid-May and June of this year. The name is a portmanteau of my first name Lilian and archviz. Maybe not the most creative, but everything was happening fast, and I did not want to risk losing the rush and determination I was feeling at the time.
The logo, a website, social media – I am creating everything from scratch. This is a little laborious, especially while juggling the actual CGI work at the same time, but little by little it is all working out.
What services do you provide and who are your clients and target markets?
Right now, we are offering architectural visualization in the form of still images, 360° cameras and small animations, with more elaborate video work and virtual tours to follow. Our focus is on the real estate market, as well as on architectural and interior design offices. Of course, since I have plenty of experience with promotional events, showrooms, stores and the likes are also part of our portfolio. 
The company is still in its infancy, so we will certainly evolve over time. My vision is to realize and present the ideas of our clients through a personalized, clear and simple service!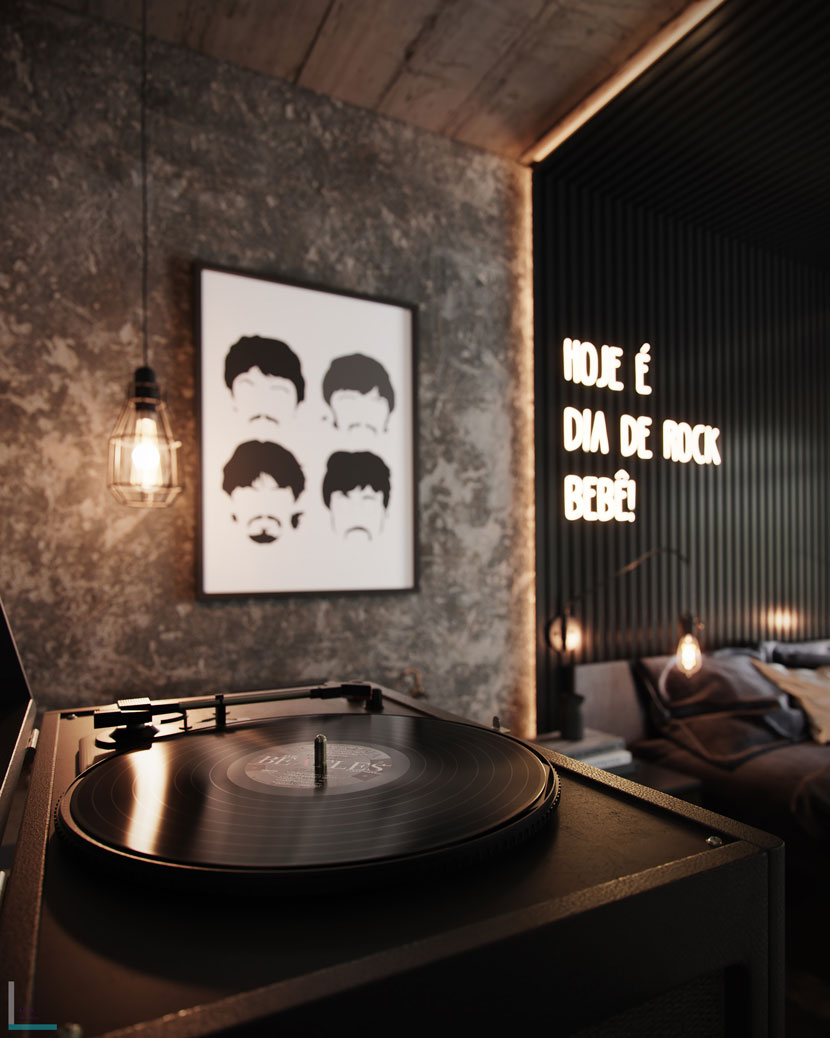 Just as the record spinning on the turntable, you can consider this scene Lilian's first hit!
Describe your profile as a CG artist, what are your main areas of expertise?
That is what I am trying to figure out right now (laughs)! It sounds crazy, but although I have been working with 3D for over 15 years, only now am I discovering the world surrounding it. I had no contact to other people in the field, and I knew nothing about the community, the technologies, or techniques – I was completely out of touch.
I am currently absorbing as much as I can, from modeling to lighting, photography, and colors. My experience as an architect helps a lot with compositing, but other than that, everything is new and exciting! Though animation has certainly caught my attention, I could see it becoming my focus eventually. I have always liked animated movies and special effects. During my childhood, I used to draw my own flipbooks, how's that for some early credentials (laughs)?
Can you tell us a bit about your personal history with architecture and architectural visualization? Where does your fascination stem from?
I am not quite sure. There is no singular reason or precise moment I can point to, it always felt more like a natural progression. I have liked drawing for as long as I can remember, but even as a child, I was always more interested in reproducing the world around me instead of letting my imagination run wild.
Following this inclination, I later took courses in technical drawing, AutoCAD, and so on. The office job I worked was all about product presentation, whether through strategic branding or a store window, so I developed a greater sensitivity for scene composition.
Brazil has been a fertile ground for 3D for a good number of years now, producing a steady flow of talented artists and companies big and small. What can you tell us about the current state of the Brazilian CG industry and community?
It sure is, only I didn't know for the longest time. Think of all the opportunities I missed (laughs). 
Now that I have seen the light, I can confirm that Brazil has incredible people in CGI, many of whom are working hard to advance not only their own careers but the profession as a whole by openly sharing their knowledge. With mentors such as Thi Lima, Ander Alencar, and Augusto Cezar providing ample opportunities for those eager to learn, I think there is plenty of room for growth, still.   
Between the prices for both hardware and software and our devalued currency, the entry barrier for 3D artists in Brazil has always been extremely high. Thankfully, we are slowly seeing improvements in that regard as well. I hope that the affordability and availability continue to increase for everyone! 
Let us talk about your work in more detail, namely, the interior you submitted to our campaign, titled 'Today is rock day, baby!'. Can you first tell us a bit more about the origins of the project? I understand this scene was created as part of a course you took?
Yes, this project was my submission to one of Ander Alencar's monthly challenges to his students. There is a cash prize, but I believe most participants join for the competition itself – there are a lot of excellent people in his community.
Anyways, the challenge was to create an "all black" scene. Ander himself provided the thematic inspiration when he reminded us that International Rock Day was later that month, which, despite its name, is more of a Brazilian tradition. As a fan of rock music myself, I immediately loved the idea.  
How did that idea translate to interior design?
From the outset, I wanted to make something iconic, something different, a place, a lover of rock music would feel right at home. At first, I thought of a bar within a cave, I even sketched out a concept. But I was hard-pressed for time and still stuck with a lackluster machine, as some of the new parts I had ordered had not arrived yet. Plus, I had never done a conceptual scene like this before.
Then one night, I was looking at an apartment interior I had finished for one of the early modules of the course, and I realized I could build upon this scene for the challenge; most of the basic modeling was already there. So I started searching the web for references and set up a composition board. I found the industrial aesthetic a perfect fit, as it is comfortable, yet rusty and a bit rough around the edges.
What parts of the image were especially important to you, both from a visual as well as from a technical point of view?
The neon lettering is central to the scene and was one of the first elements I worked on. The phrase 'Hoje é dia de Rock, bebê!' is very well known in Brazil, it was said by an actress on TV many years ago and has since become a meme. Because it works as a double entendre, I placed it in the bedroom for a little extra spice (laughs).
Then there is the wall with the image of John Lennon. I saw something similar in a bathroom of a Hard Rock Café and wanted to replicate it for my scene. The glasses functioning as mirrors are a wonderful touch and lend authenticity to the place.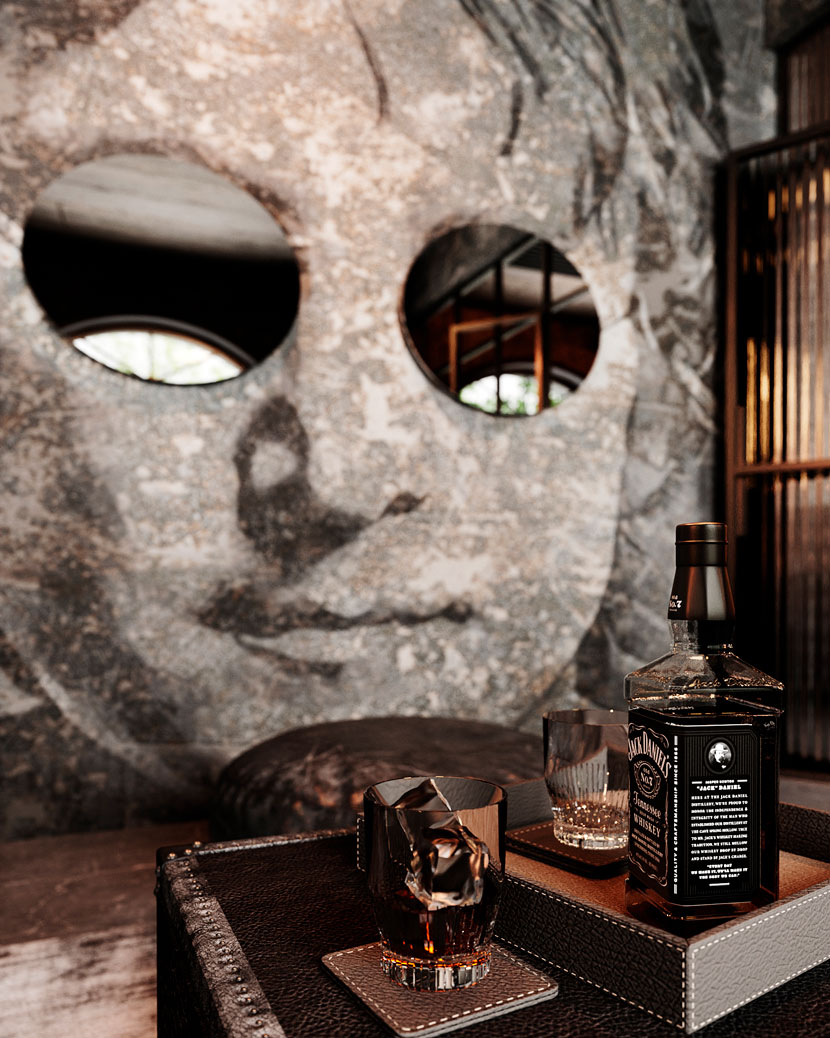 Whiskey on the rocks, Lennon-approved. The rock theme cleverly runs through the entire scene on multiple levels.
Did you feel limited by the all-black requirement or did you fully embrace the challenge?
Fortunately, black goes perfectly with the rock theme. The main challenge was to balance all of these shades of black and gray without the environment becoming too monochromatic and therefore dull. I found the best way to avoid this was by mixing different textures. But every time I opened my materials window, I was met with blackness – the only way to differentiate objects was by name (laughs)!
I love challenges in general, I really enjoyed putting myself to the test. So I stuck to the theme and refrained from adding any more colors, the green cacti being the one exception. I included it as a gentle break in the mood of the scene, although if you think about it, cacti are pretty rock 'n' roll, aren't they (laughs)!?
So are you, from what you told us?!
Yeah, I love rock 'n' roll! Not so much the metal variety, but the classic tunes everybody can vibe to. The Beatles were a big part of my childhood, I heard them on the radio all the time. I have a broad, yet eclectic taste in music, but rock will always be my favorite.
What software did you use to create this scene? Any plug-ins you found particularly helpful?
I used 3ds Max, Corona Renderer, and Photoshop – although in this case there was very little post-production.
How long did it take you to complete the project?
When I decided to enter the challenges, half of the time limit had already passed. I also knew that the render would take a long time because of the big corrugated glass cloth, which was too important to the scene to remove. Meanwhile, there was another job I was simultaneously working on and still had to render. Since all I had at the time was a 2014 core i7 with only 16 GB of ram, I had to work as efficiently as possible.
Given these circumstances, I had next to no time to dwell on details. The composition took me a day at most. However, in preparation for this interview, I went back and took the time I was lacking then to touch up the scene!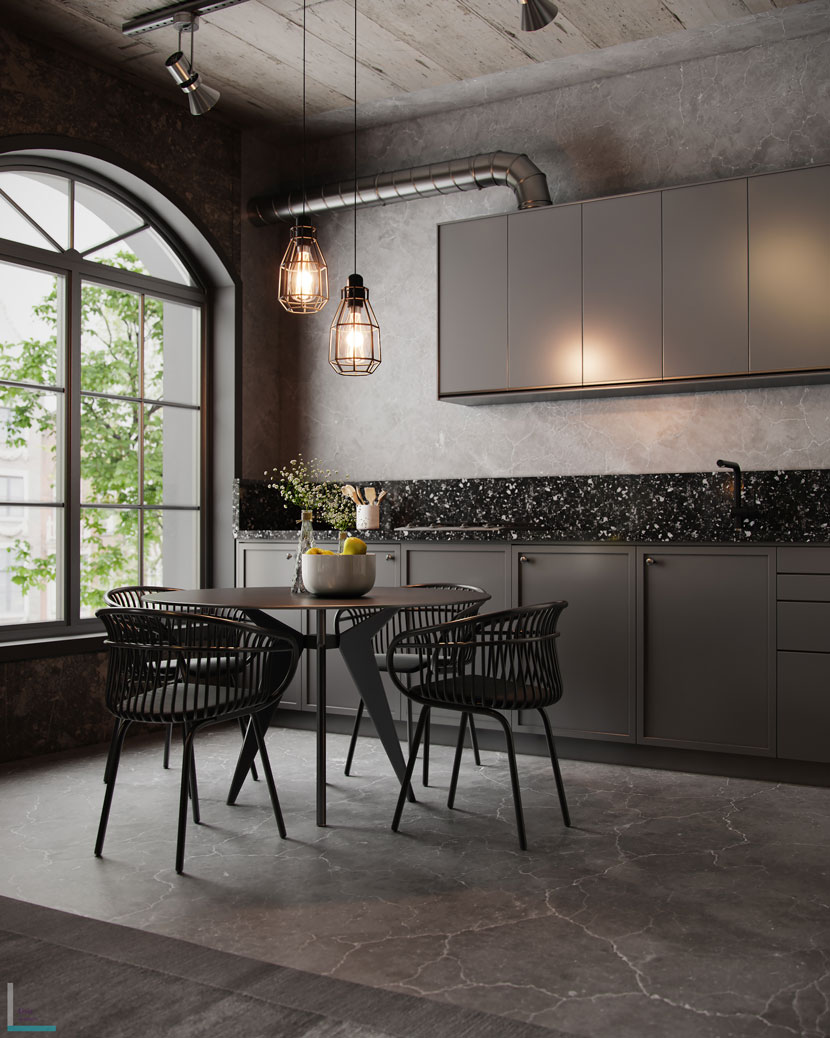 A closer look at the kitchen area. Lilian found the industrial look most suitable for the concept.
What has the feedback been like so far and how satisfied are you with the results yourself?
The feedback has been overwhelmingly positive, I felt equally surprised and happy how well the scene was received. I was one of four finalists of the challenge, and the online vote was very close. I am incredibly grateful and humbled; what a privilege to have so much support at the start of my CG career! The community must really like rock 'n' roll (laughs).
What is one thing you have learned from this project that you can share with us?
To keep the faith! In the end, everything worked out, my new machine was ready eventually, and while I lost another day setting it up properly, I still finished the final three images of the scene on time.
Have you used RebusFarm before? If so, please tell us about your overall experience. Is there anything you especially like about our service?
Yes, in fact, Ander taught us how to use your service. He even provided us with free RenderPoints, which I used to render a little animation. I was delighted with the overall experience! 
Cloud rendering is a blessing, I think any 3D artist can attest to that. Aside from the obvious practicality, I also appreciate your sustainable business model. Unfortunately, our part of the world creates a lot of pollutants, so I worry about these issues a lot.
In closing, is there anything else you want to say? Any plugs, shoutouts, or upcoming projects you would like to mention?
No, I think I have said enough already (laughs)! Hopefully, I will return soon with another highlight to showcase. Until then, thank you once again for the recognition and your service to the entire 3D community! The fact that beginners like me are featured next to renowned artists really speaks volumes about the supportive environment you foster. You are amazing!
Thank you so much, Lilian. We wish you all the best for the future, rock on!
Keep up with Lilian Alves and her work here:
---

HOW TO JOIN OUR MONTHLY CONTEST
Do you want to be our next featured 3D Artist of the Month and win 250 RenderPoints? Just visit our  3D Artist of the Month competition page and submit your entry. We'll choose the best image and contact the winner.
---
>> Read more articles on our blog