Monday, September 2nd, 2019 by Julian Karsunky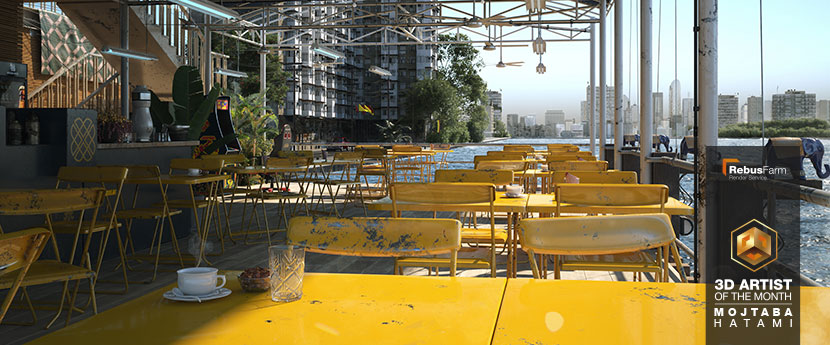 The beauty of our community spotlight is that we get to feature CG artists at different points in their respective careers: from experienced industry veterans to emerging talents. Mojtaba Hatami, our September 2019 3D Artist of the Month, is a self-described archviz amateur. For the last two years, he has been steadily honing his CGI skills in his free time. The recently published images are amateurish only in the sense that no immediate professional relationship prompted their creation. That is, not yet at least, since his passion and ability is an obvious sign of what might be the start of a promising career.
Check out our interview to find out more about Mojtaba's motivation as an aspiring archviz artist and his approach to CG as a design language.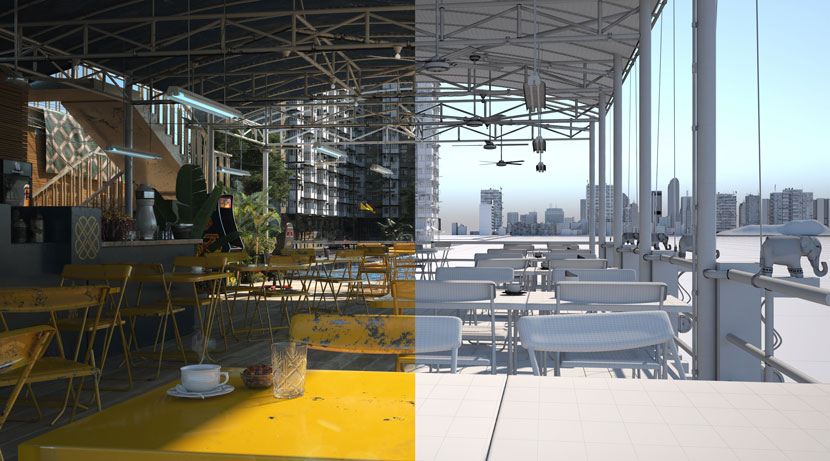 Hard to believe, but this waterfront 'Thai Café' marks Mojtaba's first serious archviz undertaking.
Hi Mojtaba, thanks for joining us! To start things off, please introduce yourself to our readers!
Hi everyone, my name is Mojtaba Hatami, I'm 27 years old currently living and working in Tehran, Iran. Shortly after receiving my master's degree in architecture, me and two friends founded PEDAM, our very own studio.
Unlike most of our featured artists, CG work is not your main profession.
Yeah, interestingly enough, I'm not fully committed to CG. I'm an architect by trade, I design buildings and, in some cases, supervise their construction. Such tasks account for the majority of my daily work.
What role does architectural visualization play in your working and or personal life?
Architectural visualization is a virtual language designers can draw on to express their ideas. A person lacking the necessary vocabulary is always at risk of failing to effectively communicate their creative vision to others. For this reason, over the past two years, I have attempted to improve my abilities in relation to archviz in order to become a fluent speaker and achieve more efficient means of expression. In the long-term, I plan on allocating more time to archviz related activities, which no doubt will benefit my career by opening up new business possibilities.
How did you then go about learning the ins and outs of CG work?
Well, as a student of architecture, I had some very basic knowledge about archviz software to begin with, so I didn't have to start from scratch entirely. Though as I dove deeper into the topic, my abilities soon proved insufficient. From there, I initially self-taught myself the basics of the relevant software, then later on, I took various online training courses to accelerate my learning and improve the quality of my works. Iranian archviz studio Vivid Visual was a particular useful resource in that regard.
Speaking of Vivid Visual: over the last years, we have featured several Iranian 3D artists, such as Morteza Ramezani, Farid Ghanbari and Hossein Yadollahpour. How would you describe the current state of the CG industry and community in Iran?
While I don't know the exact statistics, the CG industry in Iran has undergone significant growth in recent years. The number of companies providing high-quality training courses has been rapidly increasing, and so has the number of CG artists. There is no doubt that our domestic industry is still rather small, budgets are comparatively low, and the number of experienced artists is relatively few; nevertheless, there are many people working in this field whose passion, enthusiasm and drive for progress promises a bright future for the world of CG in Iran.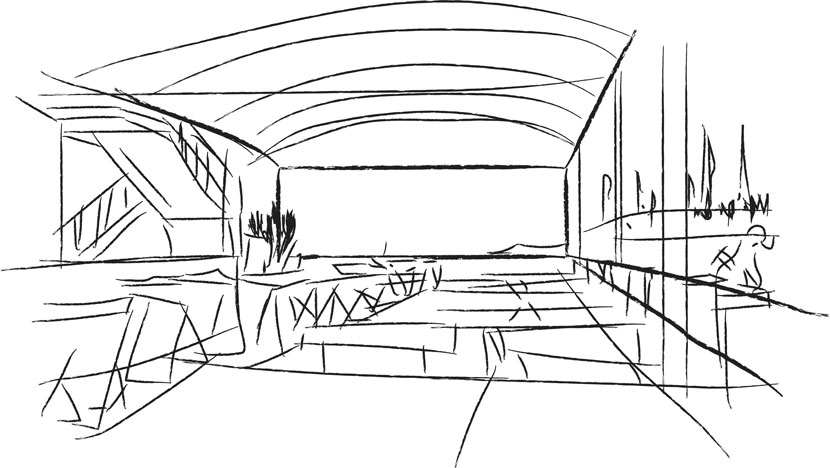 To conceptualize composition and framing, Mojtaba whipped up this quick sketch in Adobe Illustrator.
Talk to us about your studio PEDAM, the company's history, its field of work and general philosophy.
Shortly after graduating from university, two friends and I founded a small architectural studio together. As a still new player on the market trying to build a reputation, we are not picky about the jobs we take on. Currently, our services mostly include small renovations, building plan design, building facade design, furniture design, and the occasional participation in architectural competitions.
Between just the three of us, the workload can become stressful at times. On the flipside, however, all of us are involved in all stages of a project at any moment, from concept design to on-site supervision. Maintaining a flexible workflow and efficiently dividing tasks and duties between us allows us to all contribute to the process in meaningful ways and come up with innovative solutions.
Is there a specific design philosophy or school of thought you adhere to?
I personally admire Axel Vervoordt's design philosophy. He put forth the idea that a home should be a personal expression of its owner and that architecture mustn't be perfect to a point that it has a deterrent effect on functionality. If a design is so pristine that you're afraid to interact with it, it might be aesthetically pleasing, but it won't be of much practical use. I share this sentiment, I think a house should first belong to its immediate surroundings, and second, to its residents.
Now let us talk about your submission in more detail, namely the waterfront 'Thai café'. First, please tell us about your somewhat unusual choice of subject.
This work is heavily inspired by the 2011 movie 'Hangover 2', the café shown in the last minutes of the film was my main reference point. To me, the location and visuals of the place conveyed a good balance between colors, textures, light and shadow, and the overall spatial atmosphere. Therefore, I found it the perfect subject for me to not only challenge my technical skills in using CG tools, but also to achieve a haptic sense of the sensory compositions dominating the space.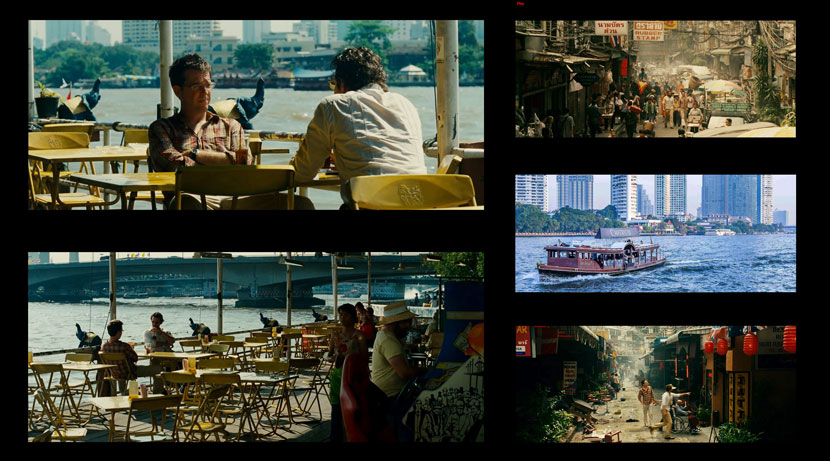 A reference sheet comprised of shots from 'Hangover 2'. Mojtaba felt inspired by the movie's depiction of Bangkok, including the waterfront café.
The dingy look of the café is a stark contrast to the polished and luxurious settings found in the majority of archviz work. What made you go for this unvarnished style?
I love the city of Bangkok due to its strong sense of liveliness, crowdedness, and the eclectic combination of diverse colors and textures found throughout the city. Time leaves its mark on the physical body of urban environments, in fact, any peopled space has a visible indication of the presence of humankind in itself. Capturing these traces evokes a sense of realism and at the same time makes for good visual storytelling. The movie successfully demonstrates this technique in its depiction of the city as well.
As a relative newcomer to CG imagery, how did you approach the project from idea to realization?
This shot is the first serious archviz image of mine which I approached free of time or thematical constraints. When I first envisioned digitally recreating this café, I had no idea of how I would do it. I didn't know anything about the challenges that I would face in terms of modeling and texturing. The only thing I knew, and this I was certain of, was that I wanted to do it and that I would acquire any skills required in the process. I firmly believe that you can't succeed without rising to the challenge! Of course, such an approach necessitates a huge amount of patience and fortitude. All in all, I spent about two months working on the project in my free time.
What software did you use to create this piece? Any plug-ins you found particularly helpful?
Most of the modeling I did in 3ds Max. For texturing, I used Substance Painter, due to its more numerous and versatile settings and adjustment tools. This was especially important to me, as the textures were the key to the desired outcome, so I wanted to have as much control as possible.
Regarding plugins, I created the river water with Phoenix FD for 3ds Max. Moreover, for some of the details, I used additional scripts such as Welder and Advanced Painter.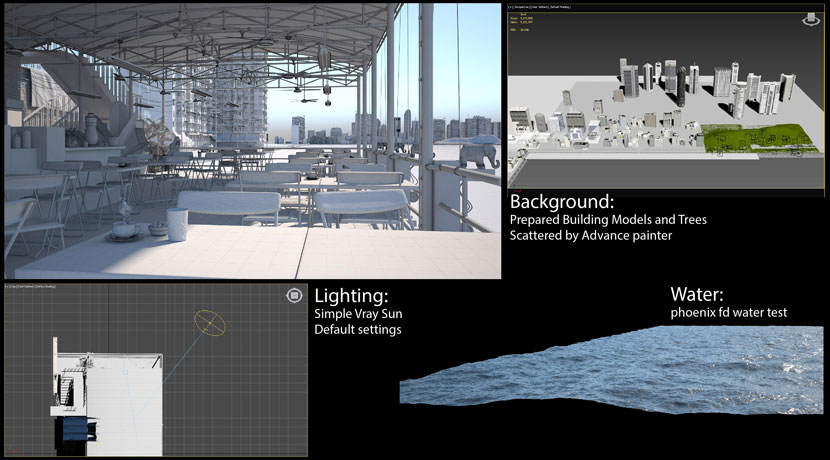 This work-in-progress compilation shows lighting, background and water tests.
Have you used RebusFarm before? If yes, please tell us more about your overall experience. Is there anything you especially like about our service?
Unfortunately, I have not used your service as of yet. However, I'm working on some architectural animations right now and I'm definitely going to use RebusFarm to accelerate the rendering process, which I'm really looking forward to.
In closing, is there anything else you want to say? Any present or upcoming projects you'd like to mention?
Please keep an eye out for more of my CG projects, as I have a few things coming up in the not so distant future. I'm determined to continue further improving the quality of my work, so hopefully it will be to your liking.
Finally, I'd like to give my sincerest thanks to RebusFarm for giving me this opportunity and to everybody reading this interview!
It has been our pleasure! Mojtaba, thank you very much for taking the time and all the best in the future!
Keep up with Mojtaba Hatami and his work here:
---

HOW TO JOIN OUR MONTHLY CONTEST
You want to be our next featured 3D Artist of the Month and win 250 RenderPoints? Just visit our 3D Artist of the Month competition page and submit your entry. We'll choose the best image and contact the winner.
---
>> Read more articles on our blog