Wednesday, May 2nd, 2018 by Julian Karsunky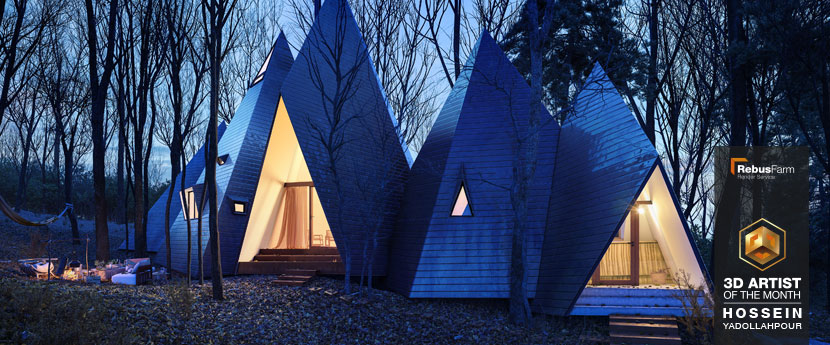 We're thrilled to announce Hossein Yadollahpour as our May 2018 3D Artist of the Month! An incredible archviz talent from Iran, Hossein's equally faithful and technically stunning 3D recreation of the Japanese 'Nasu Tepee' speaks for itself! In our interview he talks about the project, the importance of reference material and the state of the CGI industry in Iran.
Continue reading to find out how even mindless litter can become a source of inspiration in the observant eye of an artist!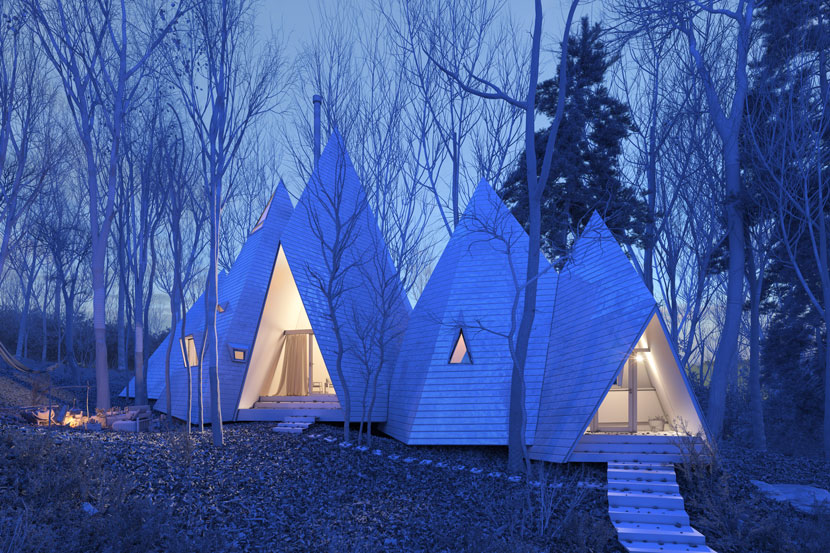 'Nasu Tepee', wire
Hi Hossein, thank you for taking the time! To start things off, please introduce yourself to our readers.
Hello everyone, my name's Hossein Yadollahpour and I'm a 28-year-old CG artist from Iran. I'm currently managing my own studio in the city of Qaem Shahr.
When did you first come into contact with CGI?
I've been in touch with my creative side for as long as I can remember. As a young child I discovered I had a talent in painting and in art class I always seemed to have the edge over my classmates.
My first real introduction to the world of CGI came in 2001, when my father gifted me a particular book alongside my first own computer. That book contained basic information about some of the most common software back then. Due to my general interest in art I immediately gravitated towards graphical software such as 3ds Max.
How did you then decide to pursue a career in the industry?
In those days there was no 3D software training in Iran whatsoever. So for the most part, I'm self-taught, although it didn't feel that way initially. Messing around with software was just fun for me, I saw it as a game. I enjoyed working with different software so much I didn't even realize how much time I spent doing so. Only much later I understood how much I had actually learned already!
It was when I began my studies in architectural design in university in 2007 that I realized I could make "real" use of my experience with 3D software to visualize and present my ideas and designs. That's when I knew I was on to something and decided to take it a step further!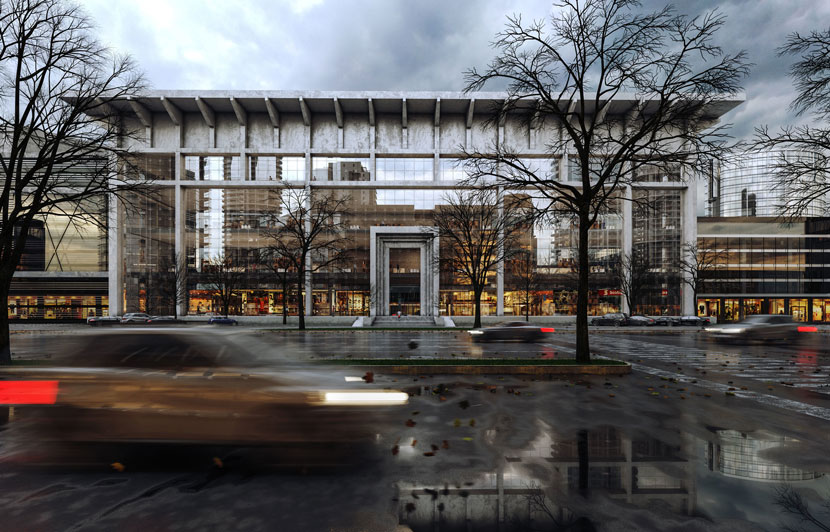 Hossein Yadollahpour, commercial building.
You already mentioned the state of the CGI scene in Iran in the early 2000s. In your experience, what's the situation like today?
I believe the Iranian CG industry has changed a lot recently. There's been a massive increase in overall knowledge regarding CG software. As I mentioned, in the past there was no fundamental training about software and people had to learn by themselves. With the steady growth of appropriate structures, the speed of learning has advanced to a new level. Today, working as a 3D artist in Iran is very difficult because you have to compete with so many talented young CG artists. Personally, I really enjoy this competitive atmosphere and am optimistic about the future.
Let's talk about your work in more detail, namely the 'Nasu Tepee'. Originally designed by Japanese architects Hiroshi Nakamura & NAP, you took it upon yourself to faithfully recreate the scene in 3D. How did you come up with the idea?
The 'Nasu Tepee' is a great architectural work in Japan! I just stumbled upon it while browsing the internet. On first glance, it seemed simple enough as a project, but the closer I looked, the more challenging it turned out to be, because I wanted to work as closely to the references photo as possible. All in all I found it a very appropriate challenge in terms of the required skills and my current level of experience.
Speaking in terms of visual design, what about 'Nasu Tepee' was so appealing to you?
I felt drawn to the entire setting on first sight! A Japanese building in an autumn forest, the long trunks of the leafless trees, a place of gathering in such an intimate atmosphere...the whole composition in combination with the blue of the sky is simply fantastic.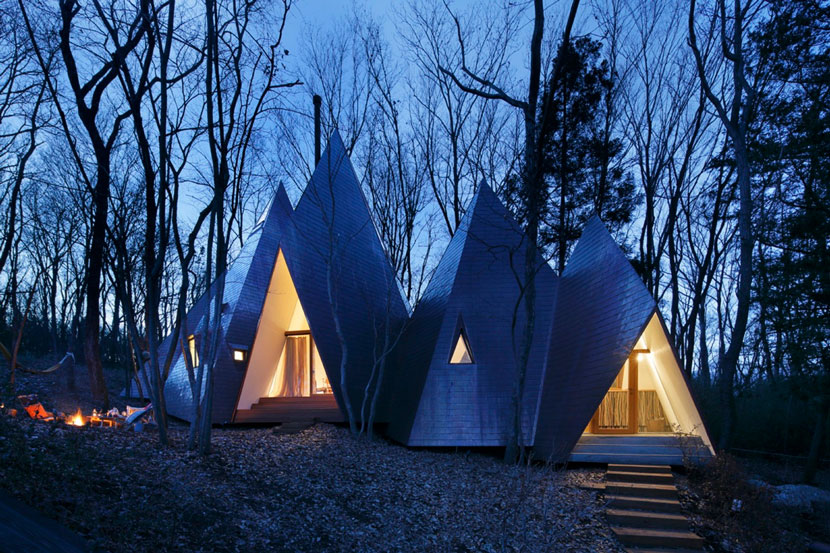 Working as close as possible with this reference photo was integral for Hossein's 3D recreation of Hiroshi Nakamura & NAP's original design.
What were some of the challenges you had to overcome for this particular project?
This project was not easy at all. It became harder when I decided to make it look exactly like the reference photo, including all the details. Matching the dimensions of the building with the reference photo was especially challenging, and so was modeling the trees and vegetation.
Since I worked on the 'Nasu Tepee' in my spare time alongside other projects, it took me around six months to complete.
Closely working with reference material, the creation process differs significantly from other projects. What are the advantages and disadvantages of reconstructing an existing image in 3D, both technically and creatively?
I generally believe that working with references helps you to better perceive the real world, which in turn leads to artistic and technical growth. Realistic lighting, physical materials, textures, framing – all of these will improve once you have a good reference photo. Take even a small detail such as the garbage in the bushes in the 'Nasu Tepee': you'd probably not think to include something like this if it wasn't for the reference photo! So paying close attention to even the most insignificant or unexpected details can be very inspirational as well!
When working with reference material, the success of the project greatly depends on the quality of the material itself. In my training classes I regularly work with reference photos as it's an easy and efficient way to help the students improve their abilities for the aforementioned reasons.
Which software did you use for your 3D version of the 'Nasu Tepee'? Any plug-ins you found particularly helpful?
A lot, actually! 3ds Max was my go-to-software for modeling. I used Zbrush for adding detail to models, Marvelous Designer for making clothes, SpeedTree to create the trees and the Rock Generator script helped me make stones. My render engine of choice was V-Ray, while post production was done in Photoshop and Magic Bullet.
Speaking of plug-ins I believe RayFire Bricks is a very strong plugin and can be used in conjunction with Floor Generator to make tiles in the scene. Moreover, a lot of commenters on the internet found the spreading of leaves via PhysX Painter very interesting. Megascans and its scanned models also turned out to be very helpful!
Have you used RebusFarm before? If yes, please tell us more about your overall experience.
Unfortunately, I haven't had the opportunity to use your services yet. But thanks to me winning 3D Artist of the Month, I'll make good use of my free RenderPoints and am excited to finally try it out soon!
In closing, is there anything else you want to say? Any present or upcoming projects you'd like to mention?
While I am working on several projects right now, I don't want to give away too much in advance. So let me instead just say thanks for having me, I really appreciate it!
We're glad to have you! Thank you for your time and all the best in the future!
Keep up with Hossein Yadollahpour here:
---

HOW TO JOIN OUR MONTHLY CONTEST
You want to be our next featured 3D Artist of the Month and win 250 RenderPoints? Just visit our 3D Artist of the Month competition page and submit your entry. We'll choose the best image and contact the winner.
---