Monday, September 2nd, 2019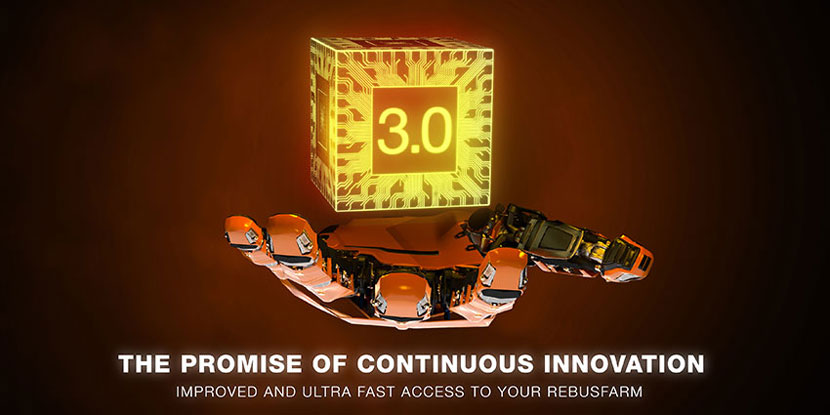 We are very excited to announce the release of our new and improved RebusFarm 3.0 Software.
We created this new version with your - our customers - help and feedback. It is our promise to you to continuously improve our software to always meet your needs and to provide you with the most comfortable way to render your 3D projects. The new software simplifies your workflow and provides you with enhanced functionality and tremendous acceleration of preview.
See it for yourself and download the RebusFarm 3.0 Software. Currently only available for Maya, 3ds Max and Cinema 4D. Further software will follow soon.
Main features of the new RebusFarm 3.0 Software
New Plugins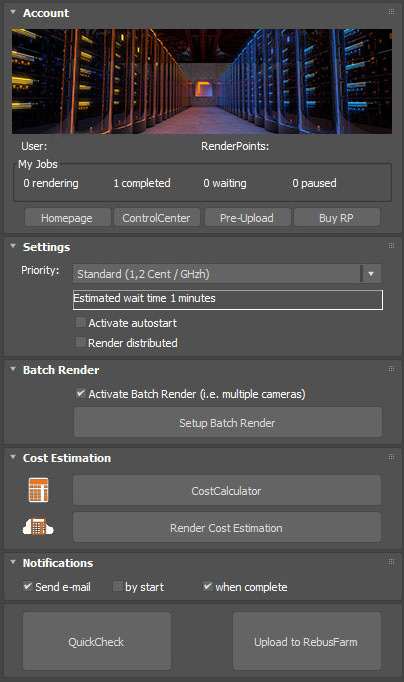 The Farminizer Plugin for your 3D software has been written from scratch with more functions, intuitive design, new control elements and workflow improvements:
New batch render/takes
You are now able to render multiple cameras in your scene without having to upload the scene several times to change the cameras. Just send your render job with multiple cameras one time and get different renderings for all selected cameras at once.
New precise render cost estimation
With our new and unique render cost estimation tool, you are able to get a precise cost estimation based on test renderings, sent to the farm. This will make your cost estimation way more accurate than the regular cost estimation which is based on computer parameters. The rendered test frames will be added to your project, so that they do not have to be re-rendered and will not produce additional costs.
New Design
The Farminizer Plugin comes with a brand new design which is perfectly embedded in your 3D software. It adopts the way and feel of your 3D software and adds a lot of interactive elements to ease your workflow.
Pre-Upload
Just send your assets upfront to reduce the upload time up to 90%. Hit the Pre-Upload button and your job will already start uploading while you are still working on it. 
Improved workflow
Rebus Farminizer has been optimized in terms of finding errors and correcting them automatically. You will get less warnings.
New ControlCenter

We implemented a long list of improvements and functions to enhance your user experience. To name just a few:
New Playback
The new preview of the ControlCenter shows you all layers of your render job in a much better presentation and extremely fast playback. With this awesome new feature, you are able to see finished frames in your preview window right away. See the complete animation and layers by moving your cursor across the preview window.
New Resubmission
You have to render a certain job again with slight changes? No problem. Now you are able to re-render most of your jobs without having to upload the entire job again. Resubmission is just one click away in the new ControlCenter and your modified job will start to render again.
Find your local files
Open the directory to your local files from your automatically downloaded renderings of each render job with just one click.
Responsiveness
The design of the entire ControlCenter is responsive, so that you are able to manage your jobs from your smartphone with ease. There is no more need for an additional app.
New RebusDrop

RebusDrop is even more stable and provides you with a faster up- and download, no matter where you are.
Faster upload and download
RebusDrop automatically optimizes your transfer protocols and uses the best fitting mode according to your internet access, so that you benefit from the fastest possible up- and download of your files.
Highest stability
The new RebusDrop will never let you down, not even with an unstable internet connection. The entire communication part has been rewritten and is now highly robust.
Enough words about the new software, download it now and see it for yourself!