Thursday, June 1st, 2017 by Julian Karsunky
Congratulations to the very talented Farid Ghanbari for winning our June 2017 3D Artist of the Month competition!
His submission 'Bottles of Life' masterfully infuses the aesthetic of a baroque still life painting with state of the art techniques of contemporary visual design, resulting in an image that exudes that rare and instantly recognizable sense of true timelessness.
Continue reading to find out more about Farid and his way of working. And if you're curious to find out more about the creation process of 'Bottles of Life', check out the detailed making-of by the artist himself!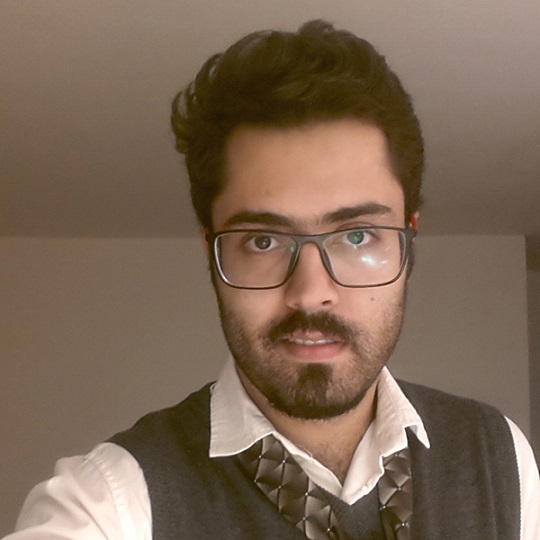 Farid Ghanbari
Born and raised in Iran, Farid Ghanbari moved from his home in the Middle East all the way to Richmond, Virginia in the United States just last year. At age 29, he has already been working as a 3D generalist artist for around ten years. His overall experience includes games, advertising, architectural visualization, motion design and VFX.
Before settling on a career in CGI, Farid worked in all sorts of odd jobs to support himself during his architectural studies. "I tried many careers like carpentry, furniture painting, masonry, and more," he says. "Although I was earning a decent amount of money, none of these jobs fully satisfied me. So I just decided to try what has always attracted me the most: architectural 3D visualization!"
Acting on his convictions, Farid never followed up on his studies after receiving his degree in architecture, making the shift to becoming a 3D artist instead. "I dedicated most of my time on the net to watching tutorials and interviews on YouTube and Vimeo, and looking through CGI websites and magazines. So yes, I'm self-taught!" 
 'Bottles of Life' wireframe
Farid tells us he has always adored images with perfect lighting and an emphasis on establishing a specific mood, whether it's a printed photo, CG artwork or just a sight he catches in his daily life. Considering 'Bottles of Life', it comes as no surprise that when asked about his favorite subjects as a 3D artist, he cites lighting, rendering, textures and simulation.
Consequently, he describes the creative vision behind his latest piece as such: "I wanted to create something eye-catching and pleasant to look at with nice, cozy lighting and touchable textures!" 'Bottles of Life' however is much more than an exercise in photorealism. In our talk, Farid stated that as an artist, he wants "to create images that aren't appealing just from a technical point of view, but exhibit genuine artistic quality as well!" 
To achieve this, Farid likes to take full advantage of his artistic license by adding what he refers to as "spice": Evidence of this approach can be seen in small details like the gravity defying grapes levitating in the bottles or the empty picture frame: "The empty frame is basically a projection screen for the viewer, meant to spark their imagination."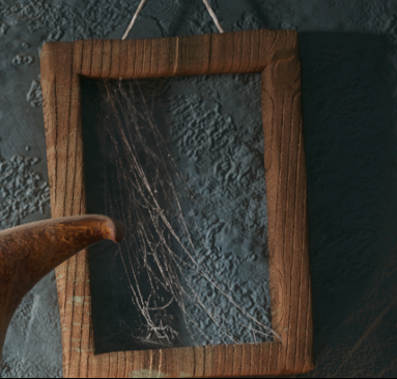 Just one of many of Farid Ghanbari's "spices"
Something particularly striking about 'Bottles of Life' is the fact that, at first glance, it's indistinguishable from classic still life paintings, which it obviously emulates in terms of composition, color and overall atmosphere. So how does working on a piece like this actually differ from painting in the traditional sense? Farid: "I think the most important difference is that in 3D, your canvas is the viewport which gives you the ability to rotate your scene, see all the angles instantly and choose the best one!"  
'Bottles of Life' was created in Maya, Substance Painter, Marvelous Designer, Adobe After Effects and V-Ray.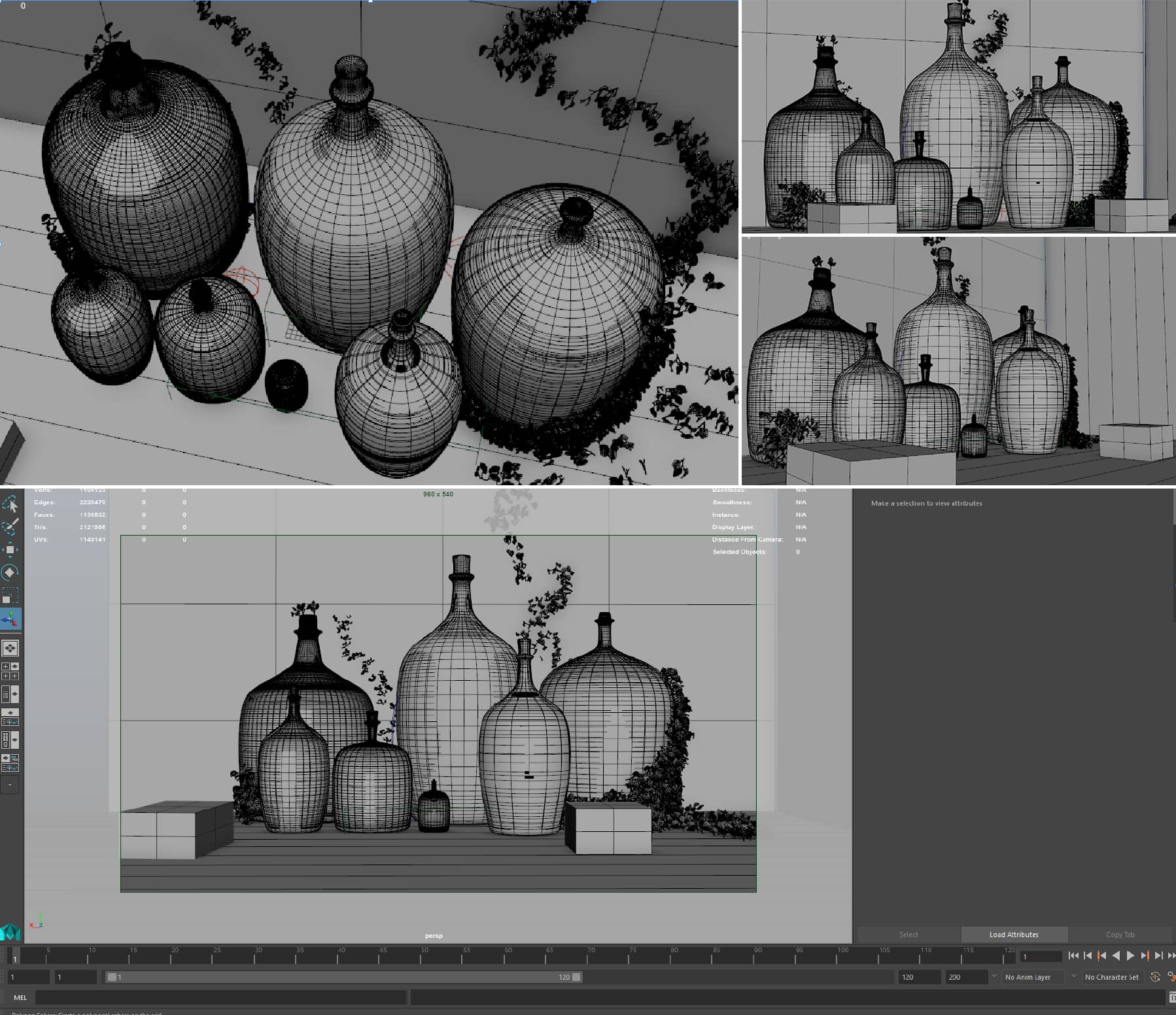 Testing different angles
Farid is thrilled to be our June 2017 Artist of the Month. As he has not used the RebusFarm render service before, he's excited to finally try it out himself, after having heard "a lot of good things in the past!"
Talking about future projects, he plans to bring one of his stills to life in a short animation. Farid ended our interview with a passionate plea to his fellow artists: "I want to recommend all CG artists to use their own objects and their own artistic style! Do not try to fill up your scenes with pre-provided objects found on the internet!"
---
Find out just how thoroughly Farid Ghanbari adheres to this principle in the follow-up of our interview, the Making-of 'Bottles of Life'.
---
HOW TO JOIN OUR MONTHLY CONTEST
You want to be our next featured 3D Artist of the Month and win 250 RenderPoints? Just visit our 3D Artist of the Month competition page and submit your entry. We'll choose the best image and contact the winner.
---