Tuesday, November 2nd, 2021 by Julian Karsunky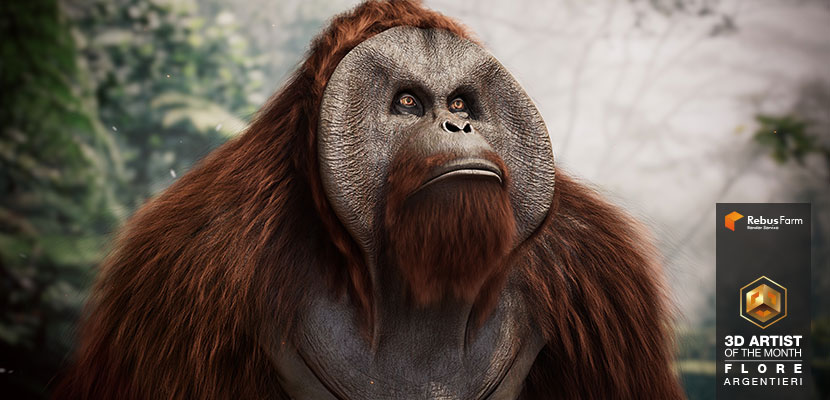 Too much monkey business? Not at all, this is just a sample of the work of French character and creature artist Flore Argentieri, our November 2021 3D Artist of the Month! Combining her anatomical studies with a message of species conservation, Flore's 'Orangutan' highlights the beauty of the critically endangered great ape. A fifth-year student at ARTFX School of Digital Arts, Flore, aspires to create strange and fantastical beasts, pushing the boundaries between reality and imagination.
In our interview, Flore talks about the magic of photorealism, reference materials and the surprising beginnings of her CG career in a children's hospital.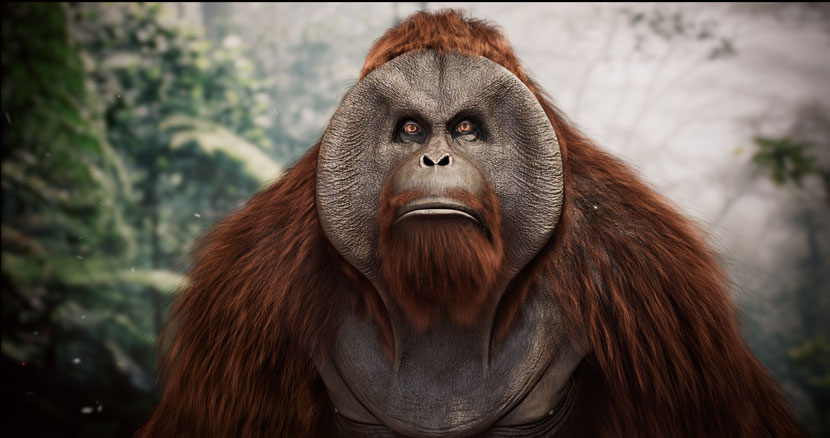 Flore Argentieri, 'Orangutan'.
Hi Flore, thanks for joining us. To start things off, please introduce yourself to our readers!
Hi and thank you for this opportunity! My name is Flore, I am a 24-year-old CG character artist from France and a fifth-year student at ARTFX Montpellier.
Do you recall when and how you first consciously encountered CGI?
Upon watching the first Harry Potter movie, I was completely absorbed in its world. At the time, I was too young to have any notion of CGI – which only made the experience more immersive – but it still left me wondering: what kind of filmmaking sorcery was this?
This lingering curiosity eventually led me to watch some of the behind-the-scenes material for the second movie, and that is when I was properly introduced to CGI. Did you know that the director consulted Steven Spielberg about the basilisk? They used a combination of animatronics and CGI, the same technique that brought the dinosaurs to life in 'Jurassic Park' more than a decade earlier!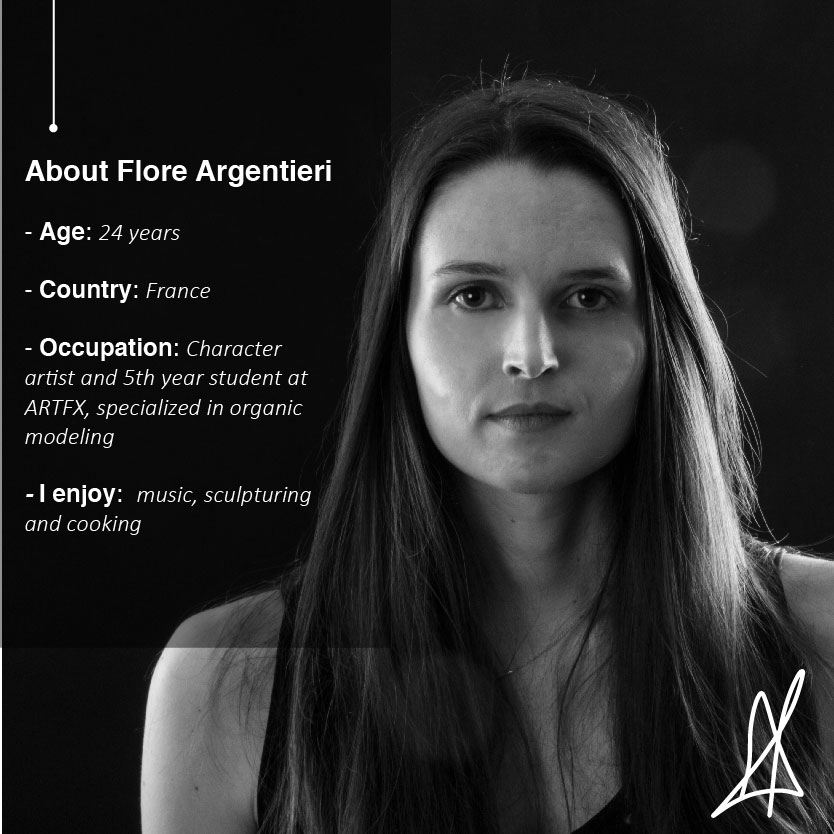 When and why did you then decide to pursue a professional career as a 3D artist?
At the age of 16, I had major spinal surgery that left me bedridden for almost an entire year. Stuck at home, I occupied myself with movies, shows and video games. Before the surgery, the thought of doing any creative work never even crossed my mind, I dreamed of becoming a pediatric surgeon instead. However, in the wake of the surgery, I realized I would not be able to do any job that required me to stand for extended periods of time.
When I was in the pediatric hospital, I was very impressed with the strength of the children there. But I also noticed how much they loved to talk about the heroes and characters from their favorite fictions: these were role models they looked up to and a source of strength in trying times. Since I was passionate about films and filmmaking myself, I slowly started thinking about going in a similar direction. This whole experience sparked the desire to work towards something that could help people to escape from their daily lives and routines, something to put a smile on people's faces. So, even though I was a little worried about pursuing a creative field, I decided to enroll in a 3D school as soon as I got better.
What training or education do you have?
I have a bachelor's degree in computer graphics and I am currently working on my master's in 3D and VFX at the ARTFX School of Digital Arts, with a specialty in organic modeling.
Please tell us more about your studies at ARTFX, the school community and your overall experience!
I have been studying at ARTFX for four years now. We first underwent generalist training, learning the basics of drawing, colors, shapes, and anatomy. After all, having a firm grasp of the fundamentals is essential when modeling in 3D. We also learn how to film and properly frame a shot, which helps prepare us for our personal projects and fifth-year movie thesis. The school community is very supportive, there are many teachers and fellow students to provide help if needed.
Has the pandemic impeded your studies or your work?
Yes, quite a lot, though not necessarily in a bad way. I had some health problems during the pandemic and being in quarantine helped me to continue my studies. We had remote classes and I managed to adapt easily, so overall it was not too bad.
What are your career goals post-graduation? Do you have a dream job, whether it's a specific position or a certain company you admire?
After graduation, I want to find a job as a creature artist, either in a studio or working remotely. I like everything from movies to video games, cinematics and music videos, so I am open to discovering new projects, pipelines and styles. As I really love doing creatures, my dream job would be a creature artist at Framestore, bringing to life strange and fascinating beings that stimulate the imagination!
The anatomy and texture of Flore's 3D recreation of 'Bahmbar' are based on a real giraffe. Original concept art by Bobby Rebholz.
Describe your profile as a 3D artist! Have you always been artistically inclined?
Well, I used to draw when I was a child, but all in all, not so much. I was more into music, sports, and reading. I have always been very fond of stories and autobiographical writing in particular, as I have found it not easy to convey personal experiences through a proper narrative. Even purely fictional genres such as fantasy are often romanticized abstractions of somebody's lived experiences.
What are your main areas of expertise? Is there a part of CG-related work you particularly enjoy?
I really like modeling and grooming. With modeling, I enjoy carefully building a character bit by bit, and the ever-growing feeling of anticipation as you develop a sense of what they will be capable of. And grooming, to me, strikes just the perfect balance between artistic and technical abilities. It is an integral part of character and creature design, of course, so the better you are, the more involved designs you can tackle.
Where does your fascination with character and creature design stem from?
My interest in creature art is just an extension of my long-lasting fascination with animals. Whenever I watch a movie, it is always the characters that interest me most; it is amazing how much information can be relayed through visual design alone.
Looking through your portfolio, the majority of your work is firmly rooted in photorealism. Is this your personal stylistic preference?
Photorealism has the power to challenge our perception, you can make people believe anything as long as it seems real enough. You can also take it a step further and then subvert these expectations by introducing elements that do not belong in our world, it is quite literally magic! Photorealistic work also both necessitates and offers a deeper understanding of your subject, which is fascinating to me. How do you make a 3D piece that can be mistaken for reality – that's what I want to find out!
Who or what inspires you as a 3D artist?
As an artist, I find most of my inspiration in nature. For example, I watch a lot of documentaries! I also admire the work of other artists, such as Gael Kerchenbaum and his amazing approach to anatomy, or the grooming of Jordan Soler and Gabriela Salmeron. Just seeing their work inspires me to work even harder, and maybe one day reach that level of quality myself.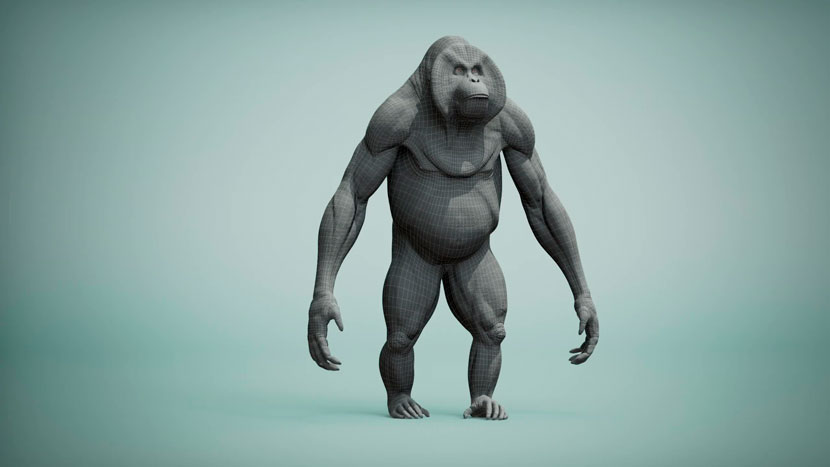 A primate in the making: this full-body wireframe shows the animal's elaborate anatomy.
Let us talk about your work in more detail, namely the 'Orangutan' you submitted to our campaign. Can you first tell us more about the origins of the project? Was this a personal project or part of an assignment?
It was a personal project; I like to study animal anatomy on my own time as well! I had wanted to make a great ape for a long time, and the orangutan was the perfect subject to refine my anatomy skills.
You have described the orangutan as "interesting in anatomy and behavior". Can you elaborate on your choice of subject?
Orangutans have a lot of fat, they move both quadrupedally and on two feet, and are capable of rather extreme facial expressions. Anatomically, they are not that far removed from humans and they show a lot of personality in their behavior. It is the mix of all of these features that I find so intriguing.
Furthermore, since orangutans are an endangered species, I wanted to highlight their beauty before they one day become extinct. They are majestic and touching creatures, formidable in their physical strength, but they seem wise in their appearance as well. More than a technical exercise, my intention was to truly capture their nature. 
Is this why you framed the image as a headshot, a striking, yet somewhat uncommon angle for animals?
Exactly! Having the orangutan look directly at the camera not only engages the viewer, but it also elicits an emotional response. The pose, therefore, serves to humanize the animal to a degree, almost making it seem like it wants to say something.
What parts of the image were important to achieve this effect?
The eyes were crucial, they had to convey the specific emotion I was looking for. The composition took me some time as well because I had to find the right framing and an expression that matched with what I wanted to say.  Obviously, the anatomy was very important, as I still aimed for a photorealistic depiction.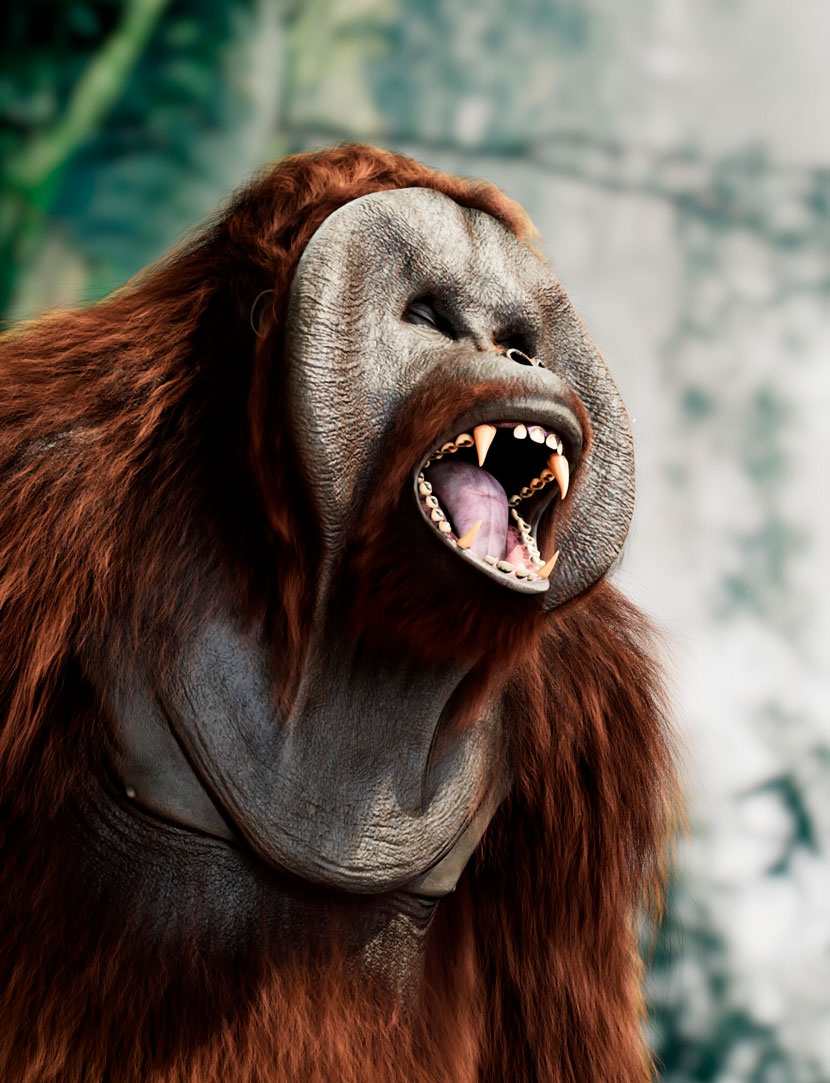 Contrasting its gentler side, you can almost hear the primal roar erupting from the great ape.
What were some of the challenges you had to overcome and how long did it take you to complete the project?
Nailing the photorealistic look was really hard. I constantly went back and forth between Mari and ZBrush to work on the displacements, slightly adjusting the volumes and further emphasizing details with every iteration. The grooming also posed difficulties.
It is hard to tell, but I would say it took about a month of me working on it every day after school for two hours. It was quite demanding, but I embraced the challenge and have learned a lot in the process.
How did you approach the design and what references did you use?  
Realistically capturing the unique characteristics of an orangutan required extensive research, so references were absolutely vital. Before even thinking about sculpting, I studied a lot of photos and video footage, just to decide what size and shape I want for my specimen, what color and length the fur should be, and so on. Next, I study anatomy, for which I again gather specific reference material, especially of skeletons, bones and muscles. While this is not an animated image, I still had to fully understand how the animal moves, which is why I watched a lot of footage. Seeing them in motion is what made me decide to create an additional shot of the orangutan screaming.
I then more or less repeated the same process, collecting material of fur and facial expressions, all of which I sort in separate mood boards. Only when I have a clear idea in mind do I move on to the actual sculpting.
Can you briefly walk us through your production process from there and tell us what software you use?
Once I know where I am going, I usually start by sculpting the anatomy of my character in ZBrush. During this step, I often ask for feedback and guidance from our anatomy teacher Florence Guy, who has a keen eye. After I do my retopology and my UVs in Maya, I then reproject the details in Zbrush. As I have mentioned before, at this point there is some back and forth between Mari and Zbrush while I work on the displacement.
Next, I switch to Substance Painter to create maps for ambient occlusions, curvature, and so on and then start texturing in Mari. At the same time, I set up a Houdini scene to do a first lighting test in order to verify that what I am doing in texturing is working. I create the fur right after in Houdini as well and then do all of the shading and lighting. I render with either Arnold, V-Ray or Redshift, and finalize my image in Nuke.
 Flore's 'Orangutan', standing upright in all of its furry glory.
What has the feedback been like so far and how satisfied are you with the results yourself?
I am very happy with the feedback I received, it has been good. But as I have spent so many hours on this project, I also know that there is plenty of room for improvement. Now that I am more aware of what I still have to learn, especially in regards to photorealism, I look forward to continuing working on my skills and will move on to the next project with more confidence.
What is one thing you have learned from this project that you can share with us?
Sometimes it really pays off to spend more time on those tiny details that are not visible to the naked eye. Ultimately, all of these seemingly insignificant minutiae, like a deliberately placed imperfection here or there, add up to make your design more realistic.
Have you used RebusFarm before? If so, please tell us about your overall experience.
Not yet, but I cannot wait to finally try it! I will definitely render my next personal project with RebusFarm.
In closing, is there anything else you want to say? Any plugs, shoutouts or upcoming projects you would like to mention?
Currently, I am involved with two short movies that will be out in June 2022. Both are very different, with one being VFX and the other fully CGI – it will be a great challenge. Apart from that, I am working on more personal projects: to step out of my comfort zone, I'm doing a stylized portrait of a concept by Cedric Peyravernay.
Finally, there is this photorealistic animated scene of a deer walking in the snow. This will be a collaborative effort with three of my fellow students, who have graciously offered to help with the rig, the animation and the FX. I am thrilled to have all of us working together and cannot wait to see the results.
Sounds like we have a lot to look forward to! Flore, thank you so much for taking the time and all the best in the future.
Keep up with Flore and her work here:
---

HOW TO JOIN OUR MONTHLY CONTEST
Do you want to be our next featured 3D Artist of the Month and win 250 RenderPoints? Just visit our 3D Artist of the Month competition page and submit your entry. We'll choose the best image and contact the winner.
---
>> Read more articles on our blog