Friday, December 6th, 2019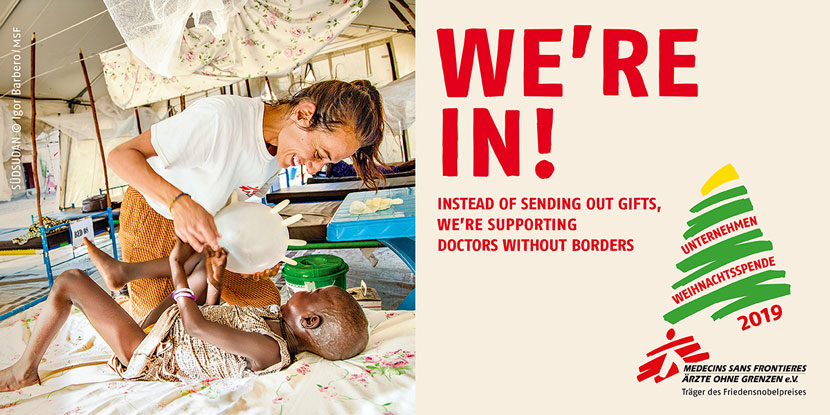 Like the past years, we will not forget about the people who are in need and struggling for their lives every day. People, young and old, who have to flee from natural disasters and violence. This is why this year we are supporting the organization DOCTORS WITHOUT BORDERS with a donation.
This organization provides food and medical aid in places where it is urgently needed.
Maybe you would like to donate something to an organization of your choice too?
Help is urgently needed in many parts of the world. DOCTORS WITHOUT BORDERS sends food and medical professionals to areas where people are struggling for survival. It doesn't matter whether they suffer from dirty water, malnutrition or disease.
Here are a few examples of the help they provide:
Democratic Republic of Congo: ebola, measles, and displacements - a crisis on three fronts
Hundreds of thousands of people in the Democratic Republic of Congo are threatened by an acute humanitarian crisis. People in Congo have suffered violence and displacement for years, and many live in camps under precarious conditions. In August 2018, Ebola broke out in the northeast of the country and continues to this day. A serious measles epidemic has also been on the agenda since the beginning of the year. Médecins sans Frontières teams have, for example, vaccinated around 475,000 children against measles and are fighting the Ebola epidemic in ten projects.
It is the worst Ebola outbreak in the history of the country. Médecins sans Frontières was already on site and could quickly treat the first patients. An employee is decontaminated with chlorine after being in the high-risk zone.
In addition to Ebola, measles has also broken out in the country. A Médecins sans Frontières team transports the necessary materials for a vaccination campaign to villages that are difficult to reach.
Yemen: help on both sides of the conflict
According to official estimates, 20 million people in Yemen are dependent on humanitarian aid. Since the beginning of the war almost five years ago, Médecins sans Frontières has greatly expanded their activities. The teams work in a total of twelve hospitals and health centers – on both sides of the conflict. In addition, Médecins sans Frontières is supporting 20 other facilities with medicines, material and technical advice. Since the beginning of the war, the staff has accompanied almost 78,000 births, treated 127,000 cholera patients and performed more than 90,000 surgical operations.
Doctor Elma Wong from Médecins sans Frontières examines a small boy. After being seriously injured by a landmine, he is treated in the emergency clinic by Médecins sans Frontières in Mocha.
This man was injured in an explosion at a market. He is helped at the Médecins sans Frontières emergency clinic in Mocha. Since the beginning of the war, Médecins sans Frontières has treated more than 130,000 people injured by violence.
South Sudan: help amongst violence
Due to the civil war, hundreds of thousands of people in South Sudan are exposed to extreme violence. One third of the population has been displaced by the fighting and is lacking food, water, and health care. Médecins sans Frontières works in 16 projects nationwide – in hospitals, health centers and mobile teams. Over the past year, Médecins sans Frontières staff has provided more than 1.1 million medical consultations.
The nurse Bárbara García from Médecins sans Frontières cheers up a young patient. The new tent hospital, opened in May 2019, provides medical care for people who have been suffering from the war for years.
A patient receives her medication during the Médecins sans Frontières outpatient consultation in Yambio. The organization is one of the few that offers medical help in the country torn by civil war.
---
For more information about DOCTORS WITHOUT BORDERS visit
---
>> Read more articles on our blog