Sunday, December 1st, 2019 by Julian Karsunky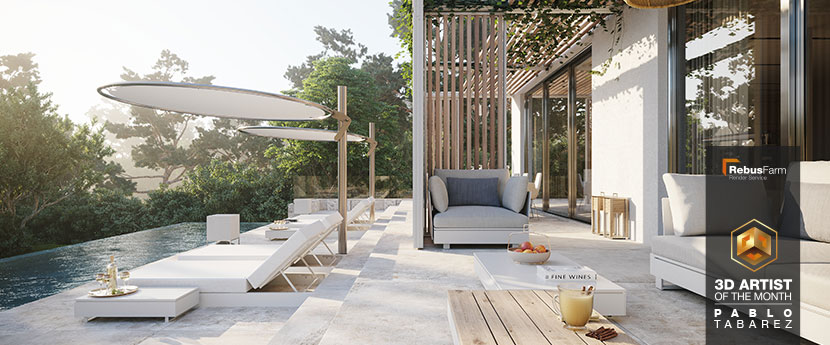 What better way to close out this year's 3D Artist of the Month campaign than with an archviz holiday in the Mediterranean! For Pablo Tabarez, however, producing the cool and luxurious residence that earned him a well-deserved win in December 2019, was anything but a leisure activity. Blurring the lines between the digital and physical world, the project holds a special place in Pablo's heart – and makes for an impressive display of expert CG craft.
Take a break and join us on a daydream to Ibiza, where we discuss the importance of emotion in architecture, working with local suppliers in 3D and more.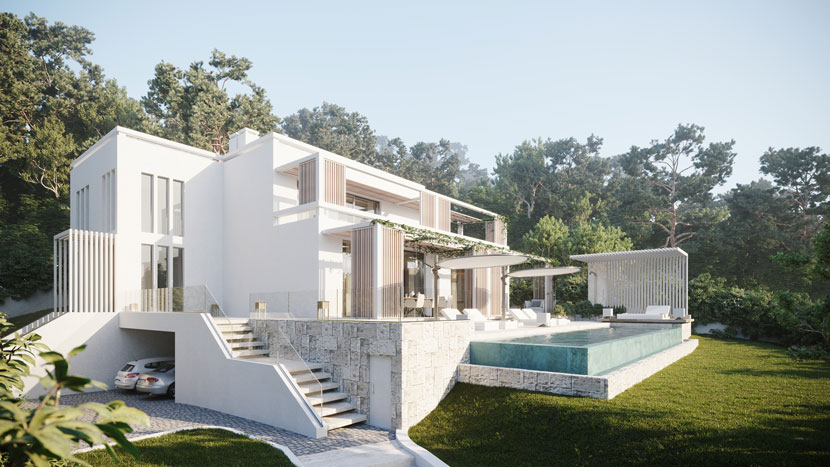 Located on Ibiza, Spain, the 'Villa Cap Martinet' puts a modern spin on the finca aesthetic.
Hi Pablo, thanks for joining us. To start things off, please introduce yourself to our readers!
Hi there! My name is Pablo Tabarez, I'm a 29-years-old architect and 3D artist from Argentina. I was born and raised in the city of Posadas, but in 2008 I moved to La Plata, where I currently live.
Do you recall when and how you first consciously encountered CGI?
That goes all the way back to my childhood, he! I grew up during the boom of video game consoles, and as an avid gamer myself, I closely followed the development of CG graphics, from the iconic Super Nintendo with its first titles in 32 bits to the original PlayStation and beyond.
Now, my first own experience came at university, where I started out with some basic 3D modeling, wanting to combine my passion for CG graphics and architecture. From there, I steadily improved assignment by assignment, and when I finally graduated, I was ready to take it to a professional level!
Do you consider yourself an architect first and 3D artist second or the other way around?
Honestly, that feels like an artificial and narrow distinction. The field I'm in allows me to apply my passion and abilities in photography, cinema, animation, art, design and 3D on a daily basis. If you furthermore take into account the various technologies involved and the social and communicative aspects of the job, the variety – and in turn the possibilities – are huge!
Do you use 3D software for anything besides archviz?
Currently, both the software I use as well as my overall workflow are focused on archviz. However, I still feel I owe it to myself to produce some kind of different visual content at one point. Maybe something in real time, like a dramatic video game scene!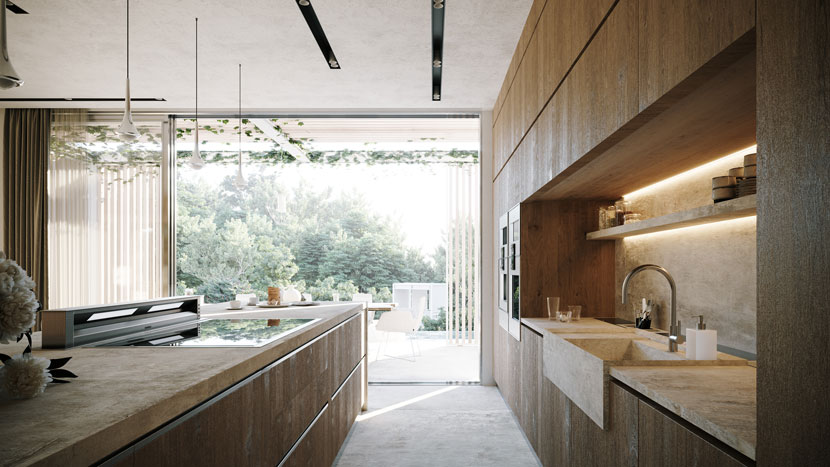 The choice and quality of every single material was crucial in the production. Notice the fine work on these textures!
Can you tell us more about TABARQ, the company's history, its field of work and target markets?
Well, I founded and run TABARQ with my brother Gustavo. The name is a stylized combination of our last name and our profession. Our target markets are generally architects, builders, designers and real estate agents. While we specialize in architectural visualizations and 3D rendering, we provide an integral service, meaning we don't limit ourselves only to the visual, we also realize architectural design.
Establishing and maintaining a connection to our clients is of the utmost importance to us, we want everybody involved to feel as comfortable as possible! And while the end goal is always to produce a high-quality final image, we strive to convey something more than photorealism and true-to-detail simulations: to us, architecture at its core is all about atmosphere, and should make you feel something.
Is there a specific design philosophy or architectural school of thought TABARQ adheres to?
We try to keep an open mind and find the best solution for every individual project. I don't believe taking a dogmatic approach is viable, as there's a time and place for different styles: there are situations when minimalism is the way to go, and others when you want to be more extravagant. Broadly speaking, our architectural profile is rooted in the optimization of space, adapted and contextualized to its surroundings. In less abstract terms, we're looking to create interesting, and above all, vivid places, which brings us back to the importance of conveying a feeling.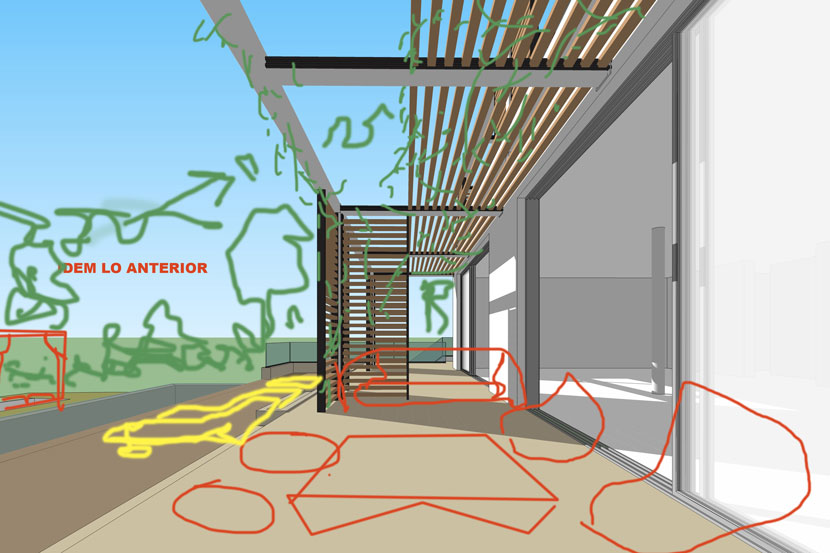 Talk about a diamond in the rough! 'Villa Cap Martinet', early concept.
What does your usual workflow look like when working with a client?
Regarding our general workflow, I'm not really a fan of churning out projects left and right. So, I try to strike a balance between reasonable delivery times and leaving enough space for creativity and feedback.
My brother Gustavo takes care of the optimized 3D models, while I manage deadlines, scene configurations and artistic lines. To break it down, once a commission has been finalized, it usually goes down like this:
1. Storytelling and references
2. CAD/PDF/3D files cleaning
3. Base modeling & scene selection
4. Detailed modeling
5. Furniture, color palette and a lot of love.
6. Final rendering and postproduction.
Generally speaking, what is your main goal when doing architectural visualization scenes? What is your personal standard as a studio?
As I've mentioned, our main goal is to communicate through our work, as this provides actual and additional value to a design.
Don't get me wrong, I'm very satisfied having our visuals recognized, but receiving feedback that goes deeper is even more fulfilling to me. When a client tells us that our work has positively impacted them, that's when I know we did our job!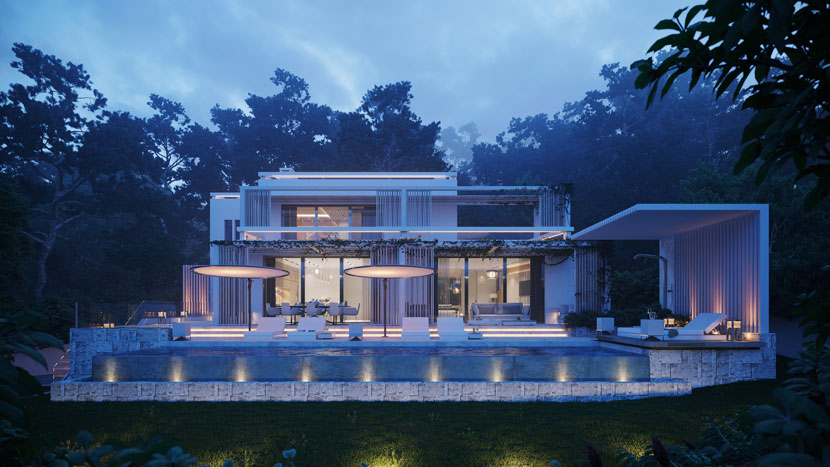 This warmly illuminated night scene offers a good look at the surrounding greenery.
Now let us talk about your work in more detail, namely the 'Villa Cap Martinet', a luxurious two-story residence on the island of Ibiza, Spain.
The 'Villa Cap Martinet' was an incredible project! Although we had already completed similar Ibiza-based commissions, this was special in that the client required a set of many images, and also, because we were only provided with unfinished and relatively basic AutoCAD files, giving us a lot of leeway design wise.
To give you some basic information, the project is located in the Cap Martinet area on Ibiza, as an existing building which had to be restyled from the ground up. It is composed of two stories with six bedrooms, some with en-suite spaces, seven bathrooms, a yoga room and various types of terraces and outdoor spaces.
The entire house was to be designed in a "luxurious, Mediterranean style". It was an interesting and unique challenge, because everything we built in CGI, will be provided by local suppliers and used in the actual construction! Therefore, our designs had to not only be as detailed and high-res as possible, but we also had to carefully select each and every material.
Once you had a rough concept in mind, how did you then go about realizing the idea? Can you walk us through the development process?
With most of the pieces in place, we focused on expanding the outlined concepts. We tried to incorporate the wooden elements to be in tune with all the white of the exterior and the lush vegetation around it. For the inside, we worked in some bohemian elements, added gold and copper here and there as well as some very expensive appliances, haha. For the furniture, we had access to the suppliers' libraries, so we had plenty of beautiful sets to choose from. Overall, we wanted all of the rooms to feel warm and welcoming, to contrast with the cool freshness of the outside.
We were in constant contact with our client throughout the entire process and frequently received feedback based on our 3D model. Fortunately, most of the ideas we proposed were accepted quickly.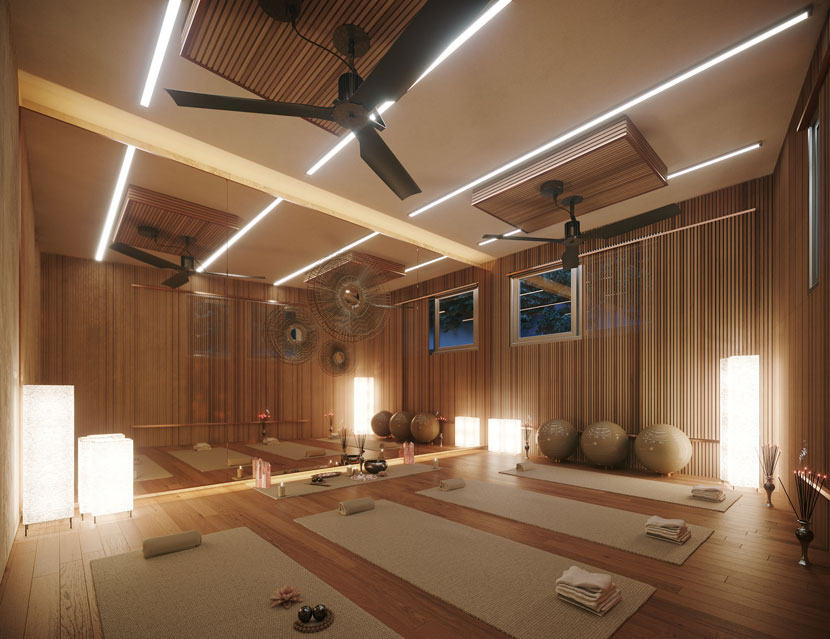 Not exactly a common occurrence in everyday housing, the 'Villa Cap Martinet' is fitted with a designated (and beautifully wood-paneled) yoga room.
What were some of the challenges you had to overcome?
The whole project was one big challenge, from providing all these different shots and angles, to designing the space itself. A project of this scope, with more than an entire month dedicated to production would have been challenge enough, but between replicating the terrain and environment, the greenery, and generating high resolution shaders from local suppliers, there was a lot to get through.
From first contact with the client to the delivery of the final images, the project took us two months to complete. It was an amazing experience, knowing the direct and tangible impact of our digital work really was something else! Also taking into consideration the great satisfaction of our client – and the actual resident as well – made this an all-around special job!
What software did you use to create this piece? Any plug-ins you found particularly helpful?
This work was done with my usual software setup, consisting of SketchUp, 3ds Max and, of course, Corona Renderer, which I'm particularly fond of.
While not technically a plug-in, I used an external program called Materialize to generate the aforementioned shaders; it's an incredible piece of software that creates texture maps in a very versatile way. For the vines, I used Grow Ivy.
Day or night, with outdoor areas of this caliber, it's not hard to imagine the eventual owner's satisfaction.
Please tell us about your overall experience using RebusFarm. Is there anything you especially like about our service?
If I remember correctly, the 'Villa Cap Martinet' was the first job I rendered with RebusFarm, and it certainly exceeded my expectations! I was impressed by the processing power provided, allowing for high resolution renders in very little time, and even more so with its ease of use. Overall, I highly recommend it.
In closing, is there anything else you want to say? Any present or upcoming projects you'd like to mention?
Thank you RebusFarm, and thanks to all of you for reading! Lots of strength, love and keep rendering!
Pablo, thank you very much for taking the time and all the best in the future!
Keep up with Pablo Tabarez and his work here:
---

HOW TO JOIN OUR MONTHLY CONTEST
You want to be our next featured 3D Artist of the Month and win 250 RenderPoints? Just visit our 3D Artist of the Month competition page and submit your entry. We'll choose the best image and contact the winner.
---
>> Read more articles on our blog