Friday, May 8th, 2020 by Julian Karsunky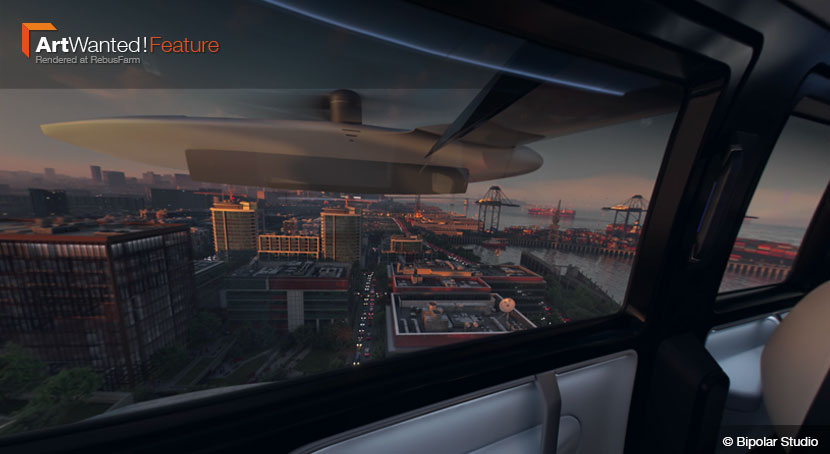 First impressions are everything. If you plan on revolutionizing global transportation, you want to make sure the reveal is not lacking visual impact. When pioneering tech company Uber first announced its 'Elevate' service, they spared neither trouble nor expense. With the help of Bipolar Studio's team of prolific 3D artists, they created a stunning campaign, including a fully-fledged digitalized version of San Francisco.
Continue reading for a look behind the scenes of the high-soaring launch campaign accompanying last year's launch of Uber Elevate.
No strangers to large-scale CGI campaigns, our friends at Bipolar Studio recently played an integral part in the unveiling of Uber's latest coup in urban mobility. Stated for launch in 2023, Uber Elevate aims to take the company's successful ridesharing model to the skies, offering affordable aerial transportation in cities and suburbs. The launch of this ambitious undertaking was accompanied by an innovative cross-medial campaign, including a centerpiece film, an experiential VR installation as well as print stills and social media content.
To make sure the presentation would be up to par, Uber enlisted the help of Bipolar Studio. In recent years, the Los Angeles-based production boutique has made a name for itself thanks to prolific commercial work for clients such as AirBnB and Ford. "We've always been fascinated by the skies," say Gevorg Karensky, creative director and David Karapetyan, managing partner. "There is something about being 'up there' that's transcending and evolutionary. So, when Uber initially approached us to create a campaign for the reveal of their aerial ridesharing service, we set out to create a sensory experience audiences wouldn't forget."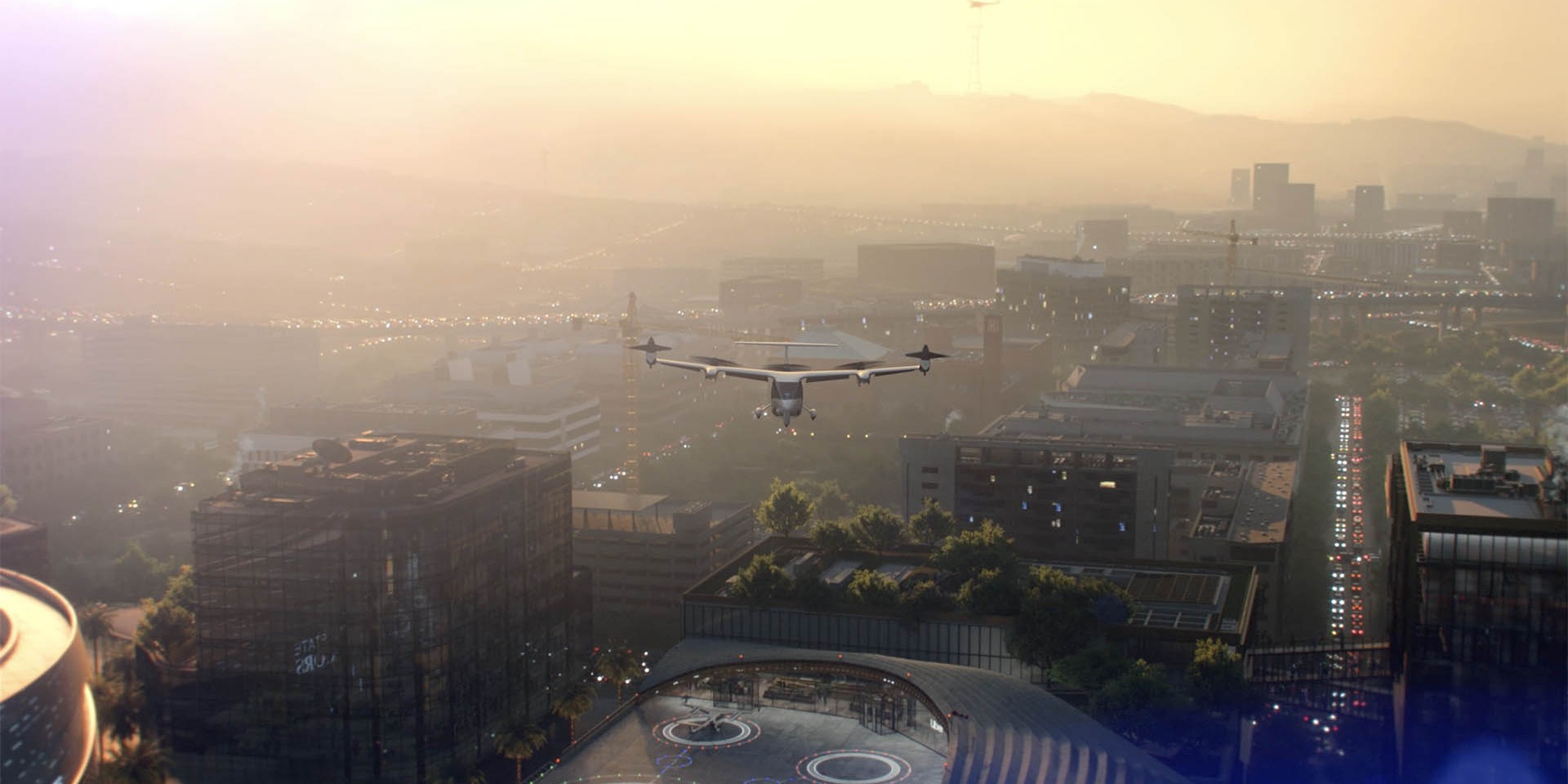 Out of over 10.000 frames total that make up 'Airborne', every single one was meant to be a hero shot – photogenic and cinematic.
The campaign's stunning imagery was created entirely digitally and is 100 percent CGI. The centerpiece film 'Airborne' delivers a cinematic vision of Uber's upcoming aerial mass transit platform. It opens with an Uber Air flight traveling across sun-soaked skies above a faithful 3D recreation of San Francisco. Dusk gives way to early evening as lights blink on the ground below and buildings appear as silhouettes in the far background, before the aircraft ends its flight on a Santa Clara skytower.
Since the team had already meticulously built a fully photoreal San Francisco and San Jose for the accompanying VR experience, they made good use of their creative freedom when directing 'Airborne': "After digitally scouting locations and finding angles, we shot just like in real life," the team says. "We've put an incredible amount of attention to each detail of the aircraft, the reflections and its lighting. We art directed the look giving it our special automotive style."
Each blinking light in this still image from the VR experiences is a fully articulated 3D model.
Also part of the new campaign: a high-fidelity 4-minute VR installation that gives attendees a full flight experience inside a built-out physical cabin, first offered at the official reveal at 2019's Uber Elevate Summit.
"We wanted it all to be incredibly realistic. Initially, we thought about shooting in 360° with a helicopter and adding in the rest of the CG elements. But we wanted to have freedom in the art direction of the look, the lighting of the environment and overall atmosphere, as well as the ability to iterate on physics and the flight path. We ultimately decided to create it all in CG - yet entirely photoreal." an excerpt from the study reads.
To digitize the cities, the team developed a bespoke AI-fueled pipeline that could capture, manage and process miles and miles of actual data and faithfully mirror the real terrain, buildings, traffic and even scattered pedestrians across the streets. While some of the areas and architecture required lidar scans for rebuilding, Bipolar built a brand-new system for the actual animation, where the flight of the vehicle was not animated but simulated with real physics.
This specially built air cabin houses the immersive VR flight experience created as part of the Uber Elevate campaign.
The client was evidently highly pleased with the results: "this work represents a powerful milestone in communicating our vision through immersive storytelling and creates a foundation for design iteration that advances our perspective on the rider experience. Bipolar took things a step beyond […]," Head of Design for Uber Elevate John Badalamenti is quoted in the official press release.
Whether or not Uber Elevate will succeed in revolutionizing urban mobility on a global scale, the question for the team at Bipolar Studio remains: where do you go from here, now that the sky is no longer the limit?
Keep up with Bipolar Studio through these channels
---
How to join ArtWanted!
You want to get featured in our ArtWanted! campaign and win 250 RenderPoints on top? Submit your work, rendered at RebusFarm, to This email address is being protected from spambots. You need JavaScript enabled to view it.! Visit our Art Wanted! page for more information.
---
>> Read more articles on our blog