Monday, May 2nd, 2022 by Julian Karsunky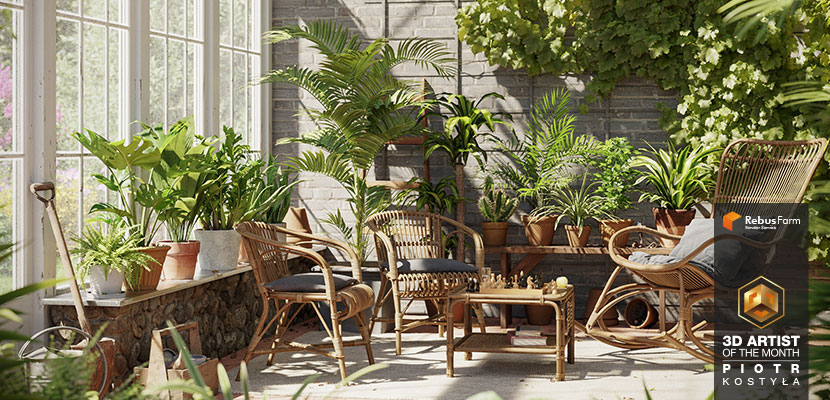 The world of architectural visualization is a never-ending source of delight, exploring and developing space in everchanging configurations. This month, Piotr Kostyła invites us to his 'Winter Garden' to play a relaxing game of chess or simply admire the lush greenery in a cozy rocking chair. His most recent personal project has already earned him significant recognition as well as numerous accolades, and we are more than happy to join the club and feature Piotr as our May 2022 3D Artist of the Month!
Join us in the winter garden as we trace the origins of the project back to fond childhood memories, take a closer look at the development process, and discuss the Polish CG community.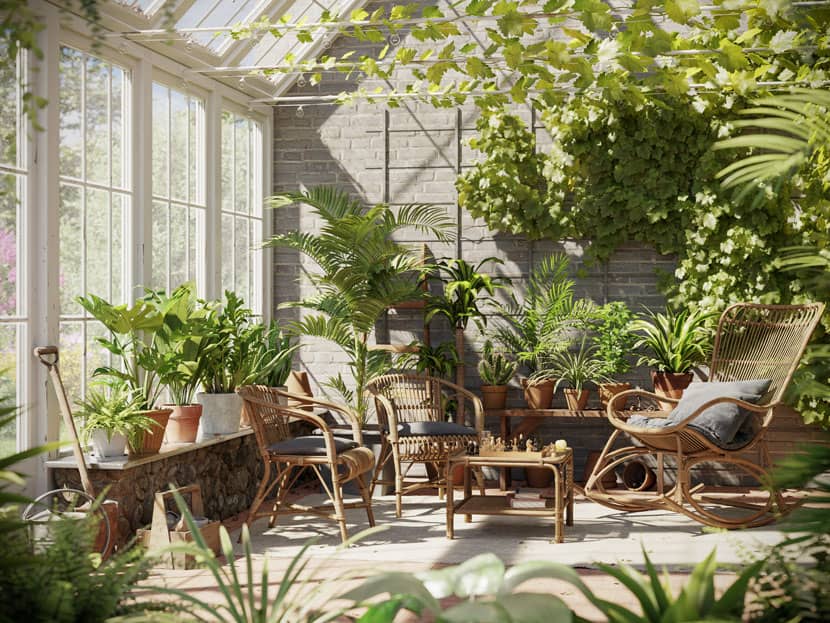 Piotr Kostyła, 'Winter Garden'
Hi Piotr, thanks for joining us! To start things off, please introduce yourself to our readers.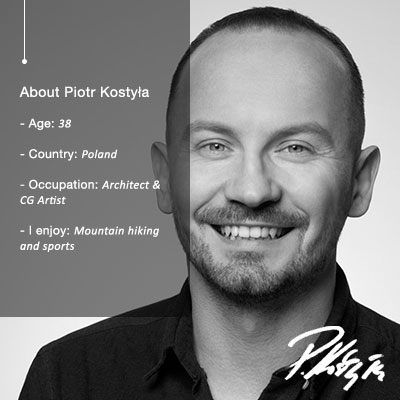 Hi, with pleasure, and thanks for this opportunity! My name is Piotr Kostyła, I am a CG artist with a background in architecture, living in Warsaw, Poland.
Do you recall when and how you first consciously encountered CGI?
Yes, I remember that moment perfectly. It was about ten years ago, when I started my adventure as a designer at an architectural studio. I observed one of the employees working in SketchUp and V-Ray, and I immediately liked what I saw. From that moment on, I began learning these programs myself, although initially, my ambition was only to make project visualizations. Fast forward five years, and I realized that 3D graphics appealed to me much more than architectural design, so I eventually decided to focus on that exclusively.
What training or education do you have?
I graduated in architecture, but in terms of 3D I obtained most of my knowledge through self-learning, with the internet being my primary resource.
Tell us about your current job situation! Are you employed at the moment or exclusively working freelance?
I am employed right now, but I am always open to new challenges as a freelancer.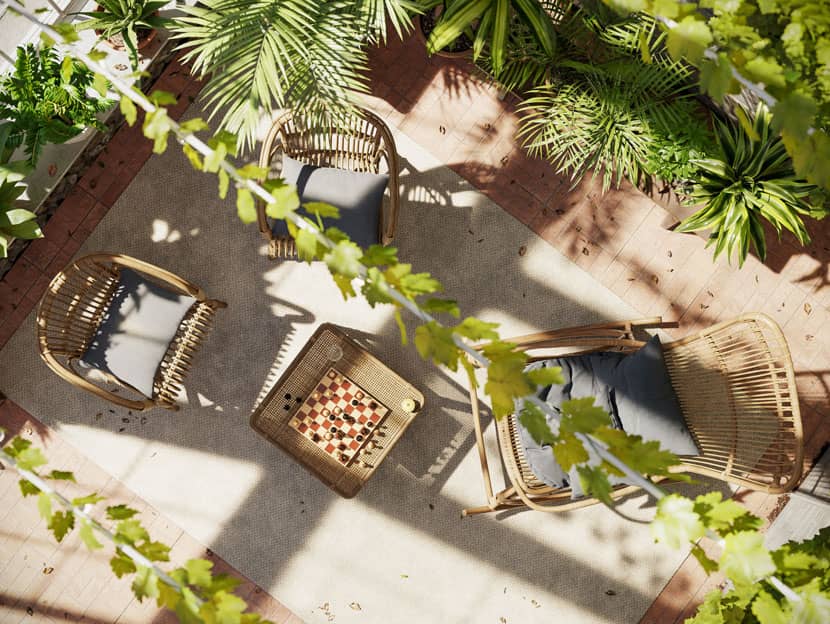 An overhead shot showing the cozy sitting area.
Describe your profile as a CG artist! What are your main areas of expertise?
I mainly deal with architectural visualizations, along with the occasional product visualizations. I create both internal and external visualizations, 360° shots, and virtual tours. My clients are architects, developers, and marketing agencies.
Is there a part of CG-related work you particularly enjoy? For what reasons?
I really like working on details, both in terms of models and textures – this is essential for photorealistic visuals, in my opinion.
Are there specific design principles or architectural schools of thought you adhere to? What or who inspires you as a 3D artist?
"Less is more" is a rule that I generally try to follow to keep my visualizations clear and not too overwhelming. For inspiration, I am carefully observing the world around me, and always pay close attention to shapes, atmosphere, and the behavior of light and materials.
When it comes to 3D artists, I have to mention two people whose work not only inspires me, but greatly motivates me to improve my skills: Ewelina Lekka and Artur Tamioła.
What can you tell us about the current state of the CG industry and community in your home country and the surrounding region?
For several years now, the CG community in Poland has become more and more close-knit, due in large part to 3D artist Michal Nowak, who organizes yearly 3D conferences and runs a successful Facebook group. Thanks to his efforts, people from the industry have opportunities to network, exchange experiences and help each other, all of which directly results in growing and developing the entire industry. I find it truly remarkable how everybody is so supportive, even though at the end of the day, we are all competitors. Overall, I consider the Polish CG industry to be in a very good place. In addition to the artists I mentioned before, we have many other representatives at world-class level.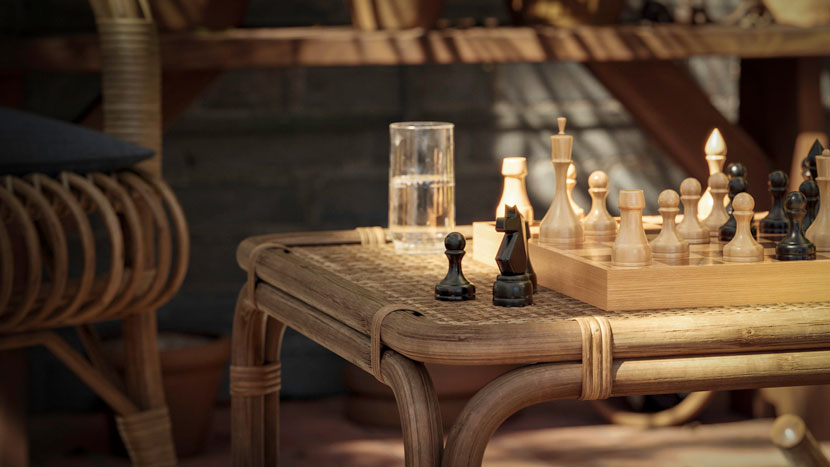 A closer look at the chessboard, which holds fond memories for Piotr.
Let us talk about your work in more detail, namely the 'Winter Garden' you submitted to our campaign. Can you first tell us a bit more about the origins of the project?
'Winter Garden' is a personal project. My two main goals in making it were to learn new things and to promote myself; in order to achieve both, I knew I had to come up with a project that not only differed from everything I had done before, but also differed from what other artists do.
The winter garden met these conditions, but there is another, more personal reason for this choice: when I was a kid, I used to play chess with my grandfather in his winter garden. So this project doubled as a trip down memory lane, which gave me a lot of joy!
Which parts of the scene were especially important to you, both from a visual as well as a technical point of view?
Actually, everything was equally important to me, I did a lot of close-ups and I wanted each of them to be refined down to the smallest detail. There are however some shots that I spent more time on, namely those showing windows and doors up close, as well as an overhead shot of the grapevine.
What were some of the challenges you had to overcome?
The biggest challenge for me was creating the grapevine; at the same time, it was a great opportunity to learn GrowFX! It also took me some time to create satisfying shaders for the windows and doors. Overall, the project took me a couple of months to complete, since I was mainly working on it in my spare time.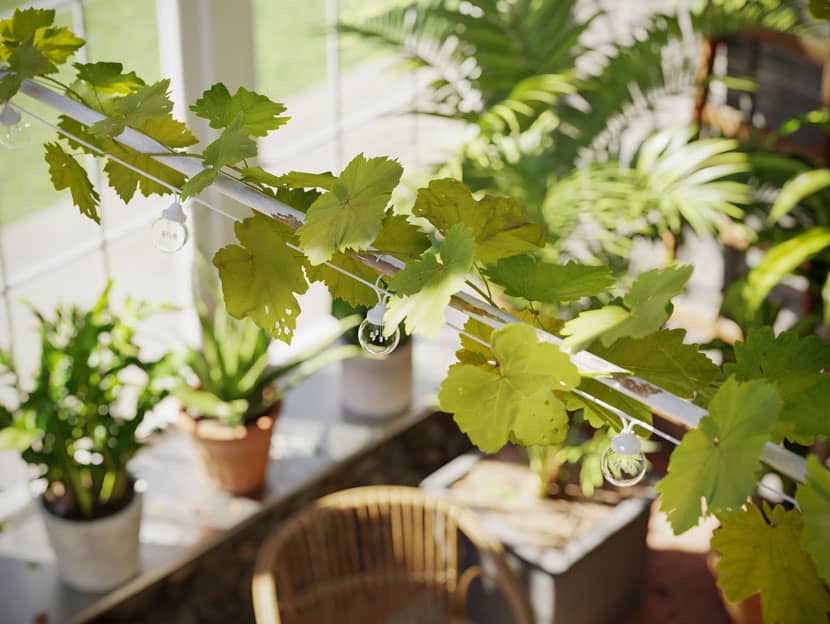 We heard it through the grapevine that this particular plant proved quite challenging for Piotr.
As a space primarily occupied by plants, a winter garden significantly differs from other interiors.
Yes, that is true, plants play a leading role here and determine the surroundings: for example, they need a lot of sunlight, which is why winter gardens are so heavily glazed.
Tell us more about the interior design in terms of style, your choice of colors, furniture, materials, lighting, and the overall composition.
From the beginning, I had a few key assumptions for the project: I wanted to create a relaxing space and atmosphere, a place you would like to enter to sit and rest. I also knew that it had to be a sunny summer day, because that is when nature shows us all its beauty. The garden was to be old and show visible signs of usage, so I deliberately dirtied the windows, and added peeling paint and cobwebs in various places. Rattan furniture works very well in an interior like this. Finally, the design had to include a rocking chair – just like the one my grandfather used to sit in.
Can you briefly walk us through your production process step by step? I am especially interested in how you handled the various plants!
I always start by gathering references, having something to reflect your idea is good for any given project. Then I sketched the project in the form of a 2d projection and having an initial concept, I moved to the modeling and texturing of the building structure. At this stage, I spent a lot of time creating the right shader for the windows and doors, as I wanted them to look old.
The next step was crucial: the plants. They obviously play a major role in this project, and I wanted them to be varied and realistic. My choice fell on assets from Poliigon, with the exception of the grapevine, all of the house plants are theirs; I just changed the pots to better fit the interior. As I mentioned, the grapevine was a big challenge. I tried various methods, but for the longest time, I was just not satisfied with the results. Eventually, I turned to GrowFX, which I had not used before and thus had to spend some time learning first, but it paid off. In order for the leaves to look believable from up close, they had to differ from one another; they needed imperfections, and the textures had to be of excellent quality. As with the flower pots, Quixel came to the rescue.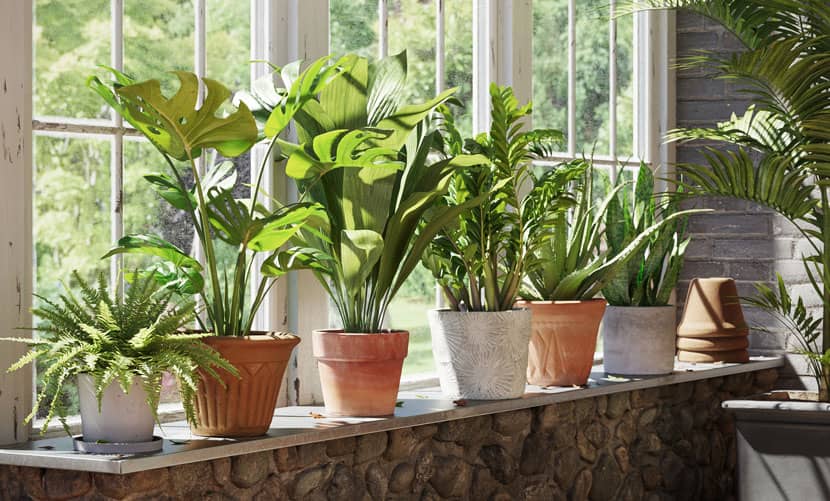 A closer look at some of the plants in Piotr's 'Winter Garden'.
When all the elements of the scenery were ready (I changed the furniture several times), I started looking for interesting camera shots, then tested the lighting and adjusted the shaders to match and form a whole. Finally, I added various details to make the garden look more credible, such as dry leaves on the floor and window sill, cobwebs, and more. I post-processed the finished renderings in photoshop, which mainly consisted of color corrections and sharpening shots. In the end, I am very pleased with the final results I achieved.
What software did you use to create this scene? Any plug-ins you found particularly helpful?
I used 3ds Max and Corona Renderer as my main software. Besides GrowFX, which as I have mentioned was crucial in creating the grapevine, I used Forest Pack to vegetate the background. Quixel Megascans and Poliigon also provided invaluable resources.
What has the feedback been like so far and how satisfied are you with the results yourself?
Honestly, the response exceeded my wildest expectations, which I am very happy about! 'Winter Garden' was project of the day at VWArtclub and 'Render of the Month' on Poliigon, Corona and Quixel also posted my work on their social media channels. The project was also very well received by other artists, and I gained a lot of new followers on Behance and Instagram, including a few new clients who contacted me for cooperation. And now, thanks to this project, I am also featured as RebusFarm '3D Artist of the Month'!
What is one thing you have learned from this project that you can share with us?
This project has taught me a lot in many different fields, but I think that the greatest lesson I have learned from working on 'Winter Garden' is this: making time for personal projects is always worth it, regardless of the amount of work we have. They provide opportunities for unlimited creativity and are pure joy for every artist, all while allowing us to improve our skills and gain recognition.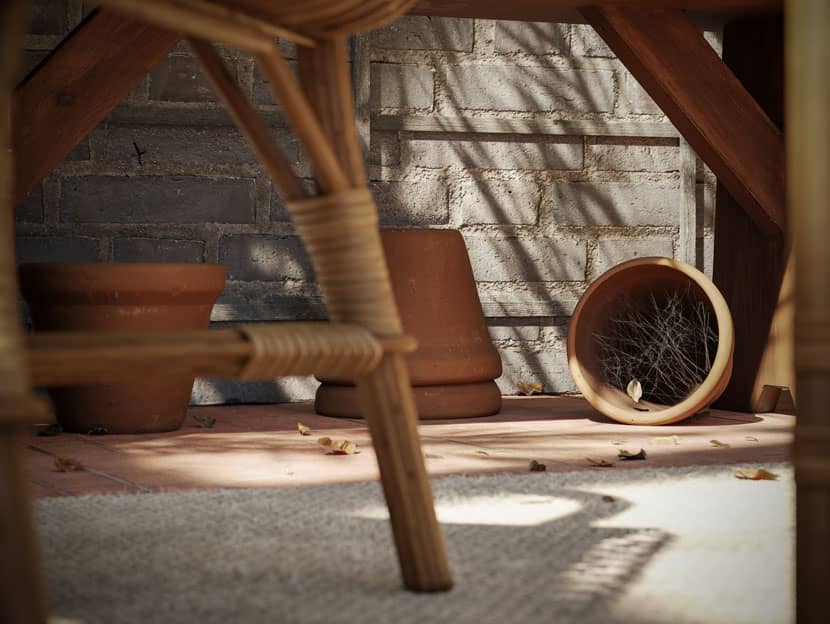 For a proper lived-in look, Piotr added details like dry leaves and cobwebs.
Have you used RebusFarm before? If so, please tell us about your overall experience. Is there anything you especially like about our service?
Yes, I have used it many times and continue to be impressed by the reliability of your service. RebusFarm has no doubt saved the lives of many 3D artist.
In closing, is there anything else you want to say? Any plugs, shoutouts or upcoming projects you would like to mention?
Yes, I would like to once again extend my special thanks to Ewelina Lekka for the great tips she shared with me while working on this project! I would also like to thank Artur Tamioła and Bartosz Domiczek who run TheCommonPoint, their blog is an invaluable source of knowledge for every 3D artist! Last but not least, I want to thank RebusFarm for featuring me as 3D Artist of the Month, and for the great opportunity to do this interview!
The pleasure is all ours! Piotr, thank you so much for taking the time and all the best in the future!
---
Keep up with Piotr Kostyła and his work here: 
---

HOW TO JOIN OUR MONTHLY CONTEST
Do you want to be our next featured 3D Artist of the Month and win 250 RenderPoints? Just visit our 3D Artist of the Month competition page and submit your entry. We'll choose the best image and contact the winner.
---
>> Read more articles on our blog