Saturday, February 1st, 2020 by Julian Karsunky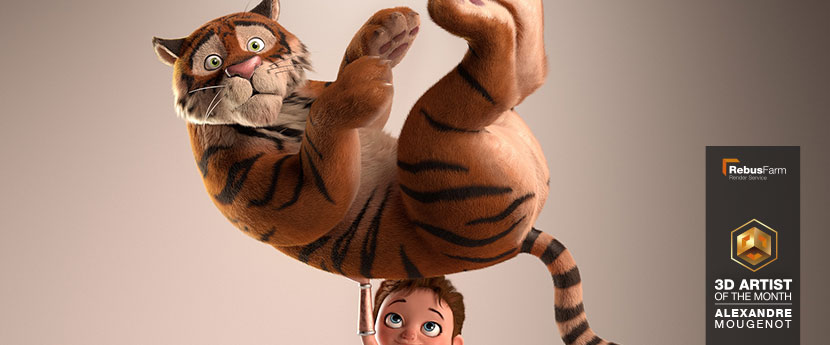 "Are you not entertained?" You certainly will be, by courtesy of Alexandre Mougenot's refreshingly carefree character designs! Our February 2020 3D Artist of the Month is a French character artist in training, aspiring to one day break into the animation industry overseas. While working a summer job, he tackled a three-part series of character challenges in his spare time, an impressive feat both in discipline and skills, with the results earning him a well-deserved spotlight in our monthly campaign.
Continue reading to learn more about Alexandre's inspirations and goals at the beginning of a promising career!
Based on a sketch by Luigi Lucarelli, Alexandre's rendition of the 'Little Gladiator' is part of a series of self-imposed character challenges.
Hi Alexandre, thanks for joining us. To start things off, please introduce yourself to our readers!
Hello, everybody, and thank you for this honor! I'm a 22-year-old CG character artist and student at MoPA, a CG animation school in France.
Do you recall when and how you first consciously encountered CGI?
But of course! When I was very young, my father introduced me to the Jurassic Park saga, which I liked very much. The DVDs came with a bunch of quality bonus features, and among these there was always at least one "making of". So, I spent my time watching all the breakdowns of the FX, dinosaur modeling and the big puppets they created.
Another crucial moment happened in 2009, when I saw 'Avatar' for the first time. My initial confusion caused by the previously unmatched level of realism was soon replaced by curiosity: I wanted to know how the environments, creatures and FX were created! Looking for answers, I bought the artbook as well as another book about the whole universe of the movie.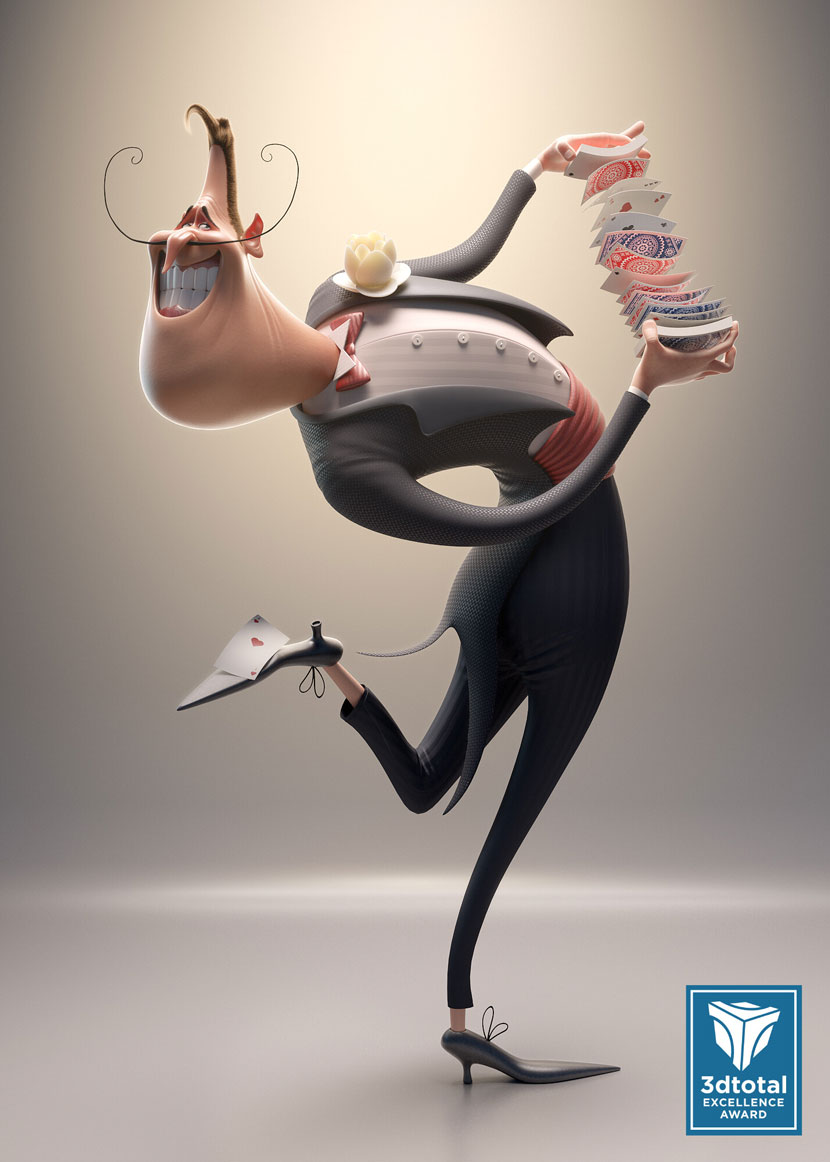 Alexandre was immediately drawn to the striking pose of Denis Zilber's 'Magician'.
When and how did you then decide to pursue a career as a 3D artist?
After obtaining my bachelor's degree in applied arts, I started studying graphic design. At the same time, I began learning CGI and soon developed a passion for it. Not long after, I decided to abandon my studies in graphic design in favor of this newfound passion of mine. That's when I enrolled at MoPA.
Can you tell us more about your studies at MoPA, one of France's oldest and most prestigious CG schools?
For me, MoPA is one of the best schools to learn CG in France, everybody is super friendly. Because of its comparatively small size, there's a strong sense of community between students, who frequently help each other. The courses are structured, while still granting us the creative freedom to produce quality work. The teachers and the staff are very open-minded and easy to talk to as well, you can ask them for advice any time. After classes, we often go out for a drink or a meal together!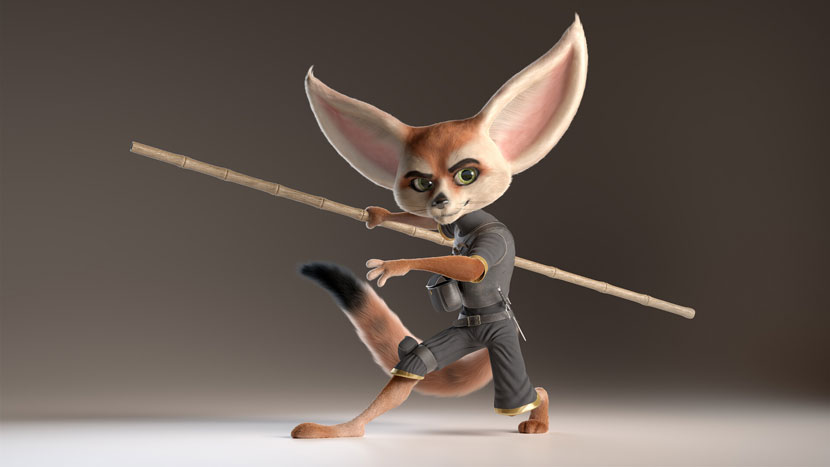 The final part of his three-part series, Alexandre's 'Fennec Fox' was his original entry to Rafael Grassetti's character challenge. How's that for a summer's work?!
What were some of your personal highlights of your student life thus far?
My third year at MoPA was very rewarding. I had to make a one-minute short film all on my own. I had to model all the assets, props, characters, and environments, then do the rigging, the animation and pretty much all other steps right up to the end of the project. This made me more confident in my overall abilities and helped me to determine which areas I might want to specialize in later.
With your graduation only a year away, do you already have career plans?
To start, I'd like to find a job in character modeling and continue to improve my skills, preferably at a smaller studio. This would most certainly guarantee me working in other areas like texturing as well. With a little more experience, I'd like to join larger companies and learn firsthand about the production of big budget films.
My long-term goal is to work overseas, experience other cultures and broaden my horizon as an artist, and last but not least, to gain insight into the animated movie industry.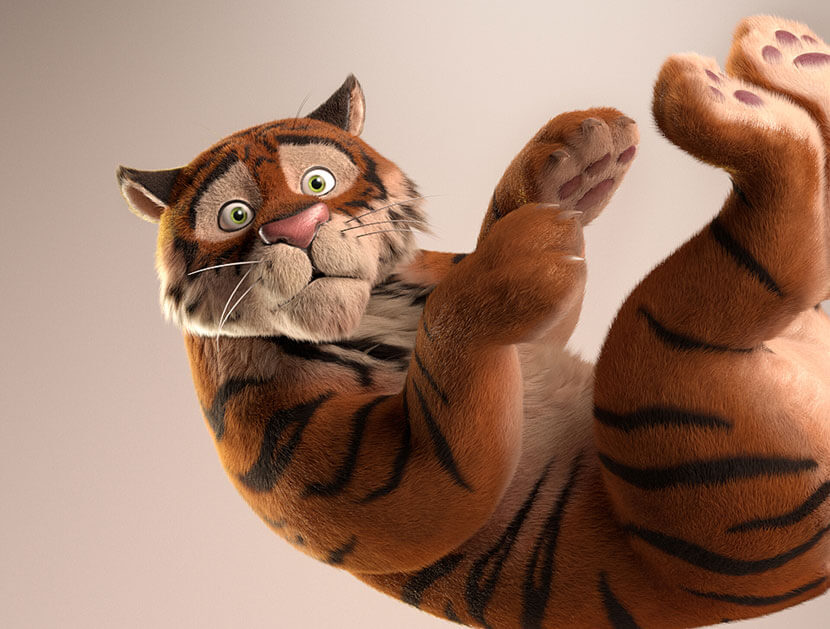 It's hard to believe that the tiger lifted by the 'Little Gladiator' was Alexandre's first time doing serious grooming work!
Now let us talk about your work in more detail, namely the 'Little Gladiator', a 3D recreation of a concept design by Luigi Lucarelli. Please tell us all about the project and the story behind it!
The 'Little Gladiator' is part of a series of self-imposed character challenges I did over the last summer holidays, which I spent working at TeamTo, an animation and production studio based in Paris. Every day after work, I worked on different personal projects, and I designed each one in order to give myself a challenge.
First, the 'Magician', a very stylized character with complicated posing, based on the work of Denis Zilber. Next was the 'Little Gladiator', I was immediately attracted to Luigi Lucarelli's original character design because of its simplicity and expressiveness! On the technical side, I thought both the posing and especially the grooming would make for an interesting challenge. The last project I tackled over that summer, the 'Fennec Fox Ninja', was my entry for Rafael Grassetti's #SculptItYourself Character Challenge.
Tell us more about the process: How long did you work on this project and what challenges did you face?
As I worked during the day at TeamTo, I could only work on it at night. Modeling the little girl must have taken me around three days overall. Then I did all the texturing and shading over a single weekend, and devoted the entire following week to the tiger. The grooming probably took me the longest. It was the first time I'd ever worked on the fur of an animal – it was a great experience that I would gladly tackle again anytime!
What software did you use to create this piece? Any plug-ins you found particularly helpful?
I used ZBrush, Maya for topology and props modeling, Substance Painter, V-Ray, Ornatrix and Nuke.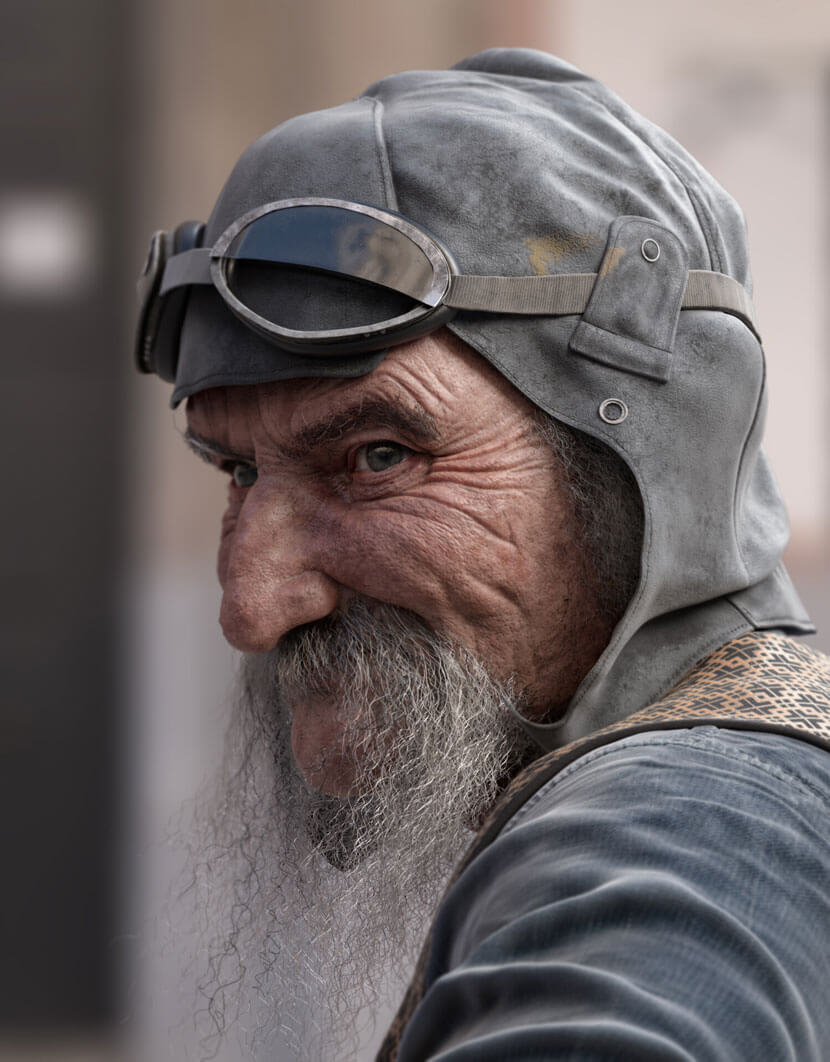 Alexandre is particularly fond of this 'Pilot', a collaboration with friend and fellow student Meline Pischedda.
Your artistic scope encompasses everything from realistic to fantastic and cartoonish characters. Do you have a personal preference when it comes to style?
Well, when it comes to styles, I want to try my hands at absolutely everything! I love working with realistic characters, while continuing to deepen my anatomy basics, and then make them more stylized. In my opinion, the real strength of a character artist is the ability to seamlessly transition from a realistic to a very cartoony style.
In closing, is there anything else you want to say? Any present or upcoming projects you'd like to mention?
Currently, I'm not working on another personal project, as I've finally started learning Houdini, which is giving me a bit of a hard time and thus requires all of my focus at the moment!
However, I'd like to take this opportunity to highlight a work from a while back: 'The Pilot', a realistic portrait, was a collaborative effort between me and my friend and fellow student Meline Pischedda. We received quite a bit of attention and positive feedback, and I would very much like to continue working with her in the future. We understand and complement each other well, and we always come up with quality work every time we work together.
Finally, I would once again like to thank RebusFarm for featuring me, and I look forward to include your superb render farm in my pipeline.
Alexandre, thank you very much for taking the time and all the best in the future!
Keep up with Alexandre Mougenot and his work here:
---

HOW TO JOIN OUR MONTHLY CONTEST
You want to be our next featured 3D Artist of the Month and win 250 RenderPoints? Just visit our 3D Artist of the Month competition page and submit your entry. We'll choose the best image and contact the winner.
---
>> Read more articles on our blog