Wednesday, February 2nd, 2022 by Oscar Pastor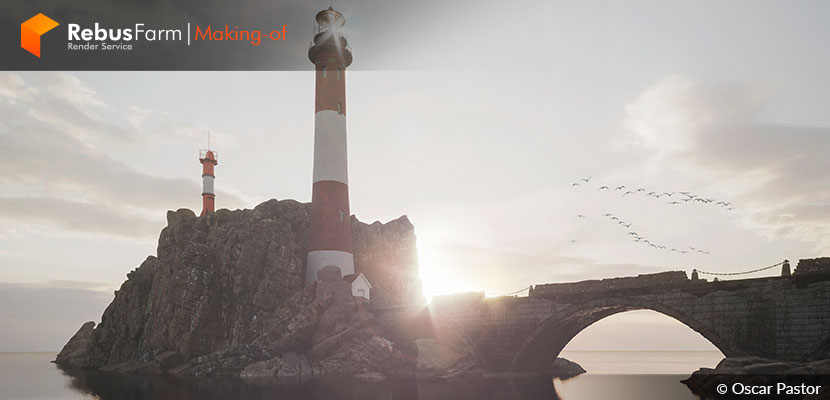 Learning by yourself is a beautiful process full of commitment, responsibility and passion. Oscar Pastor tells us a bit about how this personal project helped him practice and learn more about environments and exterior building on his own. Nothing better than useful tips and advice from experienced people to help you boost your way into becoming a professional at whatever you want.
Let's hear some more about 'The Lighthouse'.
A bit about me
Before introducing you to the Making of 'The Lighthouse' project, I would like to thank the Rebus team for inviting me and give the opportunity to share my work.
Hi, my name is Oscar Pastor, I'm an Architect from Argentina and I've been a 3D artist since 2018.
I started my career working as an architect in 2006 mostly designing private homes and residential projects. I use to play around with 3d models even though I was not really good at it! I always wanted to do some courses or some kind of formal 3d training, but never had the chance or the time, until one day a friend asked me for a favor on helping out with some 3d modeling, and after watching a few tutorials and making-ofs, there was no turning back for me. I decided to start digging deep into the CGI world and that was when it hit me, I NEED TO CHANGE MY FIELD OF WORK. I began watching a lot of tutorials from some well-known artists, about modeling, lighting, camera setup, and post-production. (And I keep doing it ever since. I'm a self-thought person, I'm still learning and I still have a long way to go!)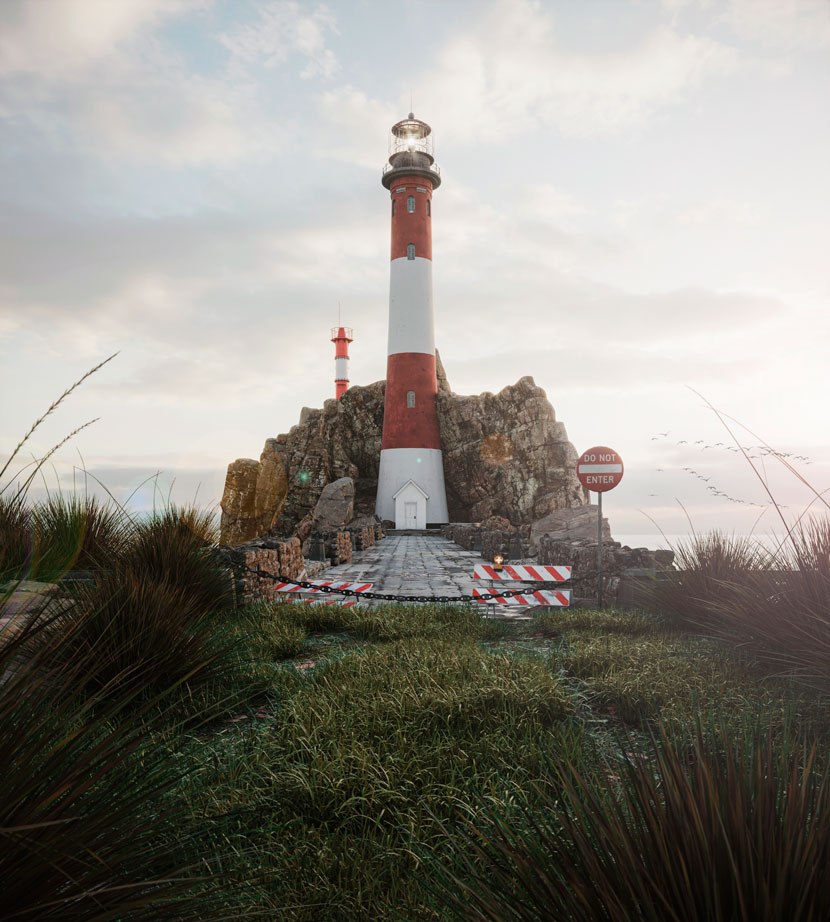 The Lighthouse
The lighthouse started as a weekly drill project on The Rookies web page, it was intended to be more a personal project and practice to improve my exterior and building environments skills. As I mentioned, I'm still learning how to build environments and topo surfaces and that is what this exercise was for.
Storytelling
This is where I gather all the refs and build the whole back history behind the project. I think everyone really needs to spend some time doing this exercise in order to know what you really want to portrait or achieve on your project. For me, the plan was an old lighthouse, in the middle of nowhere, on a small island and trying different light moods.

Modeling

I use 3ds Max and Corona Render as my main workflow. I started modeling the ocean floor, lighthouse platform, and later the main island and hill. I mostly use planes with a lot of subdivision or populate terrain, noise maps, and paint deformation to create the topo surface and a big plane with noise for the ocean water, nothing fancy really. 
Environment and assets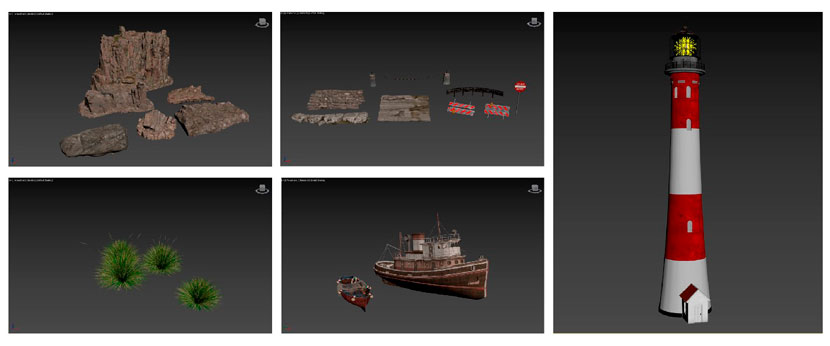 There are a lot of web pages where you can find great assets, but for this project, I mostly use Quixel Megascans for all the rock formations, a few assets, and textures, Maxtree for the plants and Evermotion for the bridge and signage.
I use Forest Pack to scatter the rocks around the ocean floor and plants on the main island, all the rest of the rock formations were placed manually to create the island border and lighthouse island.
Why build everything from scratch if someone already did it better for you! That is the whole idea behind these websites, make it easier and faster your process so we as artists can focus more on other details, camera setups, lighting, moods, and materials. In the end, all of the above elements are tools that are meant to help you.

Lighting

For me, lighting and mood is the most crucial stage of the whole project. I think that is what makes a project really stand more! I use Corona Select and add a few different HDRIs from 3D Collective.

Post-production

I'm the kind of 3D artist who tries to make everything in 3D and doesn't rely that much on post-production. I just like playing with curves, contrast, saturation, color balance and at the most, adding a 'Lut'.
So that's it! I hope you enjoyed the making of the lighthouse. Thank you so much for your interest in my work.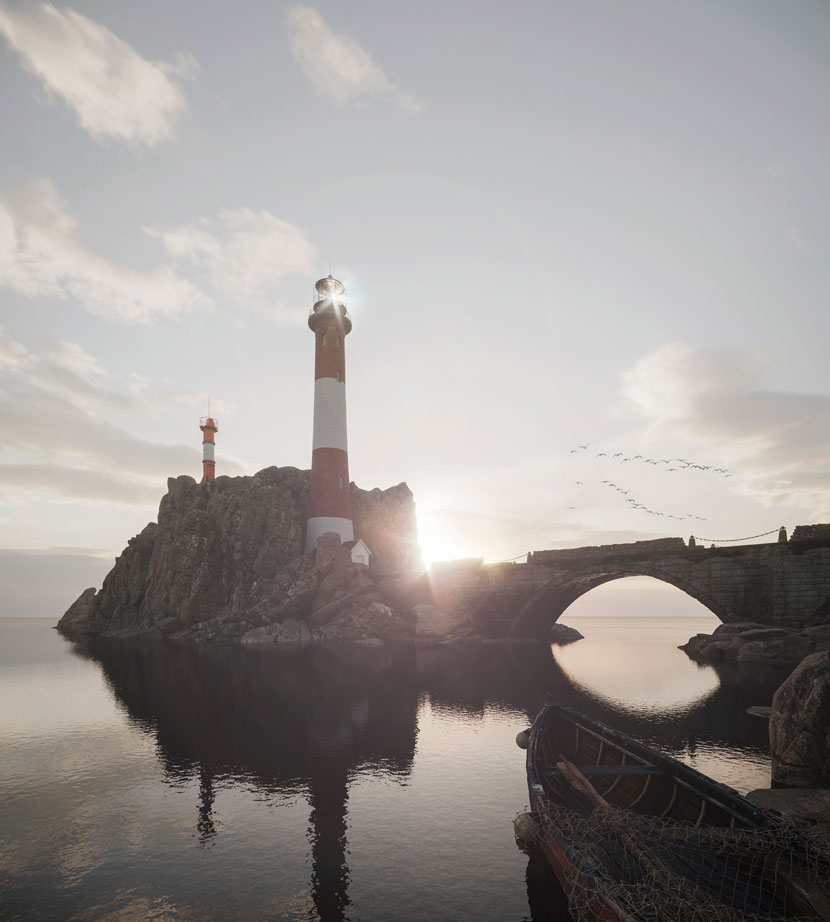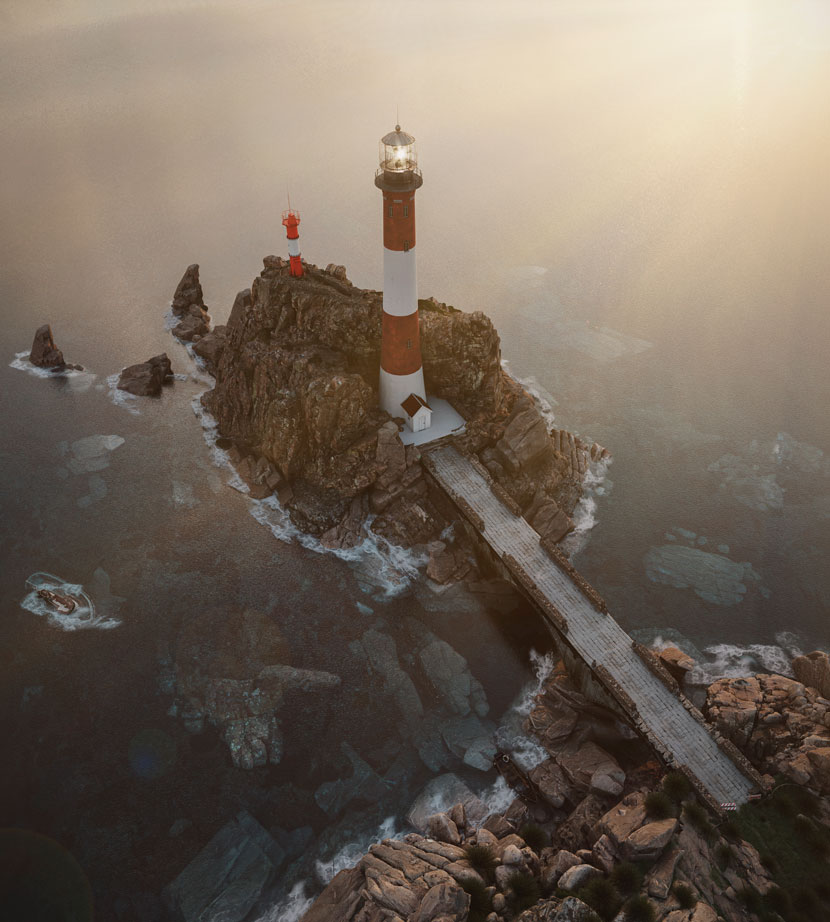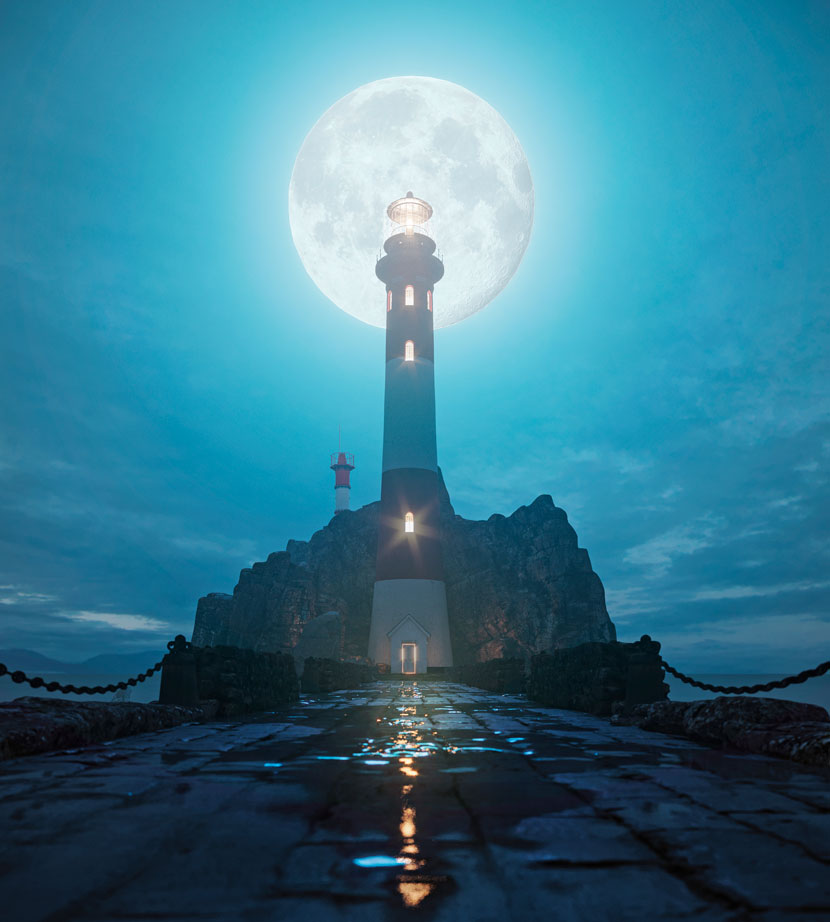 Thank you, Oscar, for sharing your story and your beautiful project with our Rebus community. Check out more of Oscar's work on his different channels:
---
Want to share your work with our community too?
Contact us at This email address is being protected from spambots. You need JavaScript enabled to view it.and tell us about your favorite project.
---
>> Read more articles on our blog