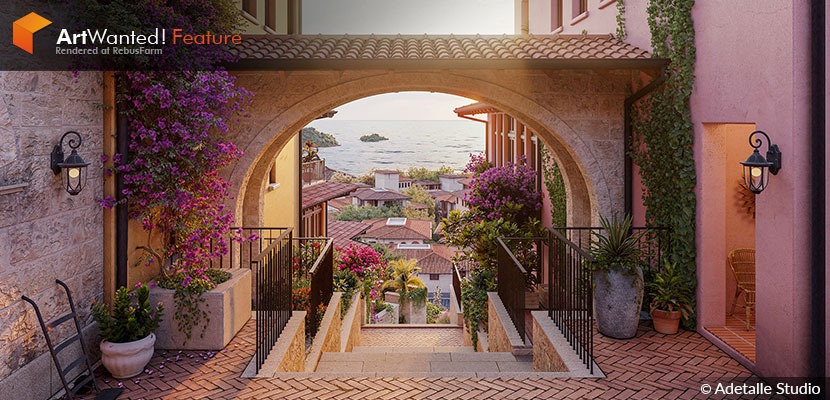 The drive for artistic expression is a powerful force. When Brian Salvatierra and his wife Dariana Pitti quit their office jobs to found adetalle studio in pursuit of more creative endeavors, it was like "jumping into the abyss". Still, it takes but one look at the outstanding work they and their team produce, to fully understand their decision. Their project 'Lantana Residences', a tropical Costa Rican neighborhood, has been making the rounds on social media lately, and we are eager to add to the well-deserved attention with our Rebus Render Farm August 2022 ArtWanted feature.   
Continue reading, as Dariana and Brian offer a fascinating insight into their professional life and creative process, including a concise account on how to make the most out of your reference material.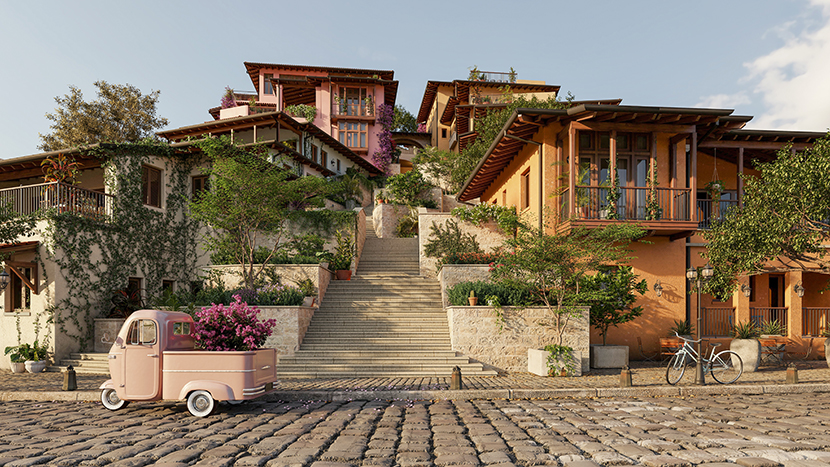 Welcome to Lantana: this front angle of the central staircase, which Brian describes as the "axis" of the entire project, seems like an open invitation to a tropical paradise.
Hi Dariana, hi Brian, thanks for joining us! To start things off, please introduce yourself to our readers.
Brian: Hello, and thank you very much for this opportunity, it is an honor for us to this interview! My name is Brian Salvatierra, I am 31 years old and I was born in Panama. Dariana is my wife and business partner, we met when we first started our architecture degrees, and in 2018, we founded adetalle together, our very own archviz studio based in Panama City.
Dariana: Hi everyone, nice to meet you! My name is Dariana Pitti, I am a 30-year-old architect and archviz artist, born and raised in Panama City. Before founding adetalle studio, I worked at one of Panama's largest architecture firms for a few years, gaining lots of valuable experience in the project design and project management.
Do you recall when and how you first consciously encountered CGI?
Brian: Yeah, as a student I worked a part-time job for a small architecture studio called 'Sketch', they were looking for someone to do some simple but presentable renders. The software they were using in the office was Modo, which I had never heard of. Back then, I was only familiar with SketchUp, so I had to learn fast, which I think ultimately pushed me to dive deeper into 3D, as I felt a responsibility to do the best I could. The more I researched the software, the more it fascinated me, and for the following years, it became my 3D tool of choice. 
Dariana: My first experience with 3D software came while I was working for a construction company. I was tasked to design a landscape solution for a green area within a large public square under construction. I only knew how to use basic SketchUp, but now I needed realistic lawns and gardens for my proposal. Modo seemed like the best alternative, since Brian was learning it at the time and helped me get started with the new software. This was the first time I recognized the true potential of CGI, and the results were excellent. Years later, this construction company became our very first client, and we continue to work with them to this day!
When and why did you decide to pursue professional careers as 3D artists?
Brian: Before formalizing adetalle, I had already worked at several architectural companies. While I was involved in design as well, I usually was the official "render guy" at the office, which I enjoyed a lot. Still, internally I was questioning whether I had to fully commit to either design or archviz work at some point. Over time, however, I came to the conclusion that I might be able to do both. So, besides adetalle, which is exclusively for archviz work, both Dariana and I take on some small design projects on the side.
Dariana:
When we were working for other design studios, we were already regularly doing render jobs at night or over the weekends. We soon realized that there was a market, and that we had a competitive product we could offer in our region. Developing a brand solely dedicated to our archviz services seemed like the obvious step, and so adetalle was born!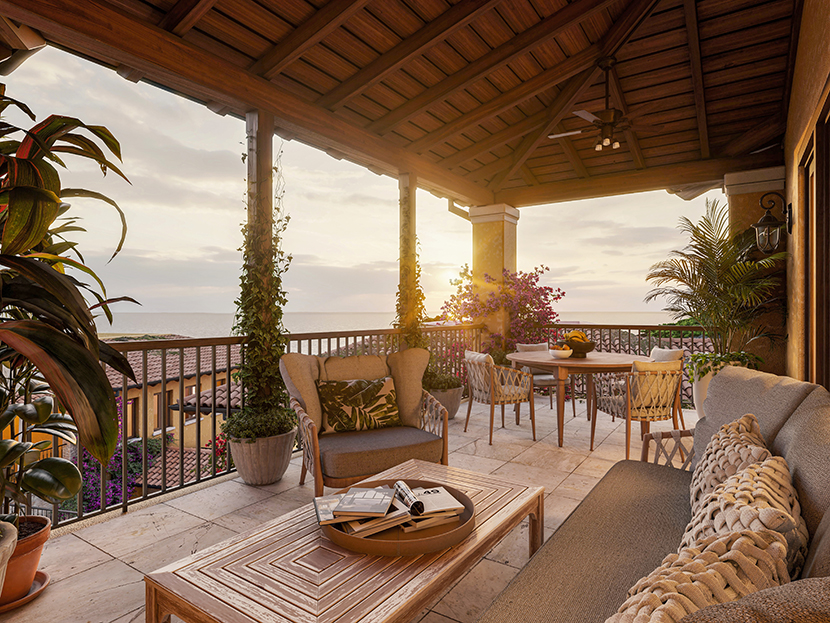 A closer look at one of the flowery terraces found all throughout the neighborhood.
Tell us more about adetalle studio, the company history, its field of work and overall philosophy! When and under what circumstances was the studio established?
Brian: As Dariana mentioned, we were juggling our office jobs with some freelance rendering work, and little by little we received projects at an increasingly demanding level. It was after the birth of our first daughter in 2018 that we finally decided to dedicated ourselves to founding our own architectural visualization studio. It was a tough decision, as it meant leaving the stability of both of our jobs at the same time, and throwing ourselves into the abyss. But we do not regret it! We continue to face challenges, but it has been a fascinating journey.
What service do you provide and who are your clients and target markets?
Dariana: We create all kinds of useful graphic material for the promotion and sale of real estate and architectural projects of different scales. We classify our service into two categories: CGI illustration, which includes still images, animations, virtual tours, and rendered architectural plans, and implementation, which comprises art direction, graphic design, branding, and digital development. Our client base mostly consists of developers, architects, and construction companies involved in the real estate sector.
How would you describe your approach and overarching vision as an archviz company?
Brian: We admire architectural photography and we pay special attention to what makes a photo spectacular. Why do some photos capture the viewer's attention and convey sensations while others do not? We want to give our clients the former kind of images before they even start developing their space. We created adetalle with the idea that we could make a difference for developers, architects, and builders in our region, based on our artistic vision and abilities.
What are your general responsibilities and daily tasks at adetalle studio?
Brian: adetalle is a small studio so Dariana and I take on multiple roles and share a lot of the tasks. Most of the time, I work as art director, making sure that all the images in a project have a coherent look and maintain the same quality throughout the production process. While I still really enjoy making the images myself (after all, a major reason we started adetalle was to work as 3D artists), I understand that our roles will most likely change as we grow. I imagine we will eventually end up like coaches of a football team, helping our player to improve their technique as well as offering guidance and direction, so that they can reach their full potential.
Dariana:
I dedicate myself to different tasks at the administrative level, but at the operational level my main role is that of a project director: I am in charge of finalizing the images, reviewing the 3D scenes before rendering, post-production, and client communication amongst other things.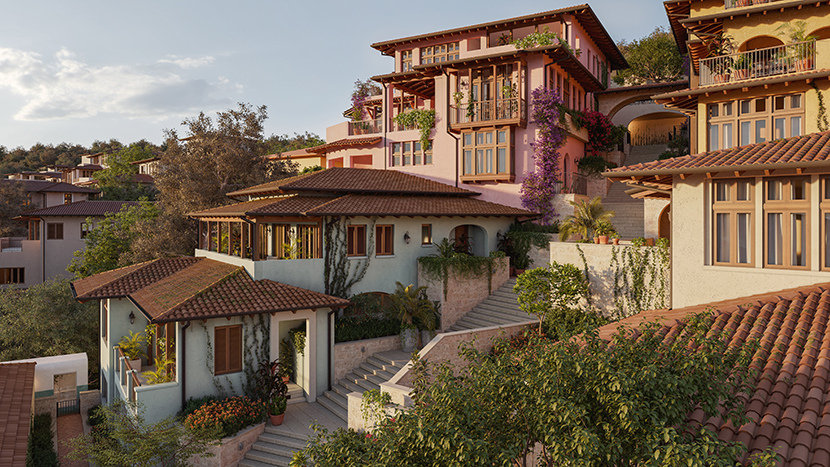 The adetalle team rightfully takes pride in their attention to detail – just look at the complexity of this scene!
Is there a specific design philosophy or architectural school of thought adetalle adheres to? What inspires you as 3D artists?
Brian: We don't have a specific design style in terms of archviz. I believe that each project has its own unique identity, from where we draw inspiration and try to make the most of its characteristics, translating the strong points of the project into images. In a more general sense, our greatest inspiration is architectural photography. Some of the people we follow include Fernando Guerra, Iwan Baan, Rory Gardiner, Ema Peter, Sergio Grazia, Cristóbal Palma, and Fernando Alda. There is a great artistic sensibility in what they do!
Designwise, we appreciate contemporary architecture. First and foremost, we are fans of architecture, not so much of a specific style. We do enjoy the work of David Chipperfield, Sou Fujimoto, SO-IL, Herzog & De Meuron, Sanaa, Isay Weinfeld, Marcio Kogan, Fran Silvestre, Campo Baeza, Aires Mateus, Renzo Piano, Norman Foster, and Alvaro Siza, just to name a few.
Describe your profile as a CG artist! Where does your own fascination with architecture and archviz stem from?
Brian: Whenever somebody asked me what I wanted to be when I grew up as a kid, my answer was either football player or architect, so the fascination was always there. Of course, I only developed a better understanding of architecture many years later, at university. Then when I discovered the work of Norwegian visualization studio 'MIR', that was the icing on the cake, that was the moment I said "I want to learn to do this". Their work still amazes me to this day.
Dariana: For me, it was during my university days, although I still had a fairly limited perspective of architecture and CGI at the time. The term 'CG-architect' seemed like an amazing combination of words to me, as I thought each enhances the other. Personally, I feel I grew to love archviz not only because I had more control over the technical aspects, but especially because viewing a project more through an artistic lens gave me so much more enjoyment. To me, that is when the real fun begins!
What are your main areas of expertise?
Dariana: As I have said before, I was heavily involved in project design and development for many years, residential projects in particular. Brian also has a ton of experience in the development and interior design of apartments and offices, and is very familiar with the real estate sector.
Is there a part of CG-related work you particularly enjoy?
Brian: My favorite part of the entire creation process of any project is when we generate clay renders after building a detailed 3D model. This is when we first light up the geometry and start trying out composition and lighting ideas; it is an equally exciting and crucial moment, as it allows us to give the project a clear direction. For example, in the case of 'Lantana Residences', we contrasted our images with the reference material, and developed new ideas and possibilities.
Dariana: I think my favorite parts are the setting decoration and post-production, both of which I am involved in a lot. Setting decoration is particularly interesting to me, because it directly ties in to one of our brand statements, namely our attention to detail. The details of an image usually provide so many opportunities for visual storytelling. Post-production I enjoy because it is such a delicate and important process, bringing out the true colors of the images.
In your experience, what is the current state of the CG industry and community in Panama and Central America?
Brian:
Around 10 years ago, Panamanian architecture and real estate companies mostly worked with visualization studios from Colombia, Mexico, or Argentina, as they promised a better benefit-cost ratio. Today, there are many local studios and freelancers who offer competitive, high-quality services, and I think that is a good indicator of how the industry progressed in recent years. I am not informed enough to speak for other Central American countries, but I feel like the interest in CG work has generally been increasing in the entire region.
Let's talk about your work in more detail, namely your submission to our campaign, the "Lantana Residences", a picturesque Costa Rican neighborhood.  Can you first of all describe the circumstances that lead to the creation of this project and the collaboration with architects Arosemena & Way?
Dariana: This marks our second time working with Arosemena & Way; they actually recommended us to the developers during the initial design phase of the project, for which we are very grateful. Our studio was commissioned to create renders and animations.
What were your main goals in doing this project? How would you describe the central idea?
Dariana: When we first received the project, we knew it was going to be a significant challenge for us because of its scale and characteristics, such as the environment and other details.
We were not entirely clear on what we wanted to achieve initially, so we dealt with the hard 3D model and overall understanding of the project first, then broke it down into smaller parts. This made it easier for us to work as a team. Reference material was very important at this stage, and we spent a lot of time researching the best way to present the images. One very inspiring example we found was a charming Italian coastal town called Positano, and we also drew inspiration from two animated movies: Luca and Encanto, both coincidentally Disney productions.  
What parts of the image were especially important to you, both from a visual/design and technical point of view?
Dariana: For me, the colors of the project were crucial, we wanted these really intense colors to not get lost in the process, but to always come out in each image despite the distinct lighting changes.
Brian: The central staircase was another important element, I consider it to be the axis of the whole project, which is why I wanted it to be very well modeled and mapped, including the integrated planters and connections between different buildings, small squares and streets. We meticulously worked on all of the modeling pieces one by one, and paid very close attention to the material settings throughout.
What were some of the challenges you have to overcome and how long did it take you to complete the project?
Dariana: In my experience, projects of this scale only work as a collaborative effort, so proper project management is paramount. We created rather large environments so that we would not be too limited in our camera set ups, and in turn, our creativity. Now, building credible environments of this size already takes a lot of work, but, of course, at the same time, we have to consider the details of each building, the materials, the setting decoration, and so on. So in this case, managing on both the macro and micro level was quite challenging. All in all, we worked on the project for about three months.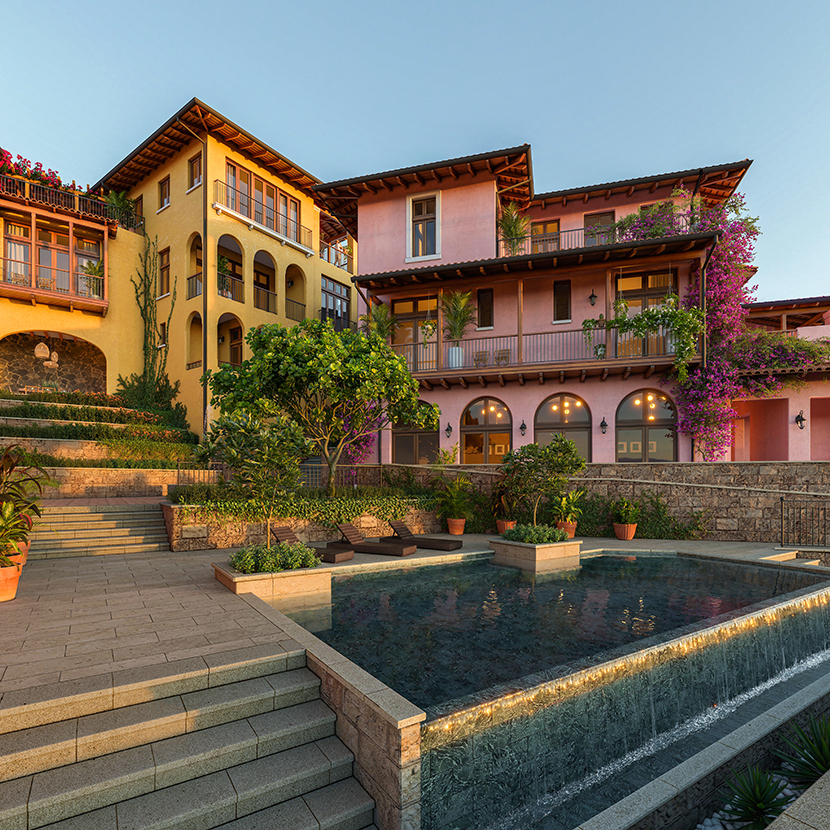 Dariana made sure all of the characteristic colors of Lantana shone bright in every single shot.

Please tell us about Lantana and Las Catalinas! Can tell us a bit more about the location itself, its unique flair and characteristic architectural features?
Brian: Lantana is in Las Catalinas, Guanacaste Province, in the northwestern part of Costa Rica. It is an entire urban development site that proposes a tropical city with sea view and without cars. It is a place that continuously promotes a lifestyle close to nature, and features colonial-style architecture with picturesque squares, shops, and restaurants intertwined with their natural surroundings.
How did you capture these features in 3D? How important were references for this project?
Brian: References were absolutely key, we spent a lot of time searching for image material that excited us – it does not even matter if it is photos from different places, or if it comes from a movie or a painting with a similar setting. Even more importantly, you need to be able to understand and interpret your references, to identify key elements in the composition, lighting and such – these are the abilities of an artist! Then translating what you have gathered from your references again requires a different, more technical skill set, such as modeling and the configuration of slightly more advanced material. And through all of this, you have to watch yourself and your results with a very critical eye.
Have you ever been to Las Catalinas yourself?
Brian: No, but we would have liked to go. We were lucky that lots of image material of the site was readily available online, whether it was from photos of hotels in the area or a 360° tour we did on Google Maps, we had access to almost all angles. From the type of vegetation, the decoration of its squares and balconies, the colors, to the wear of the aged materials, we managed to develop an in-depth understanding of the site. We also benefited from the fact that we found a lot of similarities to Panamanian beach sites, so the tropical environment of Las Catalinas immediately felt familiar to us.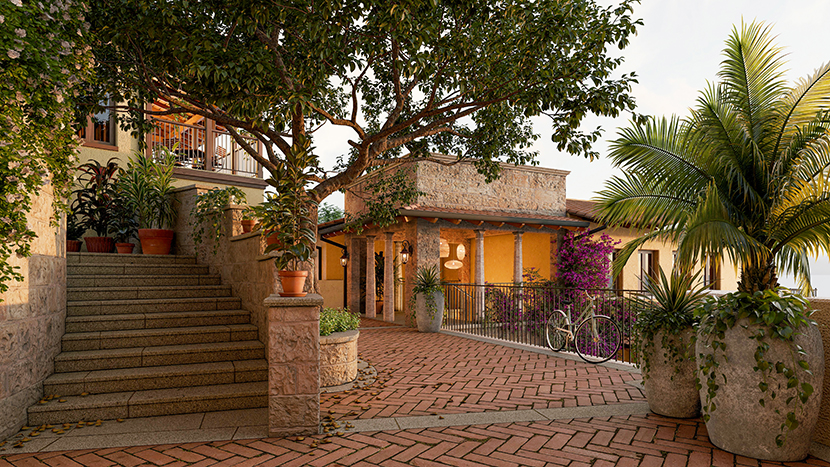 Charming little plazas and walkways connect the buildings and streets.

What software did you use to create this place? Any plug- ins you found particularly helpful?
Dariana: We modeled in both SketchUp and 3ds Max, for rendering we used V-Ray, and post-production was done with Photoshop and After Effects. To model the wooden roof structures, we use 1001bit (SketchUp) and FloorGenerator (3ds Max). For the roof tiles we used the Aviz Studio script Simple Roof Tile, Forest Pack to distribute the vegetation, Phoenix FD for the water, and Ivy Plant Generator for growing plants on the walls. Finally, many materials in the scene came from the Quixel Megascans library.
What has the feedback been like so far? Are you satisfied with the results yourself?
Dariana: Yes, and we are thrilled because we received so many positive messages – on Instagram, this project has garnered the biggest reaction we have had so far. We are very happy with this response, because while as business owners, we want to satisfy our clients first, as artists, we want as many people to enjoy our work as possible. So a commercial project receiving this sort of attention is very gratifying!
What is one thing you yourself have learned from this project that you can share with us?
Dariana: We learned that for projects of this scale, the 3ds Max XRef tools are really powerful. We obviously knew this beforehand, but this time we experienced it first-hand: we integrated it into our workflow so that more artists could simultaneously detail different areas. This project also marked the first time we used the Ivy plant generator plug-in. This too, proofed extremely useful, as it helped us create more organic and natural-looking environments.
Please tell us about your previous experience with RebusFarm. Is there anything you especially like about our service?
Brian: In just three words: excellent, fast, and dynamic. We use the RebusFarm Manager to transfer all of our 3ds Max scenes to the render farm, and it has always been a very smooth experience. We have been regularly using RebusFarm ever since we started MODO a few years ago, and it has been consistently great. I think for a small studio like ours it is an essential service, I highly recommend it!
In your estimation, how much time do you save on average by rendering with RebusFarm as opposer to using own machine?
Brian: Wow, I would not even know where to begin to figure out how much time we saved using RebusFarm. It is a lot, though, that is for sure. Just for our animations, we would need so many more machines rendering simultaneously to match.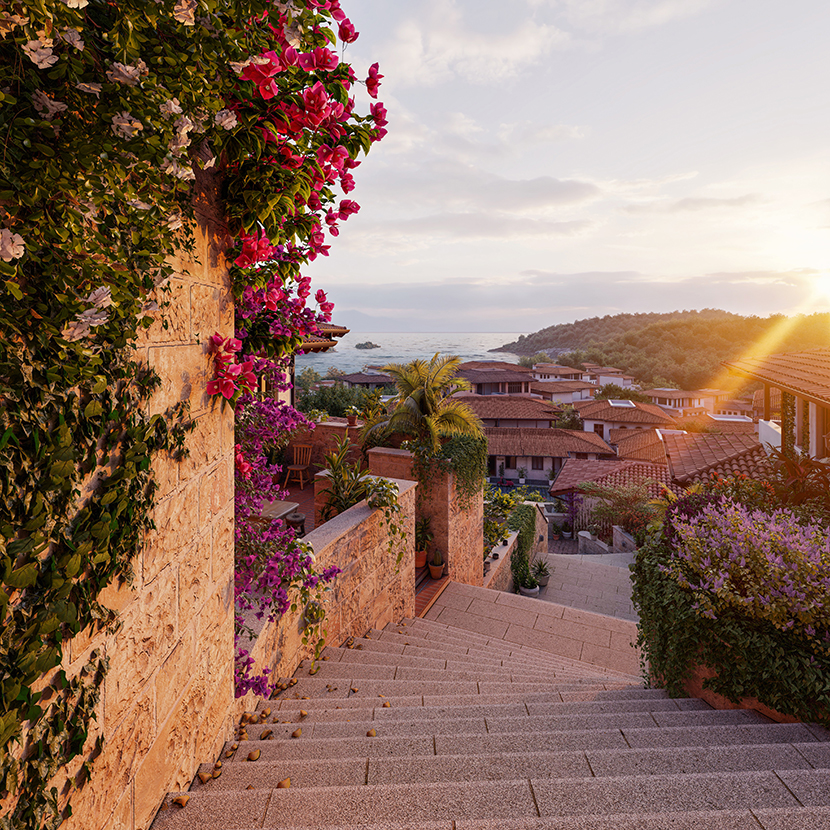 The view from the top of the central staircase, showing the town nestled in between the ocean and the lush forests.

In closing, is there anything else you want to say? any plugs, shoutouts or present o upcoming projects you'd like to mention?
Brian: While Dariana and I are doing this interview now, we represent an entire team of people, so I want to give special thanks to everybody at adetalle who worked hard on the Lantana project! I also once again want to thank RebusFarm for the opportunity to talk about our work. This was our first interview and we enjoyed it immensely!
So did we! Dariana, Brian, thank you both so much for taking the time and all the best in the future.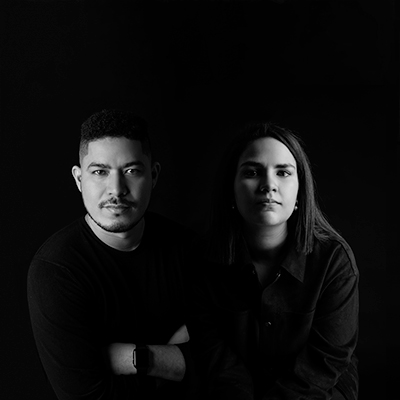 About the studio
Based in Panama City, adetalle is an architectural visualization studio co-founded and run by couple Dariana Pitti and Brian Salvatierra. Combining their extensive experience in project design and urban development, they offer a wide range of archviz services, all firmly rooted in their competent artistic vision.
Get started with your own renderings