Friday, May 14th, 2021 by Julian Karsunky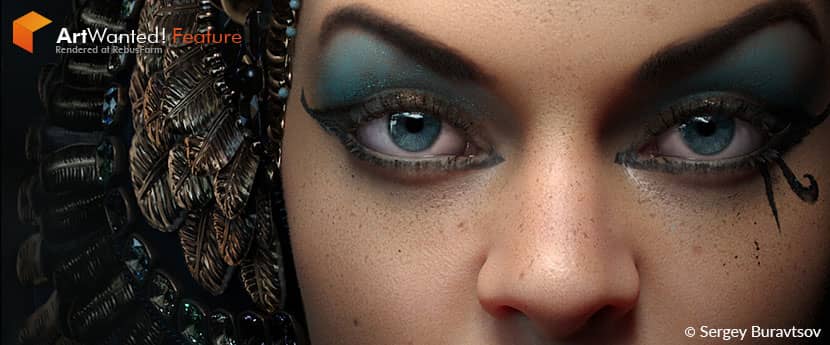 This month's ArtWanted! feature sees the return of a familiar face: Russian CG artist and all-rounder Sergey Buravtsov is back, and once again he has blessed us with an outstanding character artwork. His portrayal of Cleopatra perpetuates the myths surrounding one of history's most fascinating, yet elusive figures on a 3D canvas. Every bit as beautiful and deadly as the asp coiled around her neck, the Egyptian ruler has never looked better – eat your heart out, Elizabeth Taylor!
In our interview, we catch up with Sergey and take a closer look at the making of one of his most recent, personal projects.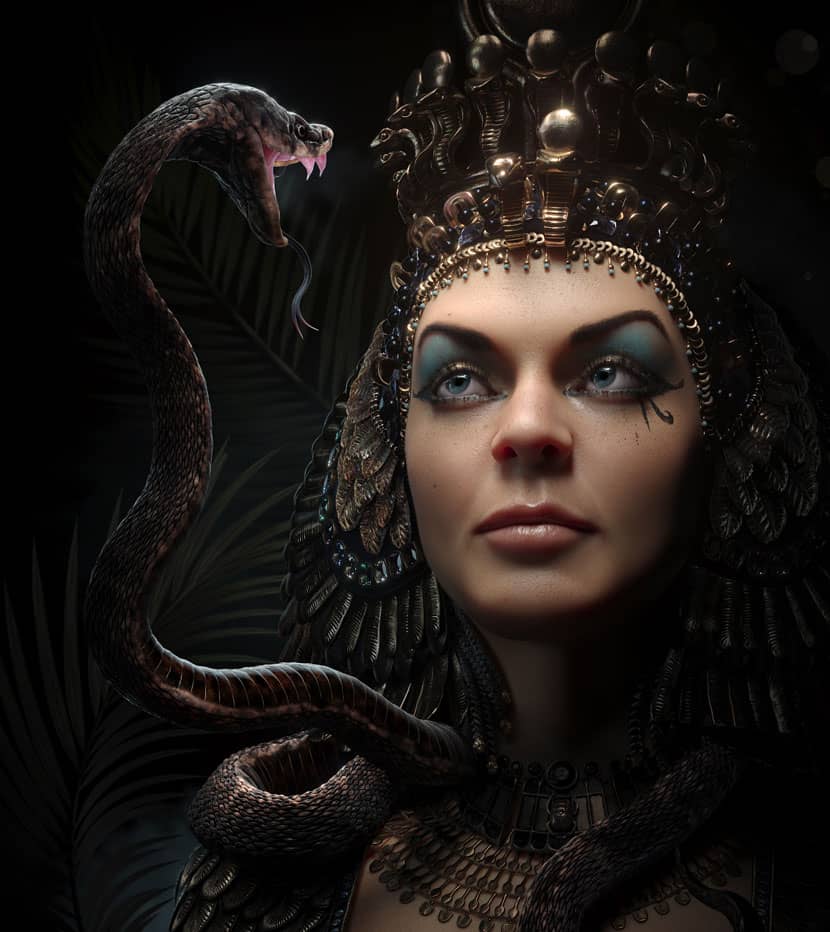 Sergey Buravtsov 'Cleopatra'
Hi Sergey, thanks for joining us again, it has been a while! For those who might have missed our previous interview, please introduce yourself once more.
My name is Sergey Buravtsov, I am a 35-year-old 3D artist with over 15 years of industry experience.
Last we spoke, you were exclusively working freelance. Has anything changed in regards to your job situation, your approach or your overall outlook?
That's right, I am still working freelance, always on the lookout for new and interesting projects.
Please give us a brief refresher on your brand 'Serginterio'. 
The services I provide include full CG video production and animation, interior visualization, and object and character modeling and sculpting. For larger scale projects, I work together with a team of fellow artists.
Have you ever considered a higher degree of specialization or do you prefer a more generalist approach?
Yes, to me, a more flexible approach makes more sense, as it allows me to cover a larger variety of projects. Diversifying yourself means you hopefully never get too tired of specific work, and you're also less likely to get hung up on one thing.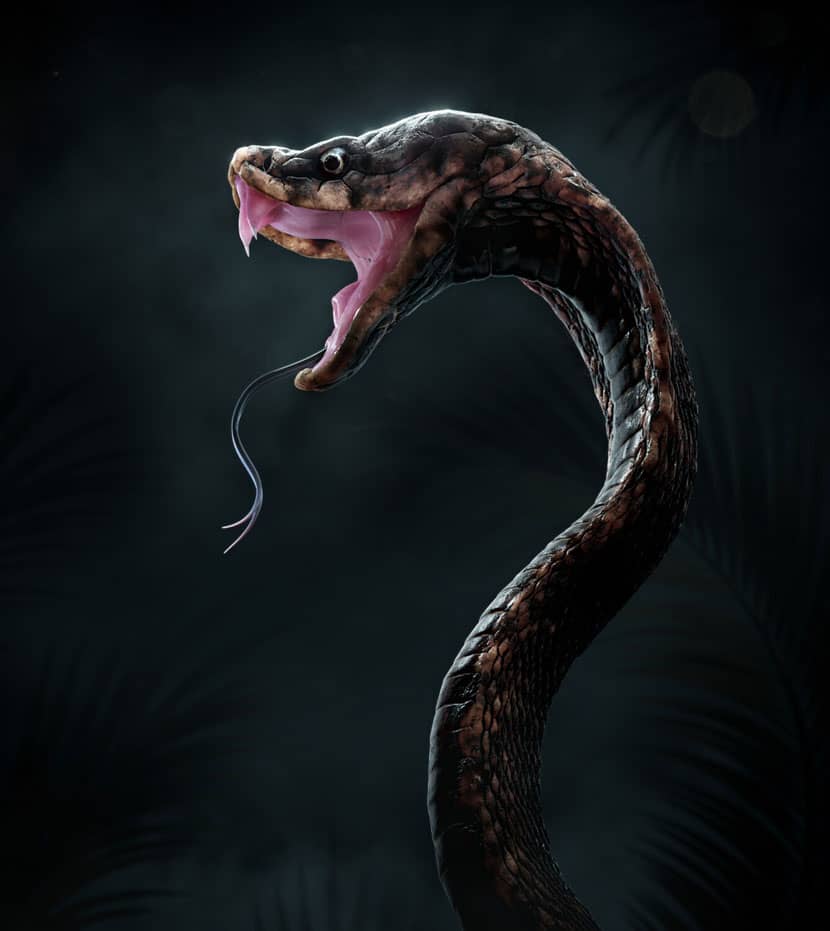 Rumored to be the cause of her death, the imagery of Cleopatra with snakes is part of the legends surrounding her.
How are you holding up in these trying times? Has the current crisis impeded your work?
The pandemic has contributed to my gradual transition to remote work, as more and more companies have fully switched to this format. Nevertheless, my work load has not decreased at all, thankfully – on the contrary, there are more opportunities available now.
What were some of your more recent personal highlights, or projects you particularly enjoyed working on in the last years?
Lately, I've been doing more commercial projects. Unfortunately, I can't publicly talk about the more interesting ones, as I'm bound by NDA clauses. However, not too long ago I finished my newest personal project, 'Queen of Insects'. It was a welcome distraction from my commercial jobs and I enjoyed working on it in my spare time.
I am also proud to be currently working with a 3D printing company; a painting of my 'Shaman' is now available for purchase. The publisher has sent me a print and it  looks amazing in real life!
Following 'The Shaman' that earned you the well-deserved title of 3D Artist of the Month in October 2019, you once again amazed us with another character piece, your imagining of legendary Egyptian ruler 'Cleopatra'.  
Can you first tell us about the origins of the project and what initially drew you to this character?
This is one of my more recent personal projects; it took me about a month of working in my spare time to complete. The historical figure of Cleopatra is shrouded in mystery, and has been a never-ending source of fascination. I was attracted to this juxtaposition of a beautiful woman and her deadly snake. The intricately designed headgear and jewelry also promised to be an interesting challenge.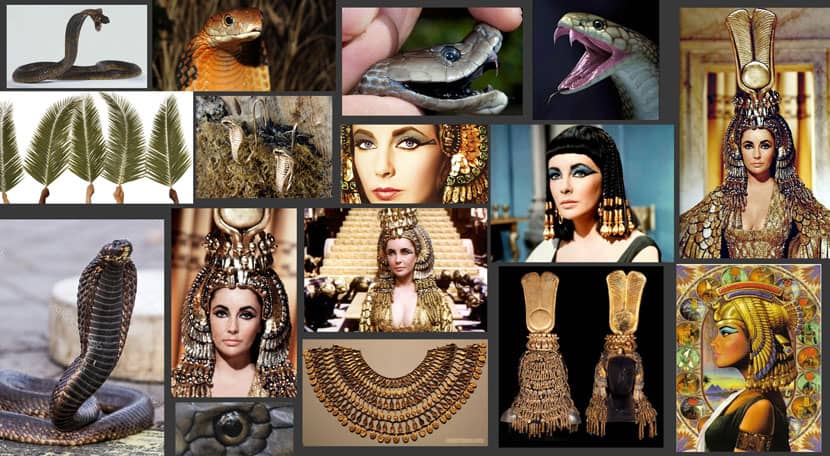 Sergey's reference sheet offers insight into some of the inspirations for Cleopatra's appearance.
Your reference sheet includes several images of Elizabeth Taylor's iconic depiction of Cleopatra from the eponymous 1963 movie. Tell us more about the overall aesthetic and the stylistic choices you made for this character in terms of materials, color, composition, etc.
Elizabeth Taylor's custom served as my main inspiration, as the entire outfit is clearly visible from all sides in the movie. Most of my other references are of snakes; the snake in the image is integral not only to its composition, but to its effect. I wanted to convey a sense of looming danger, which is why I positioned the snake above and opposite of Cleopatra's head. It's dangerous, yet elegant poses both complement and contrasts the delicate facial features of the woman.
Consequently, I paid very close attention to Cleopatra's eyes. Since I wanted to recreate the atmosphere of an antique painting, I also put a lot of effort into the lighting.
Once you had a rough concept in mind, how did you then go about realizing the idea? Can you briefly walk us through the development process step by step?
The character model is actually a more refined version of an earlier project of mine, called NUN.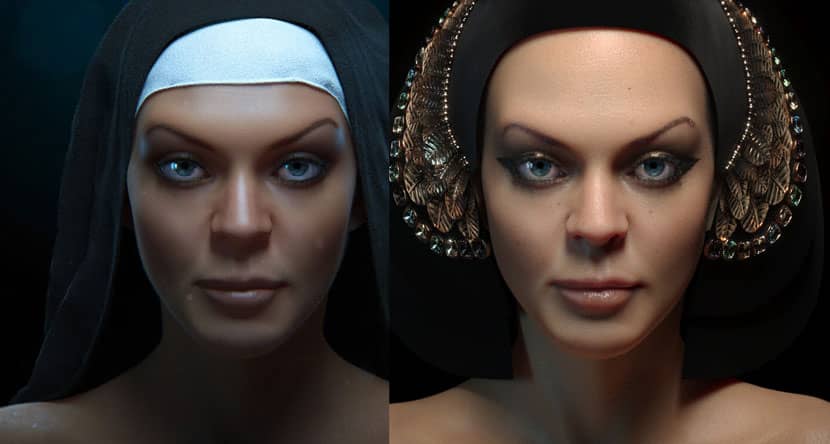 I began with a rough sketch, outlining the main idea and composition: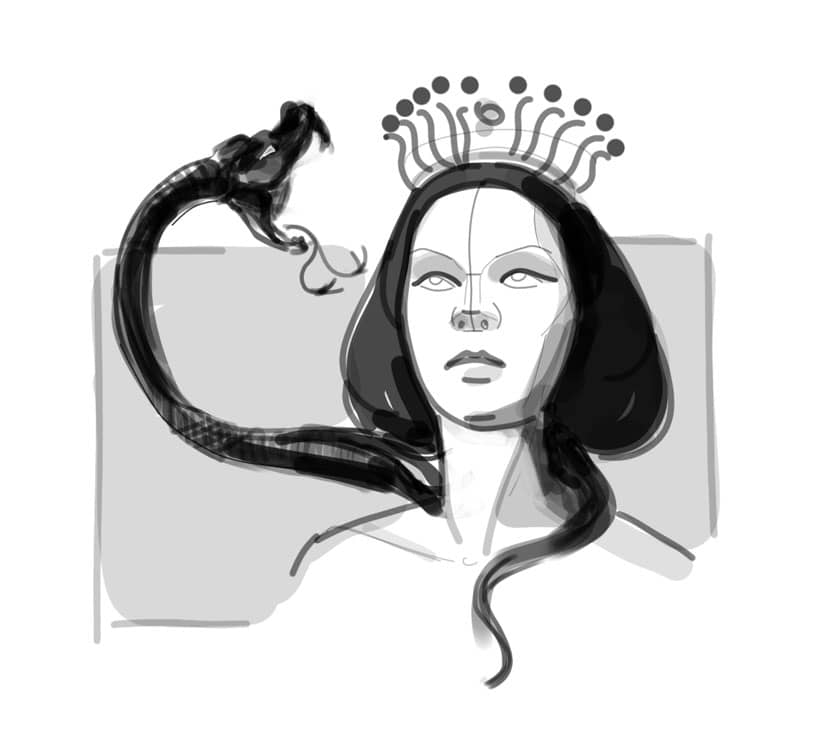 Next, I proceeded to work on the details of Cleopatra's clothing and accessories: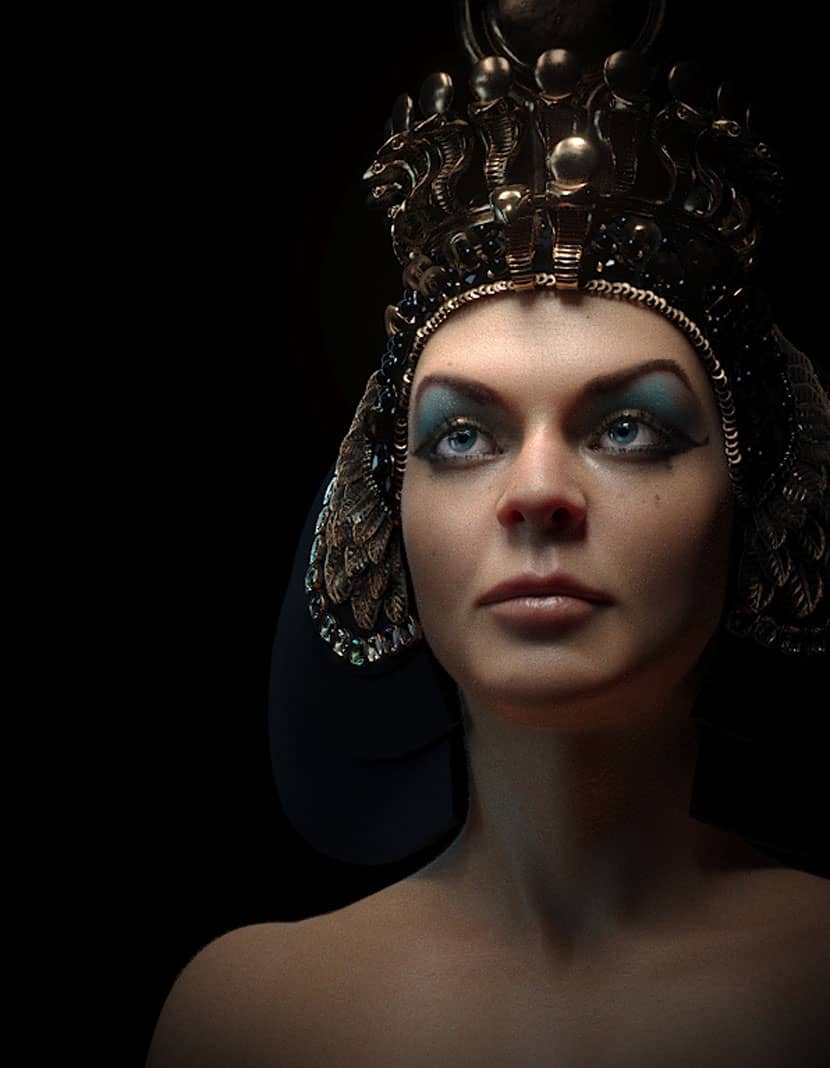 Finally, I began working on the snake, starting with a pre-drawing of the sketch, with the curve and the position of the snake in the frame: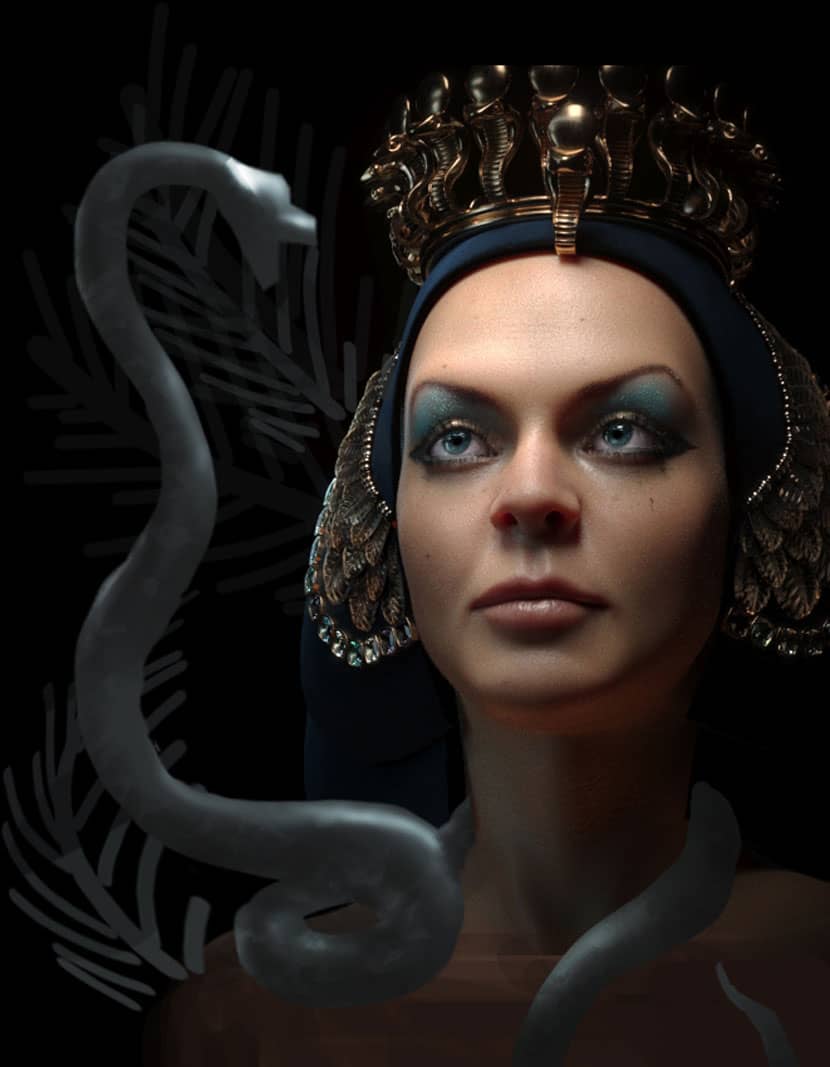 What software did you use to create this scene? Any plug-ins you found particularly helpful?
3ds Max, Corona Renderer, Substance Painter, ZBrush, Unfold3D, UVLayout, and Photoshop. Corona Scatter, the built-in scatter tool of Corona, was very helpful overall, and I used Ornatrix to create the braids.
What has the feedback been like and how satisfied are you with the results yourself?
The work made it into the AWARD gallery on render.ru, which is very nice.
Please tell us more about your previous experience with RebusFarm – you undoubtedly made excellent use of the RenderPoints you won as 3D Artist of the Month!
Yes, I used RebusFarm to render my 'Cleopatra'. What I really like about the service is its ease of use, the management of the rendering process, and most importantly, the speed: the final render was completed in roughly 30 minutes, on my PC this task would have easily taken 10 hours, at the very least.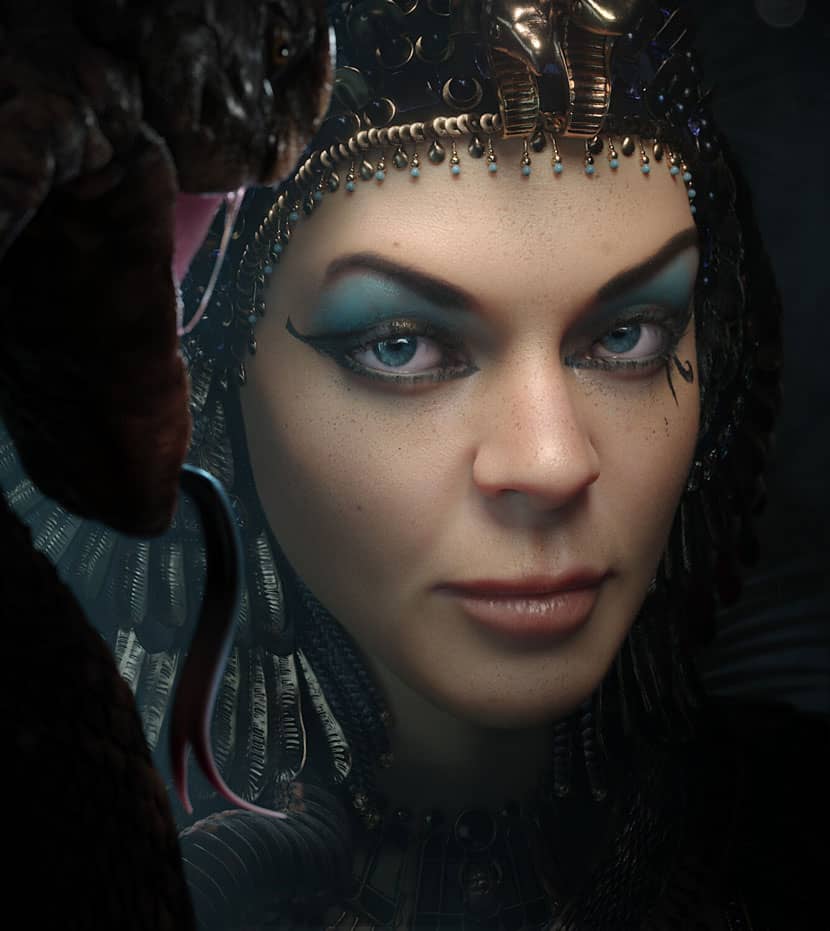 The beauty and the beast? The makeup on Cleopatra's left eye resembles the Eye of Horus, a symbol of protection and royal power.
In closing, is there anything else you want to say? Any shoutouts, plugs or present or upcoming projects you'd like to mention?
I want to thank RebusFarm for once again giving me this opportunity to tell about myself.
Sergey, thank you so much for taking the time and all the best in the future!
Keep up with Sergey Buravtsov and his work here:
---
How to join ArtWanted!
You want to get featured in our ArtWanted! campaign and win 250 RenderPoints on top? Submit your work, rendered at RebusFarm, to This email address is being protected from spambots. You need JavaScript enabled to view it.! Visit our Art Wanted! page for more information.
---
>> Read more articles on our blog