Monday, May 3rd, 2021 by Julian Karsunky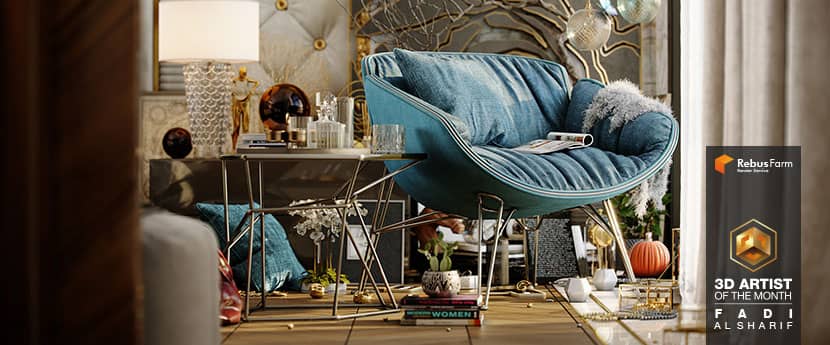 Whether art imitates life or life imitates art, one thing is for certain: hardly anybody's home looks as neat and tidy as your usual CG interior. When reworking an image following an archviz job, Fadi Alsharif, our May 2021 3D Artist of the Month, decided to try something different: bending the rules, the Syrian CG artist designed an aesthetic that replicates more realistic living conditions, with a relaxing calmness arising from a carefully composited chaos.
In our interview, Fadi talks about self-teaching, dream jobs, and thinking outside of the box.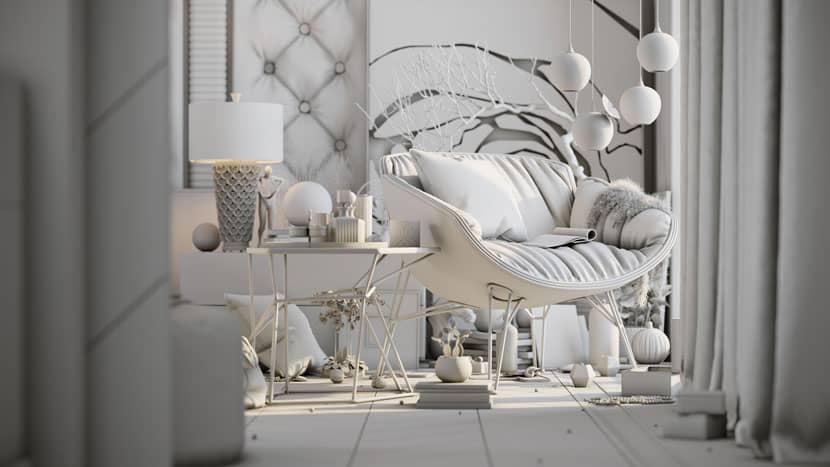 Fadi Alsharif, 'Luxurious Bedroom', clay render.
Hi Fadi, thanks for joining us. To start things off, please introduce yourself to our readers!
My name is Fadi Alsharif, I'm a 28-year-old CG artist from Damascus, Syria, currently based in Istanbul, Turkey.
Tell us a bit about your professional history – how did your journey as a 3D artist begin?
My introduction to 3D came in the form of an archviz course, recommended to me by my older brother, who thought it might complement my studies. At the time, my knowledge of software and design was limited to AutoCAD…I had basically no idea about 3D or rendering back then!
After finishing said course, I found myself enthralled with this field. Wanting to dive deeper, I spent hours upon hours reading books, learning software and teaching myself new techniques on a daily basis.
What training or education do you have?
I have a degree in civil engineering from Damascus University. After graduating, I moved to Istanbul, where I continued self-teaching. Since then, I have completed numerous trainings, and am now a certified professional for software such as V-Ray, Nuke, 3ds Max, AutoCAD, and most of the Adobe package, including After Effects, Premiere, and Illustrator.
How much overlap is there between civil engineering and archviz? Does your degree benefit your CG work?
While graduating university was an important milestone in my life, my studies hardly ever overlapped with my career in 3D. Though it has been helpful in reading and understanding complex AutoCAD plans for the occasional archviz project.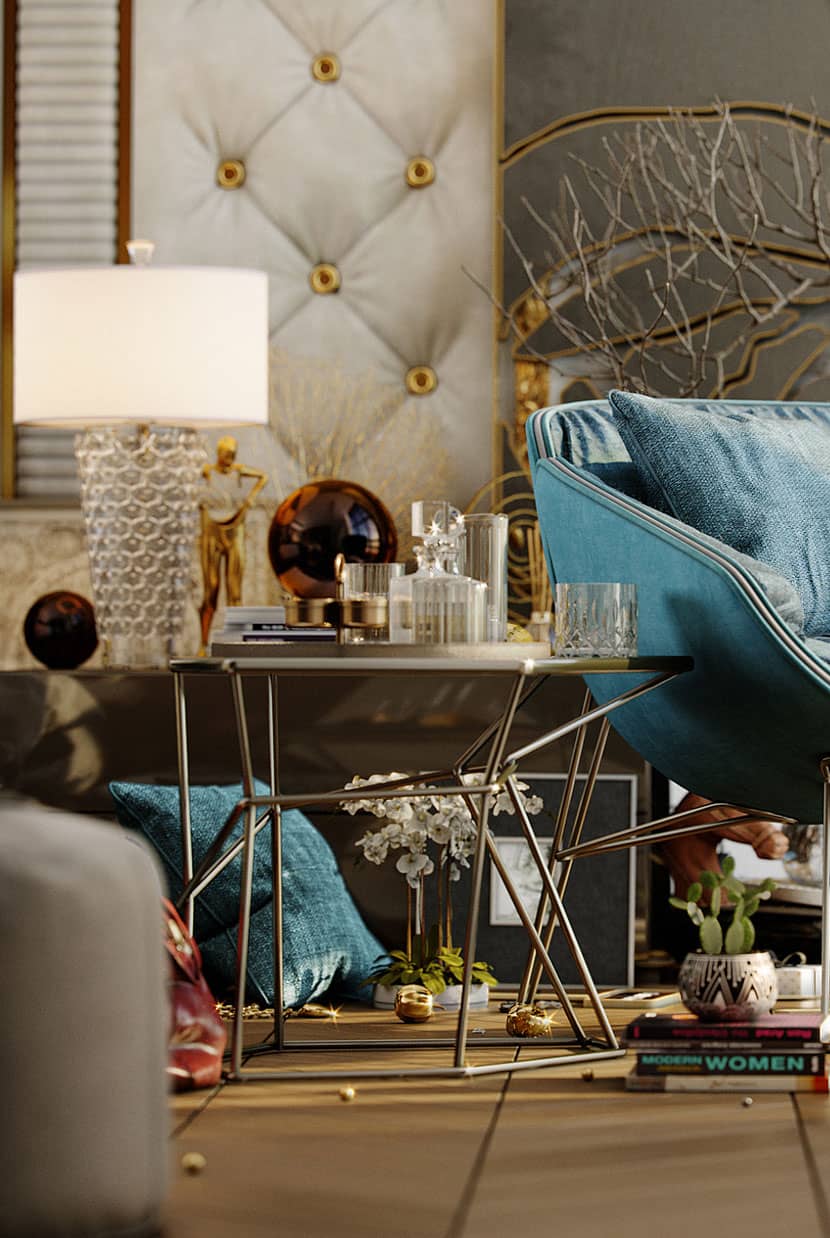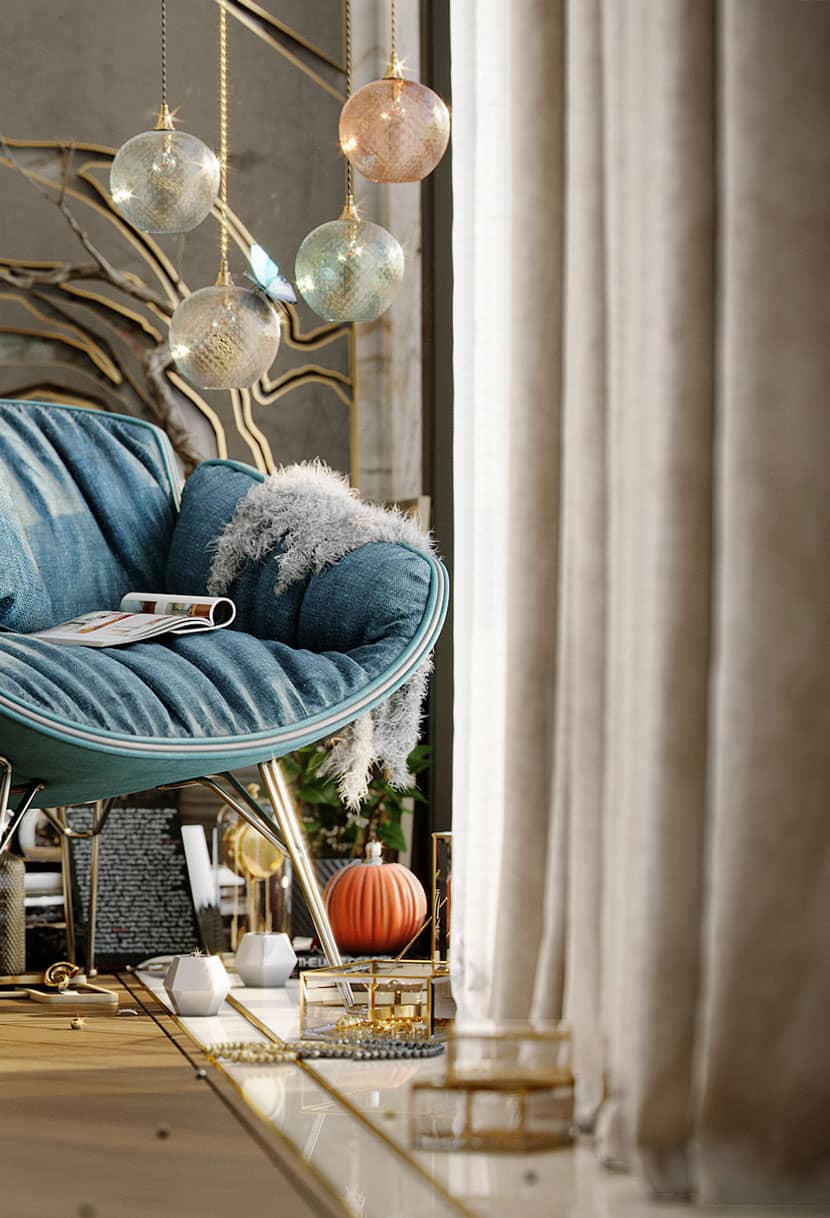 These image details offer a closer look at the multitude of objects Fadi modeled and placed in the scene.
Tell us about your current job situation. Are you exclusively freelancing at the moment?
No, I work full-time as a 3D generalist at an animation studio here in Istanbul, but I do take on occasional freelance projects in my spare time. In addition, I work as a trainer, teaching students in 3D design and animation.
Describe your profile as a 3D artist.
My services range from architecture visualization, furniture and hard surface modeling to compositing, motion graphics, and animation.
Is there a part of your job or in CGI in general that you particularly enjoy? For what reasons?
Modeling is my favorite field which I have been passionate about the most, so I like spending hours and hours developing my skills and doing modeling especially for hard surfaces and video games.
Do you have any long-term goals? Is there a specific field, industry or company you would consider a dream job?
I would love to one day work in modeling and compositing for feature film production companies, like Industrial Light and Magic, Sony Image Works, Digital Domain, MPC, Dneg, or Framestore.
How are you holding up in these trying times? Has the current crisis impeded your work?
This pandemic is a global event, so naturally, our industry is not spared; most of the companies I work with have been affected one way or the other. I truly wish for all of this to end soon, so the world can go back to the way it used to be.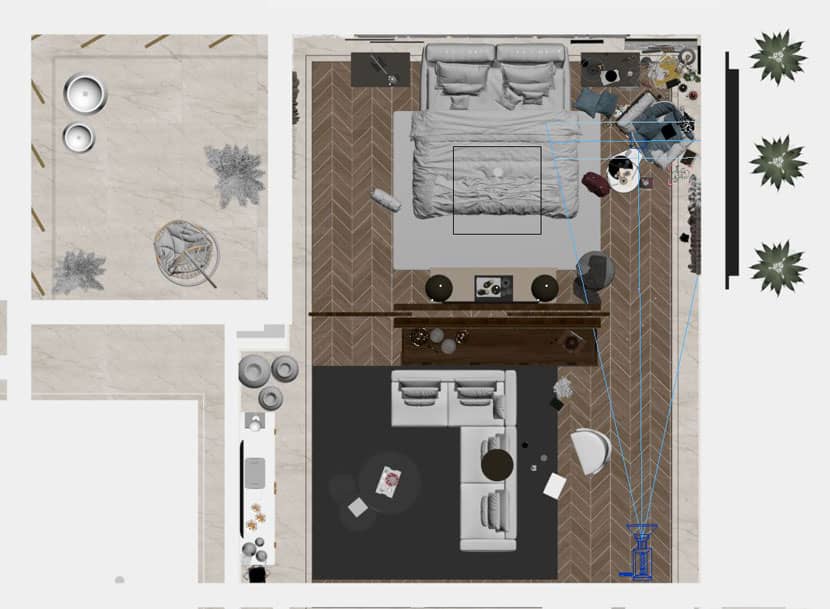 This top view shot shows Fadi's camera placement for the section of the room he reworked after completing the initial job.
Let's talk about your work in more detail, namely the luxurious bedroom you submitted to our campaign. Please tell us all about the project and the story behind it!
The luxurious bedroom is one of many shots I produced for Saudi-Arabian architectural bureau Abdulmoshin Al Theyab & Partners as part of a bigger project. It is part of a complete villa interior designed for a professional Saudi soccer player.
My connection was with the interior designer himself, who asked me to do the visualization for the project. He was very precise about the materials chosen for this project and the time to deliver. As the main focus of the project was a rough visualization of the overall interior space, one of the requests was to not add too many pieces of furniture or details to the images. This limitation was rather challenging, so once I was done with the project, I returned to the luxurious bedroom, adding further details and fully exploring my creative ideas and personal style.
What parts of the image were particularly important to you, both from a visual/design and technical point of view?
Creating a photorealistic image with beautiful and captivating colors was one of the key points for me. I also tried to concentrate on the small details to bring the room to life.
Once you had a concept in mind, how did you go about realizing it? Can you briefly walk us through the development process?
I am glad you asked me this question! When I started working on this project, I had no set concept in mind. So, my workflow was as follows: after finishing the modeling process and adding furniture to the scene, I began randomly placing cameras, then played around with the cameras' lenses, trying out different compositions and angles until I found settings best suited to the client's needs. Once the shot was approved, I started working on the now locked cameras independently, and without paying attention to the rest of the scene.
What software did you use to create this piece?
For this image, I exclusively used 3ds Max, Corona, Photoshop and Nuke. However, my workflow usually includes additional software, such as C4D, V-Ray, Octane, After Effects, and Illustrator.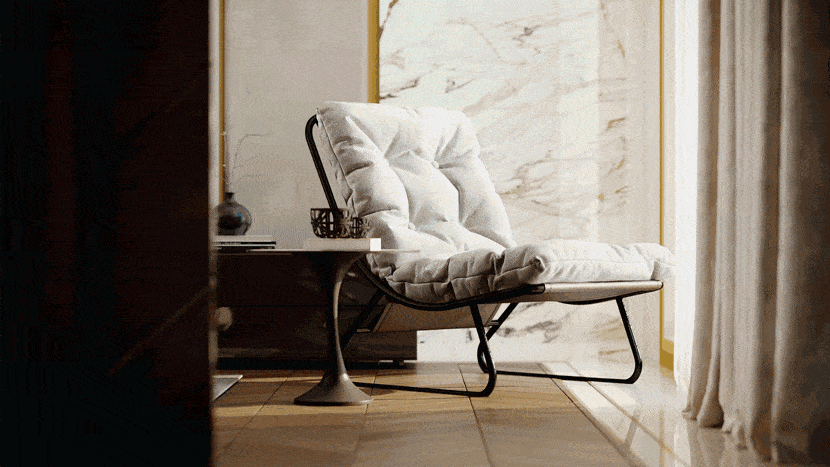 Fadi's design process for the luxurious bedroom seems to also tell the story of its invisible owner: from moving in, to decorating and fully settling in.
Considering this is labeled the master bedroom, I couldn't help but notice that there is no bed visible, at least in this shot?
A bedroom is a place where you relax, so I wanted to visualize a corner that specifically highlights this subtle coziness. It is the part of the room where you would sit back and enjoy the sun rays on a lazy Sunday afternoon, so I focused on that section specifically, avoiding any other distractions.
Another thing that immediately struck me is the composition of the shot: while CG interiors usually appear impeccably tidy, here we see jewelry and other objects haphazardly strewn all over the floor. Can you explain this deliberate, yet unconventional design choice?
As I've mentioned before, the image I delivered as part of the project was quite different from this improved, and more detailed shot. When I reworked the scene, I wanted to try something unique: instead of the typical clean-cut aesthetic, I opted for a more chaotic, lived-in look. At the same time, I still wanted an inviting and relaxing atmosphere, so I purposely designed sections for the viewer's eyes to rest upon amidst the more crowded sections.
In a more abstract sense, the image mirrors life, which is not always so neat and orderly, but often messy and chaotic. Most of the time, we do not experience one state or the other, but synchronicity, and just like in my image, there are calm moments in chaos and vice versa.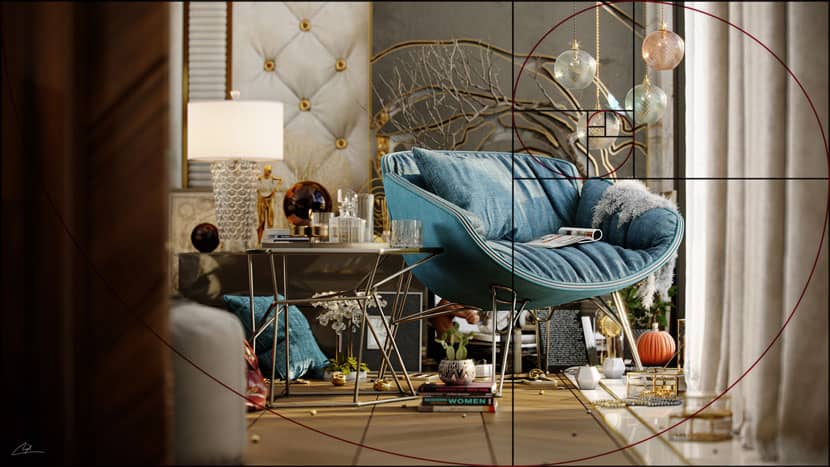 Calmness in chaos: the seemingly disorderly state of the room is in fact carefully composited.
What is one thing you have learned from this project that you can share with us?
To play with different ideas and concepts, to not shy away from thinking outside the box, sometimes even to a daring degree.
Have you used RebusFarm before? If so, please tell us about your overall experience. Is there anything you especially like about our service?
Unfortunately, I haven't had the opportunity to try your services yet, but I am looking forward to it in the future – I will definitely put the RenderPoints I won to good use!
In closing, is there anything else you want to say? Any plugs, shoutouts or upcoming projects you'd like to mention?
There are a couple of different projects I'm working on currently, so please add me on social media to stay in the loop!
Fadi, thank you so much for taking the time and all the best in the future!
Keep up with Fadi Alsharif and his work here:
---

HOW TO JOIN OUR MONTHLY CONTEST
You want to be our next featured 3D Artist of the Month and win 250 RenderPoints? Just visit our 3D Artist of the Month competition page and submit your entry. We'll choose the best image and contact the winner.
---
>> Read more articles on our blog