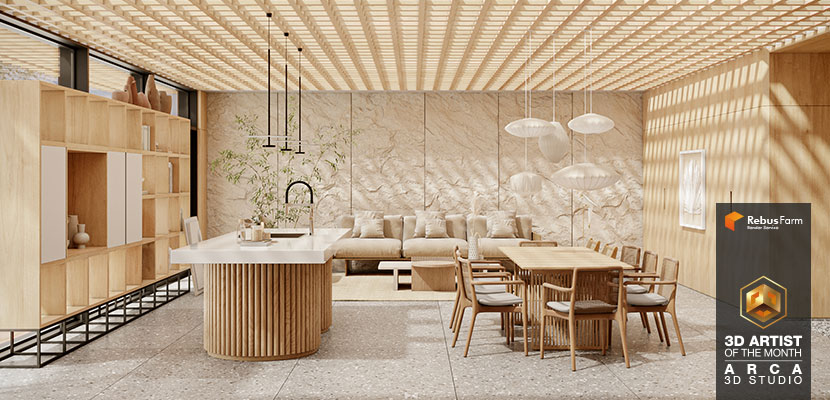 The South American CG industry has been making waves for quite some time now, consistently producing top talent artists and work of the highest quality. Brazil, in particular, has established itself as home to a tight-knit community, and we are more than happy to once again shine the light on one of its more recent members: Arthur Sthefano Cavalcanti e Souza, our August 2022 3D Artist of the Month. A year ago, Arthur founded his own company Arca 3D Creative Studio with a friend, and together, they have been on a mission to shape the future, one pixel at a time.
In our interview, Arthur reflects on his personal strength and weaknesses, recounts his professional history, and remembers his human and feline companions along the way.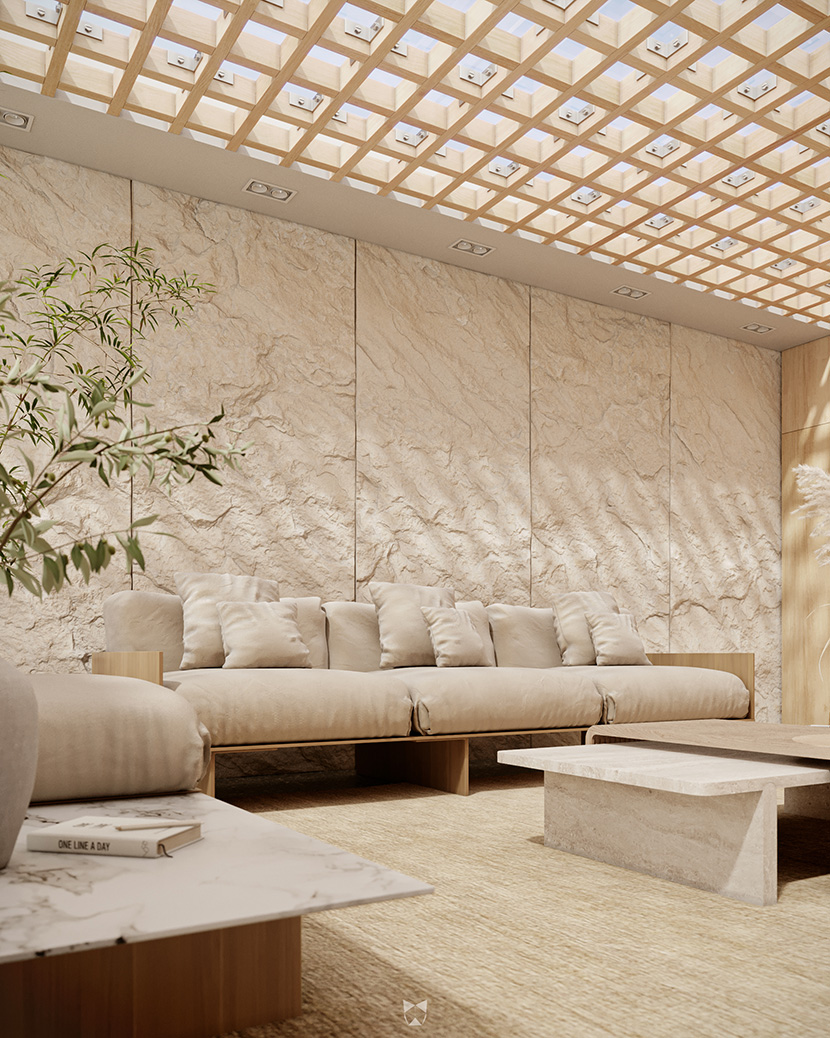 'Japandi Living', Arthur's submission to a monthly CG contest and his take on the popular interior design trend.
Hi Arthur, thanks for joining us at the Rebus Render Farm! To start things off, please introduce yourself to our readers.
Hello everyone! My name is Arthur, I am 29 years old and I'm from the city of Goiânia, Brazil.
Do you recall when and how you first consciously encountered CGI?
My initial introduction to 3D software came at university, when we worked with SketchUp.
When and why did you then decide to pursue a professional career as a 3D artist?
Before I fully committed to a career in 3D, I worked as a project manager and developer at different architectural firms. The first time I seriously considered pursuing 3D was during an internship. Gustavo Freitas, a passionate architect and my mentor at the time, was very proficient with 3ds Max and V-Ray, and I was just so impressed with his skills. He not only gave me the push I needed, he even paid for my Rendermind course – and I am eternally grateful for his support.
What training or education do you have?
I have a degree in Architecture and Urbanism. In terms of 3D, the first archviz course I completed was Rendermind 2.0 from Ander Alencar's OF3D Academy. Thank you, Ander, for this incredibly competent and comprehensive course!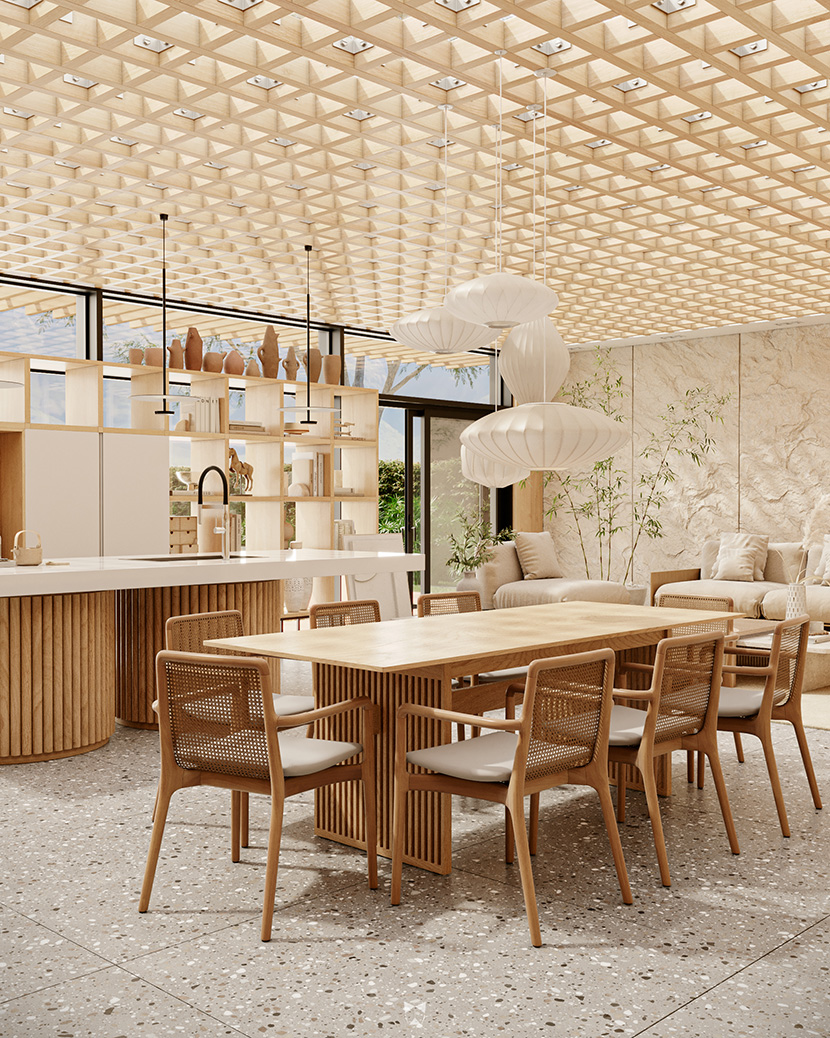 "Minimalism, natural lighting, wood material": the Japandi styled kitchen and dining area.
Please tell us about your company Arca 3D Creative Studio. When and under what circumstances was the studio established?
I began working as a freelance 3D artist in 2020. Then one day, Willian, a colleague of mine, invited me to work with him on a project. As time went on, we kept working together, and together we founded Arca in 2021.
Willian is quite the character, before becoming a professional 3D artist, he worked on a market. He had some difficulties with architectural plans at first, but now he can do almost everything without me. Still, we always work closely together on the projects. We have just completed our first year as a company, and I am amazed at what we have already achieved!
You told us the company's logo holds some special meaning to you. Can you explain?
Yeah, the logo was created by the amazing José Renato during my graduation year, he was my mentor at the time. We came up with a shape of an open box, signifying solutions, which also resembles a cat, done in this minimalist, polygonal look. My cat passed away that year, he was a true partner in my life and always by my side, when I was working at home he kept me company, sleeping on the table. This is why I wanted to immortalize him in the logo, and why it is such a bittersweet story. When José first showed me the design, I was crying in the end. I am so thankful for having such great people in my life.
What services do you provide and who are your target audiences?
We develop 3D solutions for architecture, including 3D imagery, virtual tours, animations, floor plans and interior design concepts. My client base mostly consists of architects, designers, real estate agents and developers.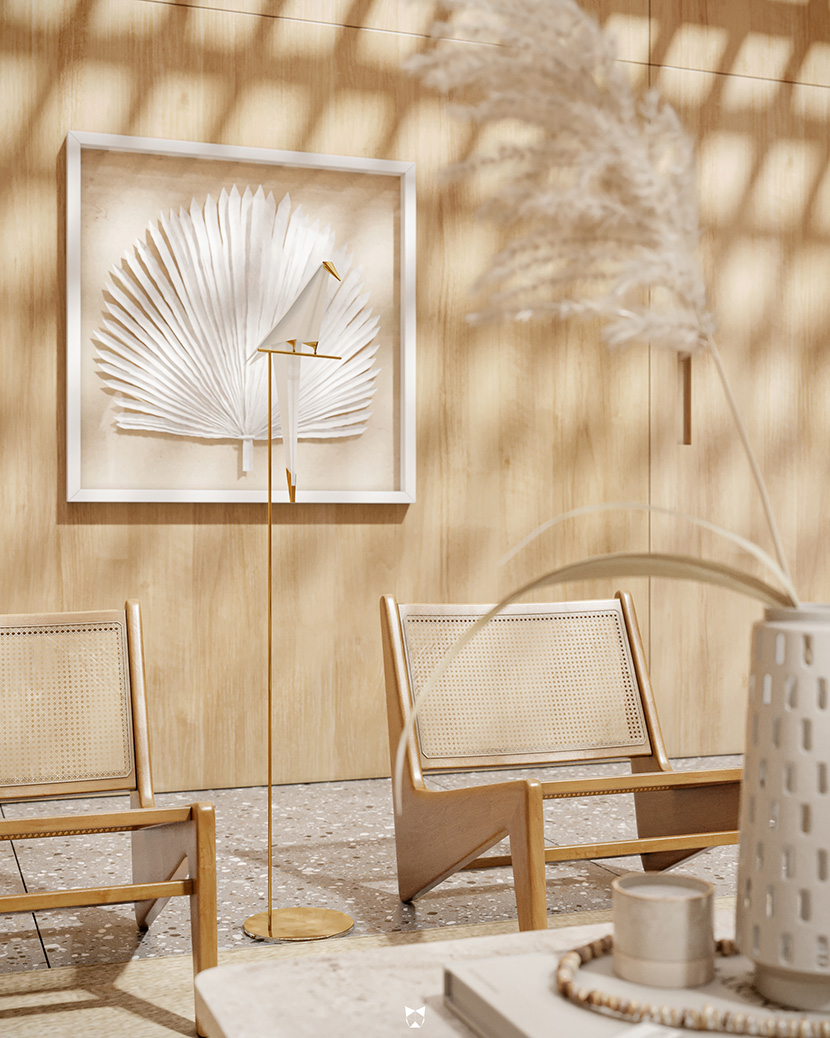 An origami bird on a perch, with more paper art visible in the background.
How would you describe your approach and overarching vision as an archviz company?
We think that 3D is an amazing way to shape and manifest the future, and showcase the full potential of any architectural concept. We are also very much in tune with our artistic side and put a strong emphasis on creating an atmosphere that gives every project a unique identity, a personality, to evoke a sense of belonging.
Where does your own fascination with architecture and archviz stem from?
It is difficult to explain, my love for architecture and archviz, so let's just say I am consistently amazed by what we can achieve with 3D on a general level!
What are your main areas of expertise as a CG artist? Is there a part of your work you particularly enjoy?
For the most part, I consider myself a generalist. I really like modeling architecture and lighting, I just love the contrast between light and shadow. On the flip side, texturing is still somewhat of a blind spot of mine; I really should do a deep dive one of these days, something like Surface Imperfections. But hey, we all have our strengths and weaknesses and there is always room for improvement!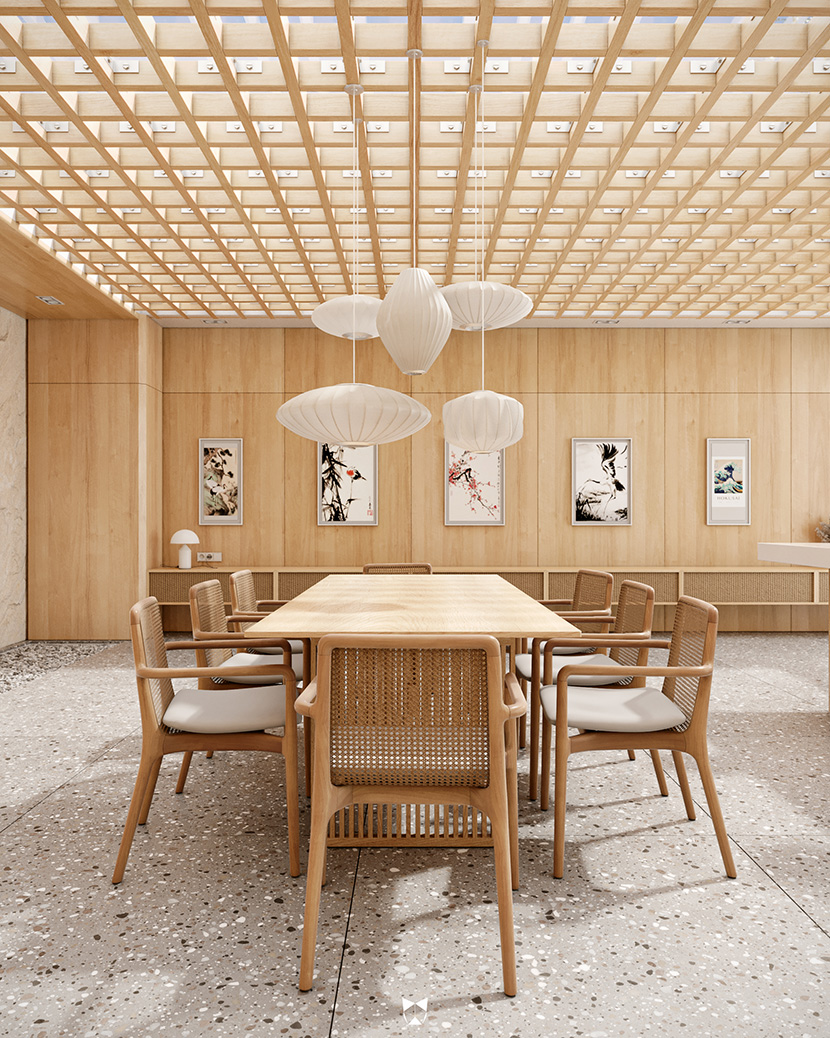 The dining table, complete with paper lanterns and traditional Japanese art hung on the wooden panels.
Let's talk about your work in more detail, namely your submission to our campaign, "Japandi Living", a study in interior design. Can you, first of all, describe the circumstances that lead to the creation of this project?
This project was my submission to a monthly contest held by OF3D Academy; the theme was Japandi style. While searching for suitable references online, I eventually came across an interior developed by Très Arquitetura for the 2021 CasaCor SP event. This served as my main inspiration, and I tried to maintain most of the elements while also expanding on the concept by introducing new elements.
What was your main motivation for joining this contest?
The contest provided a much welcome opportunity to not only challenge myself by competing, but to improve my modeling skills and technical finesse.
What were some of the challenges you had to overcome?
The hardest thing was definitely the ceiling. I was not satisfied with the initial base model, so I took some time to study how the ceiling would actually work in real life, how the individual joints would be put together, and so on. I then used my newfound to change the 3D accordingly – and I really liked the result.
How long did it take you to complete the project?
I worked on this project mostly in my spare time over the weekends, on top of the regular workload. It took me around two full weekends, if I remember correctly.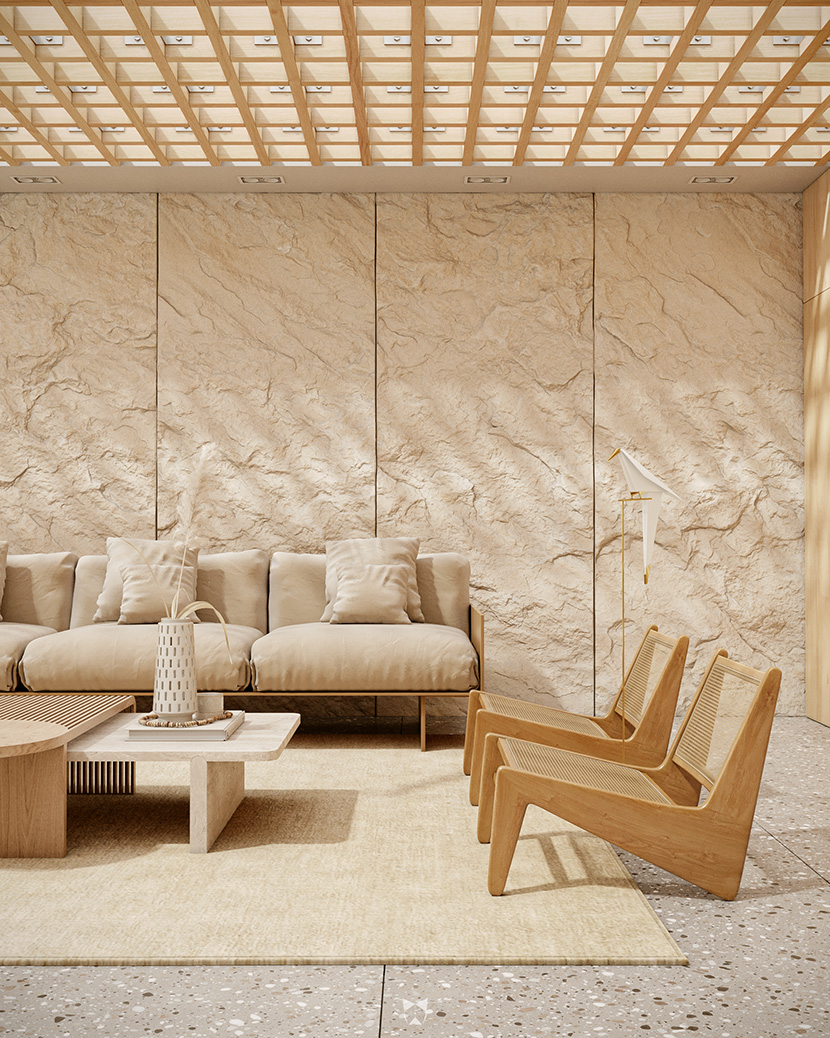 The elaborate ceiling is among the more notable improvements to the original concept.

Please tell us more about the Japandi style! How would you describe the defining features of this particular style of interior design?
In just a few words: minimalism, natural lighting, wood material.
How did you capture these features in 3D? Can you talk a bit about your use of colors, materials, lighting, and overall composition?
The basic layout and the color palette were mostly based on my reference, with the wood and terrazzo floor serving as the baseline for the latter. Some of my more noticeable changes include the various panels on the wall, the ceiling, and the lighting.
What software did you use to create this piece? Any plugins you found particularly helpful?
I used 3ds Max and Corona Renderer, post-production was done in Photoshop. My major plugins were Forest Pack and FloorGenerator.
What has the feedback been like so far? Are you satisfied with the results yourself?
I am happy with the result! At the same time, there is always room for improvement: I think some of the surfaces could use some more work, for example. I would have also liked to explore different lighting settings and moods. I had initially planned to take a few additional shots from the outside, showing the building's exterior and a garden pond, complete with rocks, plants and koi fish. But it was a good experience overall!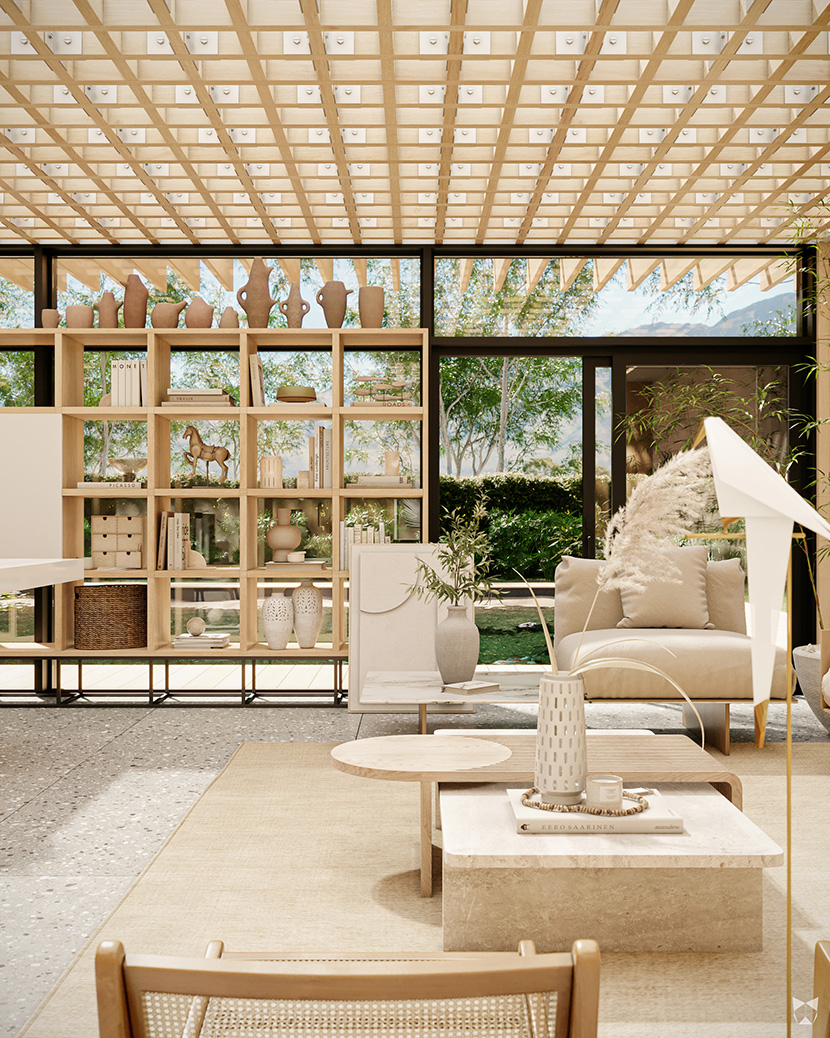 This shot shows more of the decorative elements lining the shelves, and a glimpse at the garden.

Have you used RebusFarm before? If so, please tell us about your overall experience. Is there anything you especially like about our service?
Yeah, I use it whenever we are hard-pressed for time. RebusFarm allows me to focus on the actual project instead of the render time, which is very handy in these situations!
In closing, is there anything else you want to say? Any plugs, shoutouts or present or upcoming projects you'd like to mention?
I just want to say thank you for this opportunity. I am naturally rather shy, which I am trying to overcome, so this interview helps me a lot in that sense; maybe it will even allow me to connect with some of my colleagues more easily. Meanwhile, we are working hard to improve our skills even further and continue learning all the time. Thanks again to the RebusFarm team and shoutouts to everyone I have met on this path so far.
Arthur, thank you so much for taking the time and all the best in the future!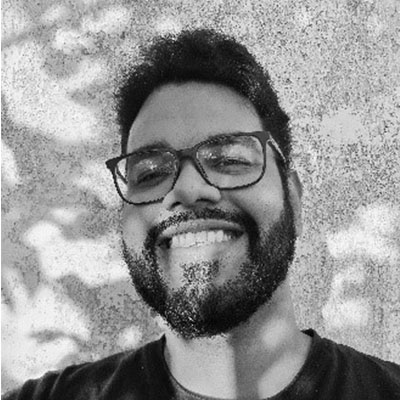 Get started with your own renderings