Wednesday, October 27th, 2021 by Mirna Emad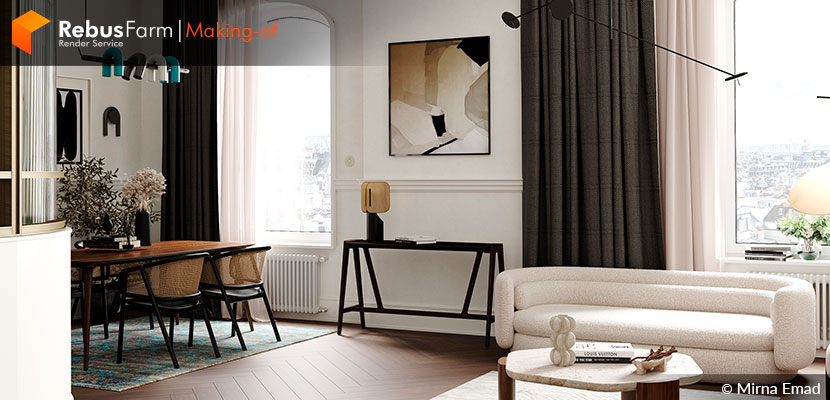 Through the passing of time, many artists have been inspired by Paris and Egyptian interior designer and 3D visualizer, Mirna Emad, is not an exception. Imagining a beautiful design inspired by the city of lights was not an easy job, but using photorealism to bring it to life was the tricky part. In this 'Making-of' edition, Mirna herself gives us some advice on how to do it beautifully.
Let's hear her out.
A brief intro to me and my work
This is me, Mirna Emad, Freelance CG Artist and Interior Designer based in Cairo- Egypt.
I started my career working in the administrative buildings field for around 3 years, then I found my ultimate passion in home spaces and residential designs. 3D visualizations were always super attractive to me but I was lacking the tools, it is like you're having dozens of concepts and designs in your mind but you just cannot interpret them, super annoying!
After a while, I decided to dig deep into the 3d visualizations field and that was really a super hit for me, I began watching tutorials and experimenting with different techniques from some well-known artists, gathering data about modeling, lighting simulation and camera setup.
I love subtle art, minimal details and pieces where a concept is best revealed, these are the kind of projects I enjoy working on the most.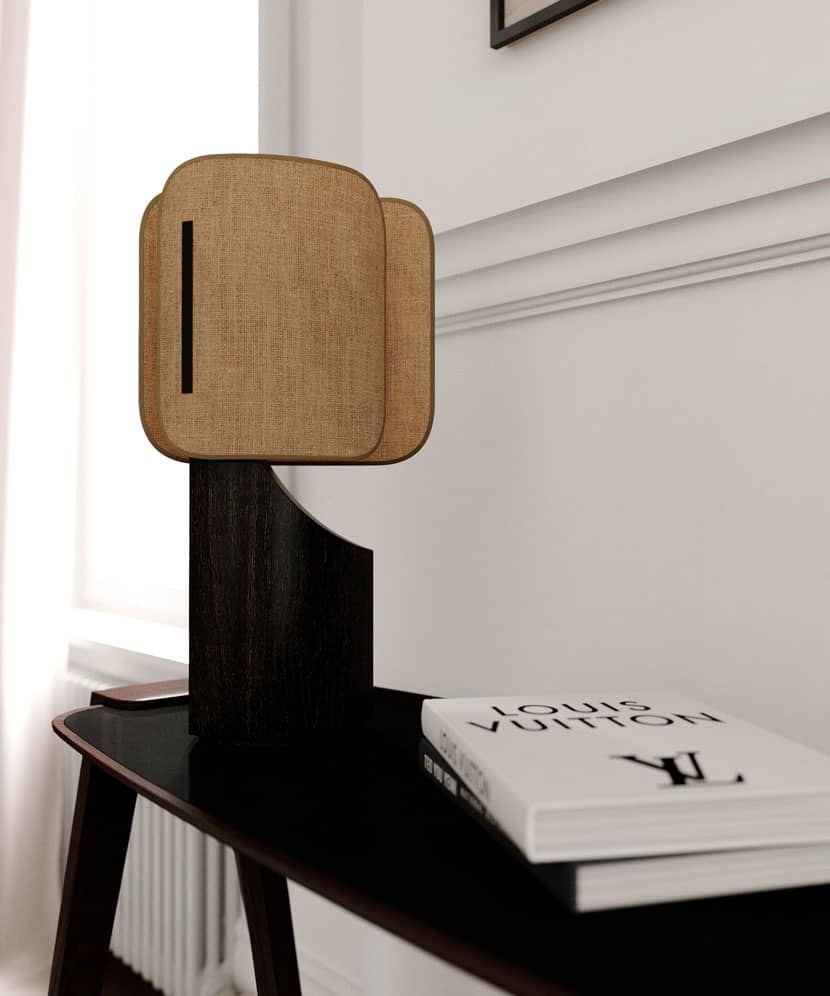 Decoration assets and details.
Vaugirard Residence
This project is located right in the heart of the 15th arrondissement in the city of light –Paris-, and let me tell you that the client was the classic Parisian school addict who wanted the space to speak out the local vibes in each and every possible way.
I am a huge fan of Pierre Yovanovitch, Christian Liaigre and Gilles & Boissier, they were the real inspiration behind my project and my inspiration for being able to completely reflect the authentic Parisian vibes.
For the development of this project, I used Autodesk 3dsmax software & Corona Renderer.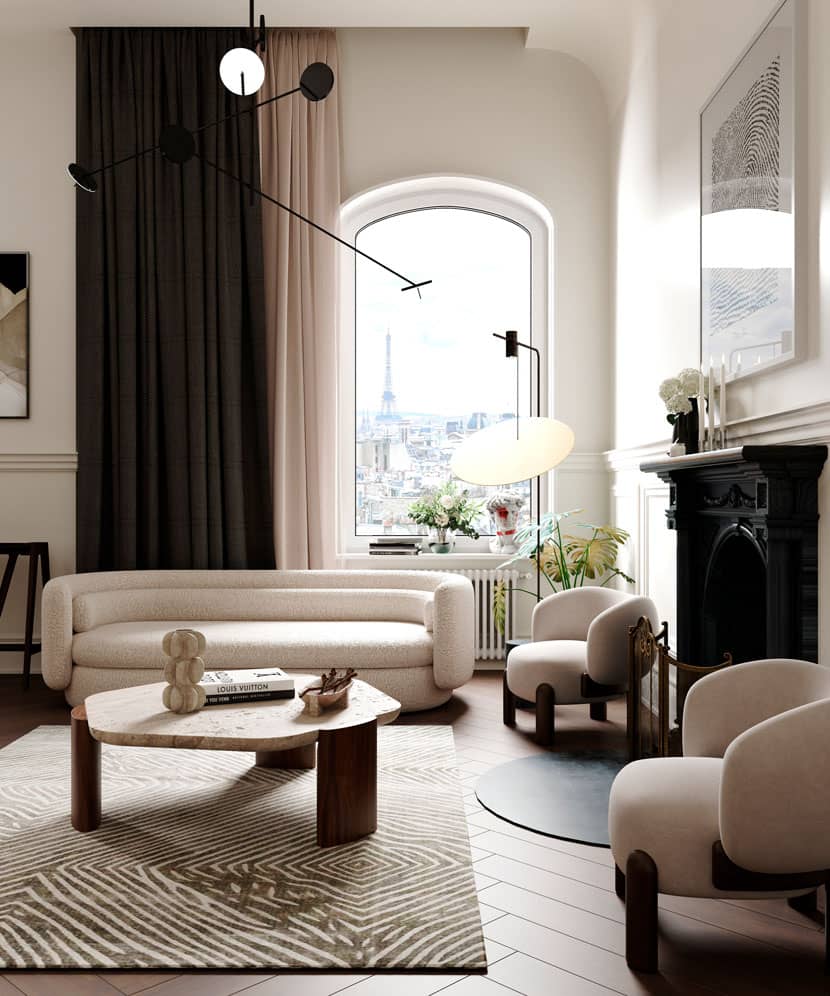 Interior design inspired in Paris, France.
Modeling
The architecture elements were mainly arches and curved forms –from the ceiling to the wall connections- thus delivering the message of smooth and flowing relations, not to mention that the building exterior design itself was such a great help in interpreting such language into the interior spaces.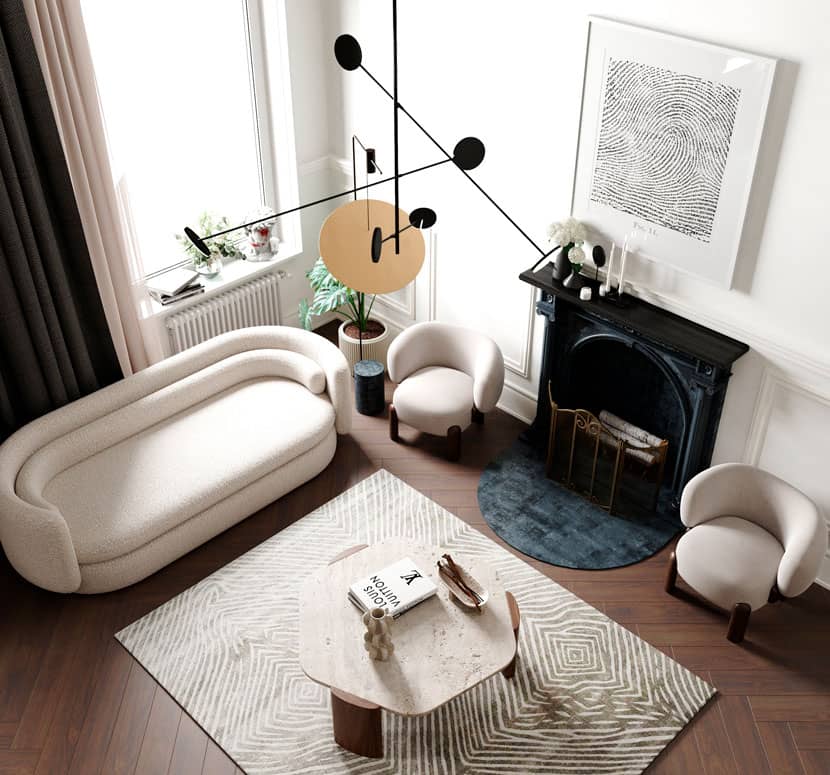 I usually prefer working with polygonal modeling operations since it makes me feel I'm in control of the entire process and gives a wide variety of options either working on vertices or edges level.
Using a couple of modifiers like sweep, twist and symmetry for saving time on furniture modeling along with some useful plugins like floor generator.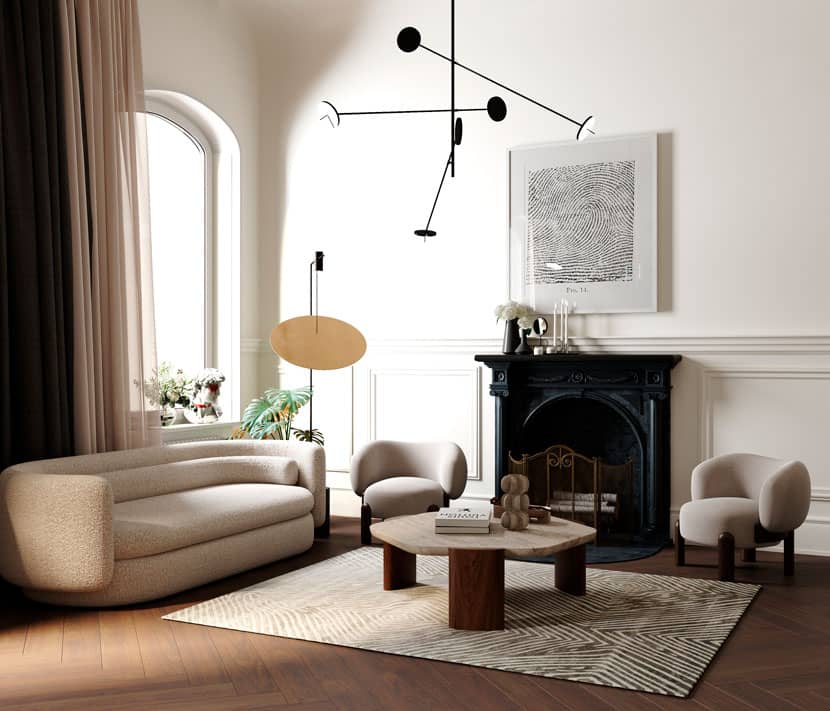 Floor detail after rendering.
Texturing
When moving into texturing I always prefer looking for seamless textures and PBR materials, since actually texturing is a vital part of the process and it says a lot about the realistic feeling you need to deliver. Along with uvw map and unwrapping for adjusting the textures and also a multi-texture plugin for nice randomization.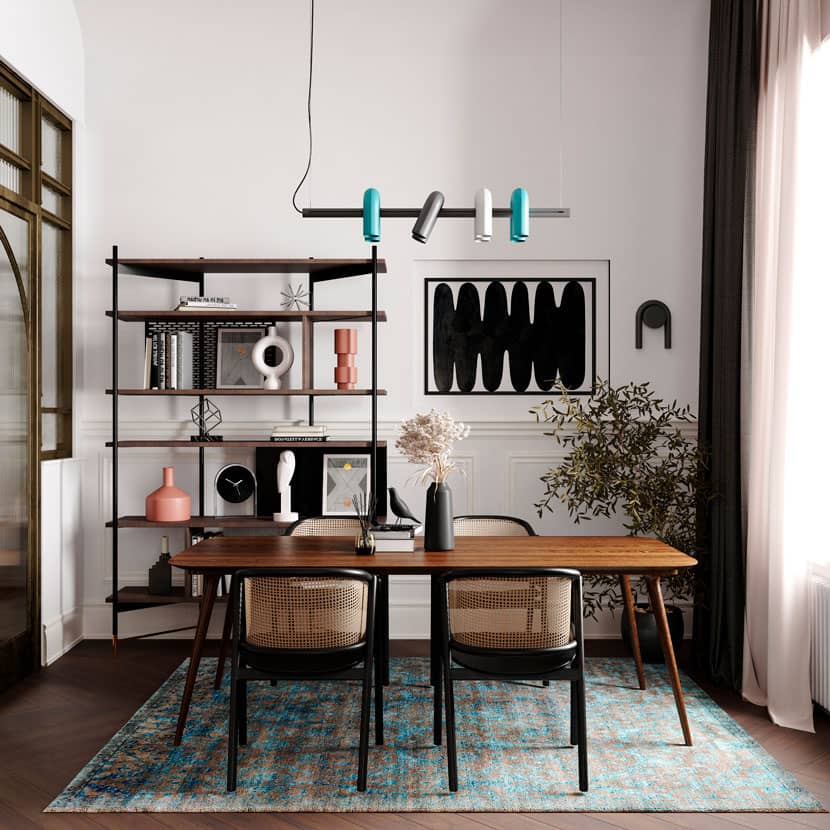 A lot of assets and photorealistic elements were used for the dining room area.
Assets selection in this project was also one of the main aspects to be taken into consideration, I wanted to select items that are local Parisian masterpieces starting from main elements of furniture and down to accessories and ornaments.
Lighting
The lighting scenario is what I really enjoy the most throughout the project phases, in this one I was intending to deliver a feeling of natural midday sunny light, so I chose a Corona sun with a basic Corona environment sky, but here comes a little hint!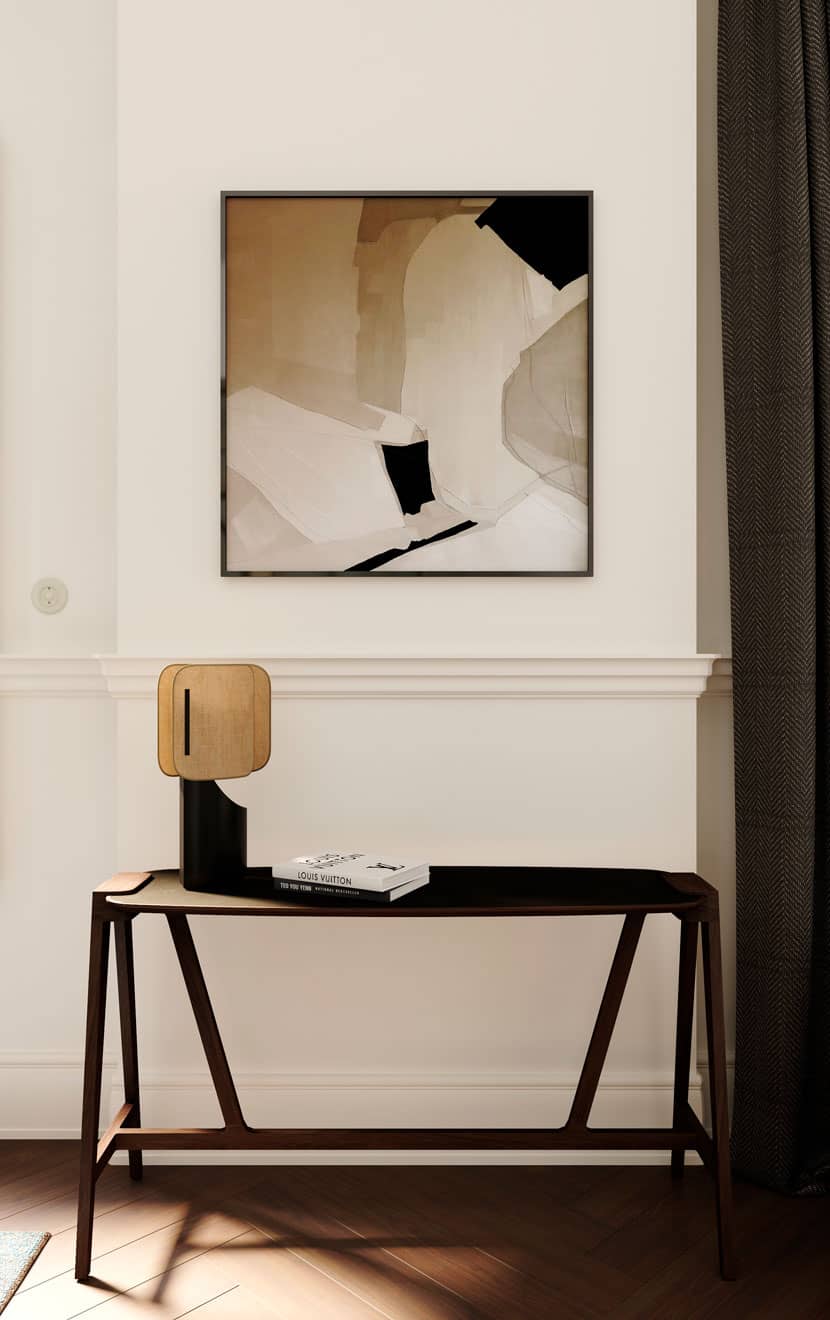 Shades created by window sunlight with Corona.
What really helped in delivering the smooth shadows and natural light vibes was to enlarge the sun size –therefore smoother shadow lines- and adjust the raw fake model colors – Zenith & Horizon- to very pale grey shades.
Want another trick? Minimal use of artificial indoor light units, when you are seeking daylight try to simulate the real-life scenario –why would you need artificial lights if the natural is going well enough?!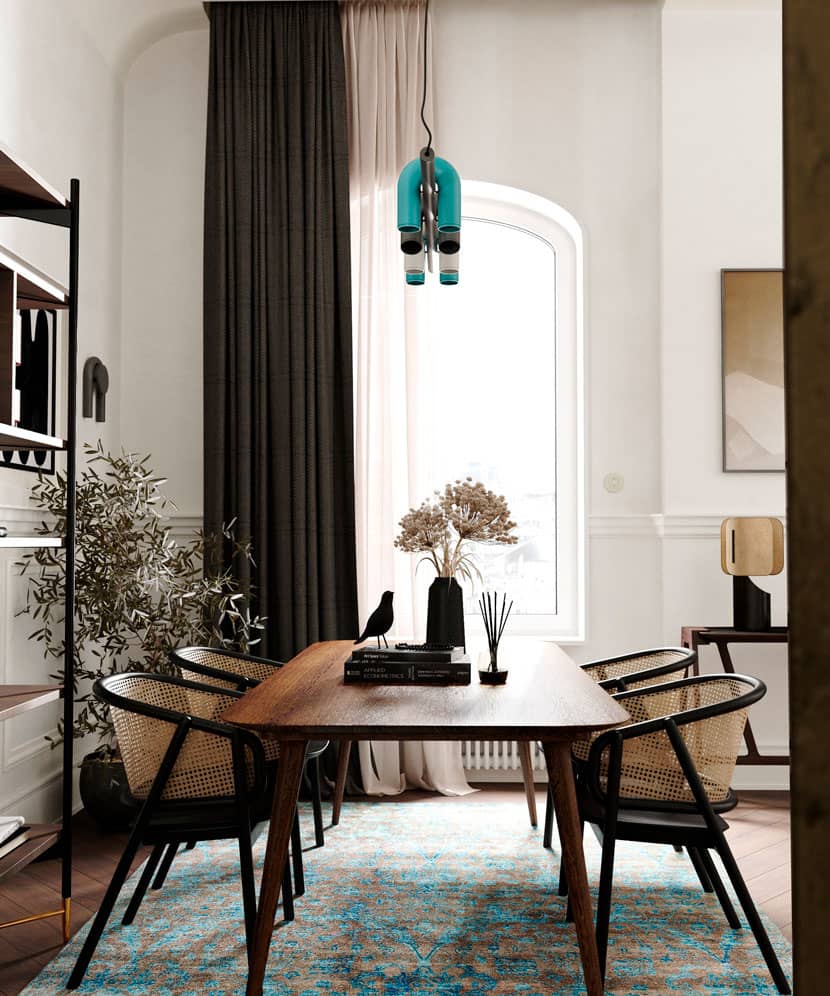 Big window lights up the dining area.
Storytelling
Of course, this is the chapter to sum up the entire process, your picture needs to be telling a story and this is where the strength of a really talented CGI artist appears. You need to deliver a message and all the above elements shall be the tools helping you through this process. Either you're showing a dramatic act, an inviting bright space or telling a thrilling story.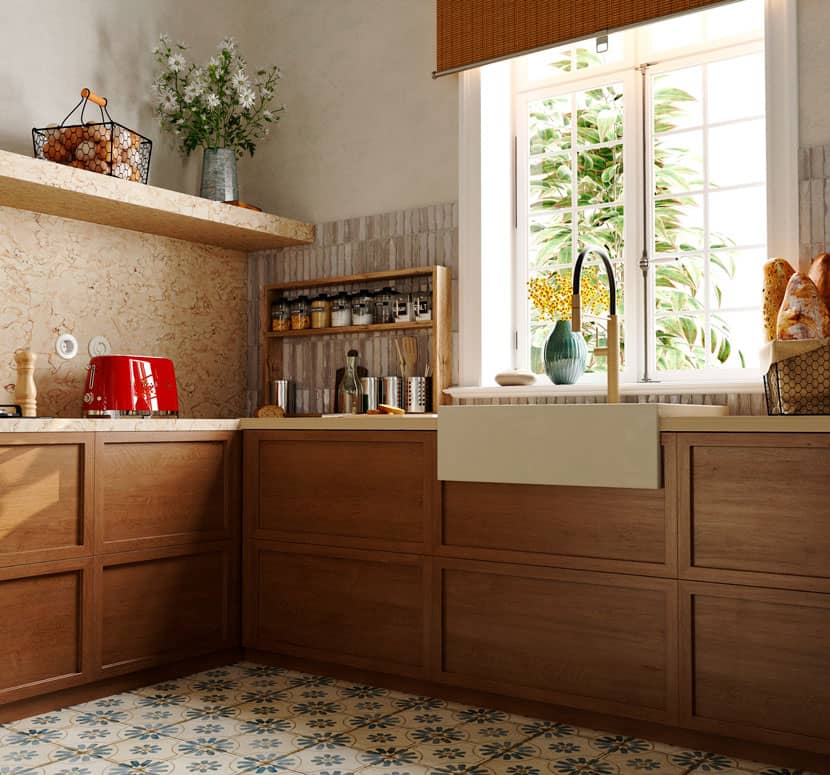 Final rendering of the kitchen space.
Thank you, Mirna, for sharing your personal work and your kind advice with our Rebus community. Check out more of Mirna's work on her different channels:
---
Want to share your work with our community too?
Contact us at This email address is being protected from spambots. You need JavaScript enabled to view it.and tell us about your favorite project.
---
>> Read more articles on our blog